It's hard not to spend money at a hardware store, but what about value? We reckon that armed with a few notes, this is the best $50 you'll ever spend at Bunnings, and for things you are likely to use every day you're away.
Who doesn't like shopping at Bunnings? Fair dinkum, whoever came up with the idea of a chain of huge warehouses full of every conceivable hardware item available needs to be given a medal. The fact you can get a couple of snags on bread is just another reason to go down to your local Bunnings, even if you don't intend to buy anything.
But Bunnings, and other large hardware stores like them, offer so much more than tools and fixtures. For caravanners and camping enthusiasts, there's a heap of cool stuff available. Much of it you will probably never use, but there are some gems that are definitely worth adding to your camping kit.
LYTWORX LED FLIP SWITCH LIGHT
Have you got a cupboard or other storage spot in your caravan or camper that could do with some illumination, especially when rummaging through it at night? Well, your struggle is over with this handy little LED light that can be affixed to just about any flat surface. It runs on three AAA batteries so there's no need to wire it into your electrical system, and it has its own on/off switch. The amount of light thrown out from the two-bar LED is almost unbelievable. More than enough to light up the largest of storage spaces. At the price of a Happy Meal, you can afford to pick up a few extras and use them to light up around the campsite. They even have a couple of magnets so you can attach them to the underside of the bonnet of the car for night-time roadside repairs. Brilliant. RRP $3.99  click here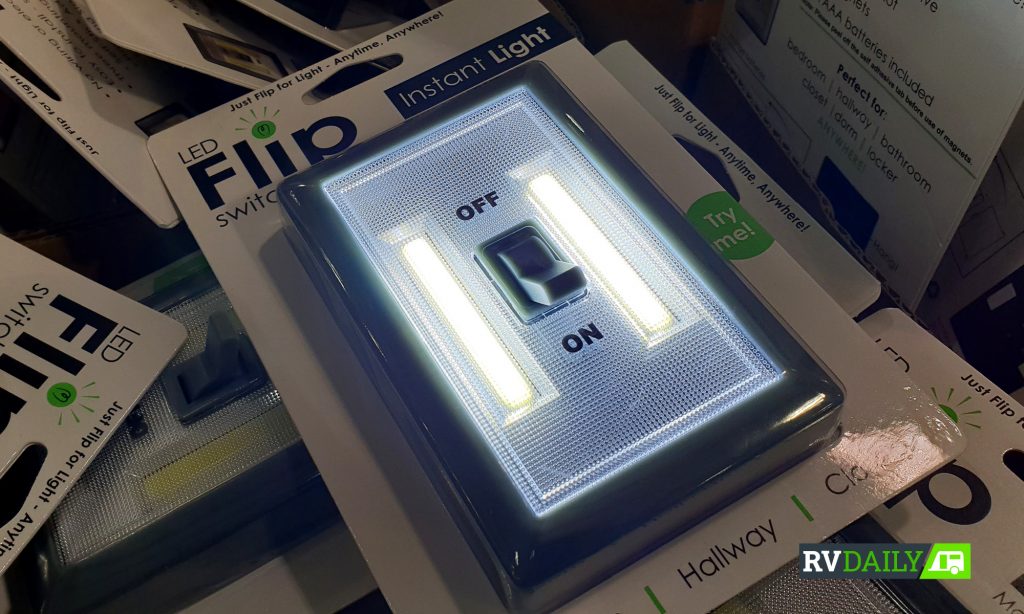 DIGGERS 500ML LAVENDER MULTI-PURPOSE SURFACE CLEANER
My wife is fastidious about cleaning and, since we now live in our caravan, her attention is focused on keeping our van clean. If you think about the range of cleaning products you use at home and then try to store all those in your van, it would take up an inordinate amount of valuable storage space, not to mention all that extra weight. Fortunately, help is at hand. Kylie found this lavender-scented methylated spirits-based general cleaner and she swears by it. We (good save, bloke) clean every single surface of the van with it. It's great for cleaning the mirror in the ensuite, the shower, the walls, the kitchen, basically everything inside the van. It doesn't leave any streaks and can remove most stains. About the only thing we don't clean with it is the leather lounge. It's available in a spray bottle as well as a convenient refill. Best of all, it's bloody cheap. RRP $5.10  click here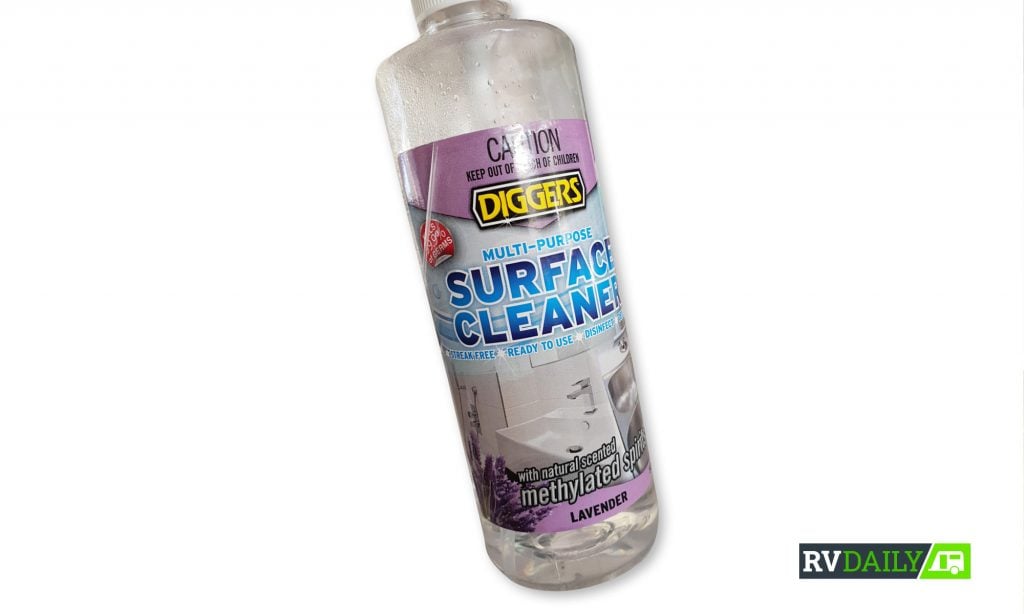 WOOD BLOCKS
They say you don't get very much for nothing. Maybe, but if you head down to the building section of your local Bunnings, where they cut up timber for customers, you'll likely find a pile of off-cuts which, if you ask nicely, they will let you have for nothing.  Find some blocks of treated pine. You'll need maybe four or six pieces about 15-20cm long and of various thickness. The nice guy operating the saw may even cut up a few for you. These make excellent chocking blocks. I use them under the jockey wheel and the stabiliser legs. You can even level the van by driving one side of the van onto one of the blocks. Being treated pine, they will survive a soaking or sitting in the mud for a few days. Best of all, if you forget to collect them before leaving for your next destination, who cares – just go back to Bunnings to get some more. RRP Free!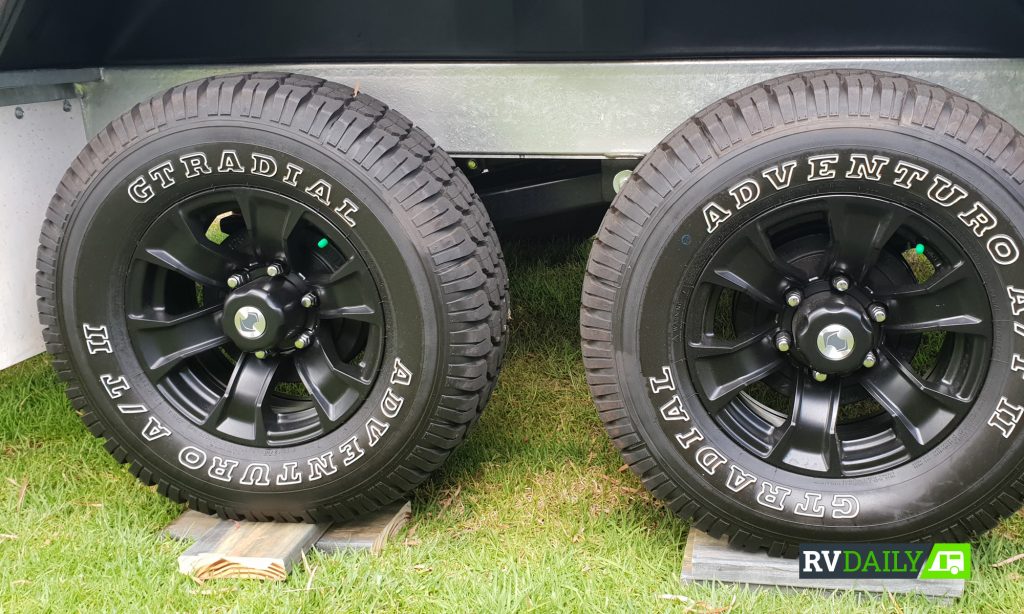 TAP 'Y' ADAPTER
If you love going away to a coastal caravan park, you'll likely be into water sports of some description such as swimming, snorkelling or fishing. All these activities will have you returning to your caravan park site with gear covered in sand and saltwater. Wouldn't it be handy to have an extra tap outlet to connect a small hose and trigger nozzle to clean off all your gear? Well, your hardware store has just the answer. Grab yourself a Y adapter for a standard tap outlet, connect your caravan water to one end and run a small hose off the other. It's convenient and keeps the mess away from the van. While you're in the garden section, purchase a few extra hose fittings. They always come in handy. RRP Usually around 20 bucks.  click here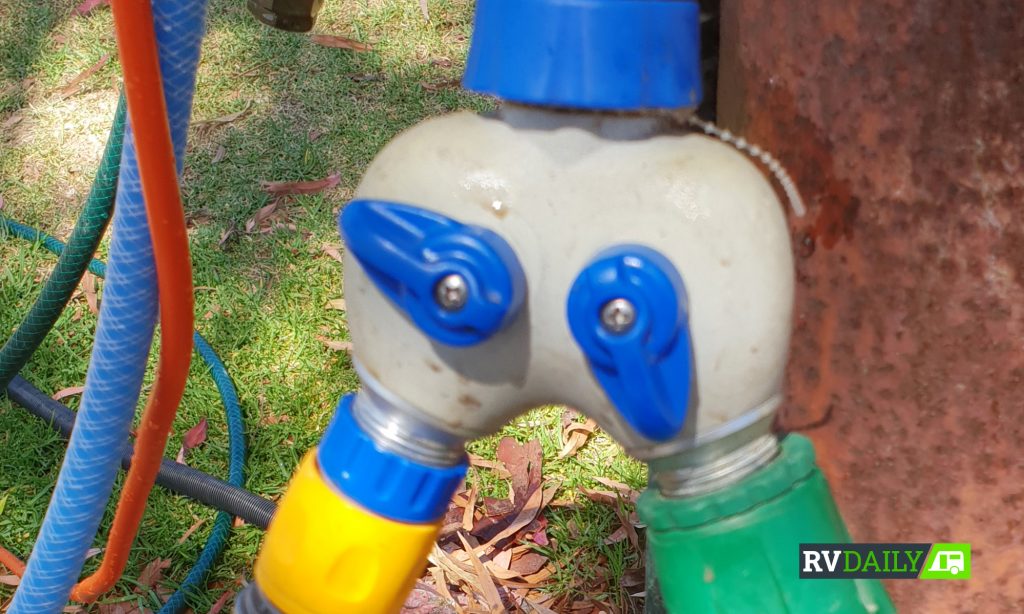 MATADOR NON-STICK HOTPLATE LINER
If you've got a Weber barbecue or something similar, you'll know how great they are for cooking a variety of foods, but cleaning them up afterwards can be a bit of a chore. Similarly, if you use those electric hotplates in many camp kitchens and public parks, they too are a pain to clean. No worries, just head to the barbecue section of Bunnings and pick up a roll of Matador barbecue liner. These things are a miracle of modern science. Small, lightweight and easy to store, they can be placed directly onto just about any hotplate or grill and you can cook on them as you would any hotplate. They are simple to clean with a little hot water and dish-washing detergent and can be used over and over. On the Weber, they are brilliant. We cook everything on them including bacon and eggs. At just over 10 bucks for a 40cm roll, they are great value. Just cut them to the size that suits and off you go. RRP $11.89  click here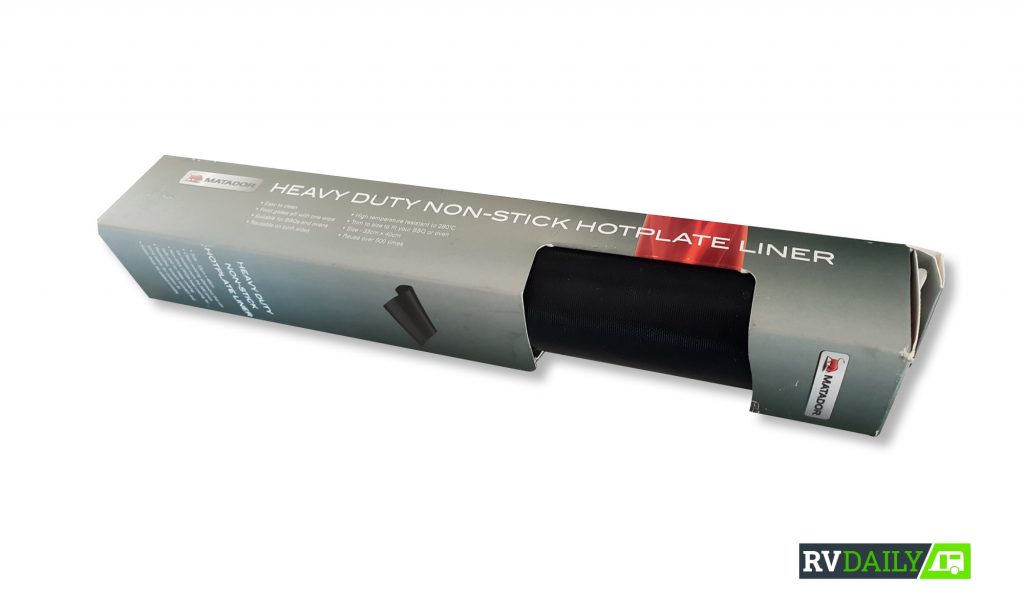 There's probably so much more we could include but these five buys are a great start. In the comments below, let us know what cool stuff you've got from your local hardware store that has made caravan and camping life so much better for you.
Safe travels.