The AAV Canter Global Xplorer has off-road capability and camping comfort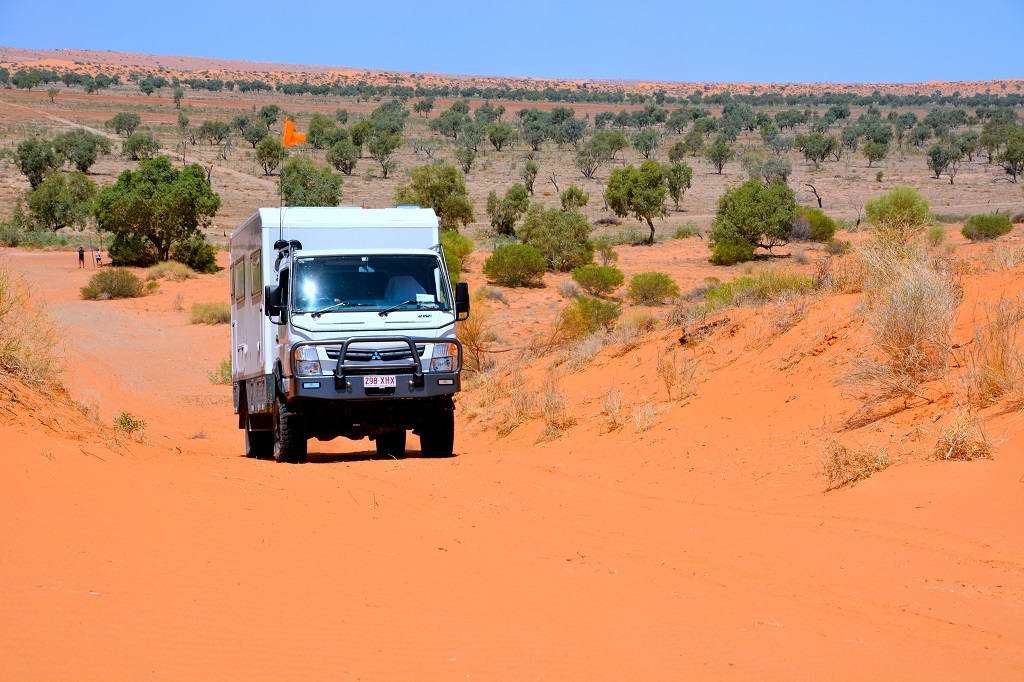 Motorhomes don't need to be huge or confined to bitumen as the AAV Canter Global Xplorer demonstrates with off-road capability and camping comfort.
Do you want travel accommodation with fixed walls, shower, bed, toilet, and you want to explore further than hard-dirt roads? Maybe you'll consider one of the numerous "off-road" caravans, which are mostly normal caravans with showy mud tyres, shiny suspension and the all-important chequer plate. Even if these vans were actually off-road-designed, good luck trying to pull 2500kg+ of van across anything resembling 4X4 terrain.
Or you could always invest in a large off-road truck like a Unimog, and put your motorhome on that, if you don't mind a vehicle so large it can't actually fit down Aussie 4WD tracks which are made by the LandCruiser-size vehicles.
Another option is a ute, and load onto on its tray a slide-on camper. However, you won't get much as space as a caravan or motorhome, often forgoing at least the toilet/shower.
Or you could choose from one of the many motorhomes on the market which are long, wide, overhang their wheels to the rear and sides, but then you're restricted to bitumen or the smoothest of dirt roads.
So here is another option, the small-truck 4X4 motorhome. We spent a day with Australian Adventure Vehicles (AAV4X4) in Brisbane, checking out their conversion of a Fuso Canter FGB71 4X4 single-cab light truck to their Global Xplorer motorhome.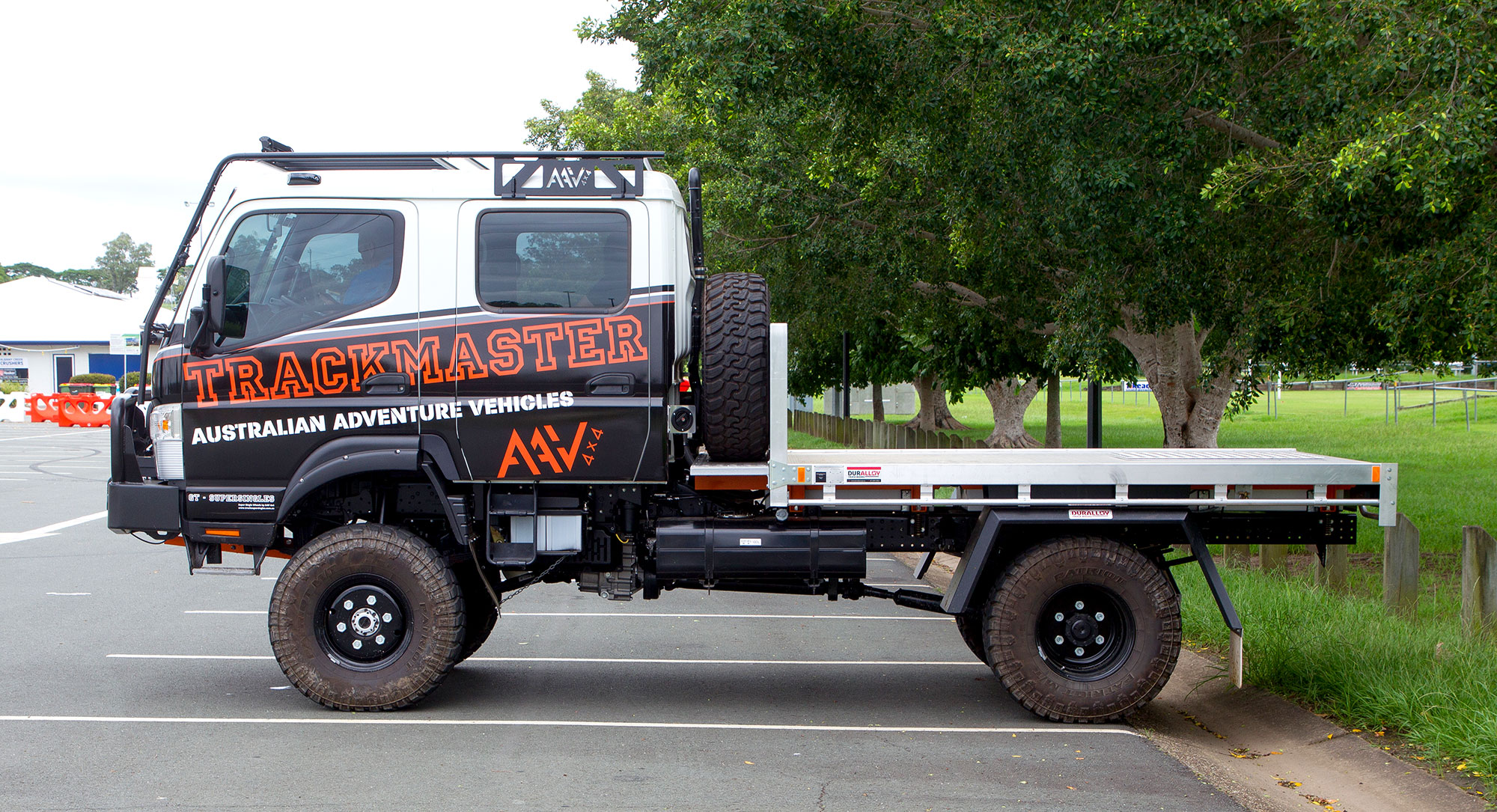 THE BASE, AND THEN SOME
As standard, the Canter is a commercial 4X4 truck with low range, and a strong limited-slip differential in the rear, plus the option of a front cross-axle differential lock for $3500. AAV4X4 then replaces the suspension, changing the front leaf springs for better comfort, flexibility and more suspension travel, and lifting the front by 50mm so there's a corresponding height increase to the rear too.
Other off-road-friendly options are brush guards and underbody protection, but the big change is from the standard six tyres with a diameter of 30 inches, two at the front and four on the rear axle, to four 37-inch diameter tyres, with the corresponding change to the speedometer and odometer so they continue to read correctly. The extra diameter is a huge improvement off-road as larger tyres can simply clamber over things smaller ones cannot, you get improved approach, ramp and departure angles, and the taller sidewalls make for a softer ride. We measured ground clearance at 270mm under the differential, way more than the usual 220-230mm found on most 4X4s. And there's only four tyres, because you don't want twin wheels on an axle for off-road use because debris gets wedged between the dual tyres, and the vehicle has to leave three-wheel tracks, not one so there's extra rolling resistance. Take a look any big off-road truck, and you'll see it has single wheels on the back, using three axles in a 6×6 configuration if more load capacity is needed. All the changes to the Canter are legally certified, insurable and warrantable, no she'll-be-right attitude here!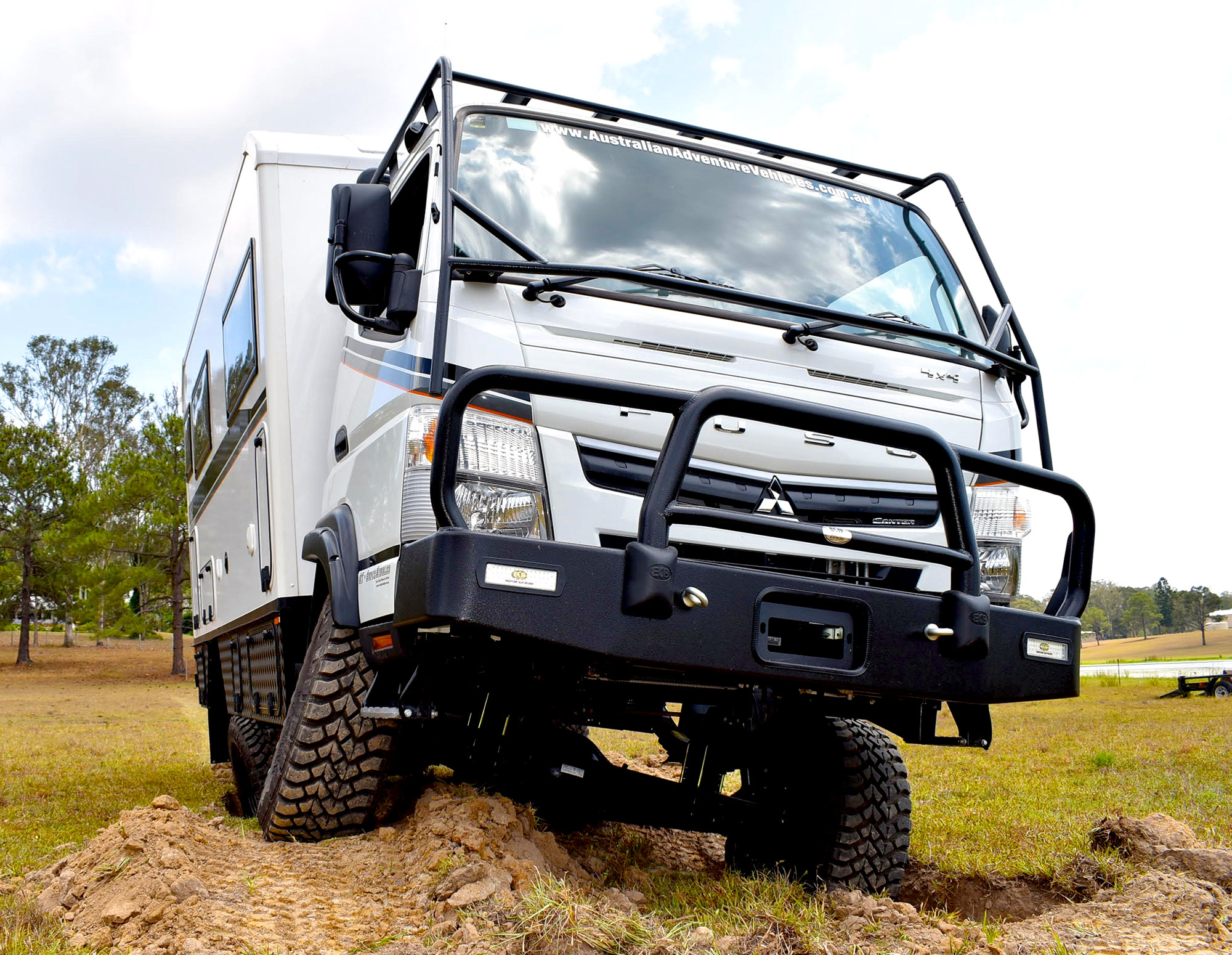 FEEL THE WIDTH, OR NOT
So the Canter has serious off-road ability, but so does, say, a Unimog, and at the other end of the scale, a Ford Ranger. And this is where we need to get into size, because there's a trade-off between how much space you have, and the manoeuvrability and off-roadability of the vehicle.
Compared to a Ranger, the Canter is about 300mm longer at around 6300mm, and 1995mm wide vs the Ranger's 1850mm. The wheelbase on the Xplorer is 3415mm, compared to the Ranger's 3220mm, and turning circles are 12.7m for the Ranger and 13.4 for the Xplorer. The figures for a Toyota LandCruiser LC79 dual-cab are 1955mm width, wheelbase of 3180mm, a similar length to the Ranger and a 14.4m turning circle.
In other words, despite appearances, the Canter is pretty much the width and height as a big dual-cab ute, and is actually narrower than a Ranger Raptor. These dimensions and its off-road capability mean that it can in fact traverse most 4X4 tracks. The big dimension difference is the height – the Global Xplorer conversion means the vehicle is 3100mm tall, whereas a Ranger with 50mm taller tyres, a suspension lift and a slide-on camper will be around 2300mm. The Xplorer's relatively compact dimensions for a motorhome also mean it is easier to manoeuvre in car parks and the like compared to road-going motorhomes, as even the smallest Jayco motorhome is longer and wider than the Xplorer.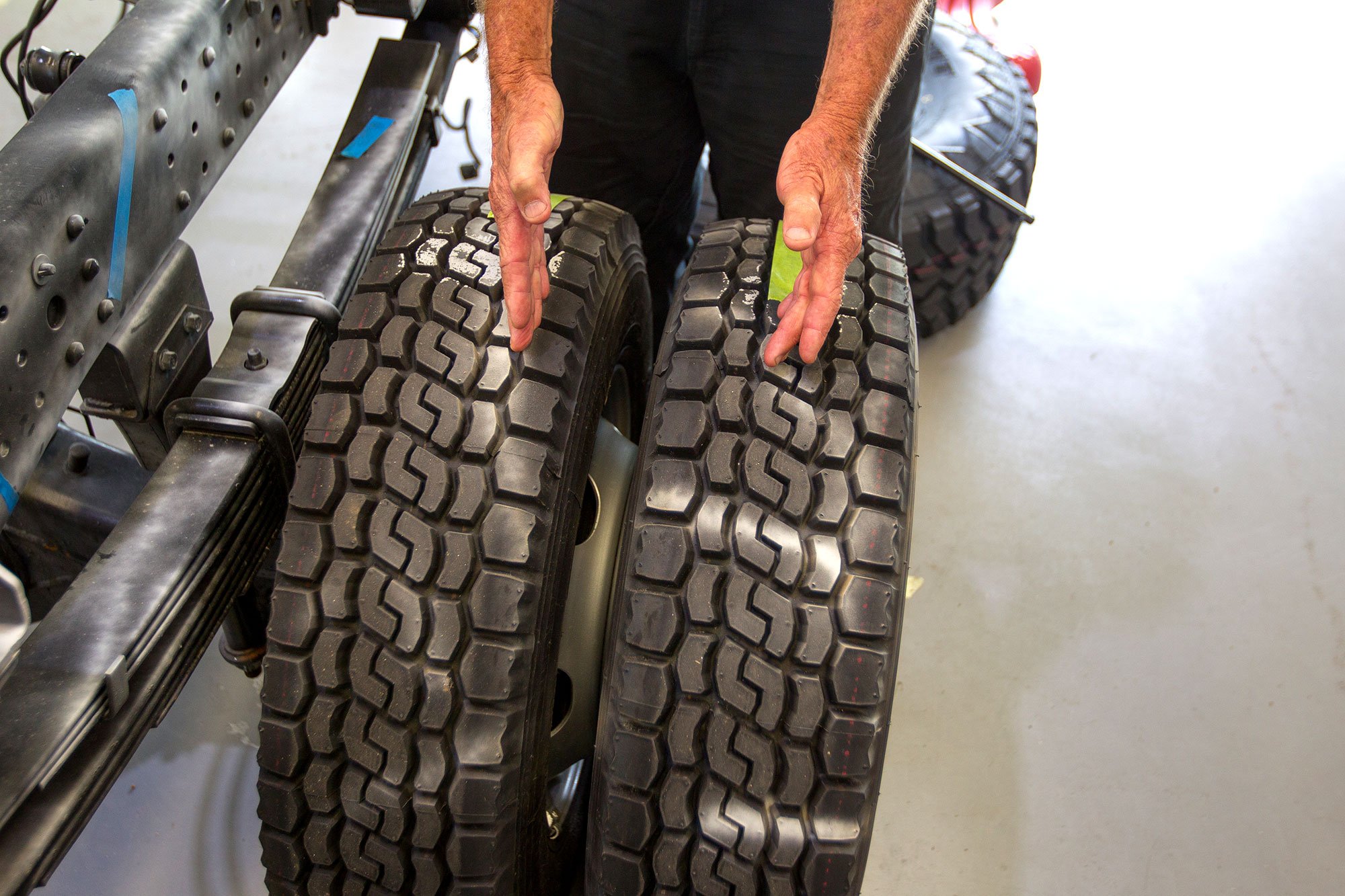 WHEN THE GOING GETS SOFTER
While the Xplorer is off-road-capable, you'll spend most of your time on the blacktop. The differences to a ute start as soon as you walk up to the vehicle, because you literally climb up into it, not step in, something that those of limited mobility will struggle to achieve.
Then there's the on-road performance. The Canter as modified by AAV4X4 into an Xplorer has a 6000kg GVM so drivers need a light-truck licence … which means it rides and handles like one, despite the relatively soft 37-inch tyres and revised suspension. The ride is bouncier than any ute, not least due to the seating position being high up and right over the front axle (which is why the driver's seat has suspension), and the handling generally is a lot less direct.
It's not overly noisy, despite having only five gears and occupants sitting atop the engine, and there's options for a passenger suspension seat plus extra soundproofing. Each kilowatt in the Xplorer has to pull around 40kg of weight, whereas for a Ranger with a camper it's more like 19kg, so don't expect sprightly performance. However, there is a remap for the engine for $1300 that will increase torque by around 50% at the cost of voiding the engine warranty, and that definitely helps a lot. There's an aftermarket automatic transmission option for a cool $32,000, so most people stay with the manual.
The cabin is basic too, like the truck it is – there's no climate control or cruise control but there is an aftermarket option for $650, plus fitting. For safety there's just two airbags, ABS braking but no ANCAP safety rating. You do however get satnav which can be programmed to avoid low bridges. If you need to tow, the Canter is good for 4500kg with a 9500kg GCM. The factory warranty is five years and 200,000km even with the AAV4X4 modifications, and there's 24/7 roadside assist.
While no modern wagon, the Xplorer is comfortable and powerful enough to travel around Australia. It'll cruise comfortably at 110km/h on the flat, and you get to enjoy the fantastic visibility and spacious cabin while you drive. The controls are exactly the same as any Japanese 4X4, no special techniques or systems to learn. We're told the fuel economy at 110km/h is around 14L/100km, quite comparable to a caravan tow, so with 200 litres of diesel on board there's a very decent range, and plenty of room for jerry cans if needed.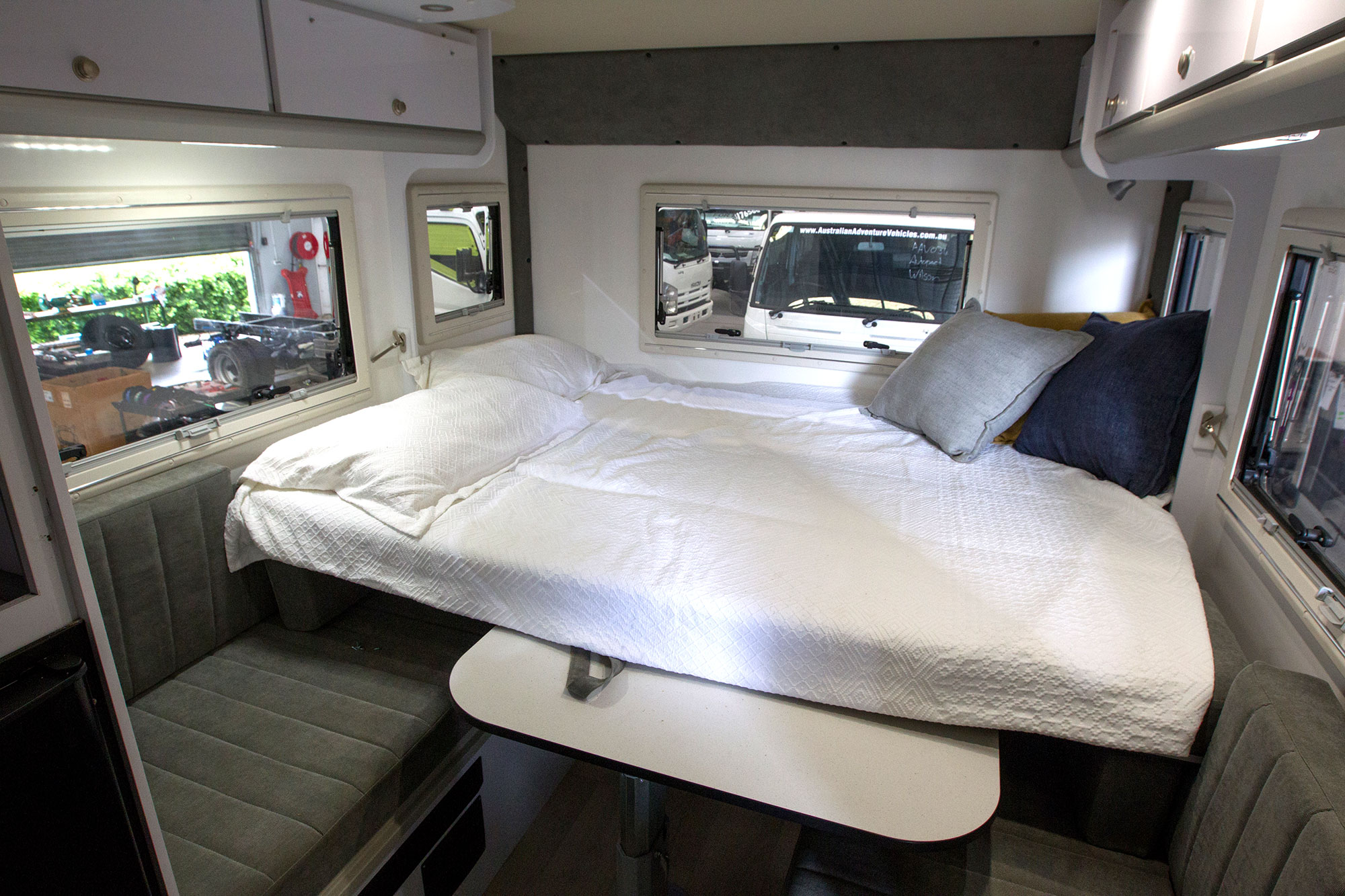 LET'S EXAMINE THE FACILITIES
Our test didn't include any use of the Xplorer for travel, just a drive and a walkthrough, so this review won't go into detail we can't support with experience. That said, a few observations. The Xplorer has been designed by Kym Bolton, who has a very long and successful history in world-class competitive off-roading, and then many years doing off-road travel in trucks like Canters, before starting companies such as EarthCruiser.
It's safe to say there's a fair bit of experience that's gone into the design, and plenty of happy customers. Everything seems well built, for example we noted the strong double latches on the cupboards, and the strength of the fire-extinguisher mount. The motorhome basics are all there too, with bed, kitchen, Evakool fridge (105-litre fridge, 40-litre freezer), shower/toilet and table.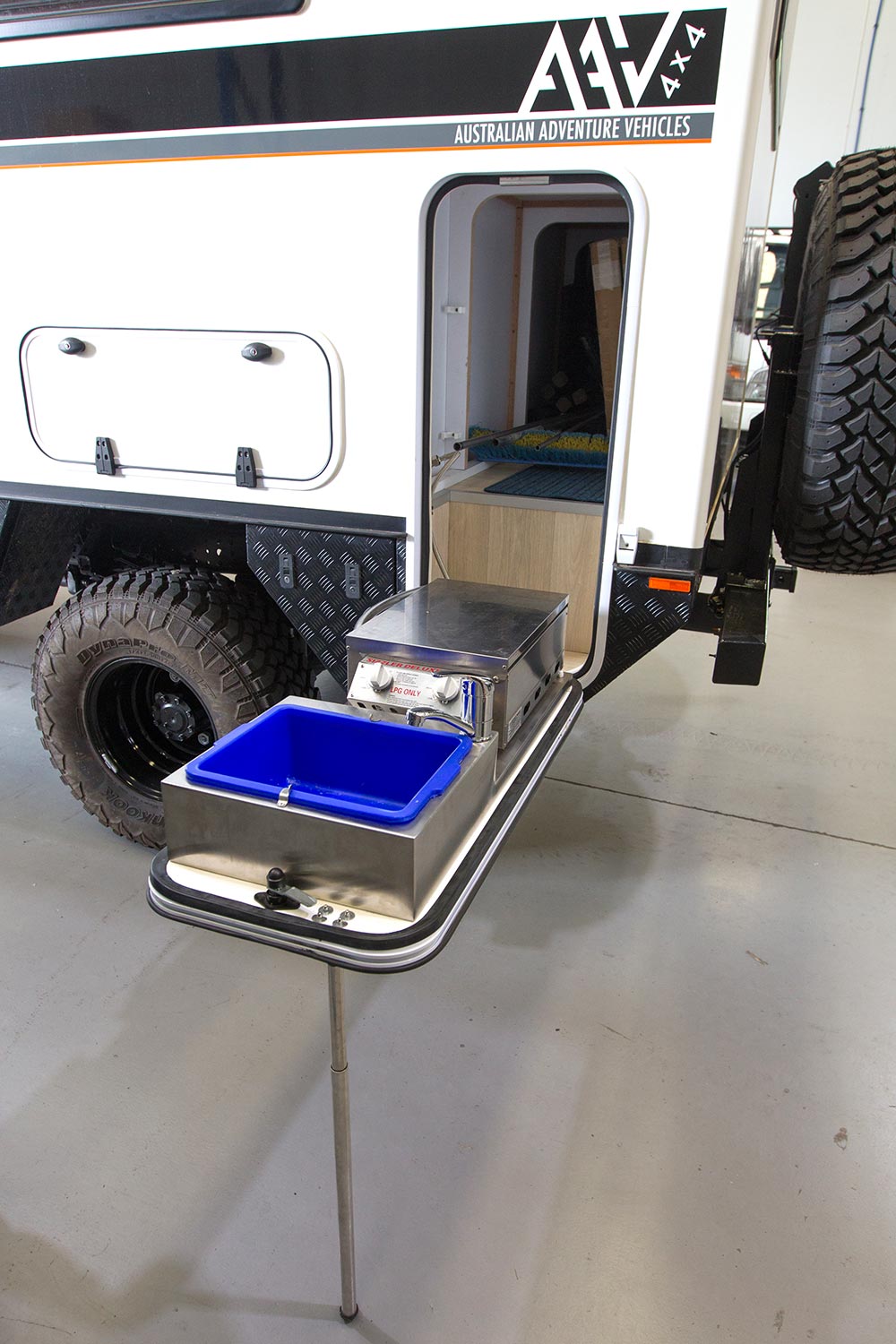 The vehicle has been designed for security, as you can clamber into the front cabin from the motorhome, there's a security handle on the motorhome door, all storage compartments are lockable, and the fuel tanks and batteries are behind locked panels. There seems to be plenty of storage space for tools, personal items and camping gear. The Canter has a standard 100-litre fuel tank, and there's an option to add three more 100-litre tanks for either fuel or water without encroaching on storage space. Customers normally choose 200 of diesel and 200 litres of water, totalling nearly 400kg for the fluids alone, even excluding a 45-litre grey water tank. That is where you see the difference between a ute-based camper and the Xplorer, as even with 400kg of fluids on board, there's still 1600kg of payload left, more than the ute has in the first place. Try taking 200 litres of fuel and 200 of water on a ute-based camper, and then check the weight against its GVM, and then check the rear axle load.
The Xplorer is also designed for pure off-grid living, running the heating and cooling off diesel, and using an electric fridge, unlike most motorhomes which are really designed to be regularly plugged into power or use gas fridges that require dusty ventilation. All electrics are 12v, and there are two 150-watt solar panels as standard. The bed is a double, and folds away to reveal a small table and seating for five adults. There's no way to carry more than the two people though when moving.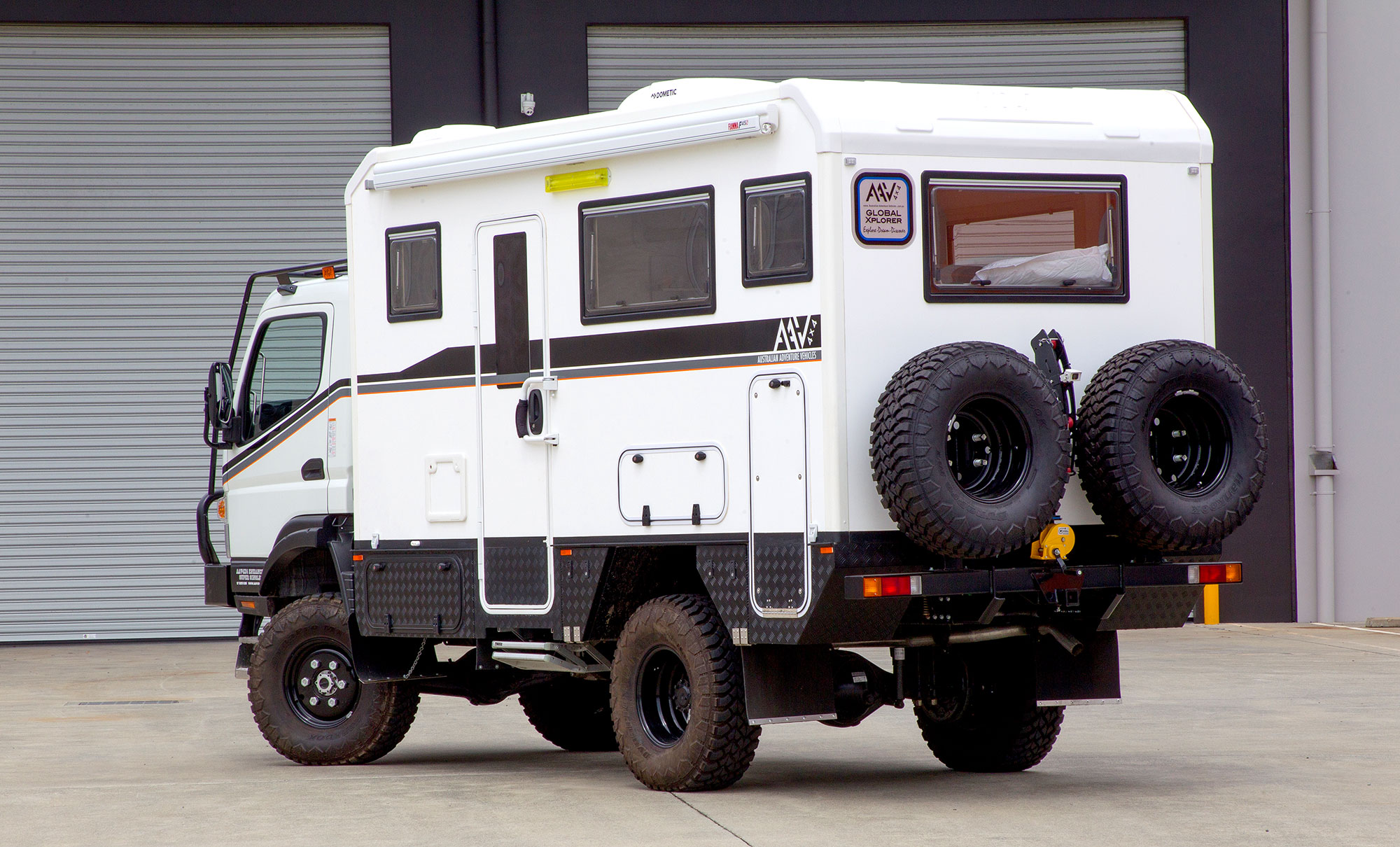 IS A LIGHT-TRUCK MOTORHOME FOR YOU?
The question of what travelling accommodation to choose is one of the hardest ones a vehicle-based traveller has to make. It's always a trade-off, so the first question here is whether the concept of an off-road light-truck motorhome is right for you. Some of the trade-offs are cost, vehicle flexibility, on-road and off-road performance, safety and luxury. A ute with a camper would be cheaper, easier to drive, safer and potentially more luxurious, but not have anything like the travel range, space, features, off-grid living or sheer capability of the Xplorer, and you'd need to carefully design your build so it doesn't overload the ute too. A slide-on camper can be left behind while you head off in the ute, whereas the Xplorer motorhome unit can't be removed from the Canter.
Light trucks like Canters are also designed for, and expected to run for 500,000km or so, not something you'd say about the average ute, and they're also designed for day-in-day out reliability, something critical for remote-touring travellers. You also can't forget the enclosed cabin that you can heat and cool, with an easy set up – just stop the vehicle and walk into the back, and that's got to be worth something in very hot, cold or wet conditions or when you're tired!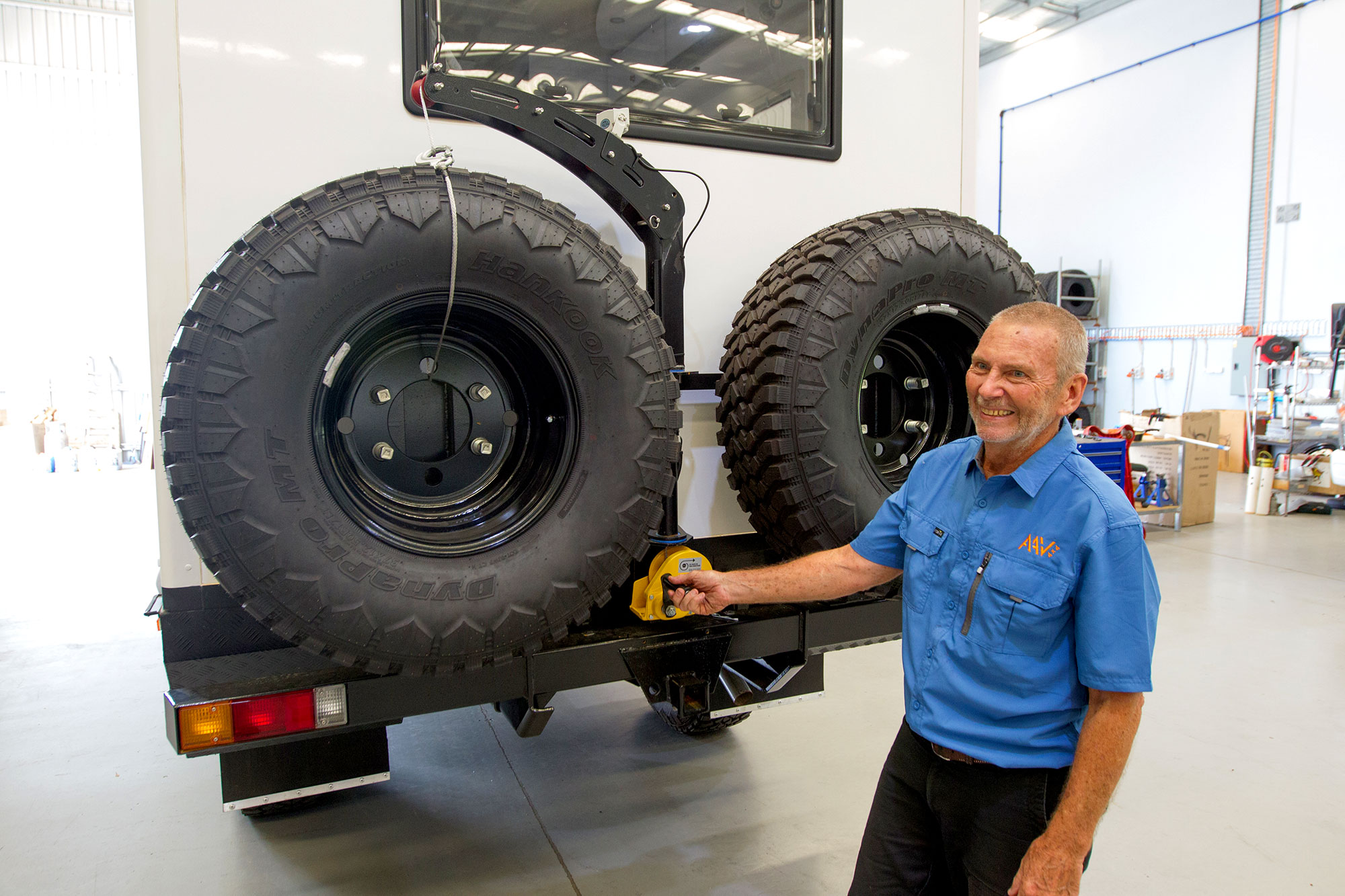 A caravan plus a 4X4 starts to reach into Xplorer cost range, with the advantage you can use the 4X4 independently of the accommodation. But, you can't drag an "off-road" caravan very far, certainly not across the Simpson Desert for example, which is no problem at all in an Xplorer.
Roadgoing motorhomes are cheaper than the Xplorer and larger so you have more space but that makes the vehicle harder to manoeuvre and store, and you can't take them off-road at all.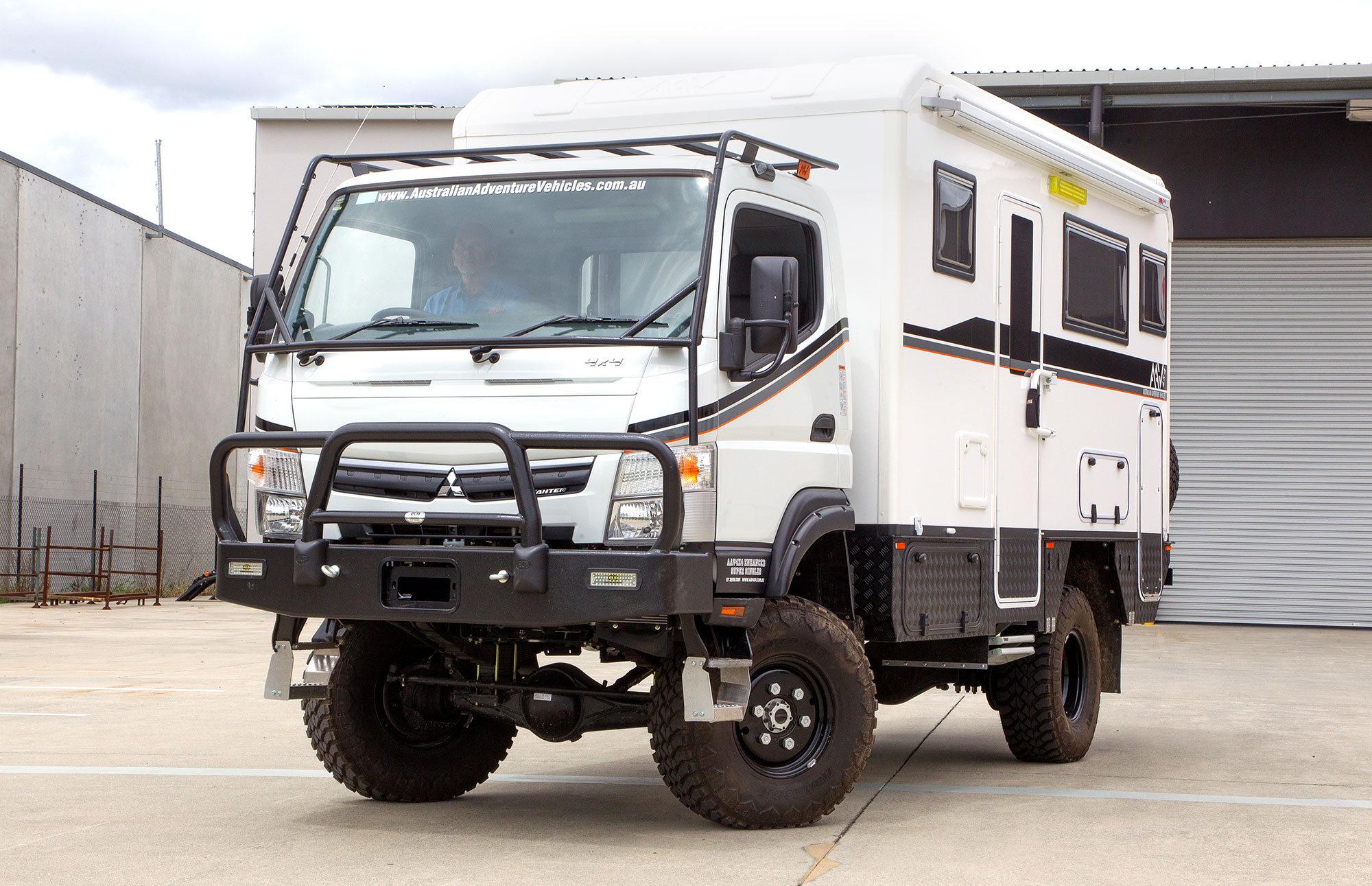 FINAL THOUGHTS
I think vehicles like the Xplorer definitely fill a niche. Its compact dimensions are a boon everywhere from cities to parking to navigating 4X4 tracks, it has real off-road capability, and the Xplorer motorhome design is well-proven, coming from a lot of real-world experience. Such vehicles seem to be the default choice for those who travel the world, and that's got to say something about the capability and usability. Could it be time to look past the caravans and utes, and try something different?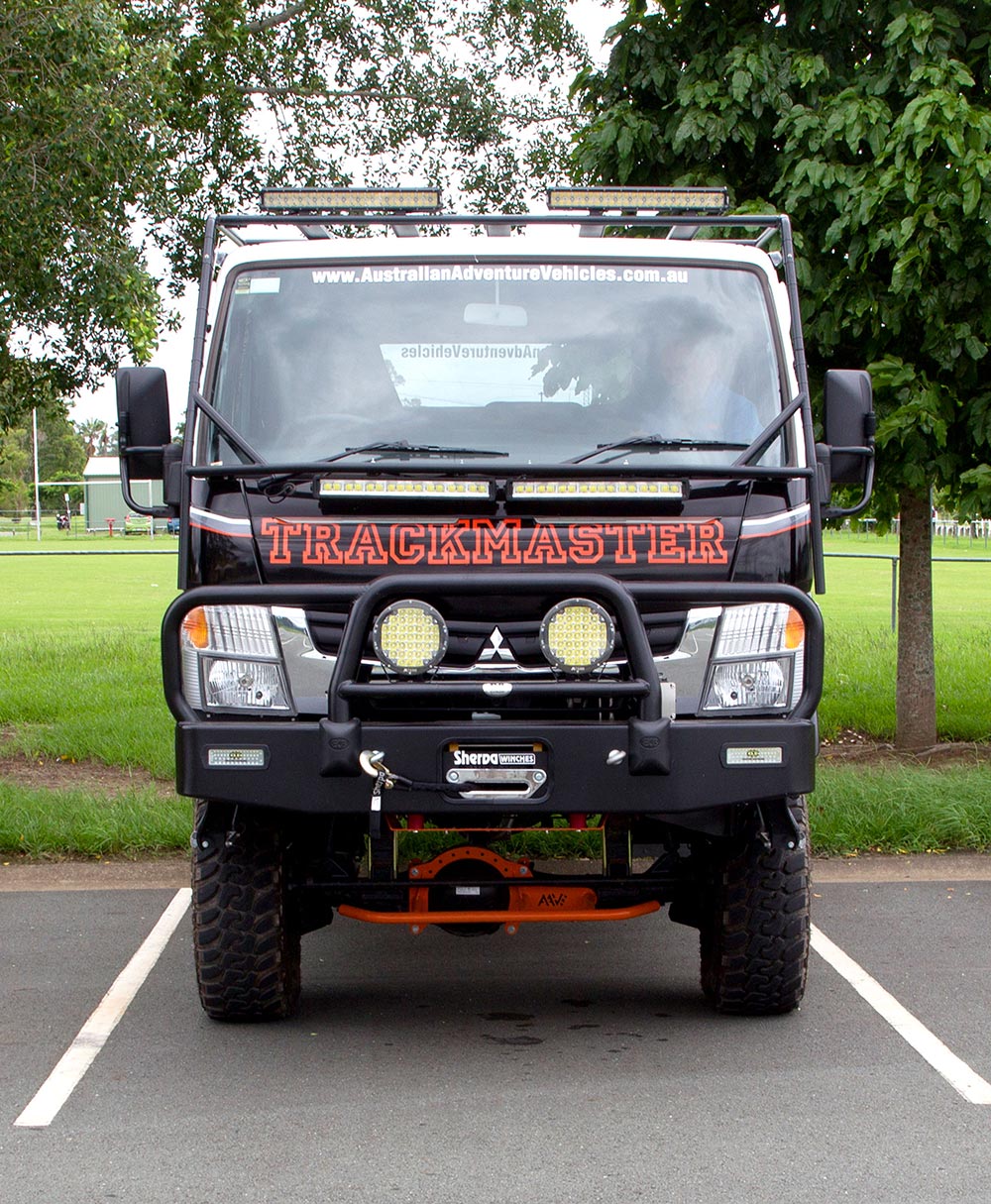 Global Xplorer compared to a ute with slide-on camper
Here's a comparison of the Xplorer vs a ute. Slide-on campers for utes are around the $30,000-$45,000 mark for quality units, plus the cost of the ute so the total might be around $100,000 if you're buying new. A new Global Xplorer starts from $176,000 plus on-roads, up to around $215,000 for all the options, but you can also buy a second-hand Canter and modify that.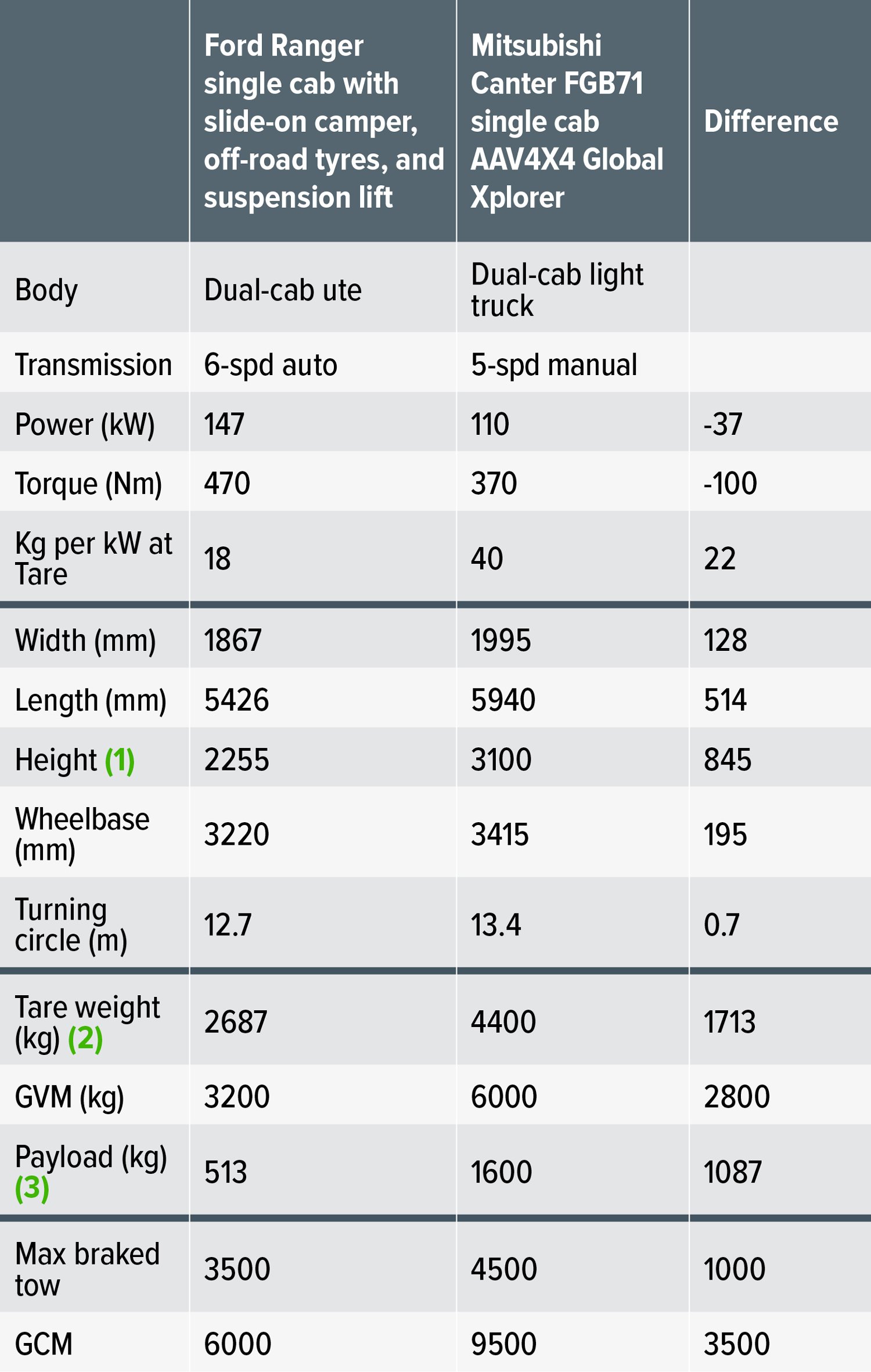 1 Height for Xplorer provided by AAV4X4, Ranger height calculated based on 50mm taller tyres (25mm height increase), 50mm suspension lift, and height of camper.
2 The Tare weight for the Xplorer is the AAV4X4 reference figure. The Tare for the Ranger is an estimate based on the weight of a single-cab Ranger, a tray, off-road tyres and suspension, camper and fuel tanks. Both vehicle weights factor in 100L of water.
3 The payload figure would need to account for occupants, personal gear, tools, food, auxiliary camp gear such as chairs, and any modifications such as winches, roof racks, siderails and driving lights.
For more information click here