TERRA TREK PROTOTYPE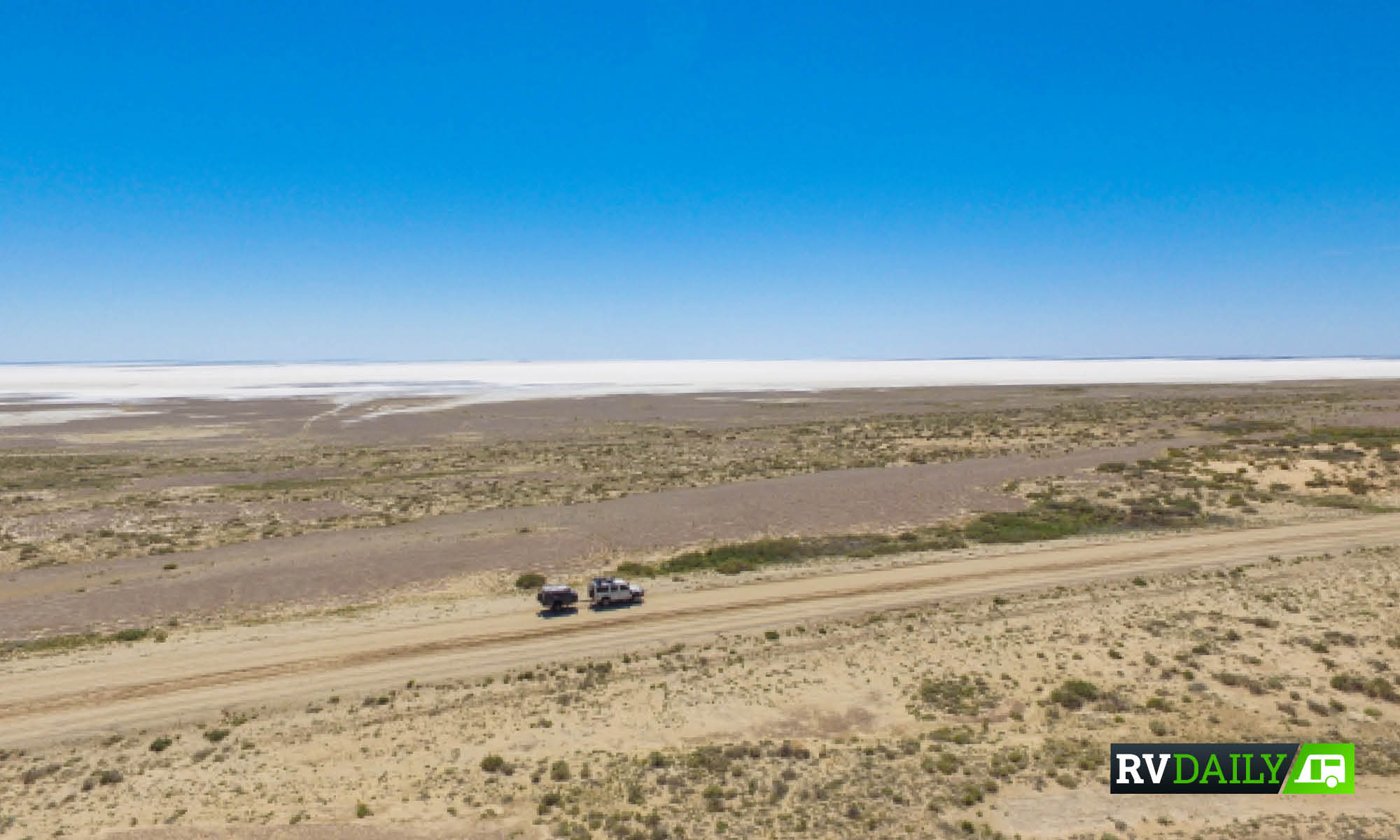 Why the borrowed camper became the bought one
Hubby and I were planning a once-in-a-lifetime road trip with our 10-year-old son. We were heading to the Red Centre and keen to get off the beaten track. We decided to do some long travel days at the start to reach our destination, and then slow it right down spending time exploring and stopping for a few days at a time. 
Our usual kit, the 'Taj Mahal' dome tent with three rooms, two plus folding tables, cooker on cook stand, car fridge, and a million other bits and bobs is quite the slow and elaborate set up, not very convenient when arriving somewhere late (and dark), and then wanting to chuff off early the next morning. We feared our marriage wouldn't last the first leg of our four-week holiday if we were to spend the two or so hours setting up and packing down back to back before and after long days in the car. I suggested we pull out my old double swag and give it a good dust down, and started reminiscing about the good old days and how romantic it was sleeping under the stars. Our son could sleep in our tiny two-man pop-up, put it up himself, make his own bed, all that 'Boys Own Manual' type of stuff, it would be good for him! 
When, suddenly, Hubby, staring down the screen of his laptop, says "I've found it! The Terra Trek". "The terror what?" I asked, slightly wary, craning my neck to get a look at the screen, which had an image of a stealth-looking, military tank-like contraption glowing at me. 
"It's a camper-trailer," he said, when he registered I had no idea what I was looking at. Needless to say, Hubby likes a toy, a new gadget, you know, a new solar panel or Hema map app to play with every time we go away, but this … this thing, was next level. OTT! But I kinda liked it. So we rang the interstate number to find that the only one that existed, a prototype, happened to be right here in Sydney, and we could take it with us. It was too good to be true. 
We had a few basics explained to us, however, we set off without really knowing how anything worked, and without a manual. So it was a relief on our first night, arriving in the dark – our No.1 top of the list "what not to do" – that set up was a breeze, the lighting was functional and in all the right places, with a floodlight bright enough to light up a stadium. 
Ten year old was 'starving', and I had the pots simmering away on the gas cooker within minutes of unhitching. So far, none of the usual cursing, huffing and puffing was experienced, and we enjoyed our first dinner around a roaring campfire in a delirious state of calm and contentedness. Hello happy campers. 
The next joy I found in the Terra Trek was sleeping. A proper mattress was a real step up from our usual airbed. I always bring along good-quality bed linen and we felt really comfortable and cosy. Leaving the bed made for pack down was the ultimate luxury. The interior of the custom trailer tent is a well-designed space with a multitude of flaps for opening and closing compartments, with access into the side of the trailer body, which is great for storing all your clothes. Storage, in general, is abundant. 
We generally don't travel light, and all our stuff fitted in with no trouble at all. Another bonus was that the back of our Land Rover was free of the usual items like portable fridge and food boxes for the entire trip. 
The general layout of the Terra Trek has the tent opening out on one side and the kitchen opening out on the other. This layout is such a great functioning feature as you tend to set up the 'eating and relaxing space' on the kitchen side where a detachable awning can be easily erected to shade from the sun or shelter from the rain. 
It's no coincidence that this side of the trailer is also the passenger side of the car, meaning that pulling up on the side of the road to have a break and put the coffee pot on is not only safe from possible road traffic, but also a breeze as a drawer simply pulls out to reveal a sink with electric tap, ample bench space and another sneaky pull-out double burner cooktop. 
This side of the trailer's storage compartment is equipped with open shelving, which is practical for food storage and crockery. A smaller compartment conveniently houses pots and pans, and there are pull-out drawers for cutlery and utensils. To the front of the trailer is the fridge compartment, and while the fridge functioned well and is generous in size, it required hoisting up onto the towbar to be able to reach in to it, even for those of us who aren't vertically challenged. If I'm being picky, some level space around the fridge to place cold items would've assisted in fridge rummaging.
I know so far I've babbled on about the cooking and sleeping and storage – the usual things that chicks are concerned with, and talking torque is not really my area of expertise. But the performance of the Terra Trek is so impressive, I'm going to give it a shot. We went everywhere with it. We glided along dirt tracks that were only open for high-clearance 4WDs, we travelled for hours and hours over corrugations that did all the usual unscrewing of screws and electrical unwiring of the Landie, yet the trailer remained unscathed. We climbed steep, sandy embankments, we rolled over river boulders, we crawled through washouts the size of canyons. If anything, the trailer had a stabilising effect, plus it effortlessly glided behind the Defender at high speed and was easy to manoeuvre into a tight spot. Basically, the only restriction of where you can take this trailer is in your car's capability. True fact.
Other features of the Terra Trek include a 90-litre water tank, four jerry cans, two 4.5kg gas cylinders, long-travel independent suspension, durable mud-terrain tyres, two 105 AH deep-cycle batteries and a Redarc 1230S2 battery management system.
The Terra Trek is designed and made in Australia, by passionate off-roaders who really know their stuff. They have focused on producing a trailer that is tough enough to withstand the extreme conditions that travelling in the outback brings. Every detail of this highly-engineered beast is designed with strength, durability, and endurance in mind. It is literally packed with innovation and is the ultimate expedition trailer. And it definitely doesn't disappoint in the looks department either. In fact, we all loved it so much we ended up not being able to give it back at the end of our holiday. Lucky for us, the prototype was for sale, and lucky for you, the much more refined, highly-spec'd version is on the market now.
VERDICT
Combining the freedom of being able to go anywhere, with an extremely quick and easy set up and pack down means hours, let alone days, on the road become what they're meant to be: Relaxing and enjoyable.