FLAIRS ARE BACK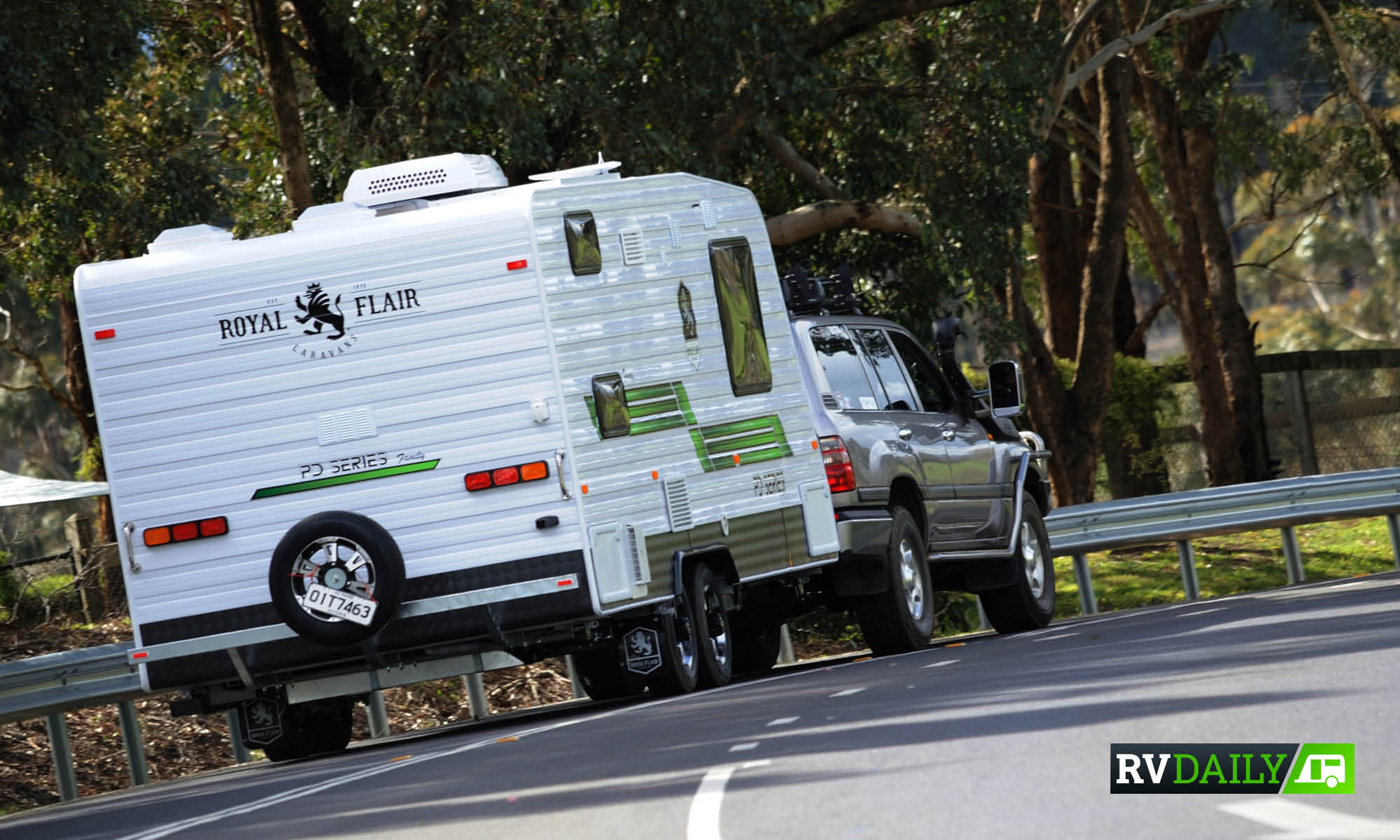 Royal Flair's PD family bunk van looks to offer a great package
Over the past 40 years, Royal Flair has earned a solid reputation for building a wide variety of vans for on and off-road work. In that time, it has created some really interesting and practical products for the marketplace.
The PD range of vans is a prime example, with their point of difference being that they are aimed squarely at the mid-priced market, around the mid to high 50s, yet come with an impressive list of standard features. There are five vans in the PD fleet, starting at 18ft, 6in and moving up to 20ft, 9in. All are designed for on-road touring with ATM weights ranging from approximately 2190kg to 2726kg (our review model), which keeps them in an easy towing range for a lot of vehicles and saves the cost of buying a specific tow vehicle in many cases.
The PD range all feature an ensuite and queen-size beds among the standard features, however, our review PD also had double bunks. There is a three-bunk version available, obviously aimed at
the family tourer.
One other point worth noting on our review model is that it had a variable payload which obviously then changes the ATM weight. Our model had a 600kg payload with a Tare of 2126kg and an ATM of 2726kg as standard. 
This caters for an extra person and/or gear required when touring with the kids. Royal Flair can rate each van down to a more standard 400kg payload (standard for a tandem-axle van), which drops 200kg off the payload and ATM so it could suit a tow vehicle with a tow rating of 2600kg or above. It's a good flexible approach, however, it does mean owners need to know exactly what their tow rates are to stay legal.
Overall this van is very neat so let's take a closer look at the mechanicals and the interior fit and finish.
OUTSIDE
The PD Series Family van is built in a fairly standard format. It starts with an engineered G&S Duragal chassis, a tandem load-sharing, leaf-spring suspension system, 10-inch electric brakes with breakaway switch and 15-inch alloy rims that are shod with 205 70P15C tyres. At the rear, a bumper has the spare wheel mounted to it. This van will handle some dirt roads, however, it's really designed as an on-road van.
Body wise, charcoal chequer plate on the front and sides combined with aluminium cladding are neat and while our review PD featured snazzy green decaling, but there are other colour choices available. There are plenty of double-glazed windows to allow airflow and light into the van and a triple lock door which also adds to the ventilation options.
Around the body are hatches for storage and a full-width tunnel boot, complete with light allows for plenty of long item storage. A charcoal awning and white picnic table is standard fair for this Royal Flair, which helps with outdoor living.
Other standard features include a 9kg gas bottle with the option of a second if required, twin shielded 95-litre water tanks, a jockey wheel, drop-down jacks and a shielded tap on the A-frame. Up on the roof is a 150W solar panel coupled to a deep-cycle battery and managed by a Genius battery management system. 
The overall package is pretty standard fair for its place in the market, however, it was neatly put together, it's practical and it looks good.
INSIDE
Tasteful and compact are two words to describe the interior of the PD. With a 20ft interior size, Royal Flair has done some serious design work to make the van as practical as it can be for a small family who love to get away.
The entrance door is toward the rear of the van and stepping into the van the ensuite runs across the back wall. The ensuite has a separate shower and toilet, not a combo, and is small to accommodate the bunks, which run all the way along the driver's side wall. The ensuite fits between the bunks and the passenger side wall. What I really liked about the way this ensuite is set up, is the bi-fold door to the shower. When open it creates a feeling of more space, even if the toilet is being used, and allows for more room to get dried and dressed. 
A small basin and cupboards are fitted in this space along with a good-size mirror for grooming so it's a practical space to use.
In the middle of the van on the passenger side is an L-shaped dinette suitable for four people. Overhead cupboards provide reasonable storage while there's more storage under the seats. The dining table does provide extra benchtop for the kitchen, however, Royal Flair has also created an interesting cupboard at the end of the seating. This is at the bed end of the van and features three slide-out drawers into the main hall area and a double-doored cupboard on the bedroom side. This creates some practical bench space plus plenty of drawer space for food or gear without compromising the dinette seating.
Working around the van the main bedroom is up front and features an island style queen-size bed with deep wardrobes and cupboards on both sides. There are the usual overhead cupboards and LED lights feature. The TV is wall mounted on the passenger side kitchen wall, making it easy to use for the bedroom or the dining room, although if it's swivelled for the dining room it might just interfere with the microwave oven.
The kitchen is opposite the dinette and is tight on for bench space, however, Royal Flair has packed in plenty of cupboards into the small space making it feel big. On the bench is a recessed Thetford 3&1 gas electric cooker with grill, a stainless-steel rangehood and a deep sink with flick mixer.
Overhead, there are cupboards and an NEC microwave, while under the bench are more cupboards. There is a nifty slide-out cutlery drawer under the bench and plenty of room for pots and pans and the like. Laminex is used for the splashback and the bench tops to tie in the kitchen package.
Between the bed and the bunks is a 184-litre Thetford fridge, which is more than large enough for a family. There is a cupboard above and below the fridge if extra storage is needed.
Under the bottom bunk there is one drawer accessible from the inside and a storage space at the back accessible from the outside. Each bunk has its own window and light, and in future models Wi-Fi will be a feature to allow the kids to play on their electronic devices. The bunks are comfortable enough and will certainly cater for growing bodies.
Standard features inside the van include LED lighting, incorporating touch lights in the living areas, a Winegard antenna, Dometic roof-mounted AC, CD radio combo system and mats, to name a few.
Overall, the interior is practical, well designed and quite tasteful. It may be a little cramped with a larger family, however, this van is designed to let families enjoy the great outdoors affordably.
Verdict  
Overall the fit and finish of this van was really very good. For a van this size, room is tight and I reckon it's designed for outdoor living with the kids only being allowed inside to sleep and wash – maybe!
The price point of around 60 big ones drive away is sure to attract many potential family tourers. So far Royal Flair is impressed with sales, which means it is on the money. Another selling point mentioned was the fact that this van is light enough to be towed by many vehicles and a 600kg payload that can be adjusted back by several hundred kilos, which might mean a new car purchase is not required.