TOURING LUXURY? OR JUST A CATCHY NAME?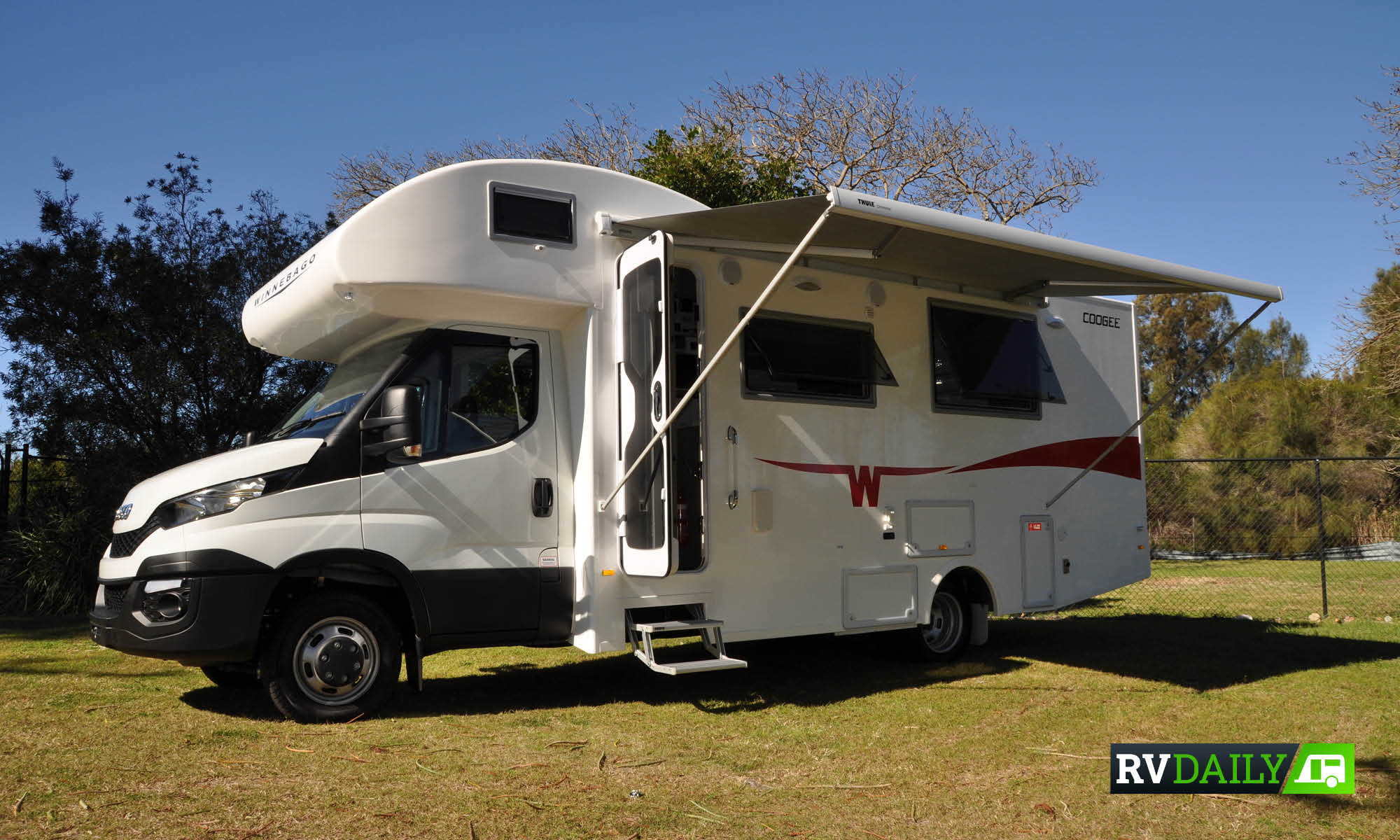 Like its seaside suburban namesake, the Coogee by Winnebago promises easy, stylish living…
A motorhome makes a great alternative to a seaside home or beachfront holiday house. For a fraction of the price of traditional real estate you can buy into the Australian seaside dream, and as a bonus change the view as often as you wish.
Winnebago's Coogee is a modern mid-priced motorhome well suited to long lazy seaside days and warm summer nights. Seating and sleeping four, it's classified as a C-class due to its over-cab bed and runs on the latest Iveco Daily 50C170 cab-chassis. The Coogee's forte is easy driving and open plan living. It also comes with most of the mod cons you need for perfect overnighting or extended holiday travel.
DRIVING FORCE
Iveco's latest Daily has carved an enviable niche in the motorhome market due to its combination of power, refinement and towing ability.
Power comes from 125kW/430Nm three-litre turbo-diesel, driving through an industry-first eight-speed ZF auto, with eco and power modes. In standard form it comes with a 4495kg gross vehicle mass (GVM), which means you only need a car licence, or an optional 5200kg GVM, for which you need a light rigid (LR) licence. The difference between the two is a 600 or 1305kg maximum payload and for most people the former is sufficient. If you're planning to tow a car/boat/trailer, the Daily also has an industry-leading 3500kg braked towing capacity.
The cab features automatic climate control, electric windows, electric heated mirrors, remote central locking and a sound system with Bluetooth and CD player. Safety is well covered with the inclusion of driver, passenger and curtain airbags, electronic stability program (ESP), anti-lock brakes (ABS), traction control (TC), a hill holder and more – including trailer sway mitigation (TMC), which is an important consideration if you're towing. 
On the road the Daily is an easy and pleasant vehicle to drive, with good visibility and a tight turning circle, plus more than enough power and performance. The seats are firm and a bit shapeless, but nonetheless comfortable, while the standard audio system is rather basic and disappointing for the price of the vehicle, but is easily upgradable. The eight-speed auto shifts seamlessly and while the Daily is not quite as refined overall as a Mercedes-Benz Sprinter, it does a perfectly acceptable job and is undoubtedly tougher than its German rival.
BODY BEAUTIFUL?
Gel-coated composite panels are used for the walls, floor and roof, with fibreglass mouldings for the nosecone and back wall. It's a modern, proven system that's highly insulative and uses the panels to form a rigid, durable box. Although a bit slab-sided and no standout in the styling stakes, the Coogee's design is functional and proven. Despite the American moniker, the design is rooted in the local rental motorhome business, where things that are pretty but flimsy don't go the distance. If there's one word that sums up the Coogee it's 'solid', and for an investment like this I think that's a good thing.
Before moving on, let's take a look at the Coogee's vitals: Length is 7.91m, width 2.45m and height 3.15m. Fresh and grey water capacities are 100 litres each; 12-volt power comes from a single 100 amp-hour deep-cycle battery, while a pair of 4.5kg cylinders provide your LPG needs. Standard equipment is quite good and includes big things like a roof-mounted 2.4kW reverse-cycle air-conditioner, small things like an external gas bayonet fitting and in between things like a quality Fusion AM/FM/USB/MP3 Bluetooth stereo in the living area, complete with internal and external speakers. Lighting throughout is LED; there's a set of electric entry steps and the latest Dometic CaraD security entry door is fitted – all good stuff. 
INSIDE
Stepping inside, the Coogee has a front dinette and split kitchen, mid slide-out bedroom and full-width rear bathroom. The entry door is right behind the passenger's cab door and this has allowed the designers to make the most of interior space without further interruption. Let's start up front…
The test Coogee came with an inward facing dinette/sofa immediately aft of the driver's seats. Featuring a small, fixed table only just big enough for two (not good in a four berth!) and providing a view of the kitchen while dining, it's less than ideal. It also doesn't mesh well with the cab seats when swivelled. Fortunately, an alternative layout is available, with a forward-facing dinette and larger table. Not only would it work better with the swivelled cab seat and provide views out the windscreen and side window, it would have more chance of seating four at meal times. It would also provide a forward-facing seat for passengers, which is an important comfort (and I believe safety) consideration.
The split kitchen has the main work area on the kerbside, immediately aft of the entry door. Bench space is limited due to the inclusion of a domestic-sized stainless-steel sink with drainer, but the dinette table is immediately behind you and the cooker has a handy glass lid. Speaking of the cooker, travelling chefs will appreciate the provision of an oven and grill. While there are just two gas burners on top, an electric hotplate is also provided for when you're plugged into mains power, helping to conserve gas supplies. A slimline rangehood is included, storage is abundant and a large window provides ample natural light, fresh air and (hopefully) a good view for the designated meal preparer.
Across the aisle a generous 190-litre two-door fridge, which runs on LPG/12 or 240 volts, sits at floor level in a tall unit, with the microwave above it. There's a Fusion sound system above that and at the very top there's a cupboard containing the electrical switches, monitors and gauges. It's nice to see a microwave at an appropriate height for a change, but I do wonder how shorter people will manage with all the electrical switches being mounted so high…
LATER ON
The Coogee's queen-size main bed sits east-west across the vehicle, with its head in a compact slide-out on the driver's side. When extended there's good walk around space at the foot and the designers have incorporated an impressive set of cupboards and drawers that run along the kerbside wall, between the kitchen end panel and bathroom. Not full height, they sit level with the kitchen benchtop and provide valuable extra space. There's a large window above plus one above the bed head, while the TV sits on a swivel mount at the top of the kitchen end panel and can be comfortably viewed from bed or the dinette. While there are no bedside tables there are high-set shelves on both sides, complete with 5V USB charging outlets, plus fixed reading lights.
When the slide-out's retracted, the foot of the bed nestles snugly into the long line of cupboards. Unfortunately, and for reasons I can't fathom, although the bed lifts slightly for storage it can't be lifted enough to provide walk-through access to the bathroom. That means if you want to use the loo during the day you either have to extend the slide-out or scoot across the bed – hardly convenient or acceptable in a $160,000-plus motorhome. 
Any guests get the secondary, over-cab bed that is accessed via the requisite aluminium ladder. This area is also good for bulky storage at other times. It's a shame this bed also doesn't lift (I see a theme here), as the fixed bulkhead between cab and living area is a head-bumper and inhibits easy through-cab access.
The full-width rear bathroom, however, is worth making any required effort to reach. It has a full-size domestic shower cubicle in the kerbside corner, a cassette toilet on the opposite wall and a modern vanity unit with a large hand basin in between, along the back wall. There's even room for an optional washing machine, plus plenty of storage and mirrors. Nice!
Verdict
The Winnebago Coogee is a spacious, comfortable and easy driving motorhome that would be at home in any sea/lake/hillside setting. It's solidly built, well finished and has a good level of standard equipment. The Iveco Daily it rides on is also a good choice, making this a motorhome you will quickly feel at home in.
There are some design niggles that need addressing – bathroom access being the priority – and while the interior is contemporary glossy white, the white-box exterior needs "jazzing up" (to quote one interested passerby) to make it more appealing. After all, being named after one of Sydney's most desirable seaside suburbs carries prestige, plus a burden of expectation.