Located in the outback of Tropical North Queensland along the Savannah Way, Talaroo Hot Springs is a fascinating new campground and caravan park that showcases the geothermal waters of the region and its rich Ewamian Aboriginal culture.
Formed millions of years ago, the hot springs are on-site and water comes out at steamy temperatures of up to 62°C, flowing into the terraces and pools across the mound. There are only two mound springs in Australia and Talaroo is the only one not fed by the Great Artesian Basin. Instead, the water is heated by hot granite rocks, emerging from kilometres underground. Due to this uniqueness, the hot springs are home to an extraordinary ecosystem found nowhere else on earth.
Fun fact: After falling as rain in the nearby Newcastle ranges, the water takes a whopping 20,000 years to find its way back out again in Talaroo Springs!
Geothermal soaking pool and private pools
A geothermal soaking pool has been created and guests who embark on the Hot Springs Discovery Tour have exclusive access to it. Limiting access to the soaking pool for tour participants only helps the Ewamian Rangers to protect this unique landscape.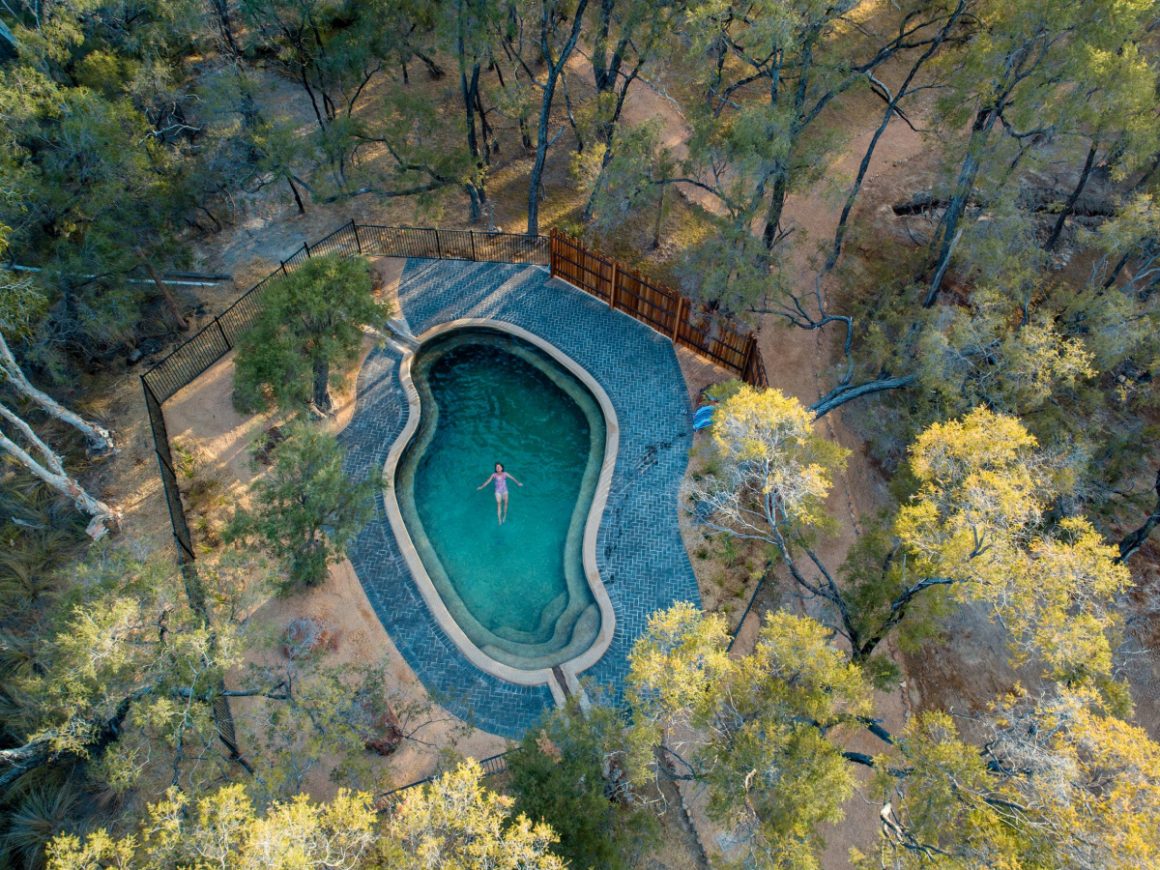 Purpose-built geothermal private soaking pools have also been built, allowing caravan-goers and campers to book in and experience the waters, which are said to be healing for both body and soul. It costs $30 to book in for 30 minutes, and although they are most comfortable with one to two people, you can squeeze four people in one pool.
The tour itself is pretty cool. Starting at reception, a guided walk will take you through to a new elevated boardwalk for the best views of the terraces and vents, while your guide will share the history and secrets of Talaroo. At the end of the tour, you will be invited to soak your feet in the original soaking pool.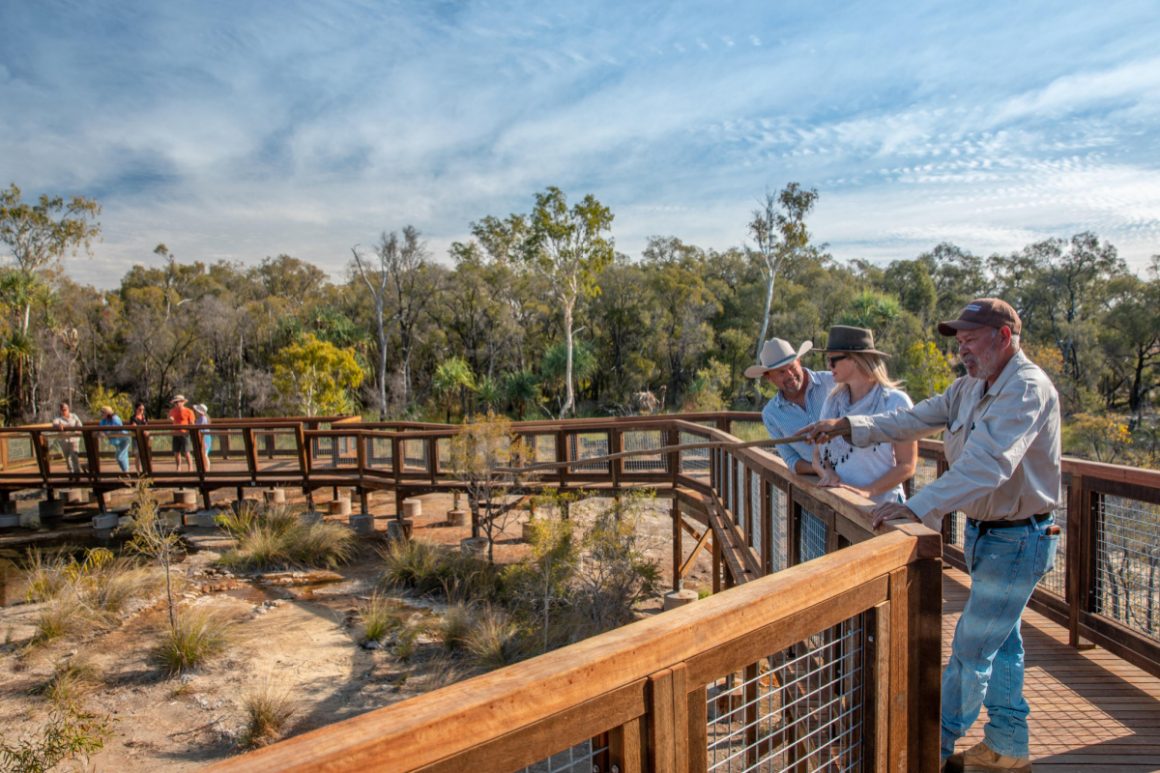 The tour goes for 1.5 hours and the costs are as follows:
Adult: $36
Child 5 to 15 years: $20
Family (2A+2C): $100
Infant 0 to 4 years: free of charge
There is more to Talaroo than these amazing hot springs. Guests are also welcome to stroll down to the Einsleigh river for a spot of fishing or a paddle.
​About the caravan park
The powered sites are 12m x 5.2m and are set back at least 3m from the road. Each side has a grass/dirt base and offers power and water. Unpowered sites are 8m x 6m and are also 3m back from the road with a grass/dirt base.
Fires are not allowed, but all guests are invited to join in around the central fire pit each evening for a Yarning Circle.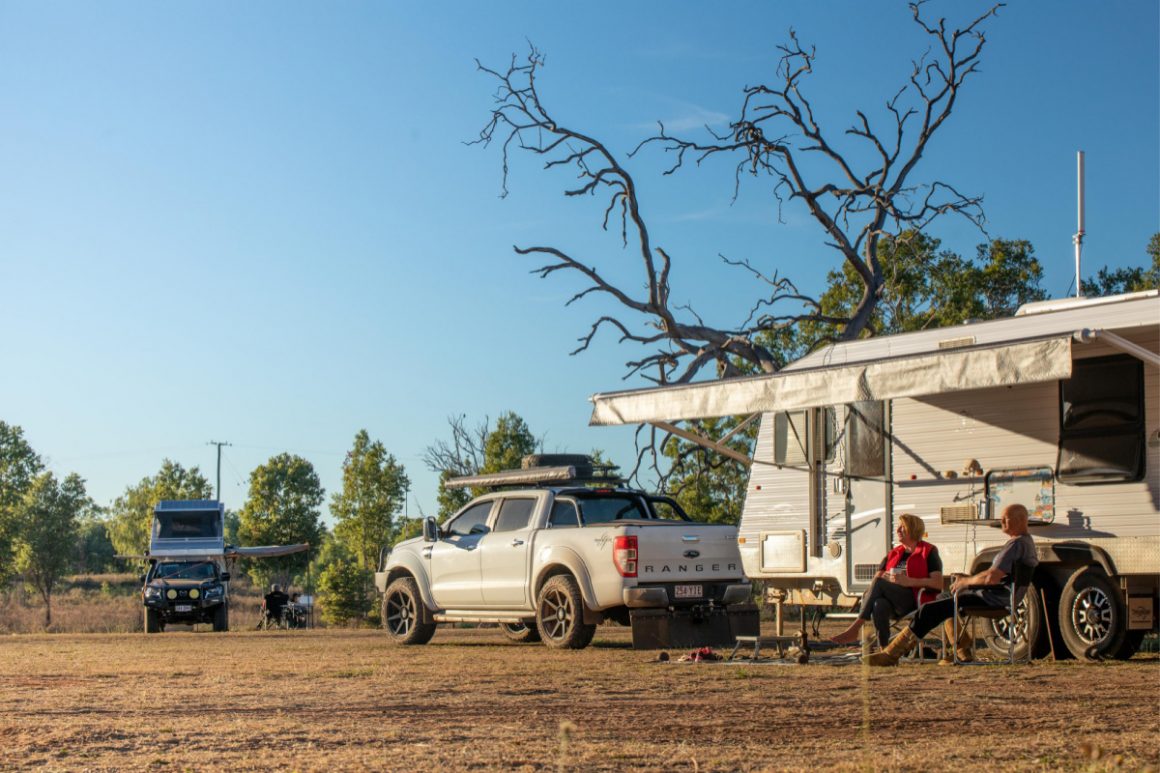 Facilities: Camp kitchen with BBQs, cooktops, sinks, fridge and picnic tables. A new toilet and shower block has been built and includes a wheelchair accessible bathroom. You will also find a gift shop and a small cafe on site.
Vehicle types: All vehicle types. The last 10km in is on an unsealed road but it is suitable for standard vehicles and vans.
Camping rates in 2022
Powered site:
Up to 2 adults: $40
Extra adult: $15
Extra child: $8
Family (2A+2C): $54
Unpowered site:
Up to 2 adults:$32
Extra adult: $15
Extra child: $8
Family (2A+2C): $44
Bookings are essential and the 2022 seasons will open on 1 April, closing on 31 October.
How to get to Talaroo Hot Springs
Find Talaroo Hot Springs along the Savannah Way between Mount Surprise and Georgetown around 4.5 hours southwest of Cairns. The Savannah Way is an epic 3700km journey that links Cairns in Tropical North Queensland to Broome in Western Australia's Kimberley region.
Pssst … While we're on the subject of epic road trips, make sure to check out these 6 picturesque drives to take your campervan in Australia and this handy article on free camping in Queensland.
​