This article on awesome spots to free camp in Queensland contains affiliate links to products. We may receive a commission for purchases made through these links.
Did you say I could camp for free in Queensland? Yes please!
Everyone loves a good free camp and Queensland has the perfect weather for it. But how the heck do you find the awesome ones? We're going to help you with this guide to free camping in Queensland. Keep reading for a list of five great free campsites in the sunshine state.
1. Babinda Boulders, Tropical North Queensland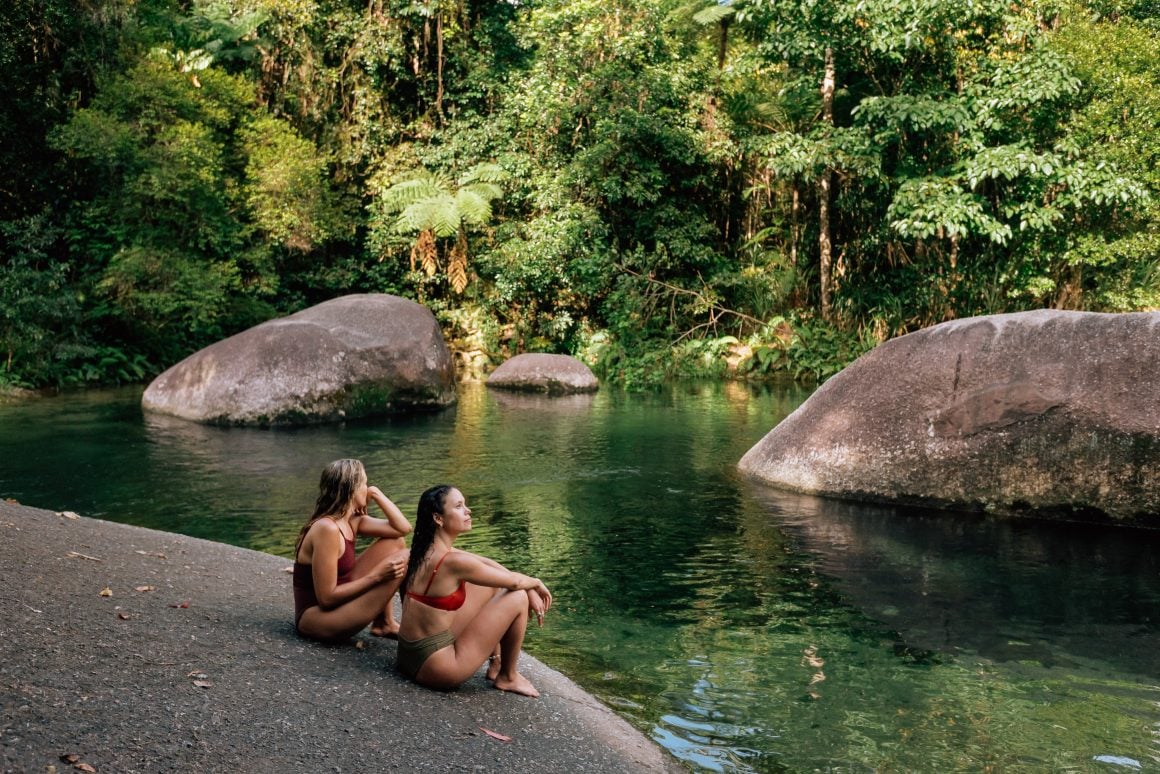 There are two free camp areas near Babinda Boulders to choose from, both around an hour south of Cairns. Swim, stroll the boardwalk for great views of the water thundering over the boulders, enjoy the beautiful surroundings, or just lay in the cold water to beat the heat. Make sure to obey the signs indicating where you are not allowed to swim as the boulders have claimed many lives over the years.
The Babinda Boulders free camp area is closer to the boulders and swimming hole and the Babinda Boulders Rotary Park free camp is closer to the small town. However, the latter allows your furry friend to stay as well. The location of the Babinda Boulders site makes this one of the best free campsites in Queensland!
Facilities: Both have toilets, cold showers and BBQs. The Babinda Rotary Park camp also has a dump point, coin-operated hot showers, picnic tables and a swing set. You can stay for a maximum of 72 hours.
Suitable for: All vehicle types.
2. Long Waterhole at Winton, Outback Queensland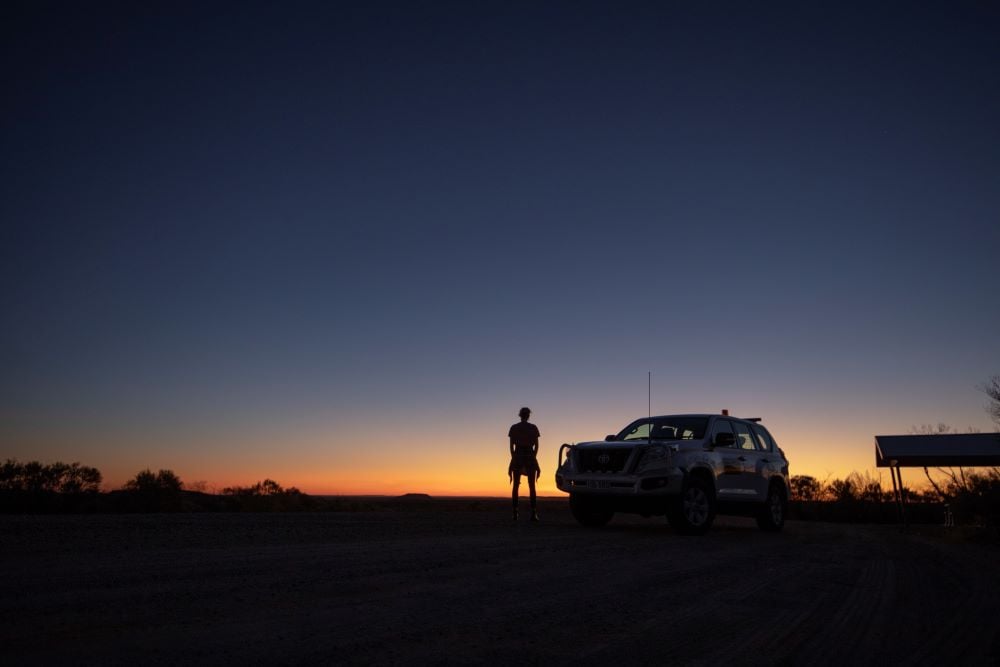 There is something about a free camp on the dirt next to a muddy water hole that feels perfectly like outback Queensland, right? Just a few kilometres from Winton, Long Waterhole is a great free camp with heaps of room and epic sunsets. There is a little shade under the trees around the waterhole but no grass. Nevertheless, it's a great place to base yourself to explore Winton, Opalton, Lark Quarry and the Australian Age of Dinosaurs.
This campsite is affected by rain and floodwater so you will need to have a Plan B in the event of bad weather.
Facilities: None.
Suitable for: 4WD however AWD will suffice in the dry.
3. Notch Point, Central Queensland Coast
This beachfront free camp at Notch Point can be found around 1.5 hours' drive south of Mackay at Ilbilbie. This campsite is recommended for 4WD only and it's not uncommon for cows to wander through the campsite, so be ready to make friends! Views of the peninsula from the hill are great but unfortunately, you can't swim due to sharks and saltwater crocs. Fishing, on the other hand, is highly recommended.
Facilities: None.
Suitable for: 4WD only.
4. Julia Creek, Outback Queensland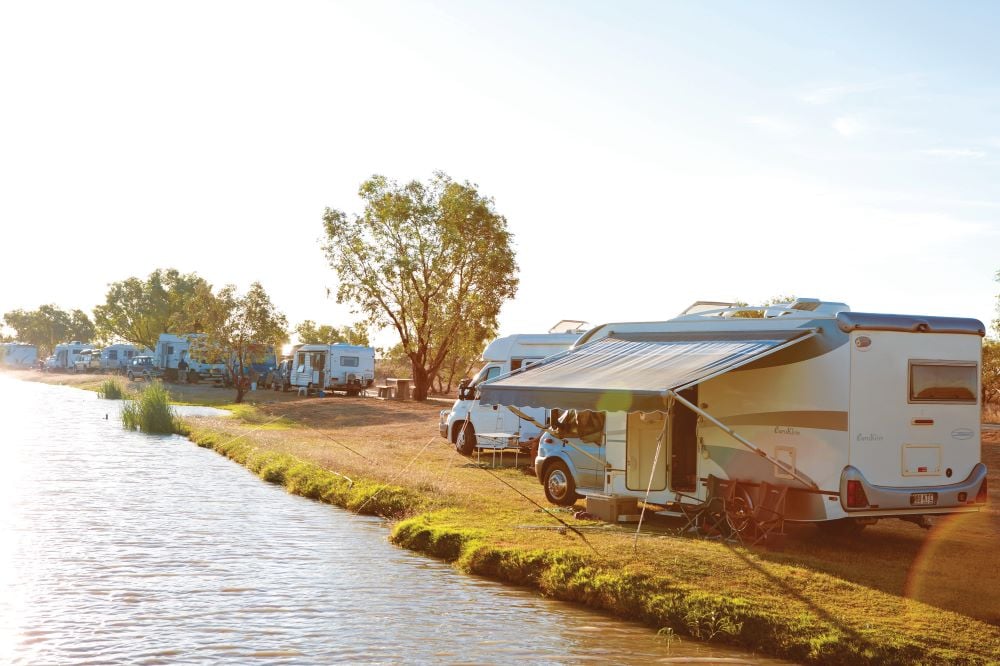 The RV-friendly free camp at Julia Creek is literally right on the water's edge of Julie Creek. The best thing about it? Julia Creek itself is in the middle of nowhere (around three hours east of Mount Isa), making this one of the most remote free camp spots in Queensland. This is a top place to relax, fish from the creek or just enjoy some wine and cheese as the sun goes down.
Campers must be fully self-contained and portable showers are not accepted. Vans must have a black water holding tank or cassette.
Facilities: Picnic tables, bins, bush cook camps, free bike hire.
Suitable for: All self-contained vehicle types.
5. Rollingstone Creek Bushy Park, North Queensland
This free campsite can be found at Rollingstone, around 45 minutes north of Townsville. The campsite is shady and due to the shallow nature of the beautiful creek nearby, it's great for those travelling with kids. If you're travelling on the first Saturday of the month then be sure to stop by the community markets (April to September). Bookings must be made on the Townsville Council website and it does fill up quickly.
Facilities: Toilet, picnic tables, BBQ, bins. The maximum stay is 48 hours.
Suitable for: All vehicle types.
More free camping in Queensland and around Australia
If you're planning on doing a big lap or just want to save your hard-earned cash for better things on your next getaway, free camping in Australia is a great option.
More free camps can be found in these books from Hema Maps:
If books aren't your thing, try the Hema Explorer App.