It's the accessory that in one move adds an extra dimension to caravanning to make your time away ideal. So which caravan awning is right for you?
The caravan or camper you have bought will provide the living accommodation that suits you as best as possible, but we don't go camping to sit in the caravan (unless you're an ex-pat Pom reliving your childhood). No, being in the outdoors is what it's all about. But being able to comfortably enjoy outdoor living in Australia you need shade.
The awning is an item on the specs list that you may mentally tick off, but do you give it any more thought? If you have been caravanning for yonks, then by now you've probably worked out what works for you and why.
So what are your options when it comes to specifying an awning for your model? Are you buying new or replacement? Well, one crucial point: remember the length of your van. Rookie error maybe, and whereas the van maker knows the sizes of its vans and specifies the awning to suit, if you're buying (especially online) remember it needs to fit your caravan and there's only so much sidewall to fasten it to. Check the dimensions in all directions. If you're replacing like-for-like, then this should be straightforward.

What are your options?
Old school and retro
I thought to bring this up because there's been an uptake in vintage van ownership. Renovating a van is a huge undertaking but social media is full of project vans on the go and those staying true to the period may stick with an awning running in sail track. The track is screwed or possibly rivetted to your van, as the 'groove' and the 'tongue' of the awning slides in. It's a simple slide-in process for your awning material to be drawn along the side of the van and then supported by vertical poles and pegged, with possible horizontal spreader bars too. The sail track route also works for making smaller sections on any van for shading items like your internal fridge and its vents, or even a generator. Very often, though, the original stripy annexes are the go-to for 60/70s authenticity, which is a very different erection issue and you will need help with that. No, not a pill … unless it's a Bex afterwards.

Cassette players
Retro name but not in execution, the cassette (or box) awning is very popular and comes in various models from at least two of the well-known names in awnings, Fiamma and Dometic. While there are electric versions – oh, the modernity – most cassette awnings still rely on you to locate the winder, insert it into the socket the right way, and then manually wind-out the awning as it's released from its protective housing. And that's a plus point too, the awning material is protected from sunlight in there. If you don't use your van (or awning) that much then this is a boon over a roll-out type that constantly has its outer layer exposed to UV when stowed (see below).
Now, the major downside to this style is if you break the mechanicals where the winder inserts, there has to be another method of deploying or retracting the awning shade. The cassette awning usually employs two drop-down legs that can be pegged to the ground or anchored to the van walls. Make sure the attachments have been fitted to the van! While the awning sheet will be supported by arms, or spreaders that extend up to maximum extension, there's often no upper frame that makes de-flappers at the ends usable. That said, the spreaders aim to tension and de-flap. The cassette awning is easier to install and is a popular fitment to a tow vehicle too if used for camping without the van.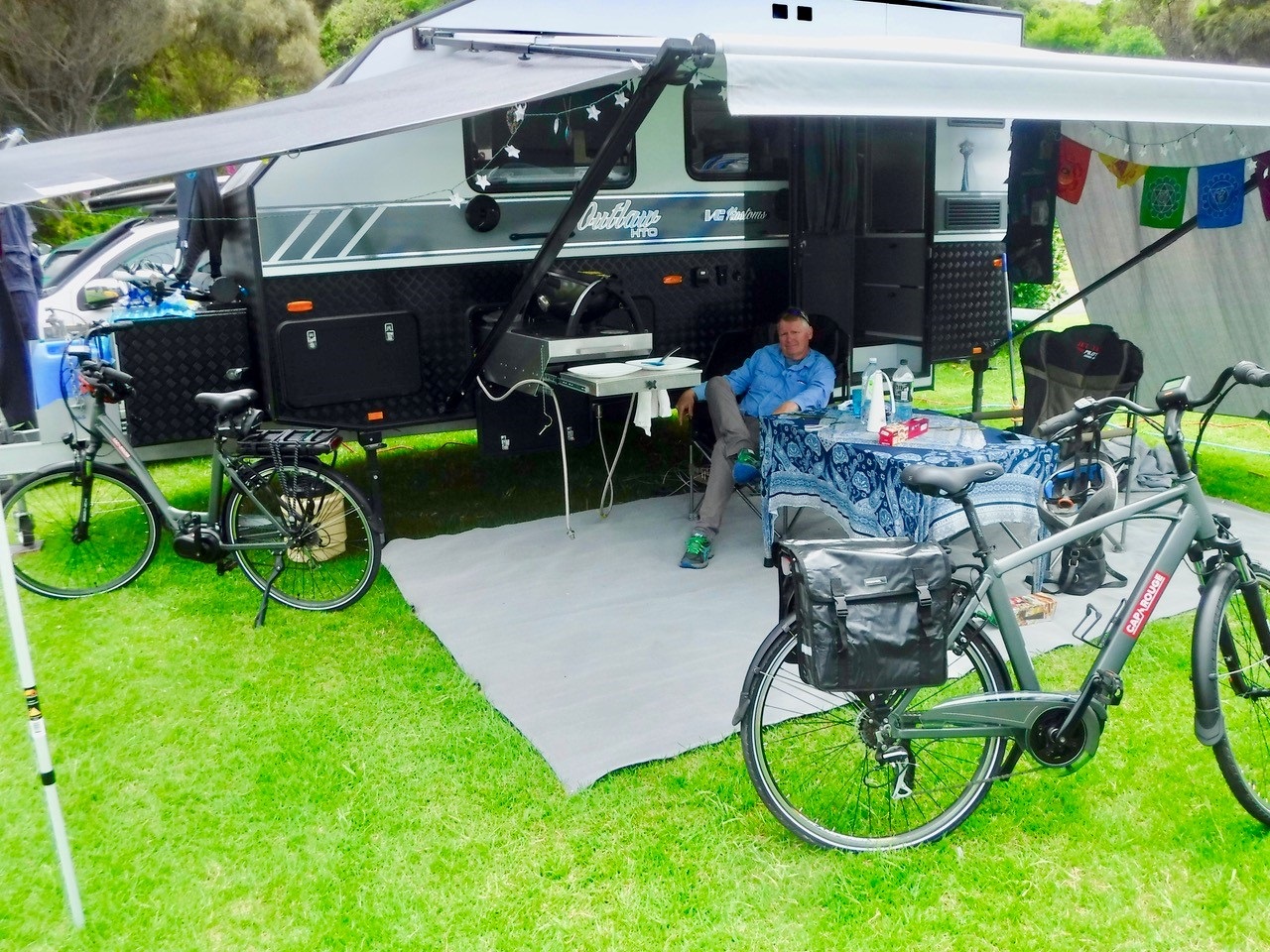 The roll-out awning
The roll-out awning can be quite dramatic in its operation if you're not paying attention; the way it finalises its up or down trajectory can be quick and forceful. The roll-out awning usually uses a more substantial upper frame or scissor-type arms that extend outwards than its cassette relative. Go on then, what's a de-flapper? Well, it's a device that tensions the awning sheet at the sides by clipping on and attaching to the aforementioned frame. And in this style of roll-out awning, the sail track is part of the installation and makes adding privacy shades much easier. Either way you do it decreases the loose material leading to awning flap.
On the topic of securing things, make sure with this type of awning that the arms or the vertical stays when they're back up against the side of the van for travel, are properly locked and secured with a Velcro wrap strap (or something similar). The last thing you want is to deploy the awning as you drive along, despite the fact your social media presence should increase markedly if it did.
One point to note; make sure the van you pick up actually has the strap used to pull the awning down installed. We've had a brand-new van missing that vital item. If you arrive at your first campsite to discover this wasn't picked up at the handover, well, the swearing might be akin to the annexe-erecting scenario mentioned above. And finally, while the roll-out awning is exposed to the sun more than the cassette version, dedicated covers are available to buy. More complex to fit, the roll-out type is more sturdy than the cassette type and comes from companies such as Dometic, Fiamma, Carefree and Aussie Traveller.
The electric set-up
The ease of push-button deployment can't be understated. Available as an option on vans and motorhomes, standard on high-end gear, the electric awning is a cassette or box-mounted device but of course carries with it the risk of electrical failure. However, a manual mode is provided. I used one coupled with an electric sliding door on a Mercedes-Benz Sprinter-based Trakka motorhome and it was the bee's knees! Obviously, cost is about the only other negative over what we've mentioned with the cassette type.
Awning care tips
Be watchful of the weather. A forecasted cyclone is one thing, but a breeze can bring you undone too. Literally. With the electric set-up I had, it'd been a wind-free few days at Bathurst Showground and although securely pegged down, when I returned from a quick walk to the shops to find the awning cassette missing. The whole thing. Figuring I'd been victim to the garden-hose trimming, jazz cigarette smoking local ne'er do-wells, I was relieved to find the cassette over the other side of the Mercedes. It had taken out the a-pillar and part of the wing on its descent. Imagine if it had been the bonnet and/or windscreen. I'm still incredulous as to how it happened but the message is: never leave an awning deployed unless you're confident your pegging and roping could hold down an election promise of (insert who you like here) … If you're insistent about using straps or guy ropes to secure your awning in windy conditions, be careful not to over tension them as it can damage the awning bars.
Keep the awning clean and don't use harsh chemicals when you do so. Don't pack it wet or covered in bird or bat shit or possum pee or, if you have to, make sure you release it as soon as possible and give it a wash. As for cleaning specifics, Marty Ledwich reckons Aldi's Mould Away works extremely well to clean mould stains. He says not to leave the product on the awning any longer than the instructions say to and ensure you thoroughly wash off the cleaner when done. While Sharon Duiker from Korker Adventures sings the praises of a magic eraser to remove gum leaf stains.
Examine it regularly for signs of damage and tears that may turn into tears (see what I did there?) if left unchecked. Before packing away a roll-out awning, clean out any dirt or foreign objects from the seams near the roller. This dirt and grit will build up over time and eventually weaken the stitching in the seams. Eventually, the awning will tear along these seams like perforated paper.
And finally, apart from the shade, and support for your washing lines, you could attach a Rain Saver Gutter too, and make it environmentally friendly as well as hopefully boost your own water catchment.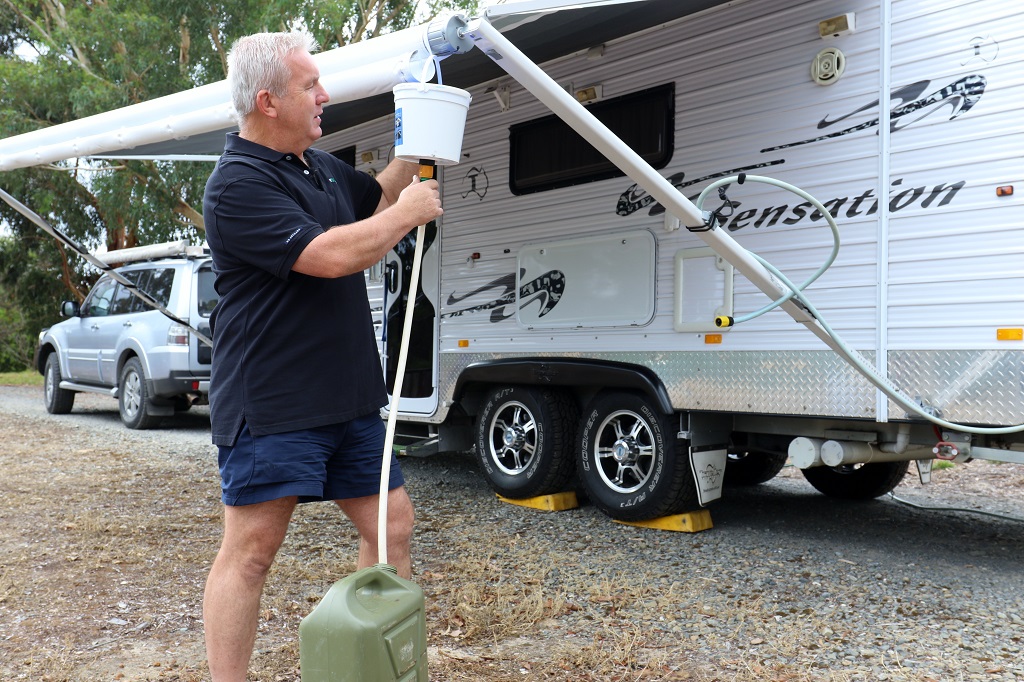 For a whole world of awning shopping and technical information, see Caravans Plus, click here
Hopefully, these tips make your next awning purchase an easy choice. We'll get started on annexes another time.
Images: Shelley Regan, Marty Ledwich, Korker Adventures, Stuart Grant and Linda Bloffwitch.