Take a Look at These Dream RVs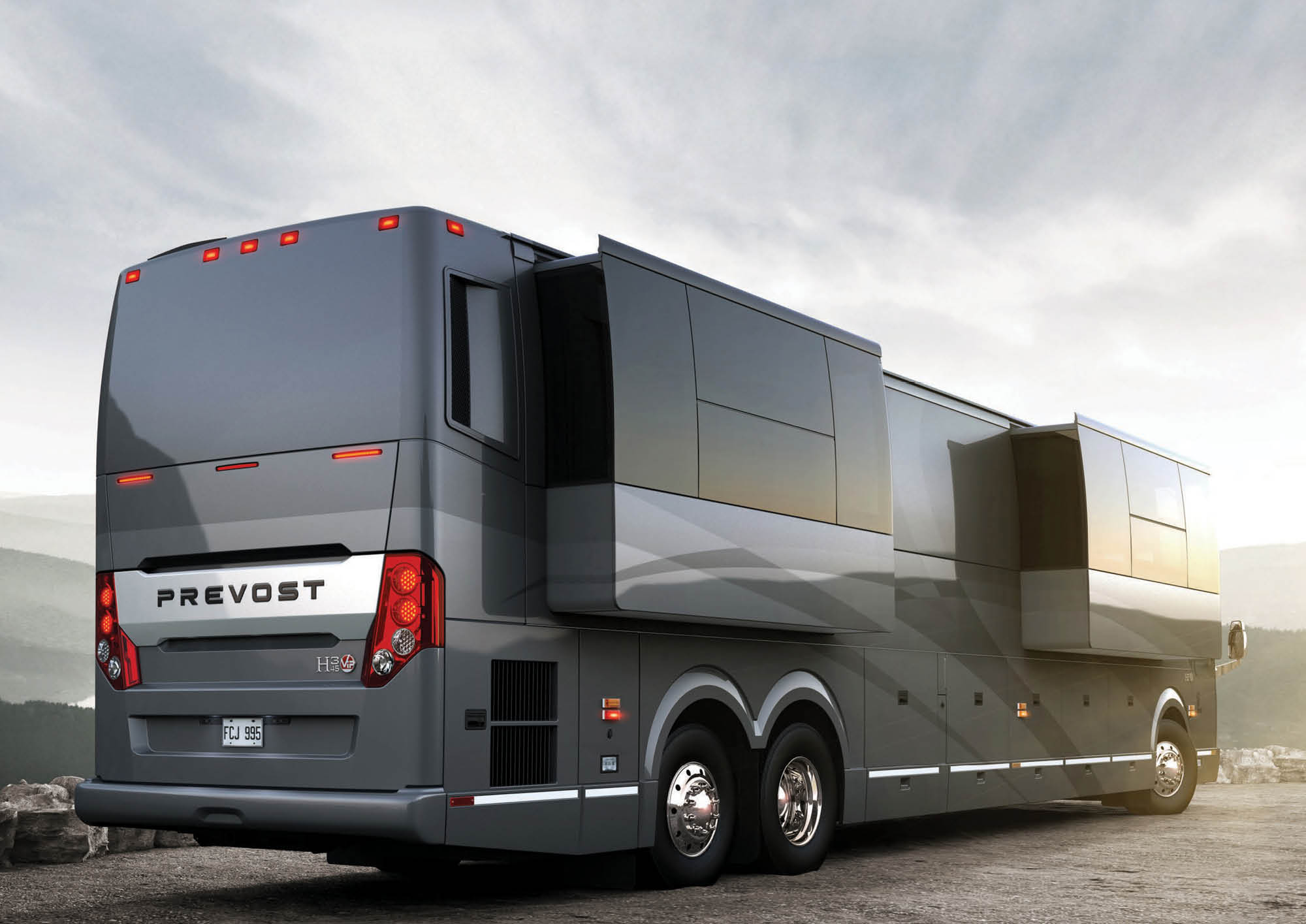 There's a lot that goes into planning a successful road trip. From choosing the route and pit stops to choosing people who won't drive you insane, you'll find selecting a set of wheels that'll get you there comfortably high on your list of priorities.
So with that in mind, we did a bit of research and found some the most awesome and outrageous RVs from around the world, from hand-crafted nostalgia to a vehicle perfect for hunting prehistoric fossils in Antarctica.
We can all dream, so let loose in your mind and hit the open road in style with these incredible creations.
Do yourself a favour and read this story – complete with images – in our online magazine.
Volkner Mobil Performance – Germany
The Volkner Mobil Performance bus features a hidden garage tucked between the front and rear wheels which is designed to accommodate a low-slung sports car such as a Ferrari or Lamborghini – or a mini – which can be lowered and extended out of the bus at the press of a button, ready for you to cruise some exotic coast.
The Volkner Mobil Performance Bus is a 40ft long palace on wheels offering total luxury for the more discerning traveller, with all mod cons inside: fitted kitchen with dishwasher, full-sized shower and adjustable leather seats, and that is just the top of a very long list!
But with a cool $2.1m price tag for just the motorhome, it might be a bit lighter on the budget to choose a luxury hotel and hire the fancy car.
Featherlite Vantare Platinum Plus – USA
The Vantare Platinum Plus is possibly Featherlite's most extravagant vehicle. This mansion on wheels has custom-built sculptures on the ceiling surrounded by Swarovski crystals and marble steps leading up to the cabin. Rare Inca marble, copper, pearlised Italian leather, suede, antique bronze and onyx make up many features of this vehicle. Price? $3.3m, to you!
The TV in the master bedroom lifts out of the floor board, which you can watch from the king-size bed. If you don't feel like going out for a walk, the Featherlite has a built-in treadmill and bathroom fitted out with French hardware to wash down. The cockpit has a state-of-the-art Avic N-2 GPS system with real-time traffic and weather alerts. This RV even has a garage slide-out compartment that fits a sports car!
The shell is made from a Prevost bus shell, and the fuel tank holds a credit-card-melting 890 litres. 
UNICAT Amerigo International – Germany & China
The humble exterior of the UNICAT Amerigo International is definitely deceiving. Some say it even looks like a garbage truck!
But the luxury is inside and this vehicle will set you back about $650,000, and is possibly one of the most rugged RVs on the world market.
Built with solar panels and a 3200km fuel range, the International can travel a long way without stopping. Inside, there's a kitchen, a master suite, desk space, and even a water-maker that can decontaminate water on your travels. Though it costs more than a small house, this could be the perfect vehicle to have in a zombie apocalypse.
2015 Prevost H3-45 VIP – Canada
Stand out from the crowd with the Prevost: a hulking giant of an RV. With precision-moulded fibre on the outside, and wooden flooring on the inside, the Prevost is the epitome of mobile luxury, featuring finishes such as marble tables, sofas, chairs and ample kitchen and bedroom space.
It stands at 3.7 metres, giving it unparalleled roominess, and the outer shell is made from a precision-molded fibre composite, which gives the RV reduced weight and maximum strength. The interior challenges the exterior on exquisite design and opulence, it is decorated with a gorgeous, sleek glossed wooden floor, modern sofas, chairs, desk space, kitchen, and bedroom, and curved marble tables. All of the contemporary design makes this one of the sexiest luxury RVs on the market and your bank balance should have six or so zeros to spare.
KiraVan – America
Believe it or not, this is an RV. It is the KiraVan, a giant custom-built off-road truck, a globe-trotting expedition vehicle with the go-anywhere ability of a mountain goat, and the accoutrements of a luxury spaceship, capable of travelling almost anywhere in the world. This beast of an RV was designed by 61-year-old Californian inventor Bran Ferren, co-founder and chief creative officer of tech firm Applied Minds. Let's just say several million dollars were laid out to create this masterpiece
Ferren built this unusual vehicle so he could explore the world with Kira, his daughter. That's something many parents probably dream of doing with their children, but most probably don't have the financial or intellectual resources to make that happen. The incredible interior of this vehicle boasts everything from a fully-stocked office, galley kitchen, bathroom and bedroom, to a pop-up tent on the roof for Kira.
The KiraVan is based on a Unimog chassis, but with three axles and part-time six-wheel drive, it resembles a high-tech tractor trailer.
Size shouldn't be a problem off road, though. The KiraVan is equipped with 46in tyres with Kevlar shields, and a nitrogen-hydraulic suspension system.  The high-tech cockpit includes 11 touch screens that are deployed in a manner similar to that seen in aircraft. It's every adventurer's dream vehicle. Wonder if we could get one to test drive?
Elemment PalaZzo – AUSTRIA
The most expensive motorhome in the world really looks like something from a futuristic Hollywood blockbuster. Although the grille is reminiscent to some of an aircon vent.
It's known as the eleMMent palazzo, and yes you have to spell it like that. It's essentially the best hybrid of a world-class sports car and motorhome that you will ever see. Called the next-level recreational vehicle, the eleMMent palazzo Superior includes everything that a millionaire could want to have in their motorhome.
The space-age eleMMent palazzo comes complete with a colossal master bedroom, 40in TV, an on-board bar, fireplace and even its own rooftop terrace.
But the most impressive piece of luxury is the 'Sky Lounge' – at the press of a button the 40ft home transforms into a personal retreat with pop-up cocktail bar, underfloor heating and extravagant marble lighting.
The shell of the eleMMent palazzo is made of fibreglass. Its aerodynamic design saves almost 20 percent in fuel consumption compared to other vehicles of its size.
The palazzo is available in limited edition; only five units are built each year. It's priced at $3m, but did we mention it glows in the dark?