Tango Caravans: The Flash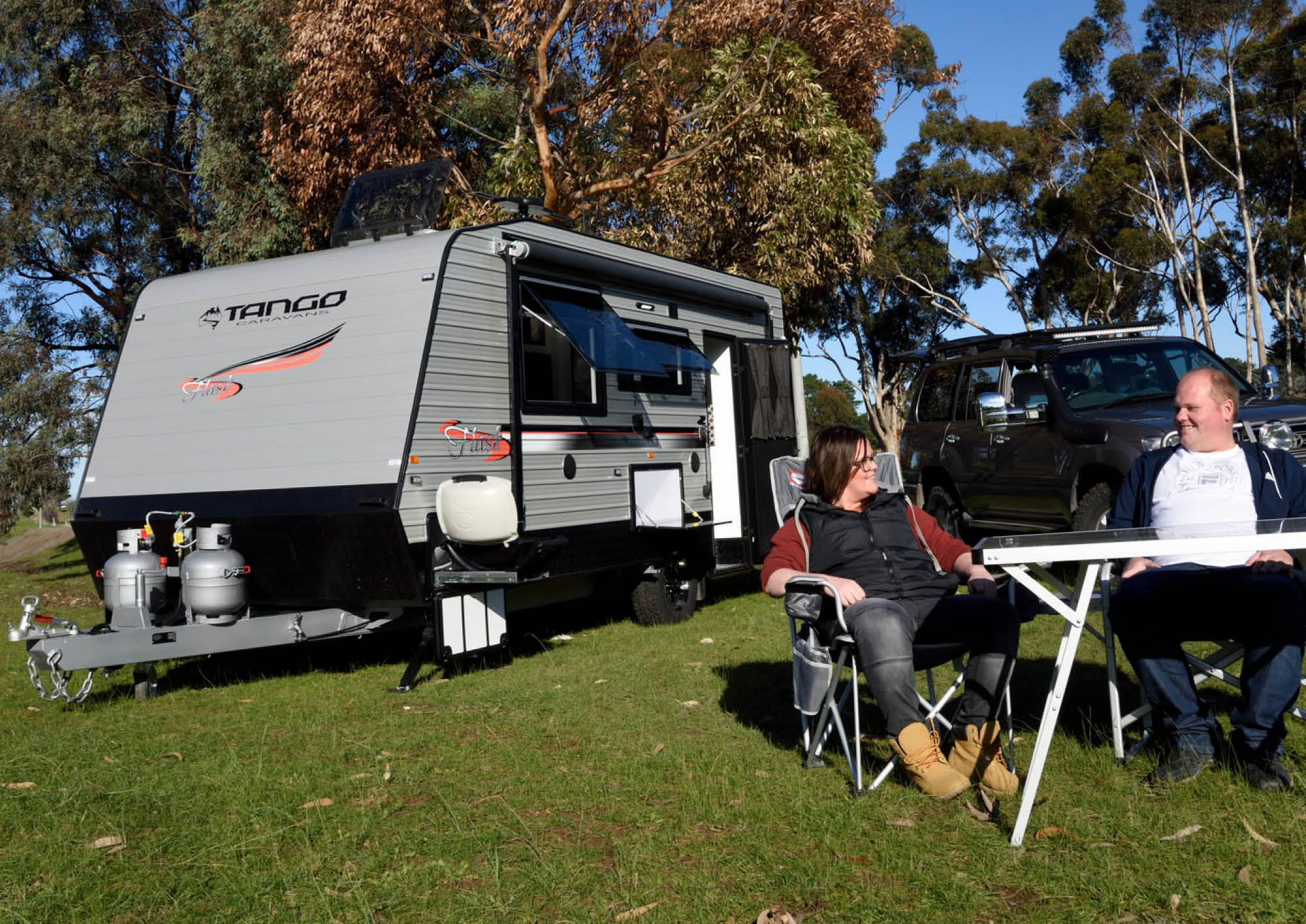 Tango Caravans is one of the newest manufacturers to fire up in Melbourne, having been official for just four months or so. But just because the company is new doesn't mean the director is new too.
For images and the full RV Daily experience, read this in our online magazine.
Sarah Horter is the managing director of Tango Caravans and comes from a family of van sellers (Ian Grant of Ian Grant's Caravans fame, is her grandfather) and has herself more than 15 years of experience in the caravan industry.
When talking to Sarah it's obvious the Grant philosophy still holds true: to build well-spec'd vans at the best possible price and sell as many as possible. This philosophy only works if the back-up and warranty side of things is dealt with properly, and according to Sarah it is and it will be.
Sarah is looking forward to competing in what has traditionally been a boys' club of an industry. With the support of her family and a good head for business, Sarah will no doubt go a long way in this field. I also get the impression she will be supporting more women entering the field as industry leaders, and that's a great thing I reckon.
Sarah is working closely with Robert Belevski of Coach Built Caravans who is building Tango vans to Sarah's specifications and standards. The very first van to hit the road is the exciting little Flash with its 18-foot six-inch interior that includes a full ensuite and weighs in at just 1860kg.
This smart little caravan is going to pack some punch in the small van segment and with a price under 50 big ones drive away it's also going to compete well in the marketplace.
Outside
From the outside this van is built well and looks pretty cool. The build process starts with a six-by-two inch Duragal chassis supporting a Meranti timber frame, which is fully insulated and aluminium clad in grey and features contrasting front lower panel and sides in black.
Tinted windows, a black awning and doors, black external speakers, even a black picnic table add to the overall look. Add to that some striking graphics and the Flash will certainly stand out at the caravan park.
Suspension-wise, this single-axle van employs a leaf-spring system. Braking is handled via 12-inch electrical units, while smart alloy wheels and tyres keep the van rolling smoothly. The underneath of the van is tidily arranged, too.
Around the body there is a tunnel boot which holds a slide-out barbecue. An external shower is mounted in the back wall on the passenger side and a rear bar houses the spare wheel. On the wall towards the rear of the van on the driver's side is a storage box that can house a generator or other camping gear and a reversing camera is a cool extra.
There are two 95-litre water tanks mounted underneath as well as two 100 Ah batteries fitted to the chassis that can take charge from the twin 120-amp solar panels mounted on the roof. The roof also sports an Ibis reverse-cycle aircon unit, Omni TV antenna and hatches to allow in plenty of light.
There are of course some standard items such as twin 9kg gas bottles, wind-down stabilising legs and the usual couplings and the like to round out what is a neat and very functional exterior package. Again, there are loads of extras built into this Flash to make it a good touring van.
Inside
The Flash is only 18ft 6in in length and is seriously jam-packed for comfortable touring. The ensuite runs across the back of the van with a good-sized shower room complete with fan and light. The main part of the ensuite hosts a swivel toilet, basin and some cupboards and, believe it or not, a 3.5kg top-loading washing machine and a basin as well. I know the space is tight, however, it's pretty amazing to have all this featured inside.
The middle of the van is taken up by an L-shaped dinette and swivel table on the driver's side of the van. A large two-door, three-way fridge slots in between the ensuite wall and the dinette, offering very easy access. There are also overhead cupboards for storage as required. This is tried and tested layout that is comfortable.
Opposite the dinette is a kitchen that is just big enough for two. Appliances include a cook-top and grill, a microwave mounted above the fridge, a slide-out pantry, a deep sink and plenty of cupboards. There's not a lot of bench space, but considering it is such a small van it's amazing what has been built into it.
Up front is a queen-size lift-up bed, which is island-style off the front wall. There are wardrobes and cupboards either side of the bed and three good-sized overhead cupboards as well. Again it is a simple yet practical layout for touring.
The Flash has built in Wi-Fi, a stereo-come-entertainment system and I should mention that all cupboards and doors have piano hinging which is typical of the quality of product being used.