The issue with the popular Suburban Hot Water System licence suspension continues.
As of Friday, there had been no official update from the Australian Gas Association (AGA), only that tests were continuing in order to determine if more than a single hot water system was involved.
Then a letter to gas licence holders in Queensland from the Office of the Chief Inspector, Petroleum and Gas Inspectorate appeared on social media suggesting that the problem had indeed been found in more than one unit. The letter identified the following models and serial numbers in question:
Appliance
Models affected
Serial numbers affected
Suburban Recreational Vehicle Water Heaters

SW6DEA
SW4DEA
SW4DECA
SW6PA
SW6DA
SW4DA
SW6DECA (Dual Fuel)

From 181315552 to 193002648
Manufactured from 4 April 2018 to 1 August 2019
The letter went on to offer instructions to installers and retailers that existing stocks were not to be sold. Any new caravans and motorhomes fitted with the particular system must not be handed over to new owners until the situation is resolved.
Unfortunately, this letter didn't offer any advice to consumers who currently own an RV that is fitted a hot water system with a serial number in the stated range. Given this serial number range represents over a year's production, the number of affected caravans and motorhomes is likely to be significant.
This morning, a letter from the Australian distributor for Suburban, Coast to Coast RV, advised their retailers that they had "decided that the best course of action moving forward is to initiate a recall of selected Suburban hot water services (SW6PA, SW6DA, SW6DEA, SW4DEA, SW4DECA and SW6DECA) available for sale to the RV industry between 4 April 2018 and 25 September 2019."
"The recall will involve an in the field inspection of the hot water service and possible remedial works. Further information regarding this will be included in our next bulletin once the potential remedial works have been finalised. Please note that not all Suburban hot water services will be affected by this recall and we'll be in a position to release the range of affected serial numbers within the next 24-48 hours."
"Further information regarding the recall will be released in the next few days. Suburban and Coast to Coast are currently working with the AGA and relevant regulators to lift the suspension on certificate AGA4624 allowing us to resume supply of Suburban hot water services that are not affected by this recall to the Australian market."
As yet no official recall notice has been issued, however, if you do have a caravan or motorhome fitted with one of the Suburban units within the serial number range, common sense suggests you should do the following:
1. Turn off your hot water system
2. Close the gas isolation valve to the hot water system itself
3. Do not use the hot water system until the situation is resolved
4. Monitor the ACCC's Product Safety Australia website for official recall notices www.productsafety.gov.au
Below are pictures of the Suburban HSW control panel and a gas isolation valve both in the ON position.  Place both in the OFF position.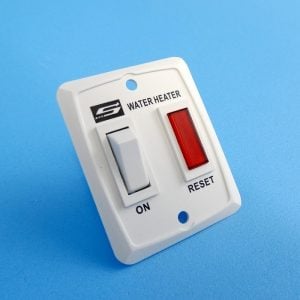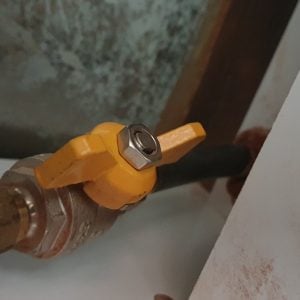 We will continue to monitor the situation and publish any official updates as they come to hand.