Most weather services are predicting a major rain event across large parts of Eastern and Northern Australia with accumulated totals of up to 1 metre expected over the next 10 days in all states except South Western parts of WA.
According to Weatherzone's Ben Domensino, parts of western NSW have just had their best rain in four to five years and there's plenty more wet weather on the way.
"An upper-level trough interacting with abundant moisture in the atmosphere has caused heavy and steady rain to soak parts of NSW during the last 24 hours."
"Some of the best falls on Wednesday into Thursday morning were over the state's central and northern inland."
"Walgett and Dubbo both collected 65mm of rain during the 24 hours to 9 am on Thursday, which was their highest daily totals in five and four years respectively. Coonamble's 86mm was its best drop in two years."
Further east, the rain has also been increasing along the northern and central coasts of NSW on Thursday morning in response to a deepening coastal trough.
"A rain gauge at Bungwahl, near Forster, collected 142mm during the 24 hours to 9 am Thursday. This is about a month's worth of rain for the site at this time of year."
As of midday on Thursday, the Bureau of Meteorology (BOM) had several warnings and alerts for eastern NSW. These included:
A severe weather warning for heavy rain and damaging winds along the coast and adjacent inland from the Central Coast up to the area just south of Yamba
A flood watch for the Mid North Coast, Hunter and parts of Sydney
A hazardous surf warning for the Coffs Coast, Macquarie Coast and Hunter Coast on Friday
Rain will continue to fall over both eastern and western NSW during the rest of Thursday. However, from Friday, the bulk of the rain will be over the state's eastern districts where it will be heavy and continue into the weekend.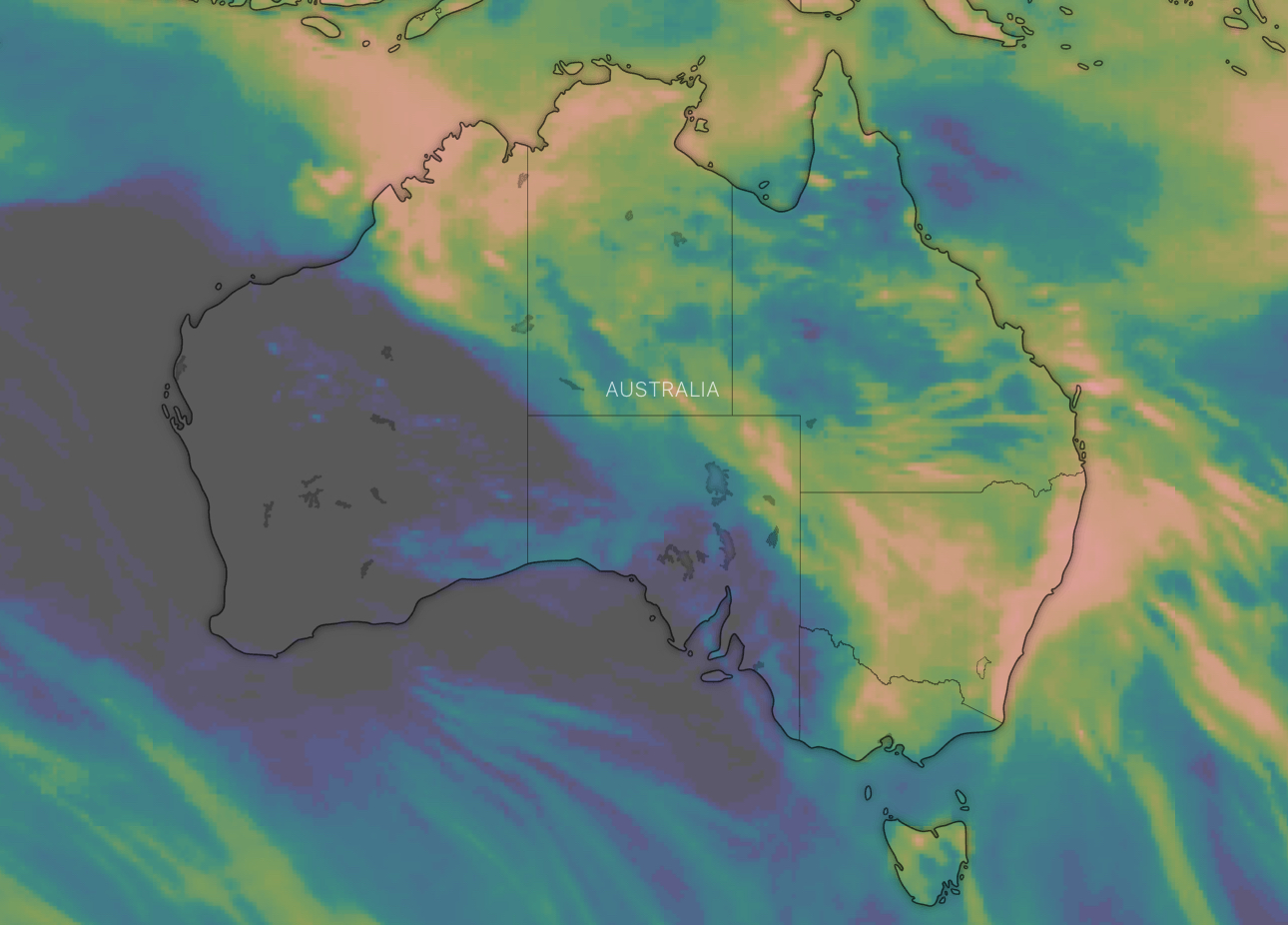 Damaging winds are also predicted with winds averaging 60 to 70 km/h with peak gusts in excess of 90 km/h likely to form on Friday along the coastal fringe as the low develops in the Mid North Coast, with the area of impact moving south by the evening.
"The exact positioning and movement of the Coastal Low will impact the areas of strongest winds and highest rainfall, updates to the warning will be issued as this system develops."
For the Northern Territory, the BOM has issued flood warnings for many parts of the state including the Tanami Desert, the Barkly, Central Desert, Western Desert, MacDonnell Ranges, Finke River and Stephenson Creek inland rivers.
According to the latest warning, widespread daily rainfall totals of 20 – 30 mm are expected across the Lasseter, Tanami and northwest Simpson Inland Rivers from Saturday. Heavier daily rainfall up to 50 mm is possible. Heavy rain areas will then spread slowly eastwards later in the weekend into the southern Barkly area and West MacDonnell Ranges and Finke River areas.
"The forecast rainfall is expected to result in many roads to be affected, and communities may become isolated."
In Queensland, heavy rainfall was recorded across parts of the central and southern interior during Tuesday. Flood warnings are current for the upper Warrego, Maranoa and Balonne Rivers.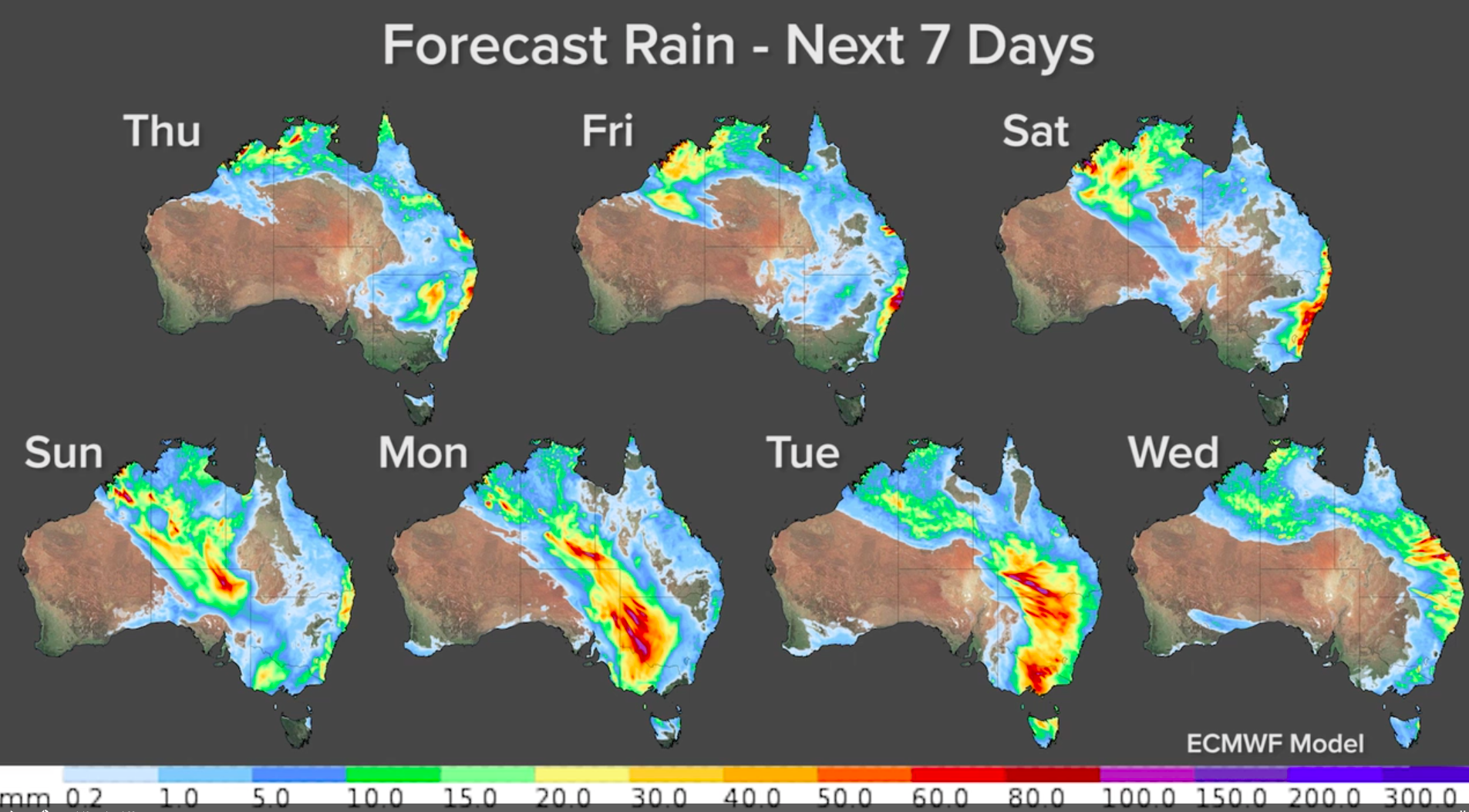 In Victoria, no warnings have yet been issued however some rainfall models are showing large amounts of rain are possible from Sunday through to Tuesday next week.
Areas that were affected by last year's bushfires face further complications. The State Emergency Service advises travellers should:
Move vehicles under cover or away from trees.
Secure or put away loose items around your house, yard and balcony.
Keep at least 8 metres away from fallen power lines or objects that may be energised, such as fences.
Trees that have been damaged by fire are likely to be more unstable and more likely to fall.
Don't drive, ride or walk through floodwater.
Keep clear of creeks and storm drains.
If you are trapped by flash flooding, seek refuge in the highest available place and ring 000 if you need rescue.
Be aware that run-off from rainfall in fire-affected areas may behave differently and be more rapid. It may also contain debris such as ash, soil, trees and rocks.
After bushfires, heavy rain and the loss of foliage can make the ground soft and heavy, leading to a greater chance of landslides.
Stay vigilant and monitor conditions. Note that the landscape may have changed following bushfires.
For emergency help in floods and storms, ring your local SES Unit on 132 500. In life-threatening emergencies, call triple zero.
For more information watch the latest WeatherPulse video from Weatherzone.