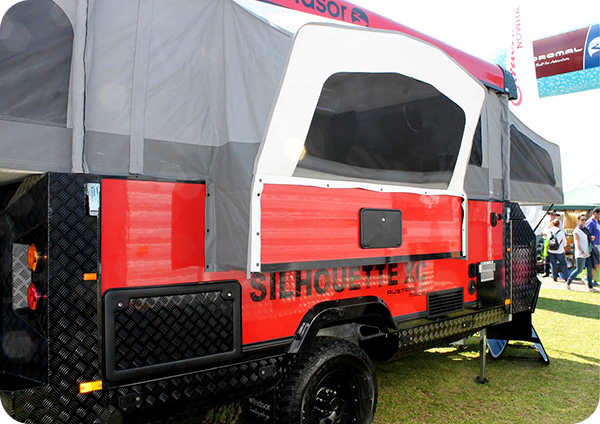 Hiding in full view was this bright red off-road camper from Windsor that broke cover at the Penrith Show.
We love getting more than we bargained for when rocking up to an event and the Penrith Caravan, Camping & Holiday Expo offered just that. Windsor Caravans pulled out the big guns, producing a brand-new prototype exclusively for this show.
For images, videos and the full RV Daily experience, read this in our online magazine.
Windsor is an established name, with a more than impressive 40 years under its belt, but it's lowered its profile for a number of years. Looking to re-emerge into the market, Windsor delivered a low-key look at its newest prototype, the Silhouette XC.
Boasting a "revolution of the off-road camper market", the Silhouette XC is said to be the perfect companion to any off-road vehicle, jam-packed with new features and rolling out as one of the toughest off-road campers available. Windsor has revamped its construction techniques with this model and offers a plethora of optional extras.
The Silhouette XC will introduce a new wind-up mechanism for the roof, eliminating the hassles that can plague the more traditional cable system. The Silhouette XC roof is a single-piece structure with a rating of 500kg comprising metal top with the front and rear end caps being the only timber on the build. Windsor is standing firmly behind its construction and is convinced the roof mechanism is durable enough that if turned upside down, you could jack up the camper body by winding out the roof.
However, for those not looking to flip their brand-new camper, a more obtainable comparison is that the construction of the roof system is capable of holding a boat atop of the roof with ease.
Keep an eye out in the next issue for a full review of what Windsor has dubbed "a simply brutal machine".