In For A Pound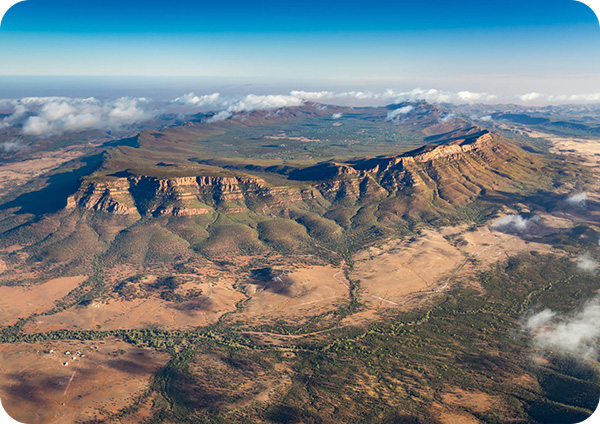 This great getaway in South Australia's Flinders Ranges has plenty to offer no matter how you choose to travel.
By Scott Mason
There is something about the Flinders Ranges that makes you want to stay. I have not been able to put my finger on it yet; whether it is the unique geo formations or the way the rock lights up at dawn and dusk. Maybe it's the variety of driving or even just simply all of the different ways you can get there, each worth their salt. Simply put, it's just good. Damn good.
For images, videos and the full RV Daily experience, read this in our online magazine.
Setting out from the east coast and making my own journey, I hit the blacktop moving through Western NSW with Ikara Flinders Ranges National Park as the final destination. I had never actually visited Wilpena Pound and its nearby resort before, silly now in retrospect, but I was not to be disappointed. Staying in a resort is not quite my cup of tea, however, I am maintaining a firm grip on the fact that it isn't really a resort, it caters for all types of campers so I can still hold my bush-loving head up high, just.
Arriving at any destination via tarmac gets my spider-senses going for all the wrong reasons. I was here only to check out the actual Pound but I found myself greeted with a car park, visitors center, refueling bowsers and general store; this is not bush!
Travelling further into the resort along the well-marked roads I found myself surrounded by cabins lined by footpaths and finally a bar and restaurant that was certainly akin to glamping. However, I did notice a lot of campers, vans and tents on the opposite side of the road. With a quick U-turn I was heading over there, to what was a massive camping area, catering for all types of set-ups. A-frame tents, swags, 24-foot vans and fifth wheelers, they were all there, scattered throughout the tree lines, designated sites and free-camp areas. Amenities were interspersed and pretty impressive, I guess this place was not so bad after all.
However, the gold in this area is not the resort, its handy services and variety of camping options, though they are pretty good. The real drawcard is the Pound itself. The ease of accessibility to some great surrounding walks and drives in the ranges is what makes this place so great; an ideal base camp.
After driving a few thousand kays I was feeling the need to stretch out and walk, a lot. I followed one of the well-marked trails toward the Pound, which is actually one big dish formed by uprising of mountains, not a meteorite crater as some may think. Upon checking the guides, I found a nice trail that took in plenty of ridge-line, that would do me. Walking into the Pound itself is easily accomplished, but pushing upward I was amazed by a young man of over 80 years old pacing ahead of me; see, anyone can do it. There were some fairly technical sections but overall it was easy at a steady pace.
Reaching the first and second lookouts I was rewarded with some of the breathtaking views of the Pound that you would not get from the ground. Pushing on will give you even better views, different perspectives and enough exercise to get the heart pumping. For those keen bush walkers among us, this trek is part of a very impressive walk that takes in over 80km of the Flinders Rangers and is well worth the exploration if you have a few days up your sleeve.
What I discovered as the next few days unwound was nothing short of impressive. After a day of walking at my own slow pace, which was great, I spent the next few relaxing and driving, exploring the easily driven surrounding tracks. There are well marked and signed routes right throughout this part of the Flinders Ranges, suitable for most 4WDs. Maps are easily obtained through the Wilpena Information Centre, leaving you more than enough time to explore the fantastic tracks on offer.
The scenery and beauty of this area is truly remarkable; one moment you are driving a flat road through rocky arid surrounds, the next you are driving a windy road through native pine. Blink again and you are suddenly driving across a rocky, dry creek bed surrounded by river red gums and imposing near-vertical cliffs formed of rough red rock. The driving around here is unique; an ancient landscape reminiscent of the Finke and Kimberley but much closer to home for most of us.
There are many bush camps, which are well facilitated, along these tracks and offer another dimension to your trip if you are set up for it. Each of these bush camps has its own kind of beauty and dynamic. Alternatively, you can make a base camp at Wilpena or better yet, do a combination of both. Once you have had a good look around you are able to explore and choose your own adventure, that is the real magnificence of this place. Just make sure you allow a bit of time to let it unfold for you.
For me there was one bucket list item I wanted to tick off and that was to see the Pound from the air. Yes, it is wonderful from the ground but seeing the entire geological spectacle in its entirety, including the surrounding ABC range brings the experience to a whole other level. With that in mind I booked an early morning flight which turned out to be one of the most amazing I have done. Being able to see the gamut from the air, not to mention bag a couple of good pictures too, was the icing on the cake for this trip.
While I will never be convinced that camping anywhere other than solo out in the bush with nobody else around is to my liking, I will eat humble pie here, and say that this was one incredible place to visit. A place with plenty to offer for everyone, including someone like me; and that makes Wilpena a special place I will happily visit again and recommend to any person, no matter their age, experience or camping kit.
Travel Tips
Wilpena Pound is not an off-road destination per-se and can be reached entirely on tarmac. There are however many off-road treks that can get you here
The general store is a handy place to re-stock if required and the restaurant meals
are delicious
There are many walks and easily driven dirt road adventures surrounding the Pound, it is well worth checking them out
A scenic flight will not break the budget, but will give you the most amazing views
Travel here is recommended year-round