These Muk Mats are a surprise. Turns out, the most boring product review ever is the one you're going to want to read the most!
One of the perks of this job is that, on occasion, I get sent stuff to test out and review for you, our valued readers. It doesn't happen often. In fact, the majority of reviews I've written for RV Daily have been on products I've purchased myself. Where's the fun in that?
Then, a few weeks ago, Tim, the editor of this 'ere magazine, contacted me to ask if I would be interested in testing a product he'd been offered. Without even asking what it was I said "absolutely", thinking it was a new solar panel, a torch or something cool and extremely useful. Then Tim told me it was an outdoor mat. My immediate assumption was it was a ground mat that you put under your awning and, given the one we had been using for the last five years was starting to look a little grotty, I thought it was a timely offer. I told Tim this and he quickly dashed my hopes. "It's a doormat, the type you wipe your feet on," he said.
Okay. Not what I was expecting. But not wanting to seem ungrateful, I agreed enthusiastically.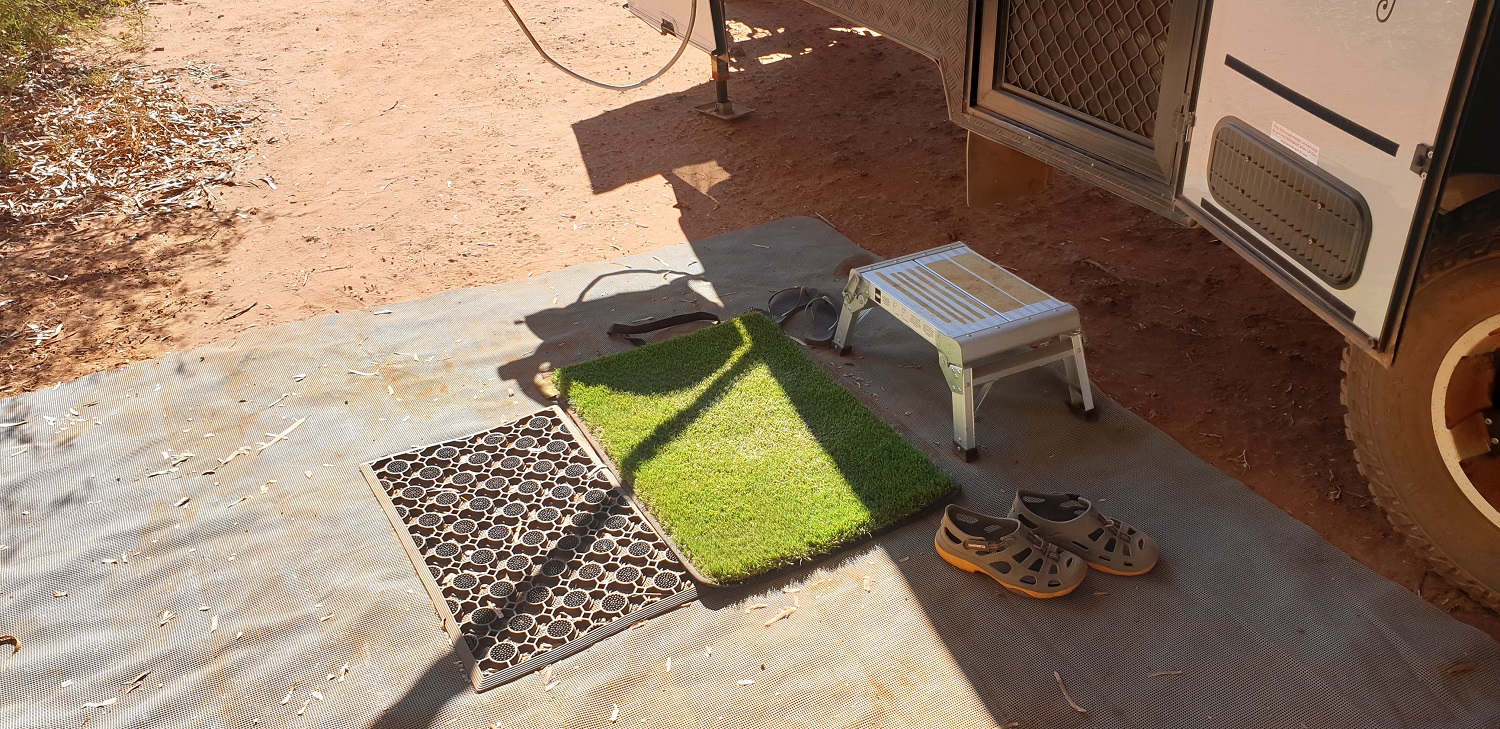 Now, dear readers, before you groan and move onto the next yarn, this is actually where things get interesting. The mats we are talking about here are made by Muk Mat. They are an Australian-owned company, and their mats are also designed and manufactured in Australia. Bonus points right there.
The material used to make the mats is pretty much the same stuff that is used to make extremely high-quality artificial turf. It feels like a newly-mowed thick lawn. The backing is similar to that used in artificial turf, but it's a little more pliable meaning the mat can be rolled up quite tightly to save on storage space. The edges are overlocked with a hard-wearing cover, so you don't cut yourself on the edge of the backing. Finally, there's a sewn-in velcro strap to hold the large mats together when rolled up. Very thoughtful.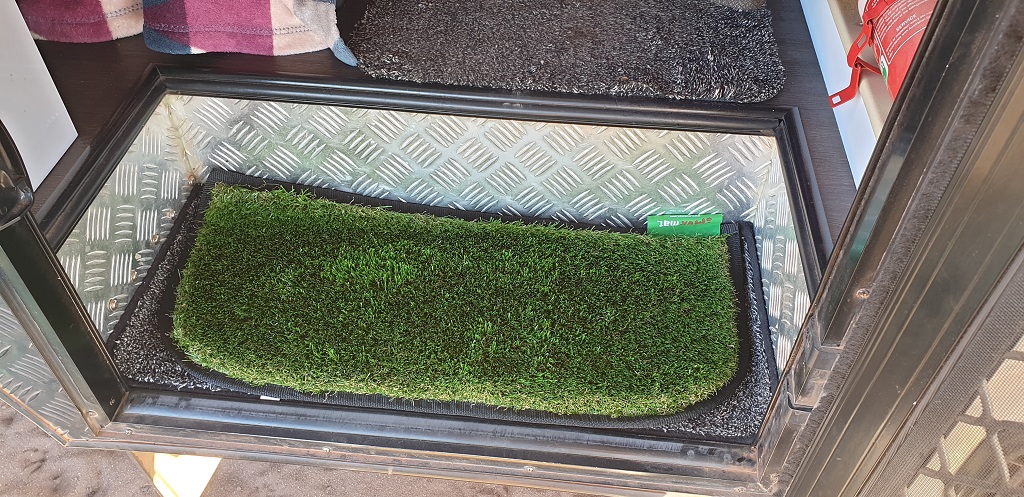 We also received a step mat that's designed to fit in the stairwell of most caravans. Its D-shaped, so it wasn't a perfect fit in our van as we have a rectangular stairwell. Not a huge issue.
I have to admit, when I put the mats in place, my wife Kylie, took one look at the bright green colour and immediately shrieked in horror. Unless the interior of your caravan or motorhome is bright green, these are going to clash with your colour palette.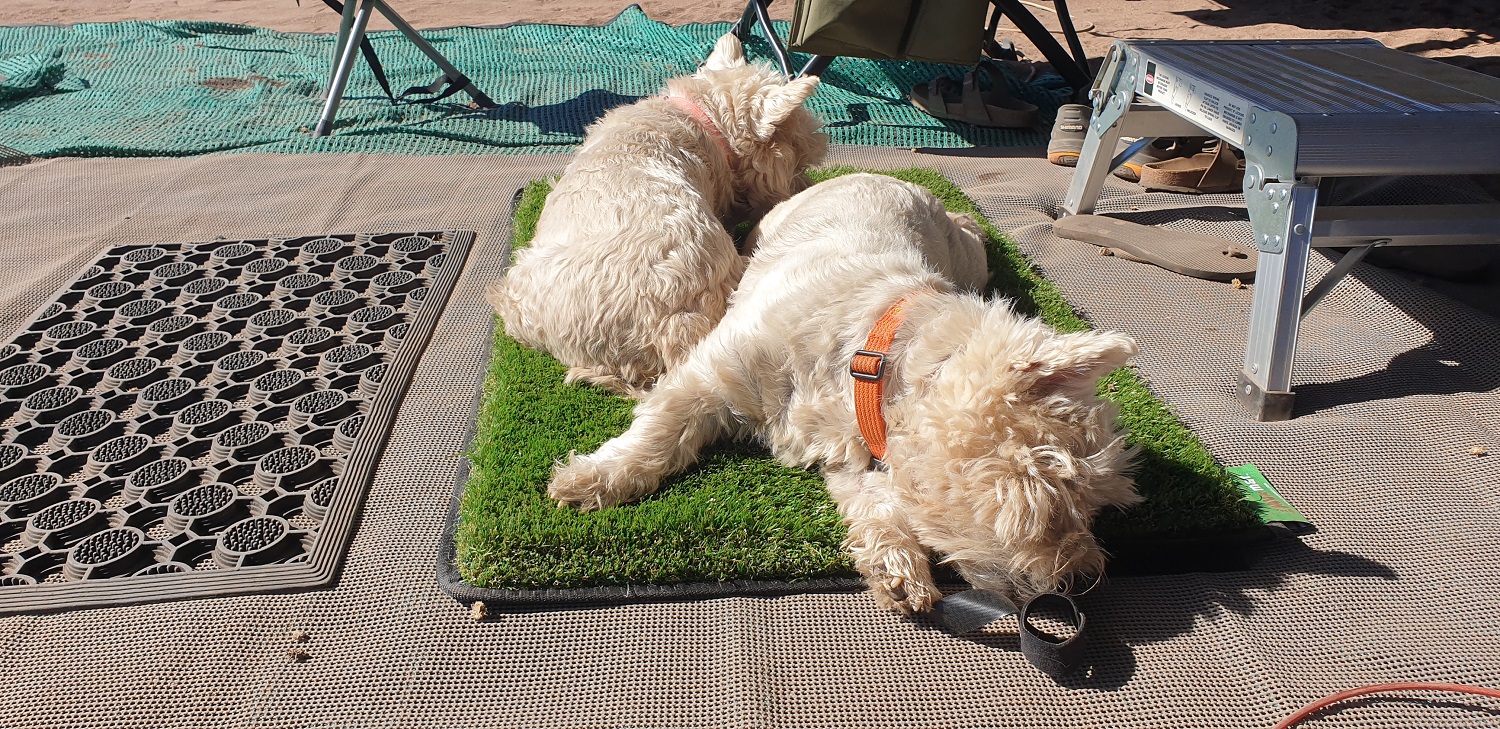 Most of you will remember we are travelling full time with two dogs. Even in the cleanest of caravan parks, the amount of dirt and sand dragged into our van by our little cherubs is enough to send Kylie into a tailspin, such is the extent of her cleaning obsession.
At the moment, we are camped at the Cleaverville campground, just north of Karratha in WA. It's a site on top of a sandhill overlooking the beach. It's a beautiful spot, but the whole area is sand. And not just any sand. It's dusty, dirty sand that seems to cling to everything, particularly the dogs. Every day, Kylie has to sweep out the van, and I have to shake out our old mats just to keep the inside of our van relatively dirt free. It's the price to pay for the amazing views and isolation this camp offers.
I placed the large Muk Mat at the door and the small mat in our stairwell. The first thing that happened was the dogs decided the large mat was their new outdoor lounge and they have since spent many hours lying on it soaking up the sun. If nothing else, it's preferable to them lying in the dirt.
We used the Muk Mats for a couple of days and immediately their ability to remove dirt and sand from both ourselves and, more amazingly, the dogs, became obvious. The mats haven't completely eradicated the dirt we bring into the van, but they have reduced it by more than half. In these dirty, sandy conditions, compared to the crappy cheap mats we had been using previously, the difference is incredible. So much so that Kylie is now prepared to overlook the colour and use the mats all the time.
When it comes to cleaning, all it takes is a quick shake and all the dirt and sand falls away. If any mud or other stuff sticks to the mat, it can easily be brushed or hosed off. These Muk Mats do exactly what they are advertised to do, and they do it very well.
Now we come to the price. There are three sizes available. The Muk Mat Step is $45. The regular Muk Mat is $55, and the larger XL is $85. That may seem a little expensive for simple doormats but, as we've seen in our use, these are no ordinary mats. They are hard-wearing and designed to last a long time. They are very effective at removing dirt, even in the most extreme of environments. Clean up and storage is easy and buying them is supporting Australian industry. Considering the cheap mats we've purchased over the years that don't last too long and really don't get rid of the dirt, the Muk Mats turn out to be excellent value for money. If they were available in different colours, they would be perfect …
… it's worth noting here that if you visit the Muk Mat website you can see that indeed the Muk Mats have a colour selector that applies to the trim choices. The mat area stays the same green turf, but the edges can be black, blue, grey or brown. You're welcome, Marty! – Ed.
You can purchase Muk Mats online here