The Caravan Industry Victoria (CIV) trade body has launched an exciting initiative: The Victorian Caravan & Camping Virtual Show. Between September 2-6, 2020, you can attend one of the caravan lifestyle's biggest events, just a bit differently.
That's right, for a show-starved audience and an industry that's suffered along with the rest of the country since the pandemic began to bring consumers and product together in a meaningful way, the virtual show is a brilliant solution. And needs your support.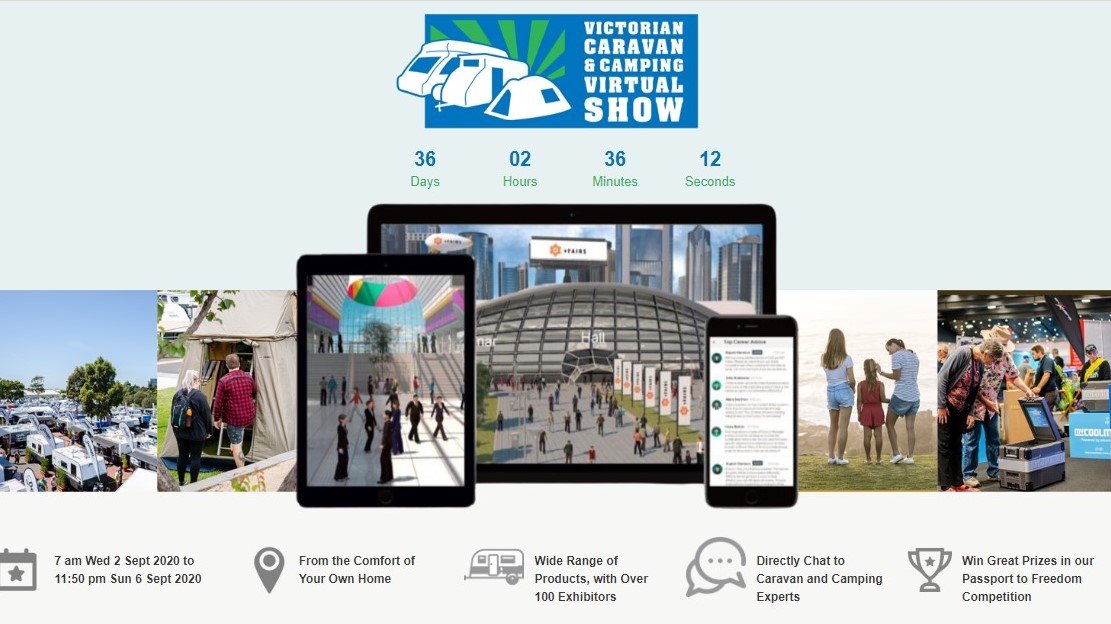 Well, registrations are now open. And it's free to attend the show. Many people visit the Victorian Caravan & Camping Supershow, to plan an adventure, research their next caravan, camper or motorhome purchase or just to admire, even drool over luxury products and with the show circuit being almost cancelled entirely this year, the whole industry needs a way to come together.
So, what can you expect at the show? A lot of what draws huge crowds to the in-person events! There will be a huge array of virtual exhibitors, offering show specials, sales advice and new innovations in information delivery via this virtual medium. And you won't' have to find a park. All you need to do is follow the link and register your attendance for the show, which will be held on September  2-6, 2020. Of course, being a virtual show, if you feel like attending at 4am, you can! The show will be 'open' 24-hours during those dates.
We know how attractive show deals can be but these are unusual times, so we should be able to expect something special. Plus the show favourite will offer loads of prizes in the Passport to Freedom competition – just by visiting the site and speaking to the exhibitors or watching a presentation.
Exhibitors will set up their virtual stands, offer video presentations, some live events and whatever comes to fruition from inventive minds between now and show dates in September. There will be plenty more announcements as the show comes to life.
Principal Partner Announced
Rob Lucas, CEO of Caravan Industry Victoria said, "This is about providing consumers with the ability to continue to compare and explore everything in one place, just like they would at one of our four annual shows. Consumers can interact; chat and video call with exhibitors, watch demonstrations and ask questions, collect brochures on products they like and get the deal they are looking for."
"We are delighted RV Online (a Leisure-Tec brand) has come on board as our inaugural partner," Mr Lucas continued.
Paul Widdis General Manager of RV Online (a Leisure-Tec Brand) said, "We are so excited to partner with the Caravan Industry of Victoria to help bring this virtual show to life. It is an Australian and even maybe a world-first for the caravanning industry, and we are proud to partner with this. RV Online is all about the digital landscape and helping customers in these difficult times get access to quality products in preparation for their next adventure. It is great to see the CIV realising this shift in consumer be­haviour and bringing the 'show' to the people."
And for once, no-one will bat an eye if you're at the show in your pyjamas and uggs. That's got to be worth the price of admission (which is free, remember).
For more information and to register your attendance, click here