If you haven't come across the name Pleasure Way before you'd be forgiven. Despite being in business for over 50 years, the company have yet to make a stir in the Australian market. The REKON 4X4 could be the model that changes that.
Opening their first RV dealership way back in 1968, the Rumpel family kicked off their own range of high-quality conversion vans 18 years later in 1986 with just 10 employees. The company has grown with over 200 staff; and over 15,000 RVs on the road and the REKON 4X4 might just be the best yet. 
So what makes it special?
Despite there being no word yet on the REKON 4X4 making its way Down Under, it's almost purpose-built to suit the unique needs of Australia's RV community. Based on the uber-popular (and twice as reliable) Mercedes Sprinter 2500, the REKON 4X4 rides on a capable and dependable 4X4 platform. With a solid axle up back, independent front suspension, and 11in of ground clearance, it's a seriously capable platform. You'll competently take on the far reaches of outback Australia. A torquey 3.0L turbo-diesel V6 provides 188hp and 440Nm; while disc brakes on all corners ensure you get just as much woah as go. 
Pleasure Way have amplified this off-road capability even further though. Chunky 245/75R16 Toyo All Terrain tyres are wrapped around stylish looking Black Rhino alloy wheels on each corner. They've gone to great lengths to ensure there are no aftermarket accessories hanging down to get caught out. While heavy duty side steps have been fitted to ensure the REKON 4X4 will look just as good after the trip as before it.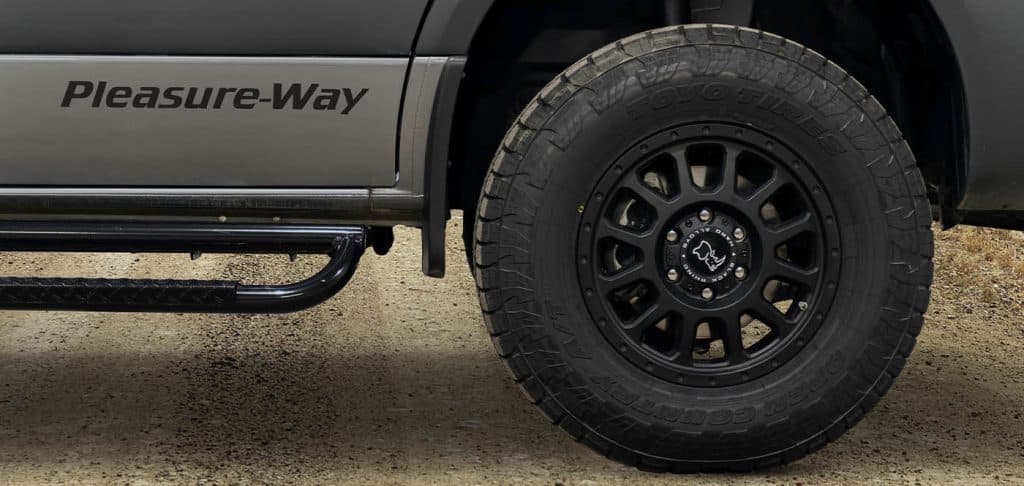 What do you get
Pleasure Way have squarely aimed the REKON 4X4 at the more adventurous customer and it's clear as soon as you take one look inside. Front to back the interior layout has been carefully designed to make life easier when living off grid. Up the back a 1780 x 1820mm bed cleverly splits in two. The result is ample sleeping room length ways when setup, and a huge 3500 litres of storage in a garage style area complete with tie downs and attachments for everything from mountain bikes to kayaks.
The floor layout means longer items can easily fit right up to the front seats too. Both sides of the bed fold down independently allowing you to utilise one side as a work bench, large table, or office on the road. With the bed folded down you still get nearly 1500L of storage, soft netting above to stow bedding, and an internal dinette with both front seats swivelling rearwards to utilise the Lagun table.
One unique feature we love to see is the internal ensuite. Cleverly hidden inside a cupboard, the ensuite features a Thetford cassette toilet. You'll also find as a hot shower running off the Truma heating systems. Ducted hot air into the ensuite allows the shelves to be utilised as a dryer on the road. Perfect for stowing away wet snow or surf gear.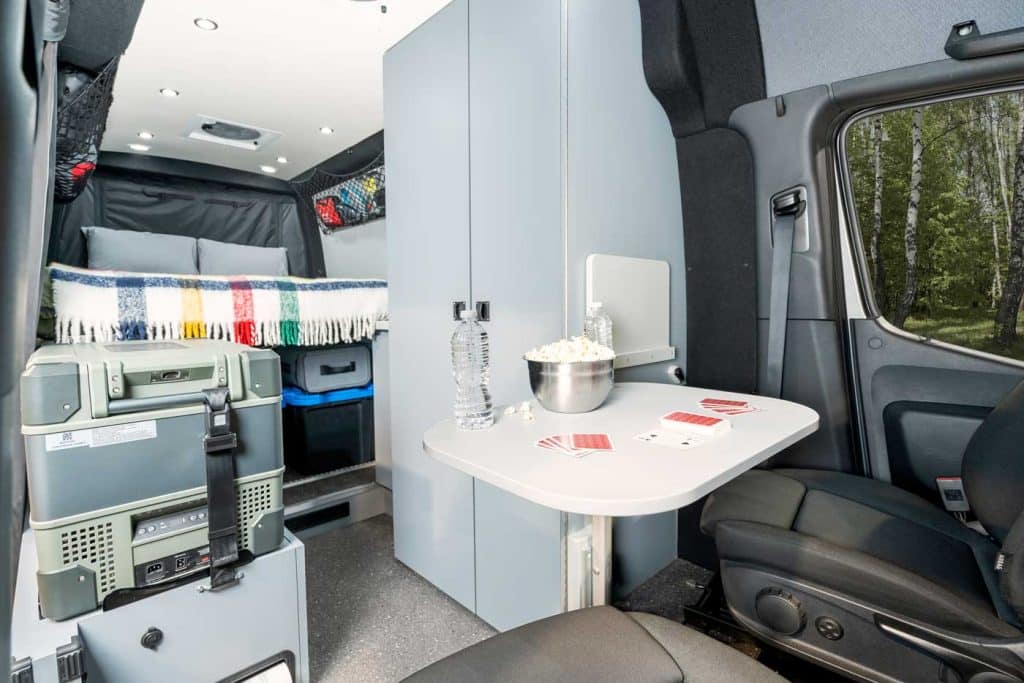 What are the specs?
For the spec conscious the REKON 4X4 delivers strongly too. A solid 400W solar system up top feeds into 400Ah of lithium power storage. A 2000W pure sine wave inverter allows full use of the available power. A 9kg gas bottle stows away in an external lockable compartment; the unique system ensures it's protected on and off-road, while still being secured and vented. Insulated internal walls and solid cabinetry and no side windows mean inside will be a comfortable place to be in the middle of winter, or the beating hot summer, especially if the optional AC box is ticked.
Who is it for?
At just 5920mm long, and 2835mm tall, the REKON 4X4 is designed as a go-anywhere alternative to your typical RV. It's designed from the ground up to suit adventurous couples or solo travellers that are looking for an adventure machine to get them to the remote surf spots, deep into the back country, or even to the more isolated camp grounds far beyond the black top. Although with a price tag of $257,107AUD don't expect to see too many bohemian hippie's parked up in a REKON 4X4.
To see the full run down on the REKON 4X4 check out the Pleasure Way website below.