Operation Innovation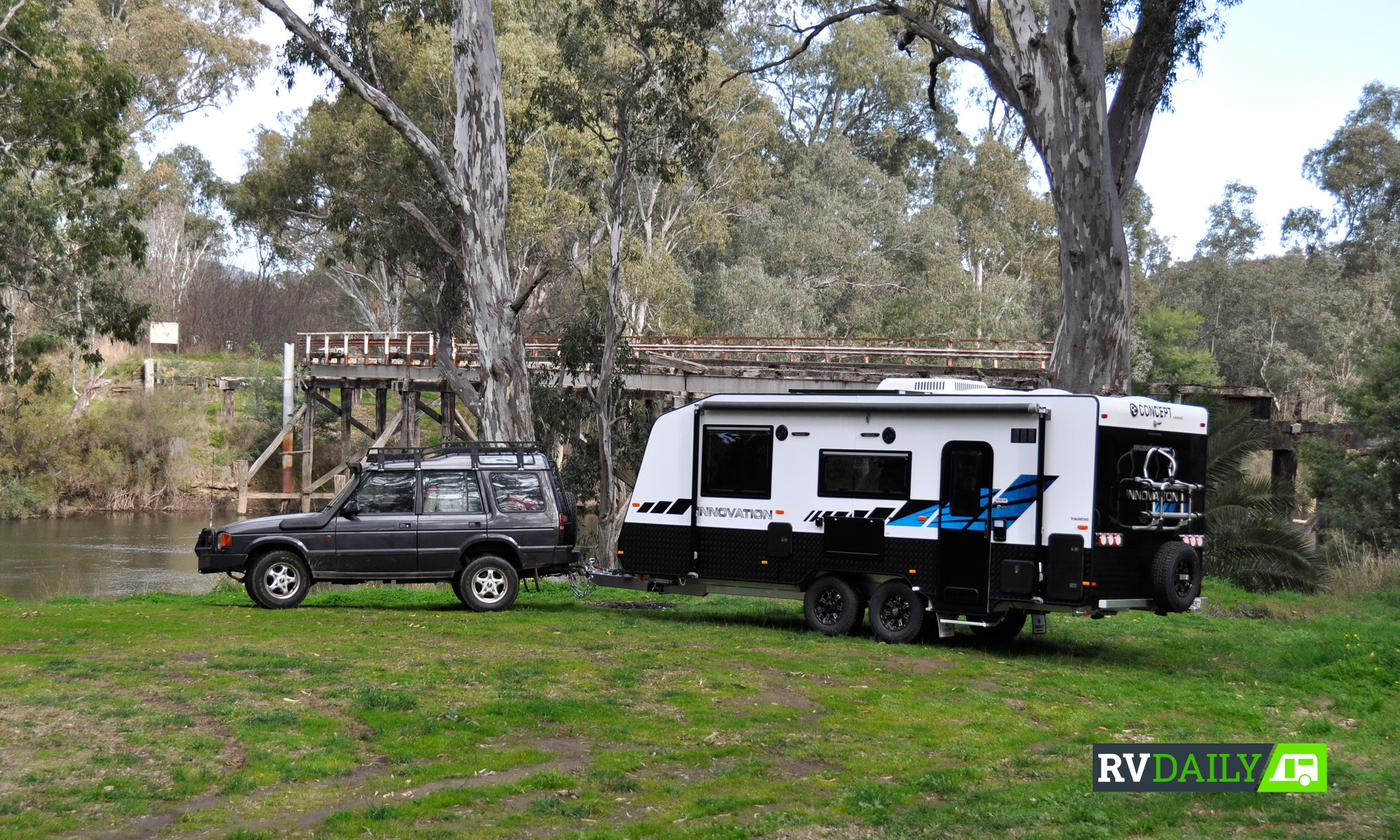 This Innovation may be your ticket to freedom
Concept Caravans have a catchphrase, "Your time is now!" I guess we all come to appreciate this sentiment when the pressure is off and the wanderlust takes hold. Your age makes little difference with the Concept Innovation 640A offering the ideal escape machine to help you celebrate your life on the open road to adventure. I am always pleased to review premium Australian-manufactured products, an ideal that Concept proudly boast. This award-winning Melbourne-based company has earned a strong reputation for producing premium quality vans, and they back it up with experienced dealerships throughout the country.
The Innovation 640A not only looks the part, it feels like it. This is a smart-looking caravan with an aerodynamic front sheer, silver panelling, matte black checkerplate protective borders, black mag wheels and hatches plus a tasteful set of custom decals that enhance the overall aesthetics. Out back this 640 features attractive black composite finish panelling with the extended checkerplate, bumper bar, LED lighting and an optional Fiamma bike rack. In front is a 3500kg 50mm ball coupling, twin 9kg gas bottles, standard breakaway, hand brake, lighting and electric brake connections, jockey wheel and a large front boot set into the black checkerplate wear panel. A large and stylish black Perspex front window set into the insulated gloss white composite panelling sets the pace (aluminium optional).
It was a blustery day in the middle of a harsh Victorian winter when I picked up the 640 and headed up the Hume Highway in search of better weather on the other side of the ranges. My old Disco with its soft suspension is a great tell-tale of the towability of a trailer, especially with 35-knot crosswinds. The Innovation towed easily behind with me driving it – thankfully not it driving me! The rocker suspension on this 640 tracked straight and true with total confidence and very little body roll even when hit by large gusts. When I had to brake she pulled up evenly with the assistance of the optional AL-KO ESC (Electronic Stability Control).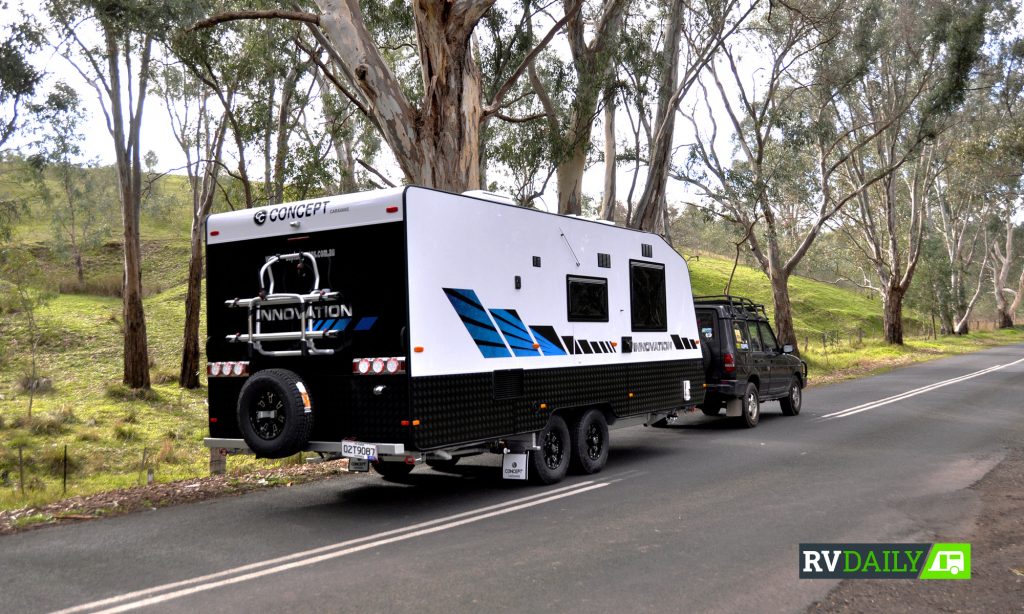 We tracked over the mountains to a pleasant little free campsite on the edge of the mighty Goulburn River and set about making a home away from home. The set-up is just so easy! Simply wind down the corner stabilisers and pull out the easy Dometic awning, slide out the stairs, open the Crimsafe triple-locking security door and you're camping.
I climbed underneath and was pleased with the construction. The tough chassis on the 640A is upgraded from the lighter weight 640S model with 150 x 50mm fully welded galvanised RHS from the main rails all the way to the A-frame drawbar. It also features larger 235R15 all-terrain tyres that track well on the black top but spread the load over sand and mud.
The dual 95-litre water tanks are shrouded for protection and set up high into the chassis as was the optional grey water tank, all set with good load distribution.  All of the underside plumbing and electrical work is neat and tidy but as always be careful of large rocks and sticks if you do happen to venture down that off-road temptation.
Overhead is the Ibis MK3 reverse-cycle air conditioner to keep you comfortable in all seasons, aided by fully insulated walls and roof. There's also a Winegard HV TV Antenna plus a 150-watt solar panel with digital regulator and dust pressure hatch. The side panels have the usual collection of hatches, vents, inlets, 240V and 12V electrical connections and lockable fillers, plus a handy fold-down external table and rear storage container.
The décor follows modern "clean look" trends with gloss white walls and ceiling with matching marble laminate benchtops, offset by grey cabinetry features, stainless and chrome fittings, and grey leather upholstery with plush padding. The high-wear timber grain vinyl floor blends perfectly with the easy clean surfaces, and the overhead 6'6" clearance is spacious enough for most of the RV community.
The interior feels exceptionally light and airy, yet totally secure and homely. There's a terrific amount of ventilation with an array of Mobicool double-glazed windows, plus a large roof hatch all with integrated blinds and flyscreens. When the sun goes down there is a wide variety of sensible lighting options, from individual reading lights, overhead 'Touch Lighting' with dimmers, annexe lights and directional LEDs.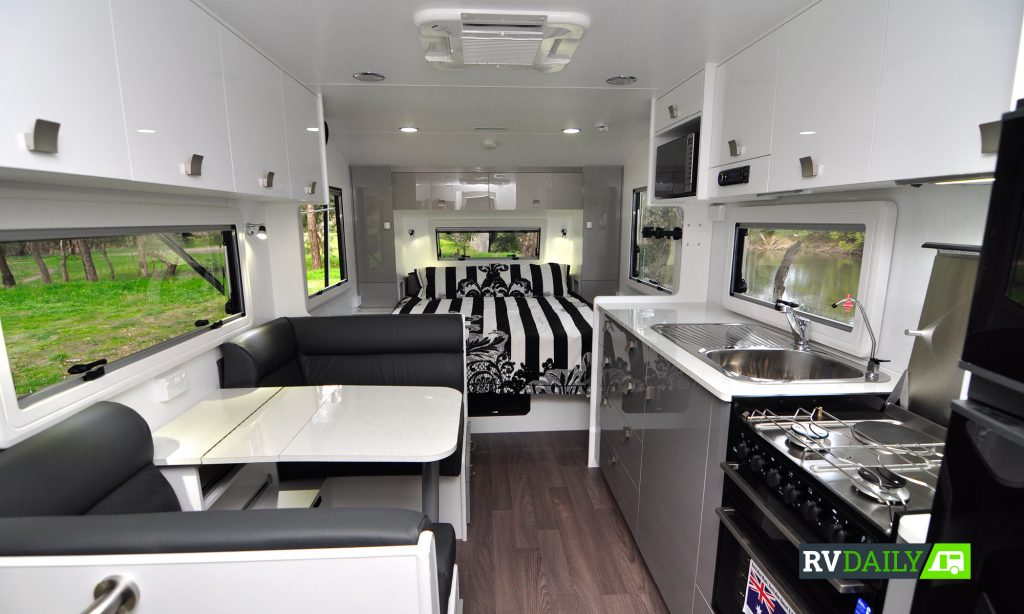 The Innovation features a huge variety of functional storage with a place for everything and everything in its place. There's plenty of cupboard and wardrobe space and overheads all round including behind and under the queen inner-coil island bed. It offers a very comfortable dinette with Concept's unique Extenda seating featuring pull-out footrests and a cantilevered table plus more storage under the seats.
The Innovation has a highly functional kitchen with reasonable bench space, stainless sink with hot/cold mixer, optional Perspex splash back, Dometic fridge, remote control microwave, Swift three-burner gas stove with electric hotplate, Swift full-size oven and separate grill, extractor fan, "Easy Glide" drawers with cutlery tray and a common outlet for all waste water.
I really liked the little touches, like the wall-mounted pouch and coat hanger for hats, coats, keys, spotlights and essential knick knacks located just inside the door. But the pièce de résistance was the large ensuite complete with a fully enclosed shower with full head height, full flush cartridge toilet, a deluxe vanity complete with touch-sensitive backing light for the vanity mirror, towel rail and even a handy top-loading washing machine all with plenty of overhead ventilation. The ensuite will suit the most finicky traveller with clean, bright surfaces and a huge array of comfortable features.
Concept has assembled an impressive array of power and entertainment features for the Innovation 640A. It is powered by a single 100-amp AGM deep-cycle battery with vehicle, solar and 35-amp BMPRO Charging, including RMDX25 level monitoring panel. This powers the lighting and entertainment systems including the internal/external 22-inch LED TV with DVD/CD/radio and Fusion marine speakers. There's a wide variety of 240V/12V/USB outlets throughout. The hot water is supplied via a Truma Ultra Rapid stainless steel gas/electric system.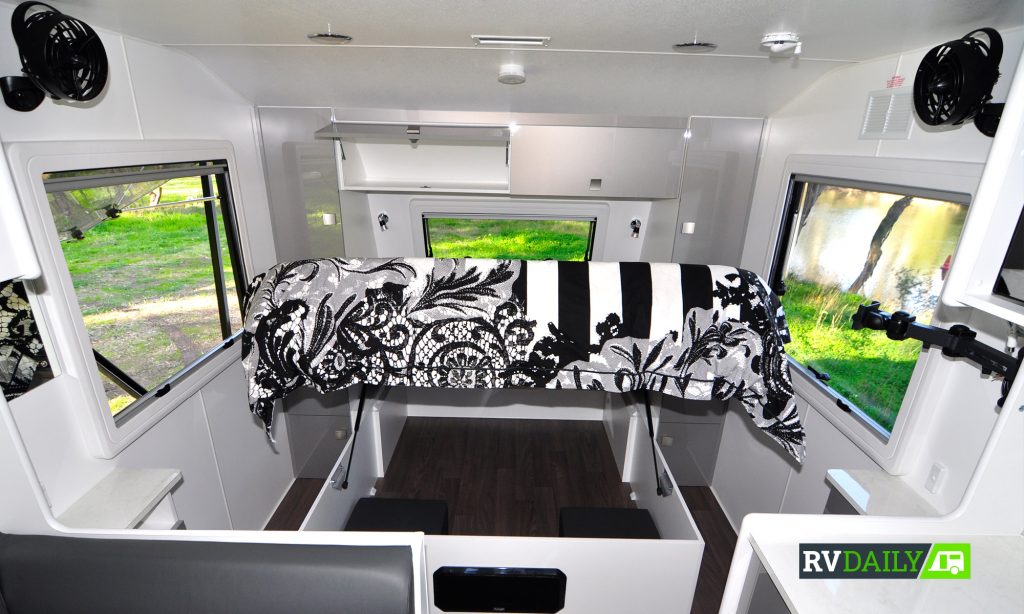 Otherwise there's far too many features to list but some of the important ones include: fire extinguisher, external gas outlet and regulator, auto-positioning satellite system, Hella 12-volt oscillating fans, Waeco reverse camera (car kit supplied loose), and an external shower tap set. Concept Caravans utilise the latest computer-cut design and technology with a human eye for design flare to create their beautiful Innovation 640A.
Their strong and experienced construction, with a well-earned reputation for build quality, will ensure safe and easy towing and their finishes, features, layout and accessories will ensure that "Your Time" is the fulfillment of your lifetime dreams.
VERDICT
A premium caravan that has the looks, the strength, the ability, the facilities and the home-grown luxury when it's "Your Time" to hit the road to adventure. All of this with a reasonable towing weight and at a price-point, with all of the inclusions, that is very competitive.
SPECIFICATIONS
LENGTH CARAVAN: 6.4m appx.
LENGTH OVERALL: 8.25m (varies with options) appx.
WIDTH: 2.45m (includes awning)
HEIGHT: 2.44m appx.
TARE WEIGHT: 2396kg (tested van)
ATM: 2896kg (tested van)
PRICE (STARTING): $68,490 (plus on-roads)
PRICE (AS REVIEWED): $73,690 (plus on-roads)
PROS
– Wide selection of accessories
– Premium build
– Aesthetics
– Comfort
– Ensuite
– Towability
CONS
– Additional battery
– Deciding where to travel to for our next adventure!