Nissan has launched a new dog pack to make travelling with your best friend even easier
Nissan has just launched a suite of accessories for your furry friends! It's official – road trips just got better. Available for the Patrol, X-Trail and Qashqai, Nissan's dog pack can be ordered at the time of purchase or ordered as an accessory to your existing vehicle.
"For so many of us, our pets are like a member of the family, and now it's easier than ever to bring your dog along with you on your next road trip, whether to the local park or to the other side of the country," says Nissan Australia managing director, Adam Paterson.
Included in the standard dog pack is:
Rear protection tray or mat (depending on vehicle model)
Reflective boot-lip protector
Four-piece dog travel set including an easy-store bowl, a lead, a waste-bag holder and a sealable food bag
Over-seat cargo-area organiser
All-terrain dog bed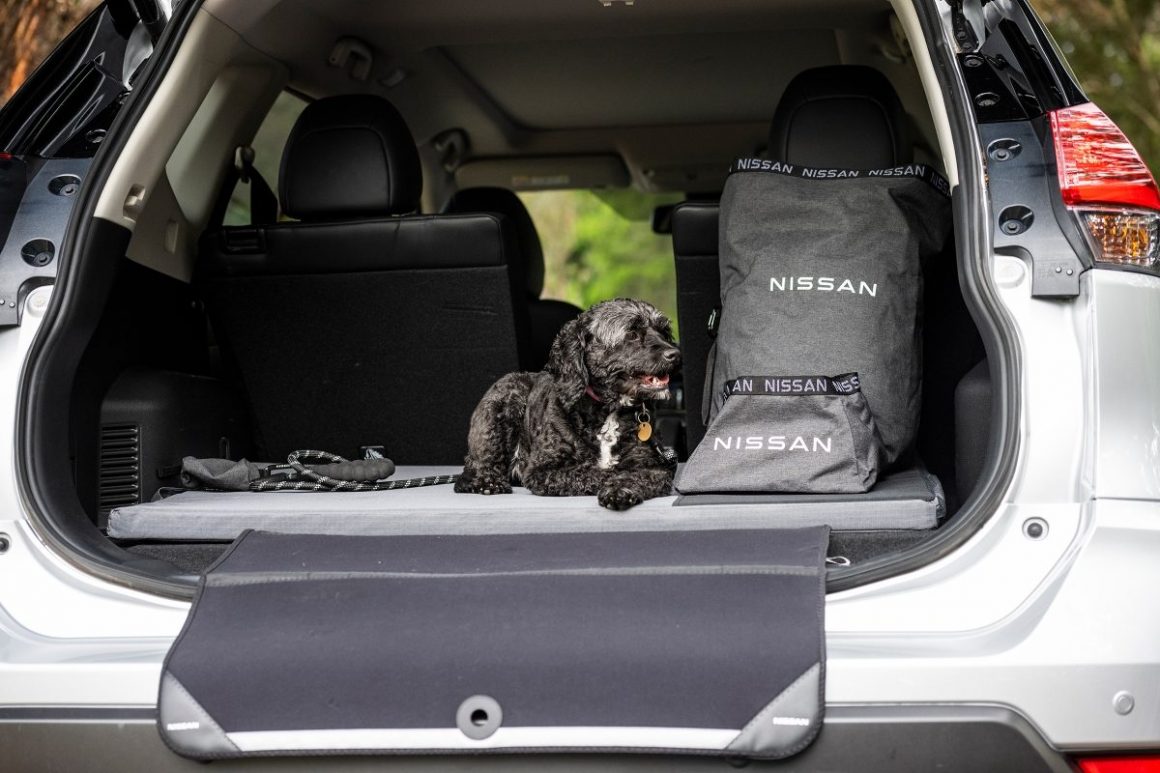 Nissan dog pack safety add-ons
You can opt for the standard dog pack, or up your gear game by grabbing one or both of Nissan's dog pack extras.
Dog ramp
To help your furry friend make the great leap from the ground to the back of the car, a ramp can be ordered as an add-on. It's a great option for those of us with bigger dogs who are getting on in years and struggle to make the jump. It's not just for older dogs though. If you regularly take your dog on outings, a recent study in the UK's Vet Record found dogs jumping in and out of higher-riding cars and SUVs led to "augmented levels of loading on anatomical structures", and could lead to serious joint or bone injury.
When extended, the ramp stretches 1.6 metres from the boot lip to the ground, making for an easy entry and exit from your vehicle for your pet. When you're not using the ramp, it retracts to fit easily under a seat or in the cargo area.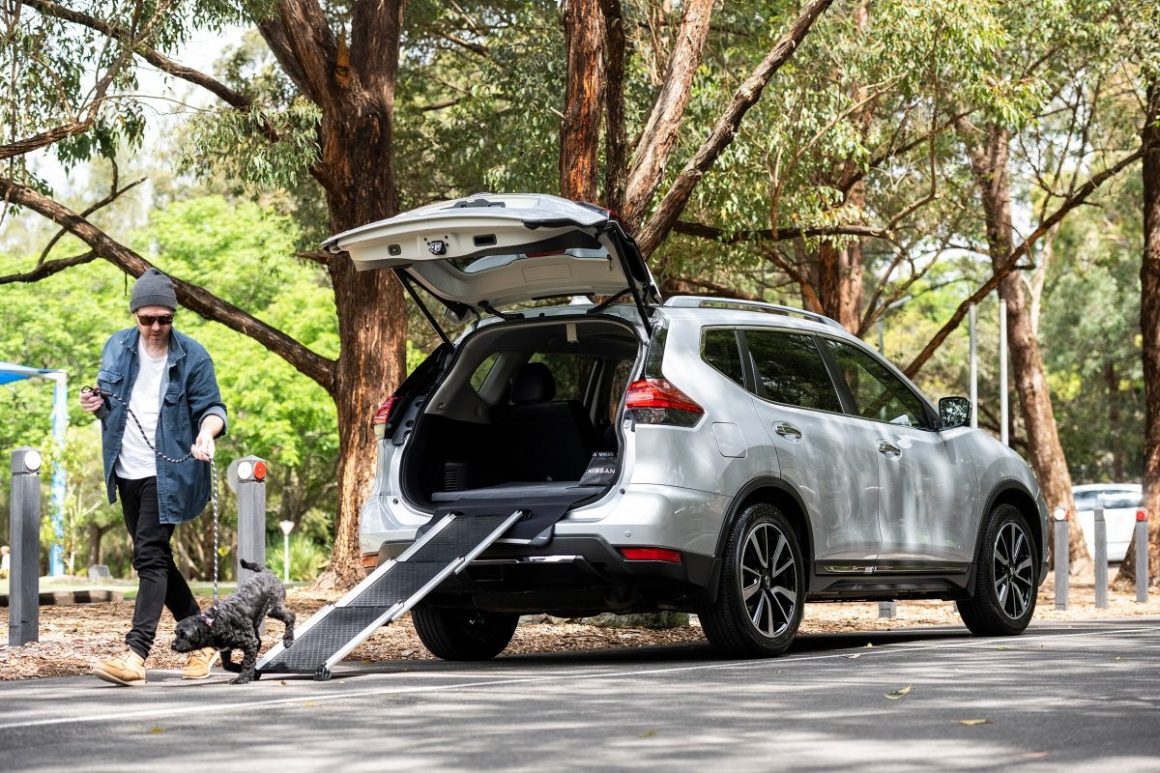 Cargo Barrier
Speaking of cargo areas, you can also order a sturdy cargo barrier as an add-on. This works to separate the rear cargo area from the cabin, ensuring your furry friend's safety by preventing them from going on any in-car adventures while you're on the move. It also keeps them in the back (handy if they've rolled in something you'd rather not spread all over the car).
Pricing
All three options can be ordered at Nissan Dealerships across Australia. Pricing varies according to both vehicle type and the size of your dog.
| | | |
| --- | --- | --- |
| Nissan Dog Pack | Small / medium dog | Large dog |
| Nissan Dog Pack | From $339 | From $353 |
| Nissan Dog Pack + ramp | From $471 | From $485 |
| Nissan Dog Pack + cargo barrier | From $1,038 | From $1,052 |
| Nissan Dog Pack + ramp + cargo barrier | From $1,201 | From $1,215 |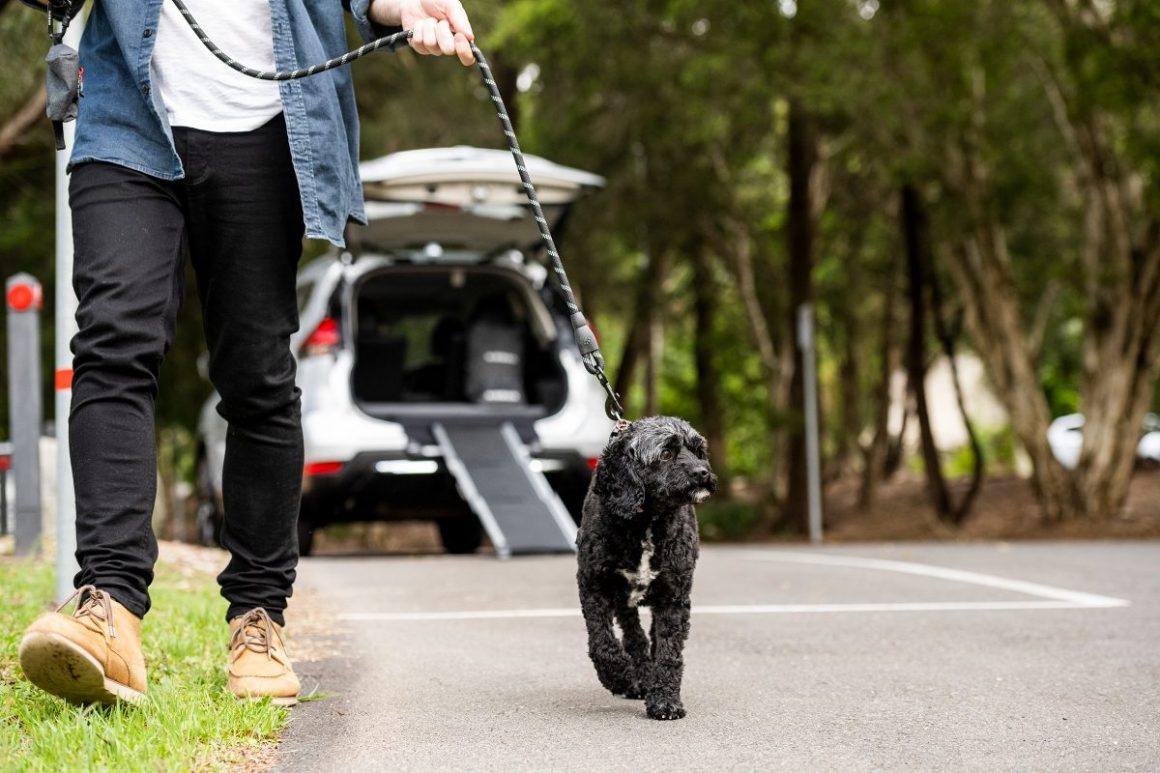 Pssst. Here are some tips for dog-friendly caravanning and camping.