If you're looking for a spacious motorhome that has lots of storage capacity and can be driven on a normal car licence, the Avida Busselton ticks a lot of boxes but there is room for improvement.
Before I get too far into this review of Avida's new Busselton motorhome, I need to make a confession. With the exception of hiring a small Toyota Hiace based campervan for a two-week tour of New Zealand, I've never driven a motorhome before. So when Avida sent us the invitation to take one out for a test drive, I jumped at the opportunity. I was keen to experience, even for a brief time, what travelling in a motorhome is like.
Firstly, a bit of background about Avida's Busselton range. It comprises three fully self-contained models featuring a kitchen, rear or mid bathroom, over-cabin bed with vehicle lengths of 7,500-7,800mm. The Busselton is built on the rear-wheel-drive Iveco Turbo Daily chassis with or without slide-out room and can be driven on a standard car licence. The Busselton was brought onto the market to offer a similar experience to the popular Esperance range but on a car-licence-friendly platform as the Esperance will be going to an all light rigid truck licence range. The rear-wheel-drive Iveco offers an alternative to the front-wheel-drive Birdsville which is built on a Fiat chassis. The model we tested was the C7544SL which is the longest model available with a slideout bed/dinette.

First impressions are that this is a pretty big motorhome given it can be driven by anyone with a standard car licence. The driving cabin is very spacious and, with the Iveco chassis's high stance, it offers a commanding view of the road ahead. Certainly negotiating through peak hour traffic in Melbourne was no effort. There are a few downsides to the cabin. As the base vehicle is essentially a large delivery van, it's built for work and not so much for pleasure. It is a fairly bland interior with few luxuries. The stereo is satisfactory with USB inputs for an iPod or similar but the sound output is a little tinny. The steering wheel feels slightly off centre and the pedals are way too close together. The European layout takes some getting used to and the control stalks feel slightly out of finger-reach. To disengage the handbrake, you have to lean over at a complete right angle. The steering wheel can be adjusted for rake but not tilt, leaving some of the dash-board obscured. There's nowhere to rest your left arm. The seats are firm but not supportive being suited to a driver who gets in and out of their vehicle all day rather than spending hours on end on long trips. Sorry Avida but this is not the most comfortable vehicle I've ever driven.
On the road, the four-cylinder, 3.0 litre, turbo diesel engine combines well with the 8-speed automatic transmission to enable the Busselton to get up to speed reasonably quickly. In fact, it had more pick up than I was expecting. Steering is very direct and the turning circle is excellent for such a long vehicle. Once out on the freeway and highway, the Busselton sat on the 100kph speed limit without any trouble at all, with an indicated 2,000rpm on the tacho. Gentle hills don't seem to bother it too much, with only an occasional change down to 7th gear required to maintain speed. Steeper hills are a different matter. The Iveco is reluctant to shift lower than 7th gear making it labour and slow down. It takes a real hard flooring of the accelerator to get it to change down to a lower gear. Switching to power mode on the transmission makes little difference. Using manual mode is the way to go. Our test drive to Nagambie and back was a 220km round trip and we used 35 litres of diesel resulting in a fuel economy figure of 15.9 litres per 100 km. That's a safe touring range of around 600km from the 100-litre fuel tank.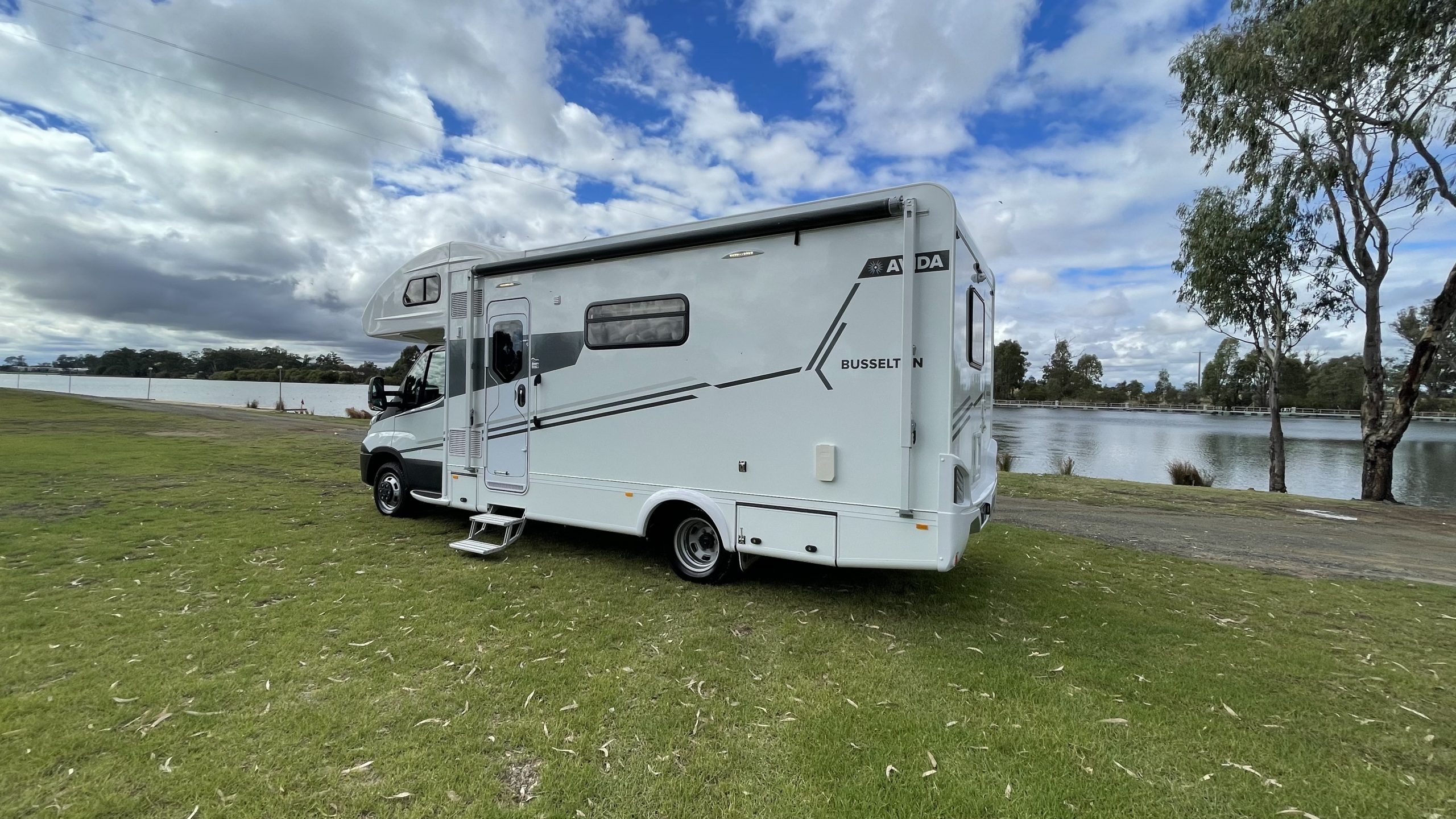 The ride in the Busselton is best described as agricultural, another symptom of its work truck origins. The suspension is rock hard. Even the slightest bumps are met with a resounding thud that seems to rattle everything including the fillings in your teeth. This harsh ride combines with the excessive road noise and assorted creaks, squeaks and rattles throughout the cabin and living space resulting in one of the noisiest vehicles I've ever driven. I hate to say it but, after an hour of driving, I needed a break and a Panadol. If you're driving along a good smooth freeway, the experience is bearable, but lesser B-roads see noise levels inside the cabin range between 75 and 83db. In fairness, I'm used to driving a cushy Landcruiser which, by comparison, is like a business jet whereas the Iveco is more like a Cessna. I've been spoilt.
When you arrive at your campsite, the Busselton is a much nicer vehicle. There is something very satisfying about just reversing into your campsite, putting the vehicle in park and you're set up. You will need to extend the slide-out even for overnight stops otherwise you'll be climbing over the bed to get to the ensuite. Once the slide is extended, the sheer amount of interior space is amazing. You will not feel cramped inside the Busselton we tested.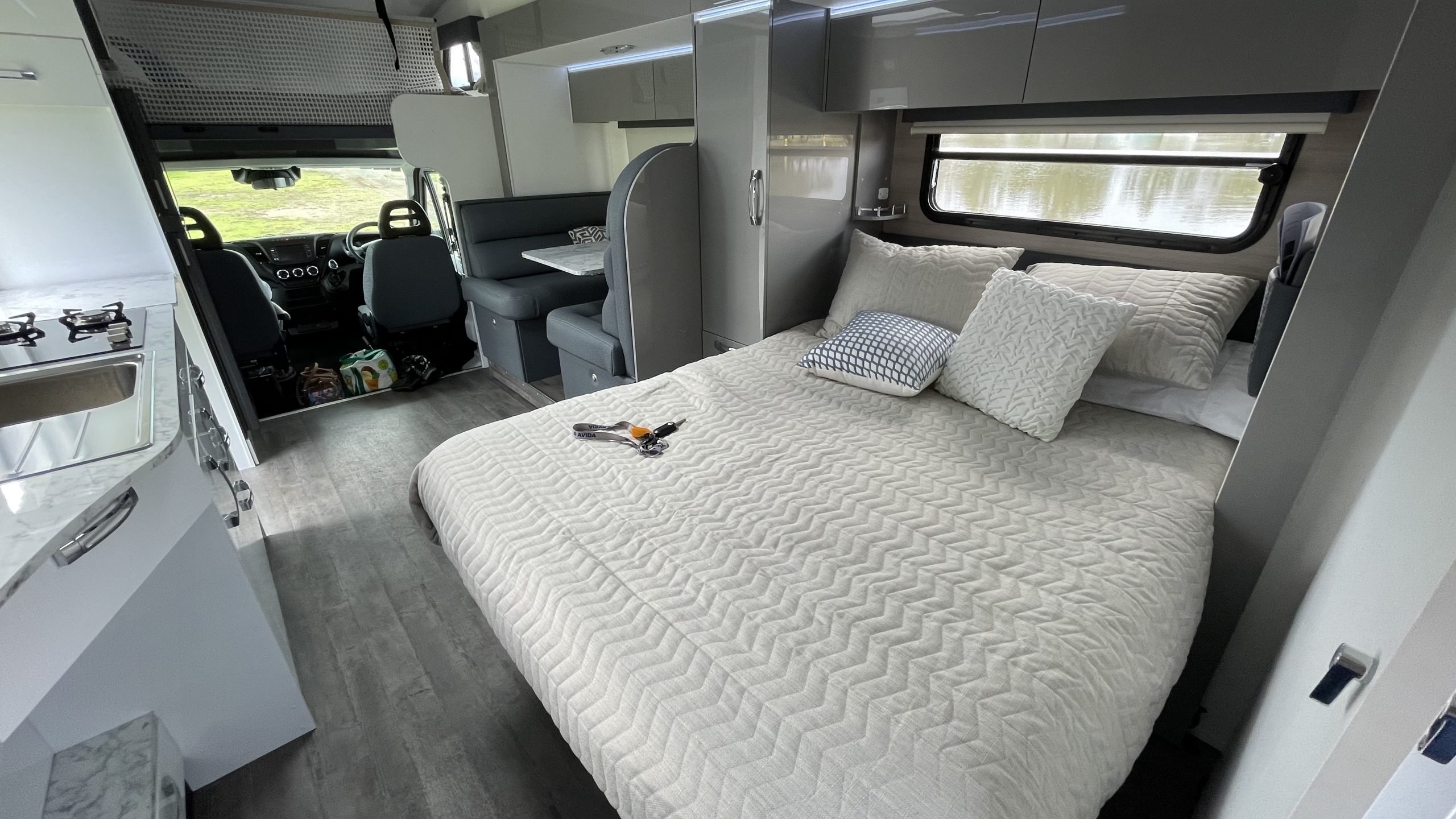 The cafe dinette is surprisingly comfortable although you would be struggling to fit more than two adults at mealtimes. The table can slide back and forth to make more room on either side if needed. The TV is only visible from one side of the dinette as a result of the layout. The bed is also generous however the mattress is quite firm. If you like a soft bed, you may want to fit a mattress topper.
Ventilation is pretty good. There are windows in just about every possible location however only the lower portion can be opened limiting the amount of fresh air that can pass through. The flywire screens are also quite vulnerable to damage especially at the dinette where they can be easily pushed out by wayward shoulders and elbows. I did like the electric roof hatch. It is an absolute ripper and a real touch of class. Small things and small minds…!

When it comes to storage, the Busselton scores well. Smaller motorhomes tend to have limited storage but not so the Busselton. The available space has been utilised very well however some compromises have had to be made. There are several decent-sized externally accessible storage cupboards, large under bed storage and large internal cupboards. You might struggle to find a place to store a Weber or Ziggy BBQ if you don't want to store it under the bed. The large cupboard under the vanity is taken up with the hot water system and water pump making it almost useless.
Fortunately, the overhead cabinets offer more room than I would have expected. In the bedroom, there is only one large robe on one side of the bed. There is another robe opposite the bed but it is not as tall. This shouldn't an issue as long as you can agree with your partner on who gets what robe for their clothes.

Overall, every single space that could be used for storage has been. With just over 500kg available cargo capacity, I believe you could comfortably pack enough gear into the Busselton for a 12 month trip around the country.
One thing to keep in mind is that some of the electrical components and their associated wiring are exposed in these storage compartments. If you have any sharp or heavy items stored in them, and they move around while driving, they could cause some damage. You just need to be careful what you store in these compartments.

The kitchen area is a real surprise. The bench is quite long as it extends into the bedroom area so there's plenty of space to prepare meals. Added to this is the handy drop-down bench-top extension in the doorway. Yes, it blocks the entrance when you're using it but, as a cook who is always looking for more bench space, I think it's a nice touch.  The model we tested came with a microwave and a combination of 2 x gas and one induction cooktop unit. The polished stainless steel sink looks good but scratches easily.
I have one big complaint about the interior of the Busselton. There is a real lack of powerpoints inside the living space. I counted one double point in the kitchen, one in the dinette and a single outlet in the ensuite that was used for the hot water system. That's it. There are no inbuilt USB outlets either. Given our reliance on electronic devices, this is an area that I think Avida needs to improve. There is a single 12-volt outlet in the kitchen and another near one side of the bed that could be used for a CPAP machine if needed.

The rest of the electronics package is very good. One thing the Busselton doesn't lack is lighting. There are literally lights everywhere including concealed LED strips, roof lamps and LED strip lights in the ceiling hatch. There's a decent control panel above the door that shows you all the necessary information about battery voltage and water levels. It's simple and adequate.
The quality and overall fit and finish inside the Busselton are very good. All the furniture feels solid and well made. The pelmets in the slideout felt a little loose and some of the edgings could have been finished a little neater. There was some exposed wiring in one of the overhead cupboards that just needed to be secured a bit better. The step into the front cabin also feels a bit flimsy. Honestly, these are minor complaints that should be identified and rectified at pre-delivery.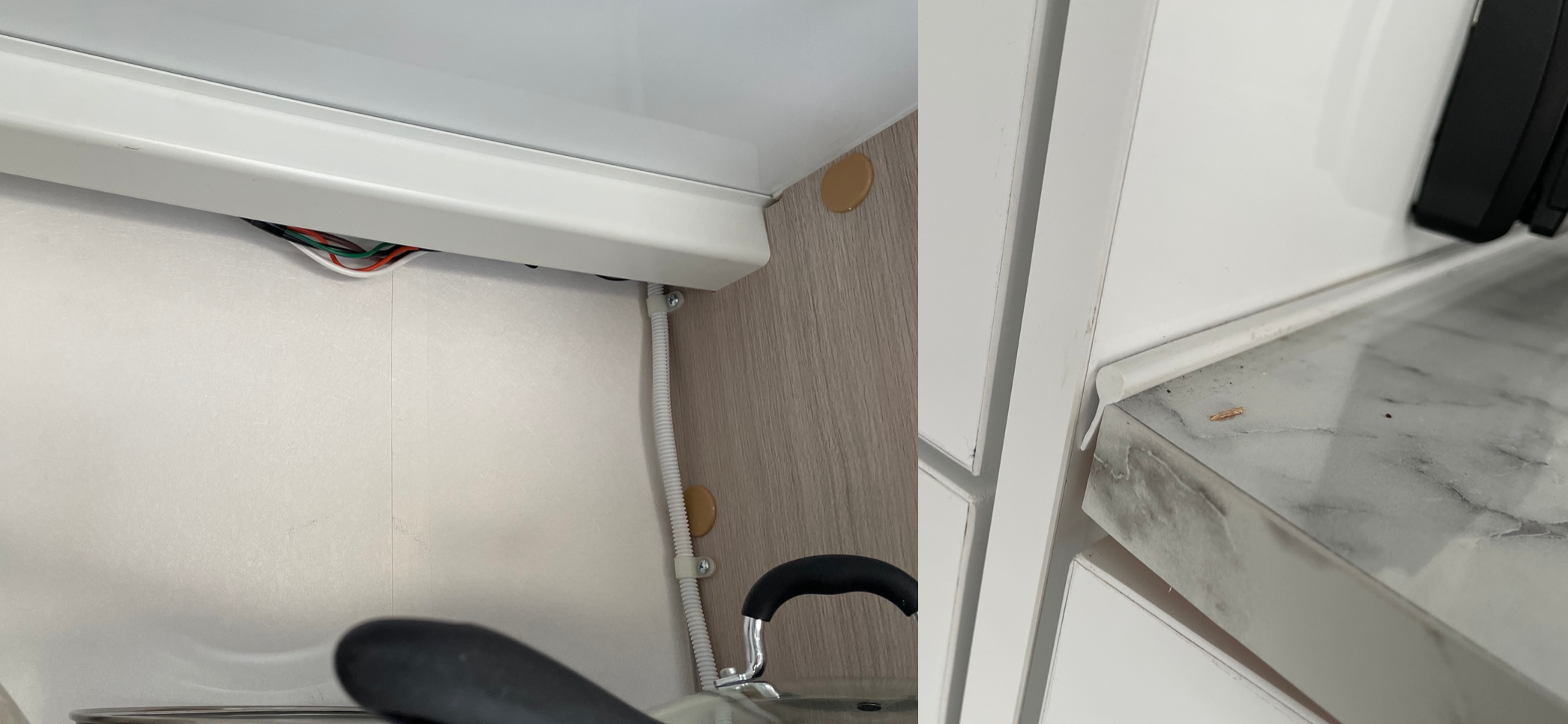 The price for the Avida Busselton C7544SL as tested is $191,288 which includes two optional rear seat belts. Whether or not that represents value for money is a question of where you place your priorities. The Busselton offers an amazing amount of interior space with useful storage capability in a car licence friendly package. Avida has been around for a long time and they have an extensive dealer network to support you on your travels. Those points alone make a compelling argument to go with the Busselton.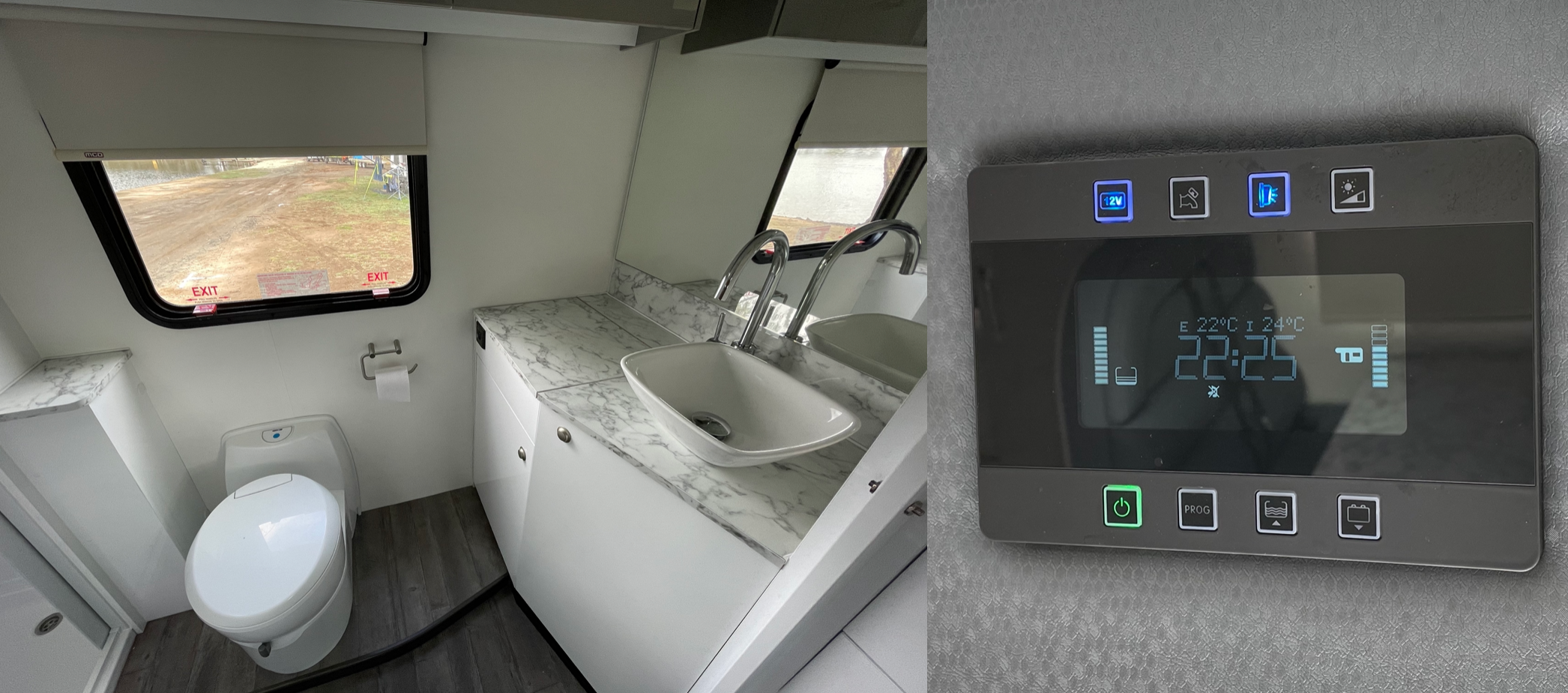 On the other side of the coin, for a vehicle approaching $200,000, I would want to be able to drive it all day without having to reach for pain killers every hour. You might get used to it and, then again you might not. If you drive a 60 series Cruiser and you don't necessarily need to talk to your partner along the journey, you might think the Busselton is an OK vehicle to drive. But if you're used to the luxury of modern vehicles and you like to take all your technology with you on your travels, the Busselton misses the mark.
In my opinion, if Avida could add a few more power points, a couple of USB outlets, improve the suspension, add a little sound deadening in the cabin and put in some decent front seats with armrests, it would make the Busselton a much more attractive proposition.
Safe travels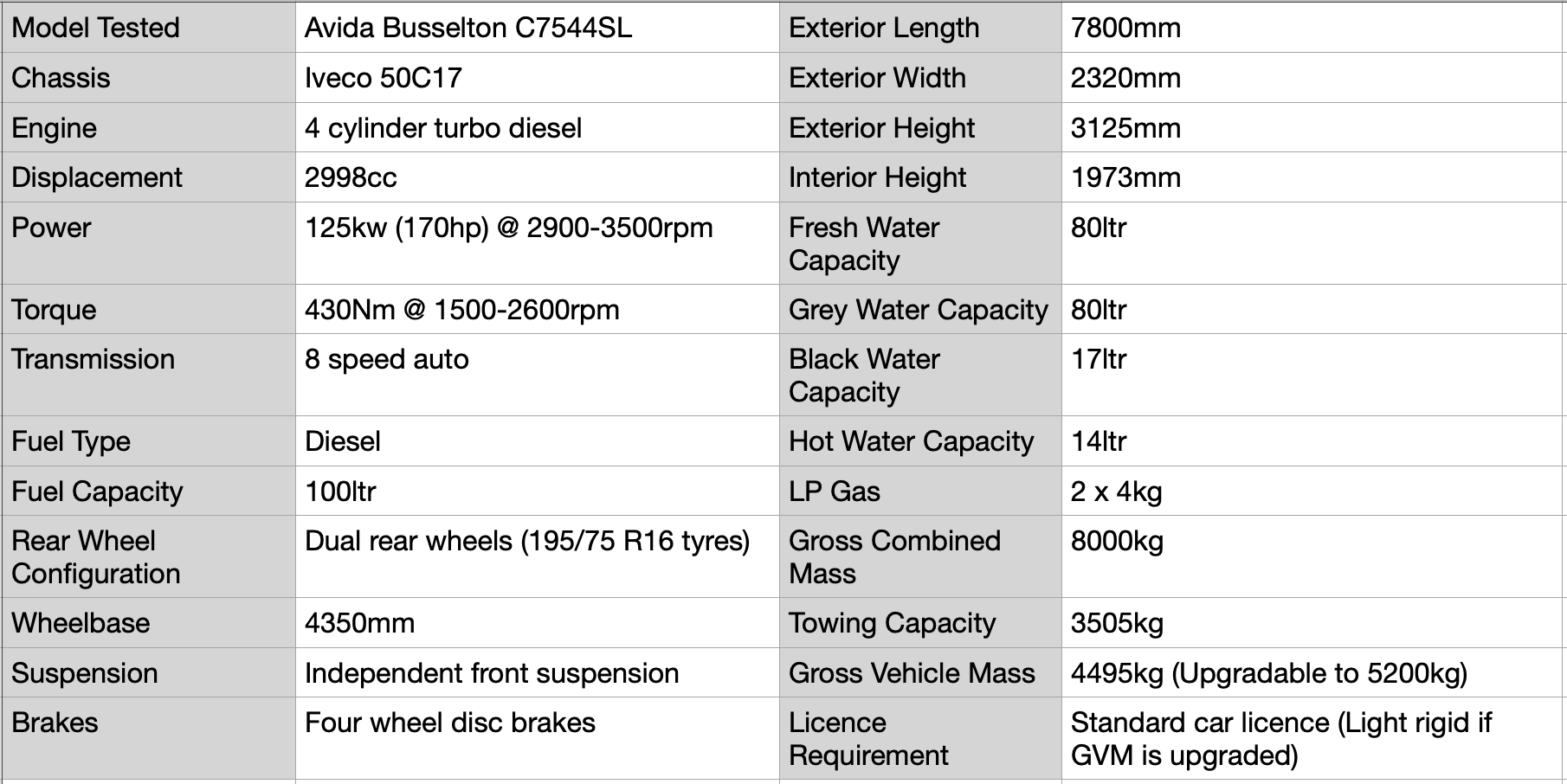 For full specification on the complete Avida Busselton range, click here.