Maximise payload and budget with these five lightweight caravan options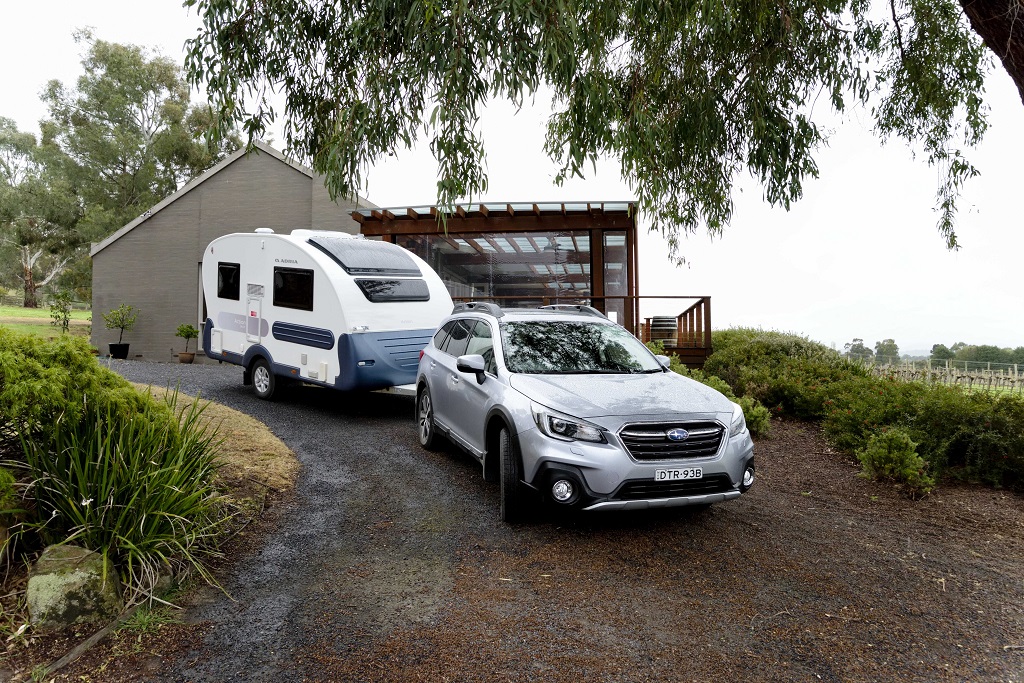 If your mission is to maximise your payload and budget, then one of these five lightweight caravan options might be for you
If we all wanted the same thing life would be dull – and there wouldn't be so many caravan models. Having one size and style of van would ease the choice headache for some people, but with the prevailing trend being for large off-road designs also disappoint a selection of caravanners who do not want nor need to take an apartment camping. If it works for you, that's all that matters.
However, the dollars…
We're in a new dimension at the moment, and while it feels like the Twilight Zone right now, let's examine the new reality some people face. And, let's all face it, budget is the controlling factor in all decisions (if it's not, brother, can you spare a dime?).
Caravanning is a major 'participation sport' in Australia. When we're released from home detention, seasoned players will be on the road quick-smart. But there will likely be hundreds of new entrants and with money tight then these buyers may be looking for the lightest, smartest and user-friendly models they can find. Many people won't be able to buy a new tow vehicle, so the lightweight caravan speaks volumes to this purchaser, in terms of being able to retain the family car.
We have gathered five examples of a lightweight van to give inspiration for your next adventure. Real adventure doesn't depend on how you get there, just that you do.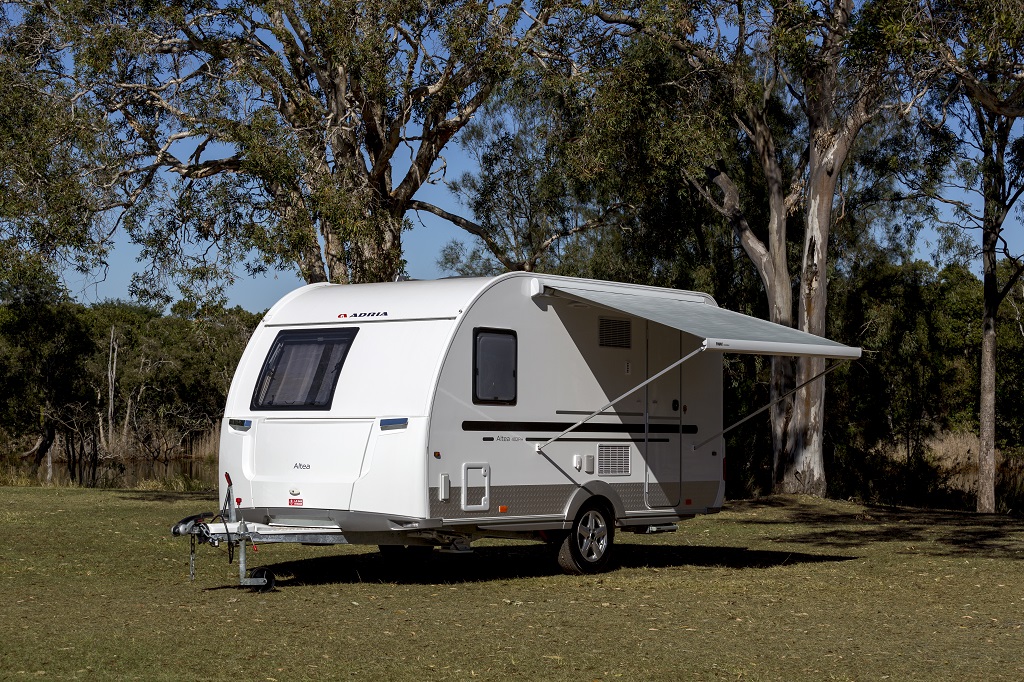 1. Adria Altea 402 PH Sport
Price: From $38,990
The Adria range retails in Australia through Apollo RV Sales. The Slovenian-built Adria caravans (and motorhomes) offer a very European alternative in terms of material design and use and pursue a lightweight ethic common in Euro RVs where towball weight is nowhere near Aussie standards.
Within the compact body length of 4.7m (6.07m overall) Adria has made a four-berth option and added creature comforts such as a 190-litre fridge, separate toilet/shower ensuite and 130-litre fresh water tank.
Given the smaller dimensions, it's a nice touch to have LED internal lighting that's adjustable, and the Adria kitchen designs make the best use of doubling-up prep and cooking space.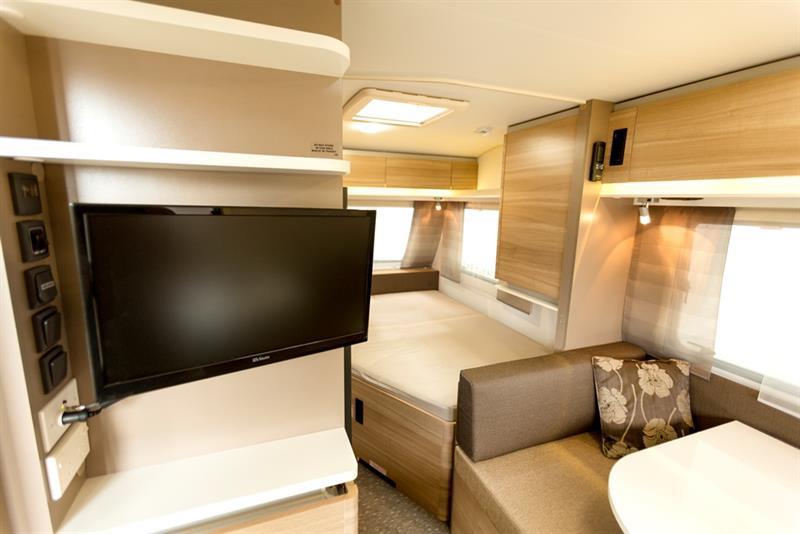 The four berths are provided by converting the dinette to a small double, and the full-size double bed up front.
The 402PH is an on-road van but has been given an AL-KO semi-off-road hot-dip galvanised chassis and uses AL-KO's IRS suspension. What's technically great in terms of the body is the use of smooth composite panels for strength and longevity; the sleek lines are modern and fresh. In an interesting trade-off, the Euro trend of making comfy lounges for inclement weather up north, is that window and roof hatch light provision make for well-lit and airy spaces. Plus, Truma looks after keeping the space arm too.
As the weights come in at 1600kg ATM and a 320kg payload, the Adria Altea 402PH can be towed by smaller family cars.
PLUS POINTS:
Four-berth but compact style
A club lounge dinette
Stylish interior, with ensuite
For more info and specs, click here.
Video link: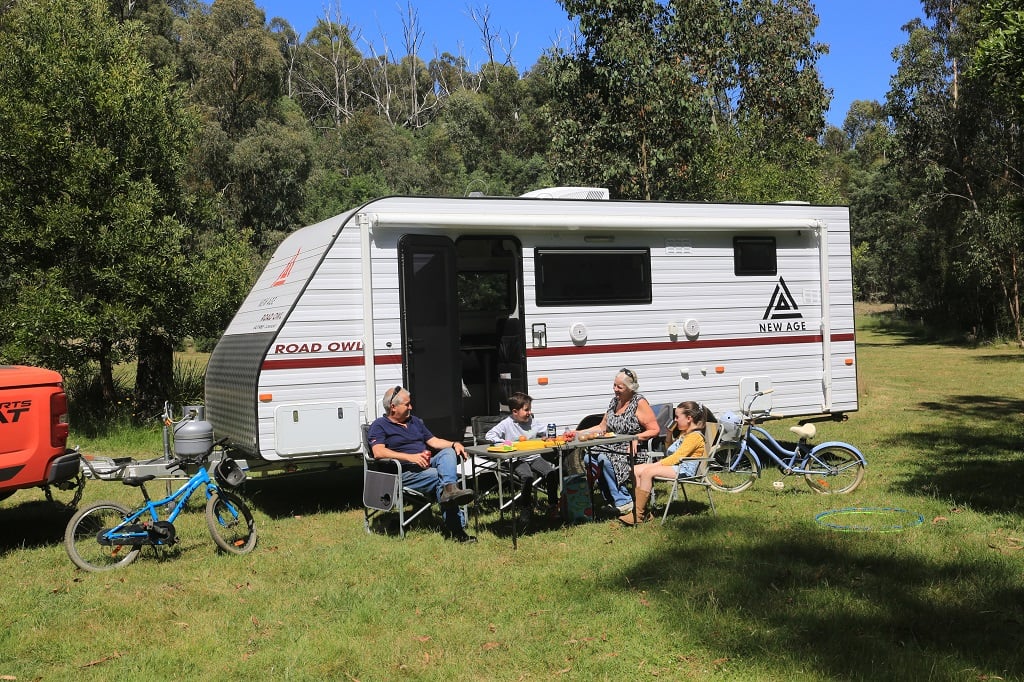 2. New Age Road Owl 16-foot
Price: from $45,990
Not quite the smallest in the New Age van range, the Road Owl (odd name) provides a multi-option platform on, here, a 16-foot (7.01m) package.
The Road Owl is also an ensuite van which is at the rear, along with the access door on some models, a mid-mounted galley and bedroom up front. The 16-foot Road Owl is a two-berth.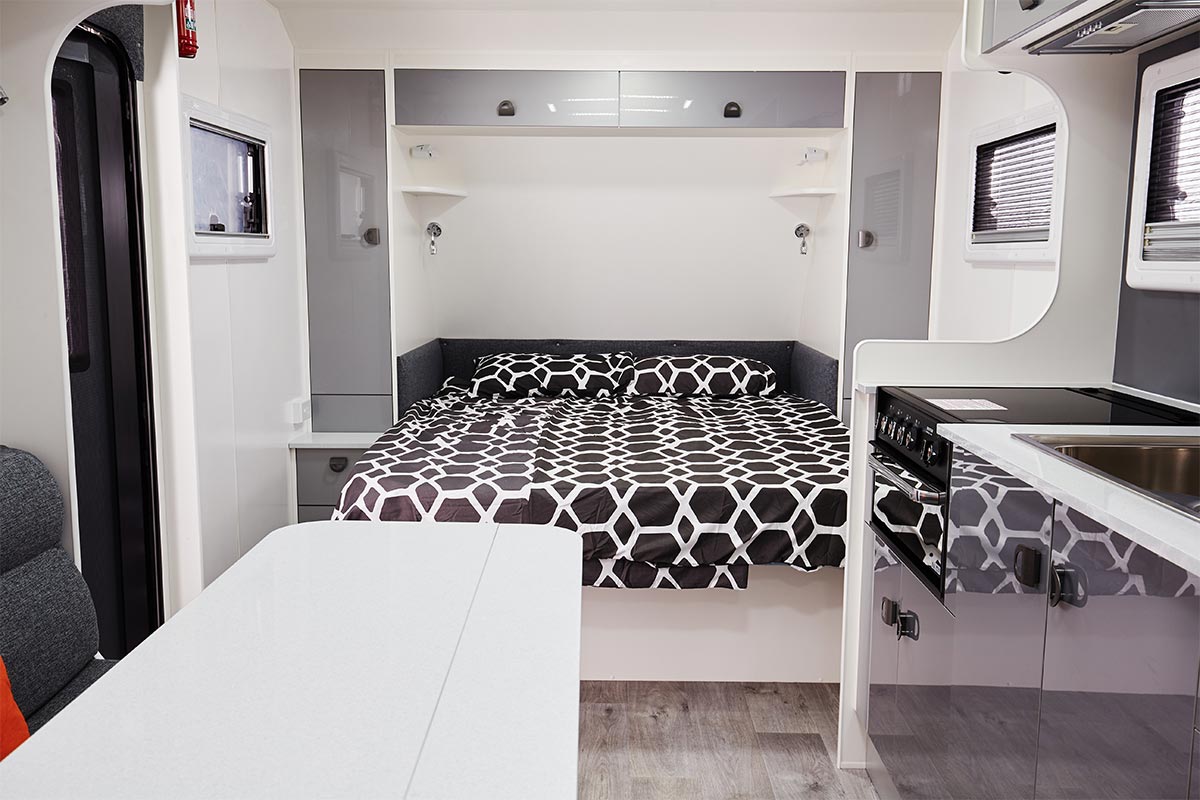 As an on-road model, the Road Owl packs a Duragal chassis and BMPRO Sway Control and a standard 50mm ball hitch, and with shackle suspension. The Road Owl range runs up to 21-foot models, but the 16-foot isn't light on when it comes to options. New Age has added a Comfort and Comfort Plus Packs and Adventurer (and Plus) Packs that can add most of anything you'd want, without getting too far away from the simple-yet-essential and lightweight theme we're pursuing here.
In base-spec the Road Owl has a 110-litre water tank (hot water on board, too), a 164-litre three-way fridge, a microwave, plus cooktop with mini grill. Comfort Pack adds the aircon, 100 AH battery, TV and more.
Depending on what you choose to outfit your Owl with the average ATM is 1665kg, so like the others here it can be towed by a large range of vehicles. With the recent acquisition by the Walkinshaw Group there looks likely to be further innovation at New Age too.
PLUS POINTS:
Rear door option
Three-year warranty
Custom option packs
Easy to tow (and sway control standard)
For more info and specs, click here
Video link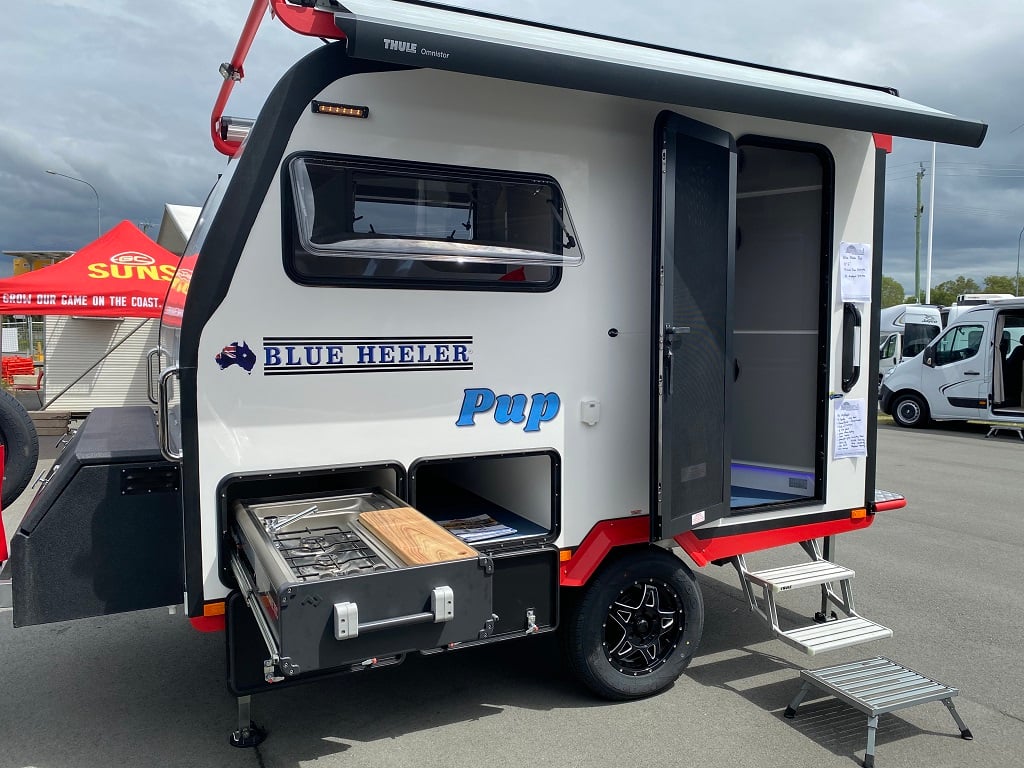 3. Sunland Blue Heeler Pup
RRP: From $49,990 to $79,990 (pictured)
Sunland has taken its nameplate from the large Blue Heeler and scaled things down to produce the Pup, an 11-foot, 6in variant. You might think this would be a couples-only van but it's a bunk option as standard, with a three-berth offering; ideal for a young family. You can opt to change that, if it's just the double you're after.
You can also select construction options too, either an aluminium frame or a composite construction to house an internal kitchenette with microwave, and an onboard toilet and shower. If you opt to not have the bunk (or you can add another) then a larger fridge can be built in – there is an external slide-out barbecue and sink – so you can specify your interior preferences. Although the design execution of the beds is pretty trick and in a style that's clean, bright and modern.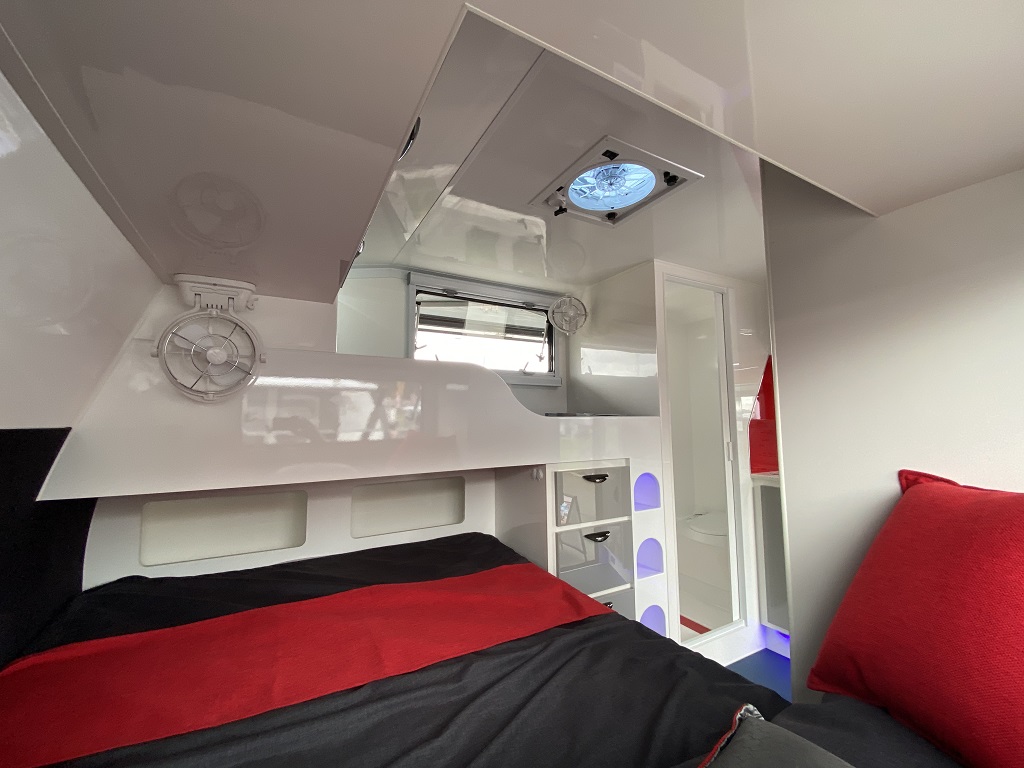 The Pup is off-road designated and rides on independent coil suspension. There's ample storage on the drawbar including twin gas cylinders, and you can ask for two spares; one front, one rear-mounted.
The Pup at maximum specification (i.e. ALL options) weighs 1.5-tons Tare, and has a 2250kg ATM so has a potential 700kg payload. There is a huge options list that you can throw at the Pup to make it yours but the base-spec van is a great lightweight option on which to build and that's towable by a broad range of lighter-duty vehicles.
PLUS POINTS:
Design application
Super compact size and weight
Five + 20 Warranty (5 years van, 20 chassis)
Custom options
For more info and specs, click here
Video link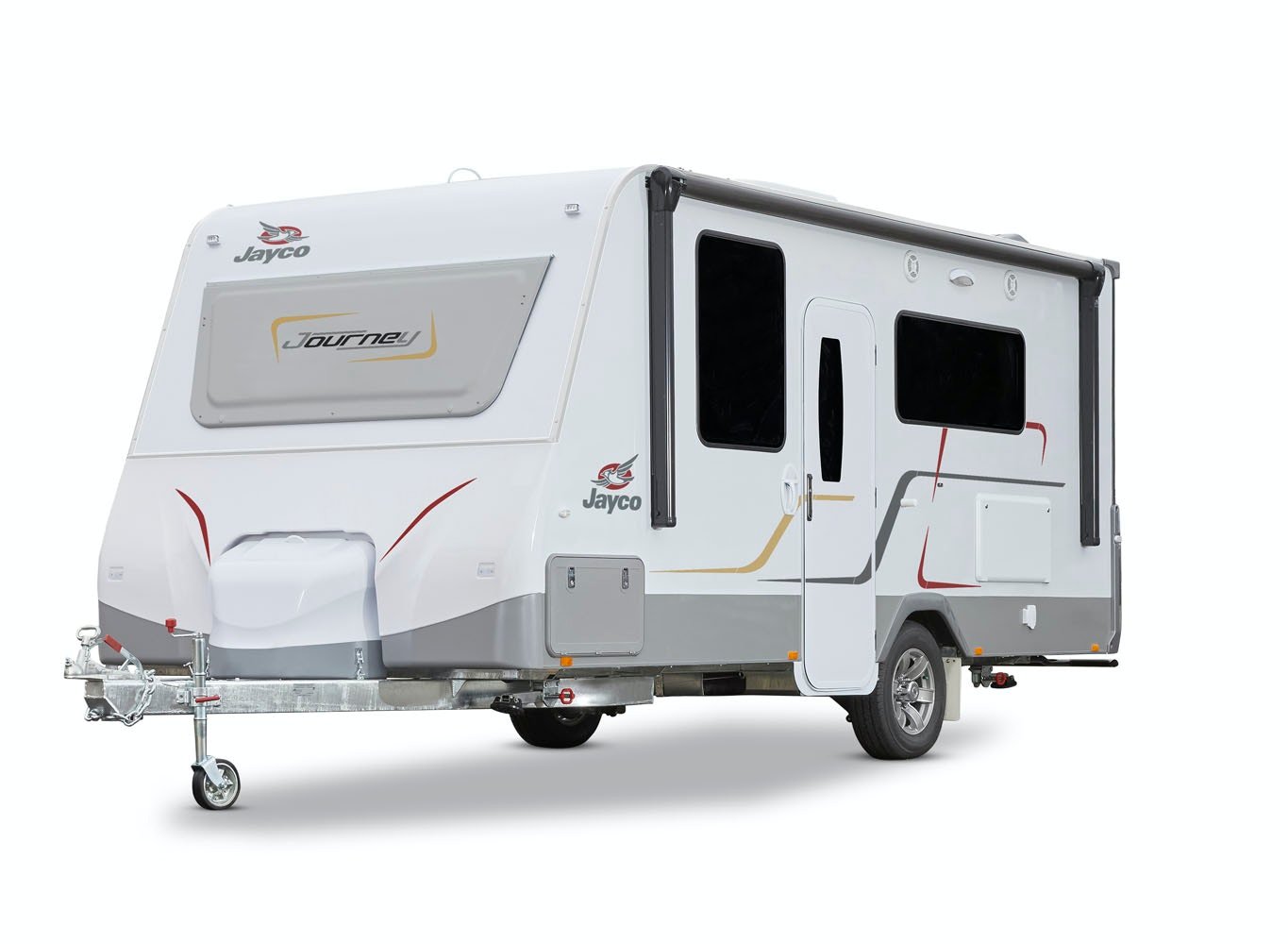 4. Jayco Journey 16.51-3
Priced from: $52,990
The Jayco Journey is a lightweight van for couples to tackle on-road adventures. It's a single-axle, leaf-sprung 16-foot caravan, with the option for a third bed, so small, young families or the grandparents (with a favourite grandchild) are potential buyers.
The Journey in this guise starts at a Tare of 1788kg. It's an ensuite model, with aircon as standard, a 171-litre fridge, Sway Command tow control, and a great kitchen with a full oven. As you'd expect, there's a hot-dipped galvanised chassis, but also a slightly rarer Euro styling from the Aussie giant, which means some curved edges for the interior styling. Huge bedroom windows make an attractive space here while at the other end the shower has a great splash of chrome fittings to keep things bright. (Pic below is of a Journey 19-foot variant.)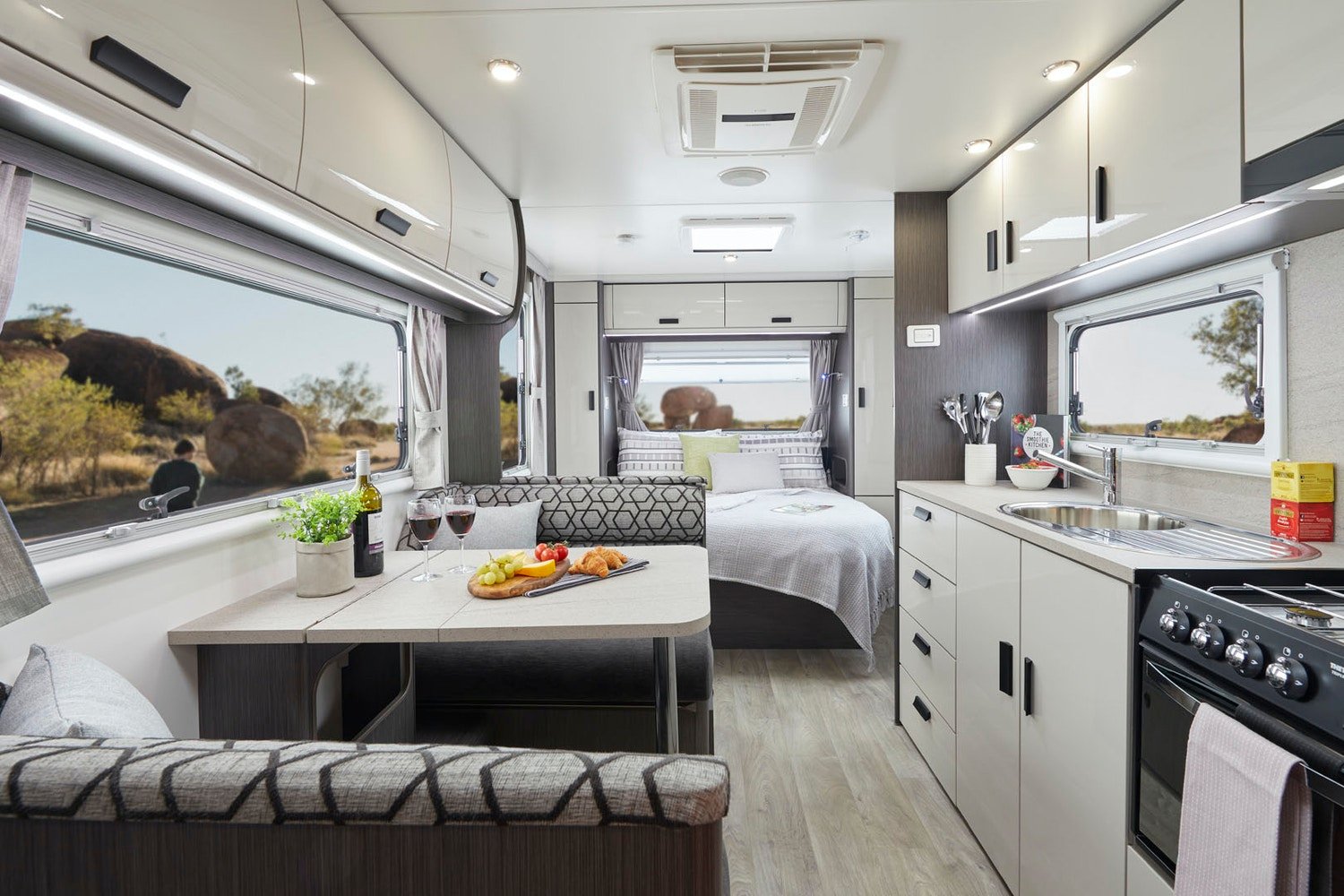 The Journey features a one-piece roof, and Toughframe composite walls that are all designed as hail-resistant. Standard power comes from a single 100 AH battery (with option for two). The Journey has a WiFi system with built-in GPS, TV, of course, and Bluetooth for the App that monitors power and water, plus you can option Google Alexa voice control. Jayco offers a long options list that includes tech, trim choices and bike racks, but the Journey range offers a great base for a lightweight, entry-level van.
PLUS POINTS:
Interior style
Tech applications
Tow vehicle options
Dealer network
For more info and specs, click here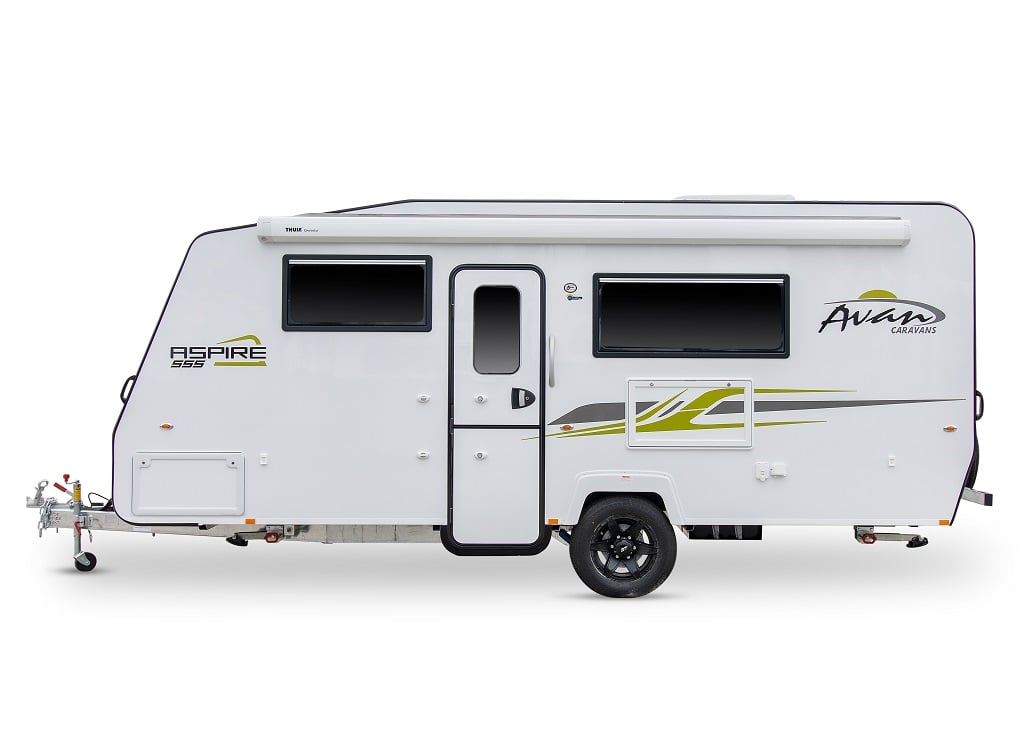 5. Avan Aspire Hardtop 555
Priced from: $47,490
Avan offers a huge range of Aspire caravans, here we have the 555 Hardtop double. As the name suggests, it's a couple's van in modern composite construction, with single axle, primarily on-road designation. Avan has a range of exterior paint protection treatments and colour schemes to make their vans stand out. Plus, in among attractive wood-effect cupboard panelling that you can select, you will find a very comfortably appointed van with standard aircon, three-way fridge, gas/electric hot water service, microwave and an ensuite.
With a Tare weight at 1455kg the Aspire fits our criteria of being able to be towed by a wider range of vehicles, and offers a payload of around 300kg according to Avan literature; Avan offers a two-year warranty. Overall travel length at 6.9m is handy.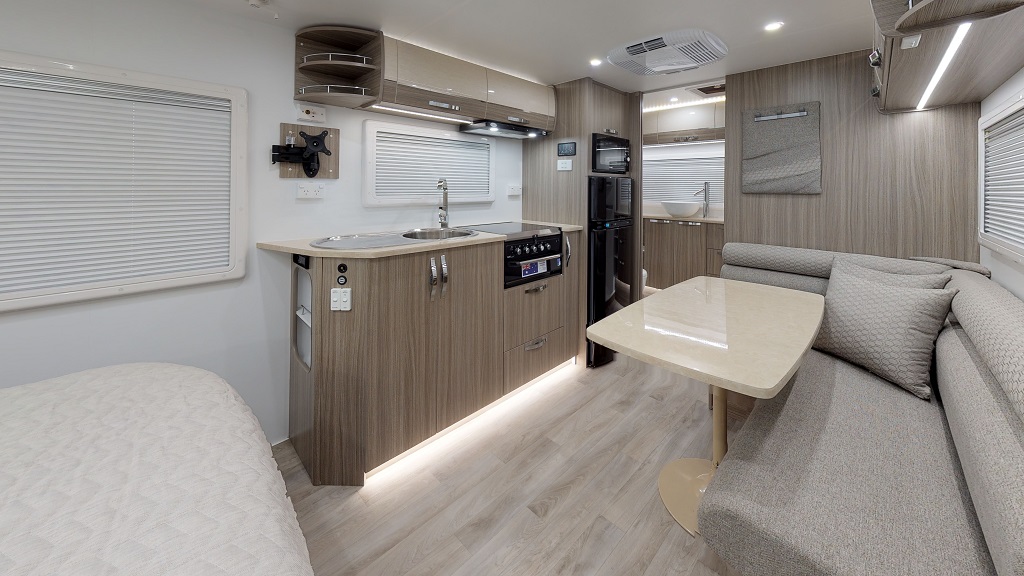 Also convenient are the anti-jam blinds for the double-glazed windows and the Aspire has a two-piece door with a retractable screen; neat. The full-length Thule awing is a standard feature too. In terms of supply for facilities, there's a single fresh water tank and twin 4kg gas bottles.
PLUS POINTS:
Pleasing interior design touches
Large Aspire range
Towability
Dealer network
For more info and specs, click here
Main image Anthony Kilner.