Locked up in a Lakeside and lovin' it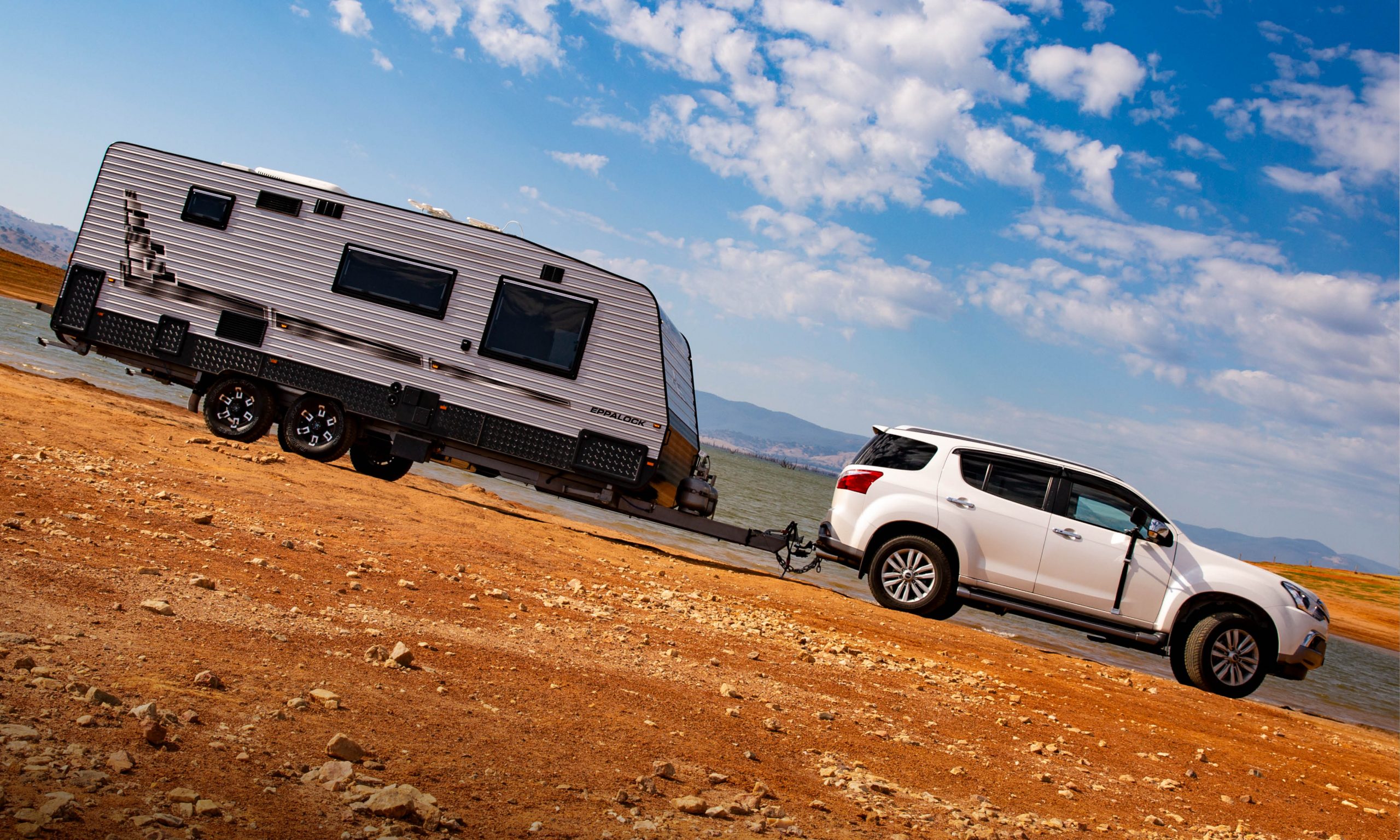 Offering great usable space for you and your gear, the Lakeside Eppalock is a curiously-named caravan you should investigate.
In case, like I was, you were wondering about the name Eppalock, it's a lake. The Lakeside range is made for Yarrawonga Caravans by Cosy Cab and takes in models all named after lakes. Eppalock is not far from Bendigo in Victoria, and the town of the same name also has a caravan park. Camping lakeside in Eppalock, in a Lakeside Eppalock; oh, the hours just fly by with me you know.
I headed down from Sydney to Yarrawonga Caravans to pick up the van, a 21-foot, six-inch centre-door model, for my stay at the Man from Snowy River Festival over in Corryong. With a Tare/ATM of 2230kg/2701kg, the van was to be an easy proposition to tow behind the Isuzu MU-X, which has a tow capacity of 3000kg. I was travelling very light with a generator my only cargo of substance.
The Eppalock used a standard ball coupling so the hitch-up was straightforward, although the team did have to re-wire the Anderson plug for me to make sure I'd be charging on the drive. Apparently, my festival site would be unpowered so I needed to take full advantage of the miles in-between. In addition, the Eppalock carried a 150W solar panel up top; on board was a 100Ah house battery.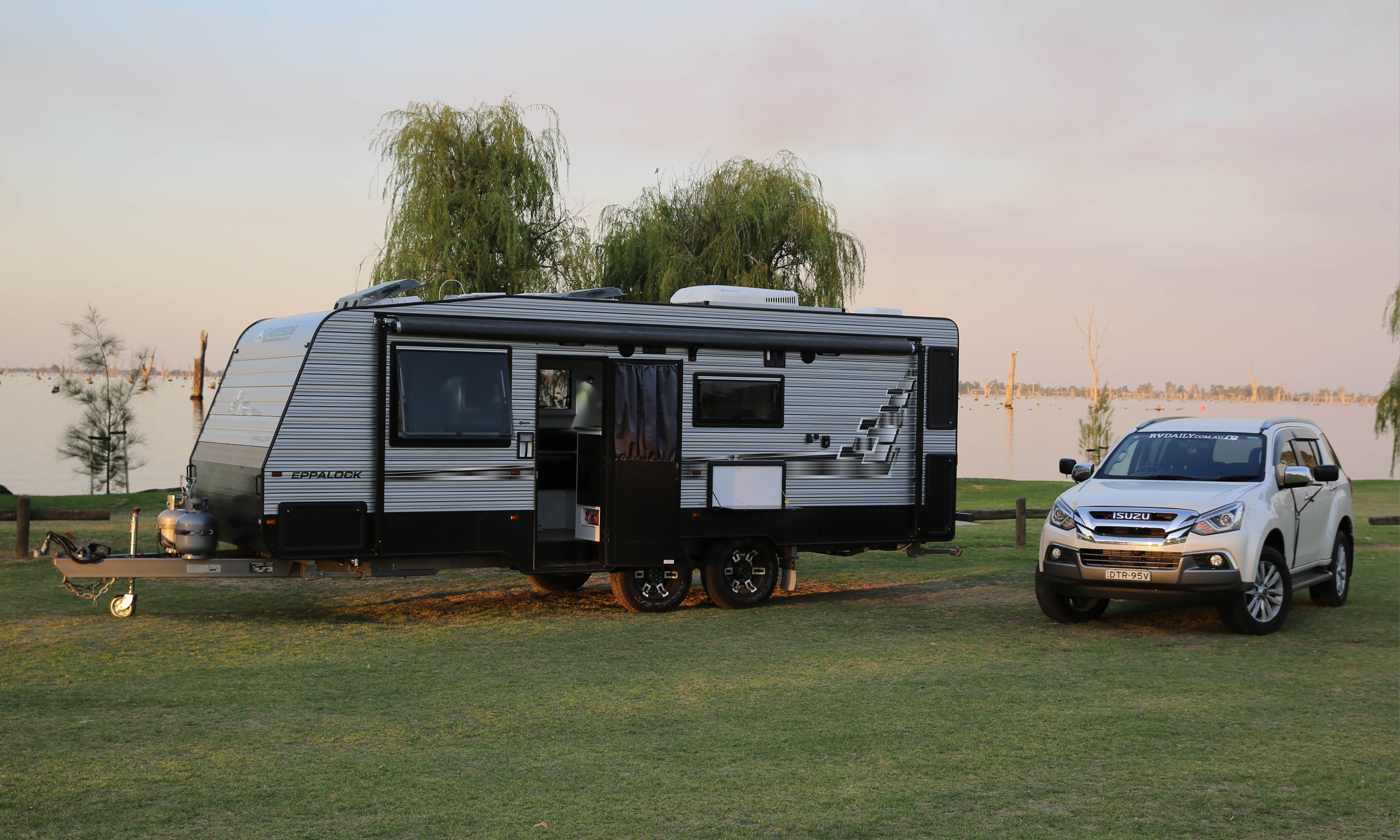 Since I had arrived late in the day, Courtney from Yarrawonga booked me into the local caravan park, but first I managed a quick sunset photoshoot by Lake Mulwala; more lakeside. In the wonderful afternoon glow, the large windows on either side of the bedroom offered a glimpse of how relaxing in this van could be enjoyed. A colour scheme that employed lots of reflective black, with grey marble effect tops, and minimal white space, was more contemporary domestic style than brightly lit, all-white abattoir-esque theme. It felt roomy too.
Designed for on-road use (with a bit of typical free camp access roads thrown in) there are sensible underpinnings; galvanised chassis with two-inch riser, six-inch A-frame and leaf-spring rocker suspension. Tandem axles are fitted with all-terrain tyres, and AL-KO ESC is fitted plus 10-inch AL-KO brakes. One spare wheel is centrally located on the rear bar.
On the subject of underneath, twin 95-litre tanks hold water – and are protected by galvanised sheeting – but I was guilty of an assumption when on the road. I had expected there to be a grey water tank. Not so, and I was horrified to realise that my shower water had simply been spewing from the outlet. Having just returned from two weeks in a motorhome … never assume anything. The shower and the microwave were the only fitments I was allowed to use on my travels as the van was for sale – and I could sleep on the queen bed (in my Duvalay). And comfortable it was too.
Overnighting at the Yarrawonga Holiday Park, I had power at least and was perplexed to see a collection of power leads and numerous surge protectors in one of two vertical storage bins in the rear left external wall. The bins complemented the tunnel boot up front and single storage bin on the offside rear. I assume (again?) that the electrical kit was caravan show gear but it really came in handy at the festival. I discovered a power box was in reach if I used two rated extension leads, with an Ampfibian new surge protector I was trialling and another at every join, I figured I would protect everything vital. (No letters please.)
With the plentiful windows shuttered up for the night, I popped out for dinner. Noting, again, the prison warden's key collection to open the various doors. Returning, there's a simple light, not a disco grab handle, but no entry step to climb up into the van.
What there is, though, is room. From walk space on either side of the bed past the leatherette dinette, and the kitchen to the ensuite area that crosses the rear wall, it feels open. The four-seat dining area has pull-out footrests for relaxing and a multi-adjustable table top depending on what you're up to. It's served by a generous window if that's nothing more than gazing at the view.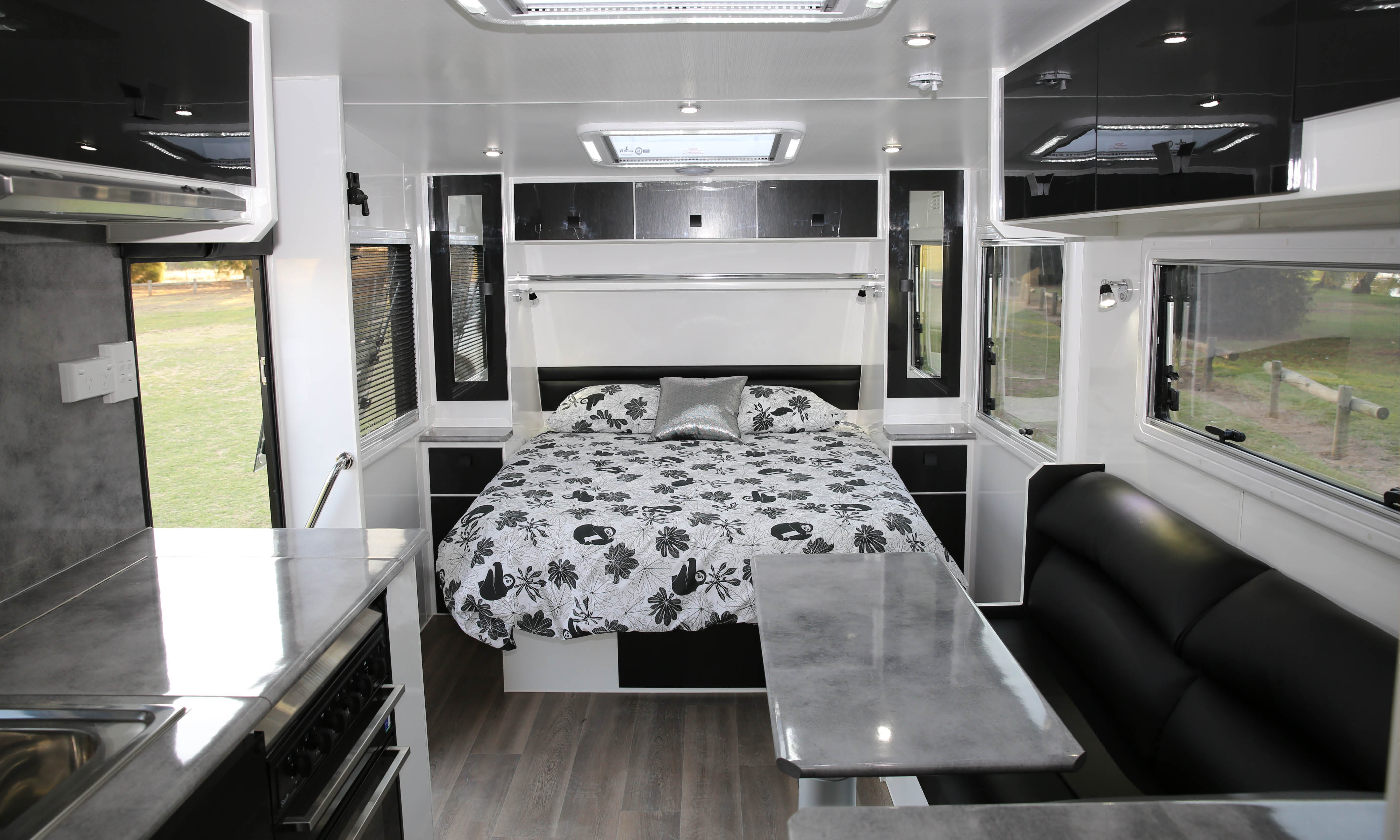 Across on the nearside is the kitchen. A simple and spacious grey benchtop has tons of room, and then a lift-up section reveals the Swift three gas/one electric hob cooktop, beneath which is a grill and a full-size oven. The cooktop retains a separate metal fold-down lid under the lifting bench section. Central is the stainless-steel sink with single flick mixer tap. Above all this is a Sphere microwave and a 12V rangehood. Helpfully, the kitchen is served by four mains power outlets. If you feel like cooking outdoors you will find a gas bayonet on this side, close to the tunnel boot, which in other guises, may accommodate a slide-out kitchen too. Twin 9kg gas bottles live on the drawbar along with a meshed carrier platform and a water tap.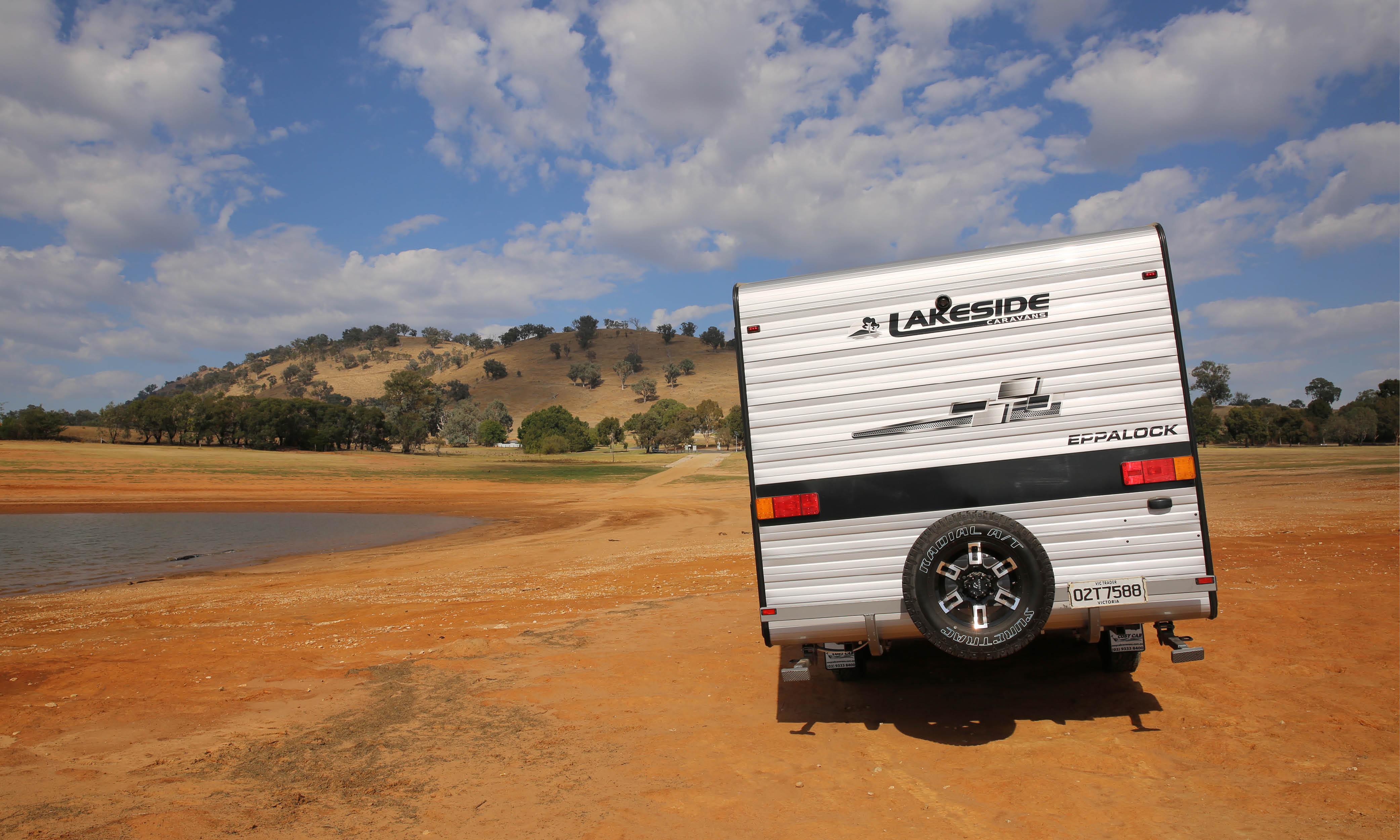 What you do not lack in this van though, are drawers. The Yarrawonga Caravans' website mentions "drawers everywhere possible". It's not wrong. Just look at the photos. This cavernous proposition carries through, past the 184-litre Thetford three-way fridge, to the ensuite area.
It's a similar design idea to the kitchen, but with a circular ceramic basin and the same benchtop lifts to reveal a 3kg washing machine. A Thetford swivel toilet sits behind the sliding door to seal off the space and beneath its own window.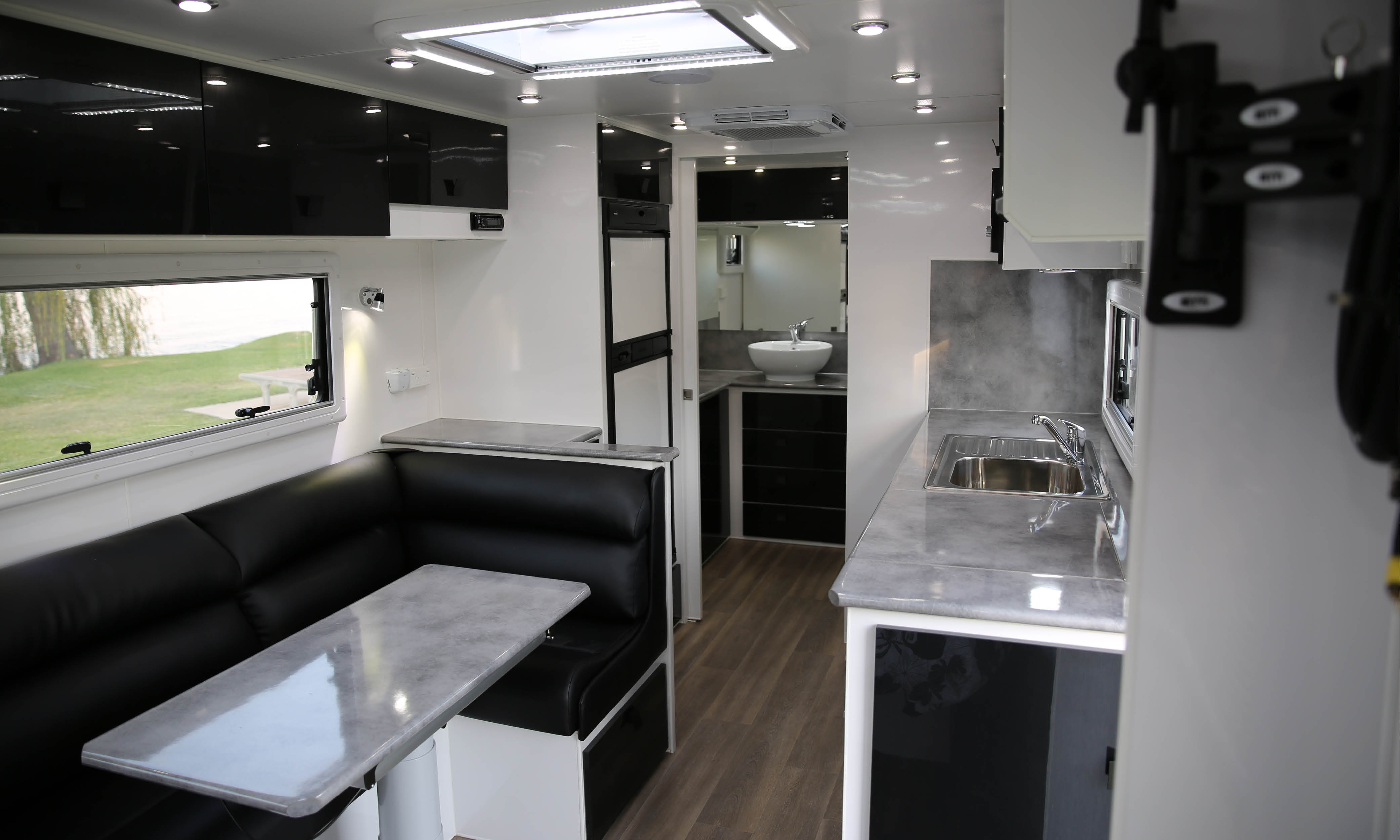 To maintain desired manufactured temperatures, an IBIS 3 reverse-cycle air con is built in just by the lounge/bathroom divider. With numerous downlights and Ranger roof hatches, there is plenty of day and night illumination, and ventilation, and the hatches are augmented with LED strips, which add to the mood lighting you can select to bring a cool ambiance to the interior.