If you want to avoid the peak rates at caravan parks this summer, why not relax and reconnect with nature at one of these out-of-the-way bush camping spots.
CAMP 1: Plantation Campground – The Grampians, Victoria
How does a camping trip among the dramatic sandstone formations of the Grampians sound? Well, you will want to pitch your tent at the Plantation Campground, which is the biggest campground in the Grampians National Park – and better yet, it's free. The grounds are located in the Grampians' northern section within a pine forest, about three hours' drive north-west of Melbourne. There are 30 spots to choose from, with access to non-flush toilets, bush showers, fireplaces and picnic tables. The campground is close to Halls Gap, where you can get your hands on some great coffee and delicious pub meals; it's also a short drive away from some great picnic areas and Aboriginal rock art. There's also plenty of landmarks to check out, including The Balconies, Mackenzie Falls and Mount William, plus a few hiking trails to tackle, if you're up for the challenge.
Cost: FREE
Address: Mount Zero Road, Halls Gap Vic 3381
GPS: -37.0889, 142.525
Toilets: Non-flush
Showers: Bush showers
Campfires: Yes
Max Stay: TBC
Road Access: 2WD
Water: Limited non-potable
Number of Sites: 30
Power Available: No
Dog-Friendly: No
Big Rigs?: Yes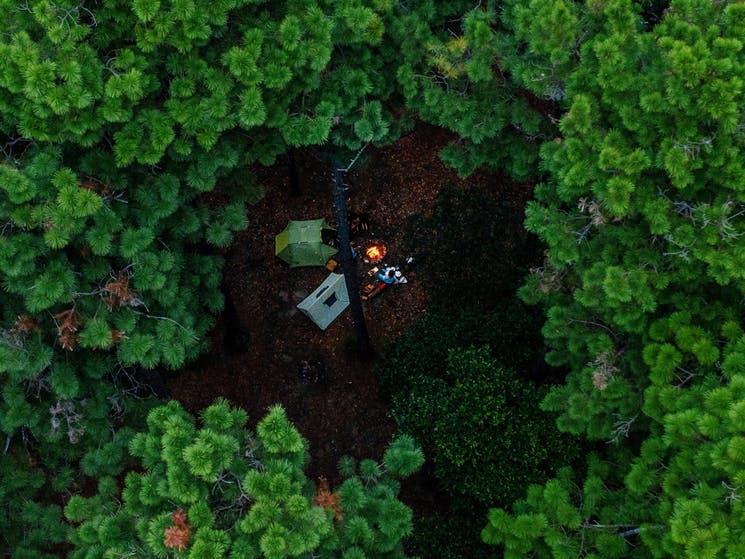 CAMP 2: The Pines – Olney State Forest, NSW
The Pines campgrounds at the Olney State Forest, just west of Lake Macquarie and only two-and-a-half hours north of Sydney, provides a wonderful opportunity for a bush adventure. Thanks to the many tall pine trees that give this camping spot its name, there are plenty of shady areas for you to pitch your tent, and there are drop toilets, fireplaces and picnic tables to make your stay more comfortable.
Explore the nearby Watagan Mountains during your stay, or go for a stroll along the Pines Walking Trail, which will lead you through the rainforest to a rockpool, or the Abbotts Falls Walking Trail, which carries you into blue gum forests. You can collect firewood in the area and dogs are permitted. Note that the road into the forest is rough, but still accessible by 2WD.
Cost: FREE
Address: Watagan Forest Rd, Olney State Forest
GPS: 33°3'46″S 151°20'11″E
Toilets: Longdrop or composting
Showers: No
Campfires: Yes
Max Stay: TBC
Road Access: 2WD
Water: Non-potable
Number of Sites: 20
Power Available: No
Dog-Friendly: Yes
Big Rigs?: Yes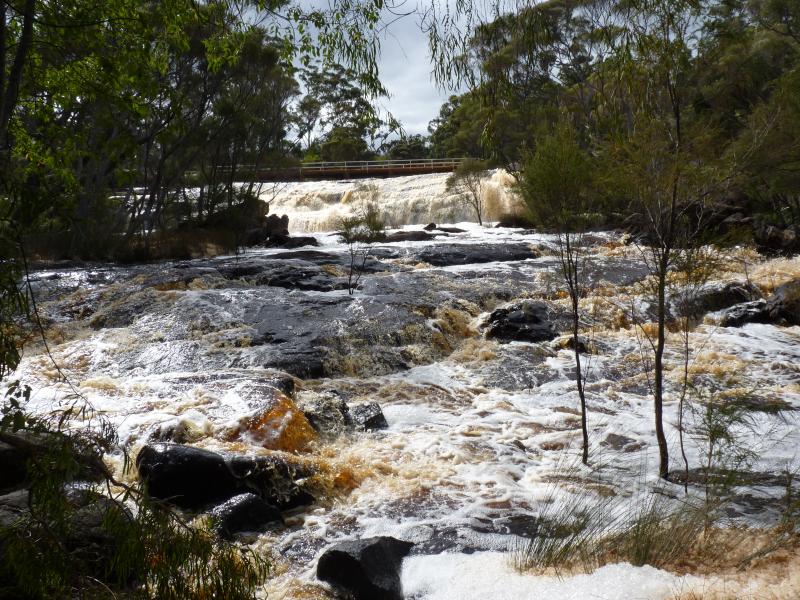 CAMP 3: Fernhook Falls Campground – Mt Franklin South NP, WA
Nestled within the jarrah bush forest is a lovely spot called Fernhook Falls, where in winter the water gushes furiously over the granite boulders, and in summer, it's a calm, tranquil place. A trip here offers the perfect excuse to get the canoe out of storage, as there is a canoe launch near the campground at Rowell's Pool. Bring the sneakers along too, because there's a great walking trail that offers views of the cascading falls and beautiful forest.
There are eight campsites suitable for tents, small campervans and camper-trailers, plus two small huts. With a camp kitchen with gas barbecues, picnic tables, toilets and wood barbecues, your stay will be a comfortable one. The campground operates on a first-in, first-served basis and can get very busy in the summer holidays, so bear this in mind when planning your trip.
Cost: From $8 per adult per night
Address: Beardmore Rd, North Walpole WA 6398
GPS: -34.81808, 116.594249421
Toilets: Yes
Showers: No
Campfires: Yes
Max Stay: 3 nights
Road Access: 2WD
Water: Yes
Number of Sites: 8
Power Available: No
Dog-Friendly: No
Big Rigs?: No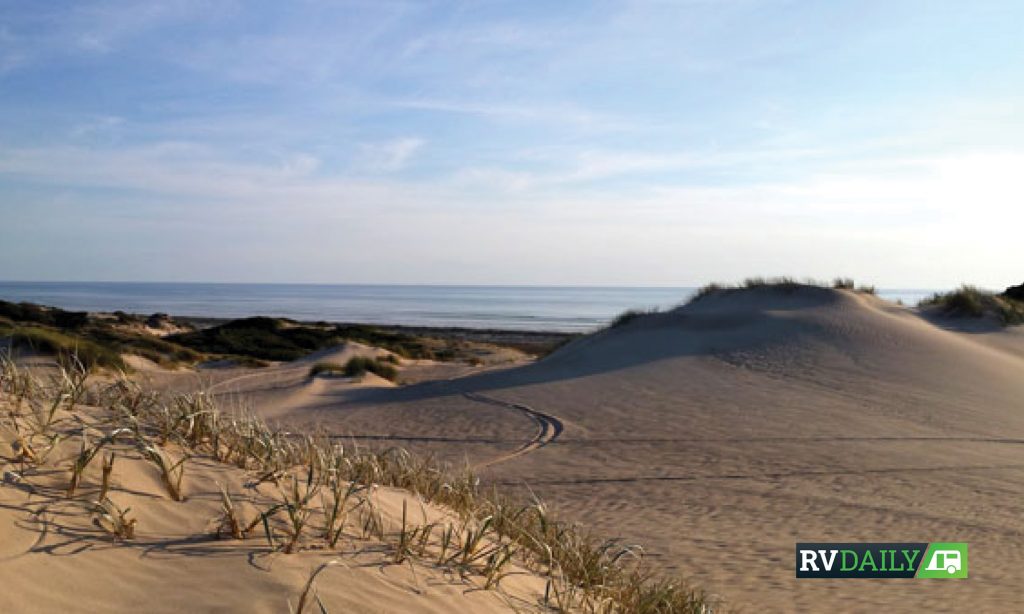 CAMP 4: 28 Mile Crossing Campground – Coorong NP, SA
Inhale the ocean breeze as you camp among the sweeping sand dunes and samphire flats at 28 Mile Crossing Campground in Coorong National Park. Known for its saltwater lagoons and wonderful landscape, the park is a protected area located 156km south-east of Adelaide. 28 Mile Crossing offers a semi-protected, quiet place to camp at the southern end of the park, with level grassy areas sheltered by low trees. There is a walking trail down to the beach, and the campground is accessible via 2WD. The park is very popular for 4WDing, as well as fishing, swimming, kayaking, birdwatching and walking.
Cost: From $13 per 2 adults
Address: 28 Mile Crossing, Coorong SA 5264
GPS: -36.433108, 139.780949
Toilets: Yes
Showers: No
Campfires: Yes
Max Stay: 5 days
Road Access: 2WD
Water: Non-potable
Number of Sites: Plenty
Power Available: No
Dog-Friendly: No
Big Rigs?: No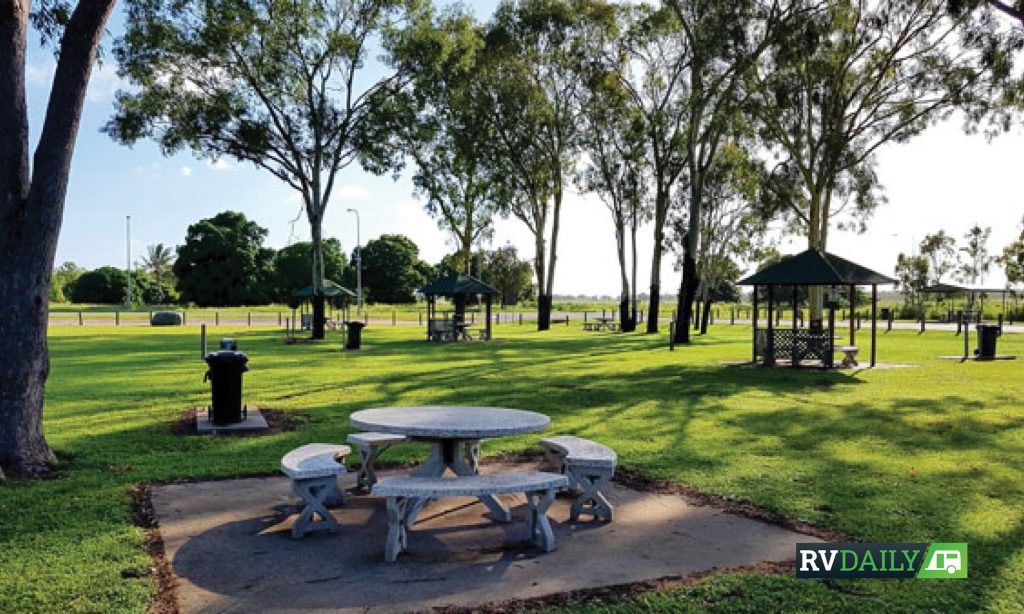 CAMP 5: Guthalungra Rest Area – Mackay, Qld
While not exactly out in the sticks, the Guthalungra Rest Area is the perfect place to stop and stretch your legs, let the kids or the dogs run around, and catch up on some sleep if you're travelling along the Bruce Highway. Depending on which direction you are travelling from, you will find this rest area 250km north of Mackay, 63.5 km north of Bowen and 141km south of Townsville.
It's free to stay here, although you can only stay one night, and pets are allowed. You will pretty much have everything you need here – toilets, drinking water, wood-burning barbecues (BYO wood) and eating areas. There's also a nearby service station where you can stock up on fuel and food.
Cost: FREE
Address: Cnr Bruce Highway and Coventry Road, Guthalungra, Qld 4805
GPS: 19° 55′ 24.78″, 147° 50′ 33.03″
Toilets: Yes
Showers: No
Campfires: Yes
Max Stay: 24 hours
Road Access: 2WD
Water: Yes
Number of Sites: Plenty
Power Available: No
Dog-Friendly: Yes
Big Rigs?: Yes