Is this the ultimate self-isolation project – a DIY caravan?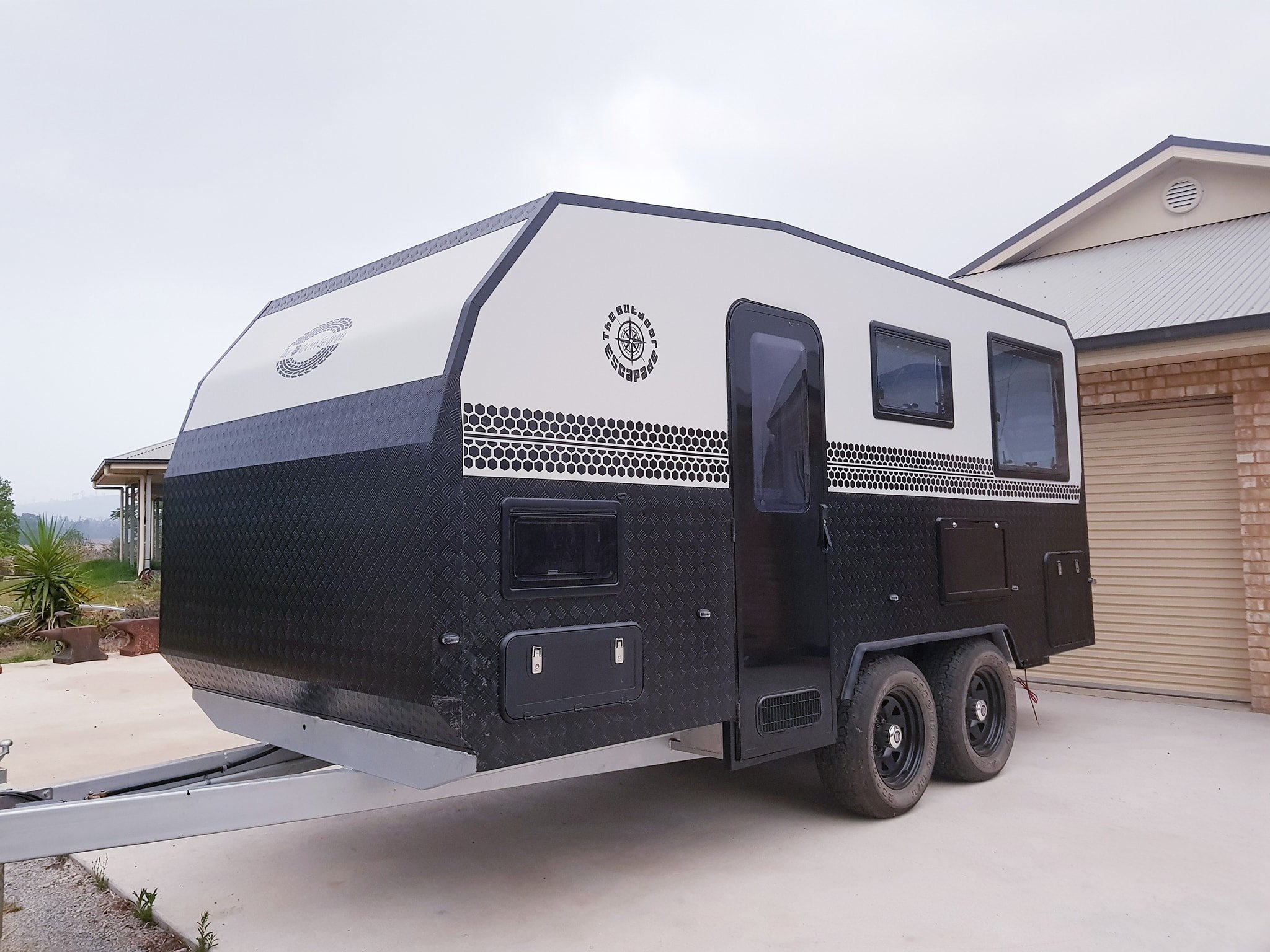 We think we've stumbled across the ultimate self-isolation project, and it's a DIY caravan!
In what could be the greatest self-isolation project we will see in this health crisis, the question as to just how much you can get done in a short period of time, from the confines of your own home has been answered. We saw this amazing bit of kit on Facebook just recently and immediately contacted the owners, Carmen and Rob about the build. For those curious, you're looking at a completely home-built caravan. Certain parts were purchased of course; the door, windows, kitchen cupboards and air-suspension among others, but the lions share, from the chassis to the frame, body and fit-out was done literally, in-house (well, shed to be precise).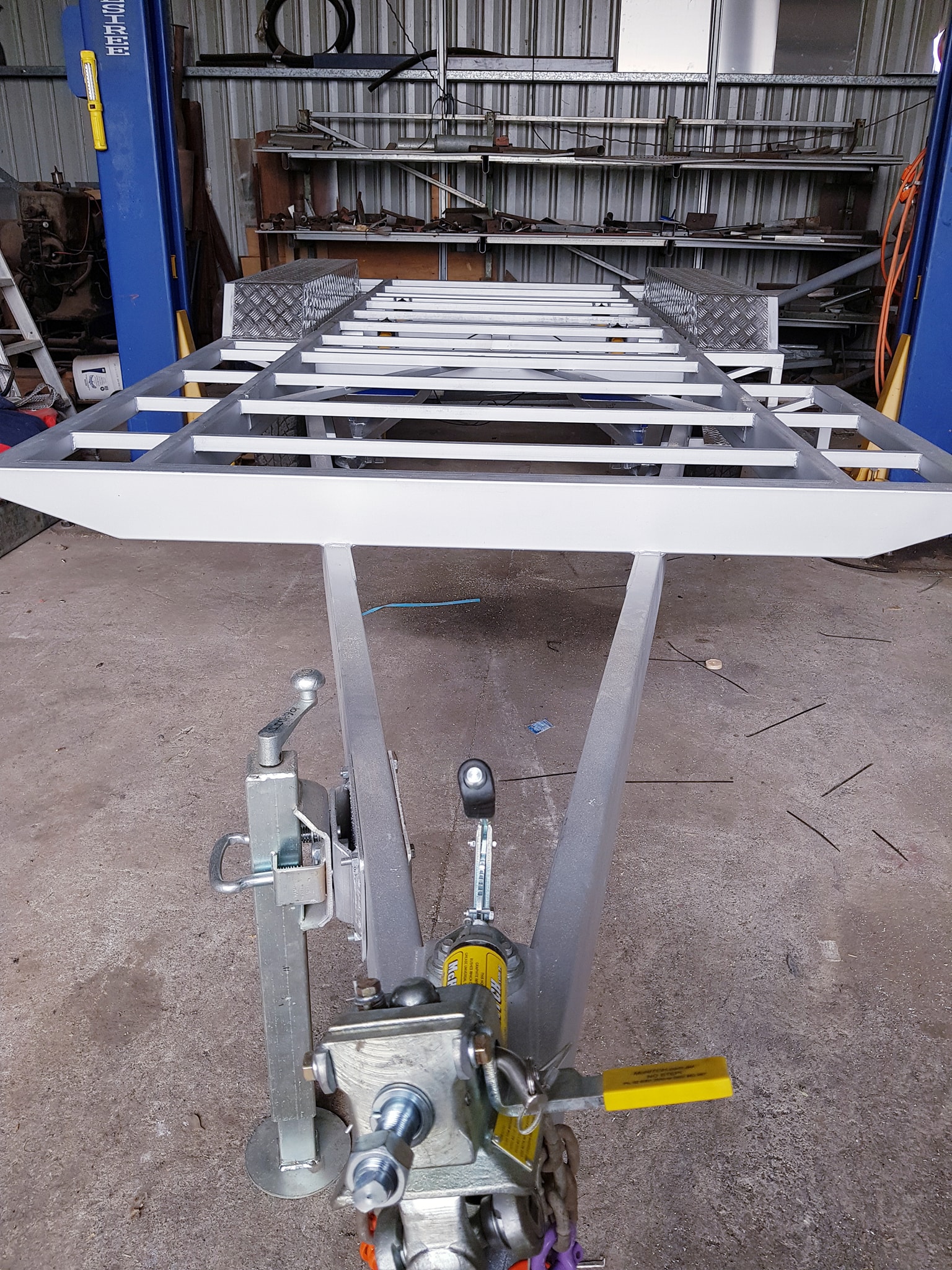 Not only was the project completed as you see it now, in just on two months from a plan to complied and registered, but the entire cost was only around the $20,000 mark. We threw the pertinent questions to Carmen and Rob, and these are the details behind the build.
Q: The important one: Why? What makes one decide to build their own dual-axle caravan?
A: We had been looking around to buy a caravan as our old slide-on camper couldn't accommodate me and Rob with our two kids. And having only $15k to $20k budget there was nothing there that suited us. So we decided to build one that would suit our needs. We could have built it on one axle, but Rob likes things to be overkill, and he said it would ride better too. He likes to fabricate and overengineer everything as it saves problems later on.
Q: How did you do it – were there any specific requirements or building expertise involved?
A: Rob is a fabricator by trade and had built many different trailers for personal use before and knows what he's doing. We built our house ourselves, so I guess you'll need a bit of experience/expertise! And building the caravan was certainly not as hard as building the house.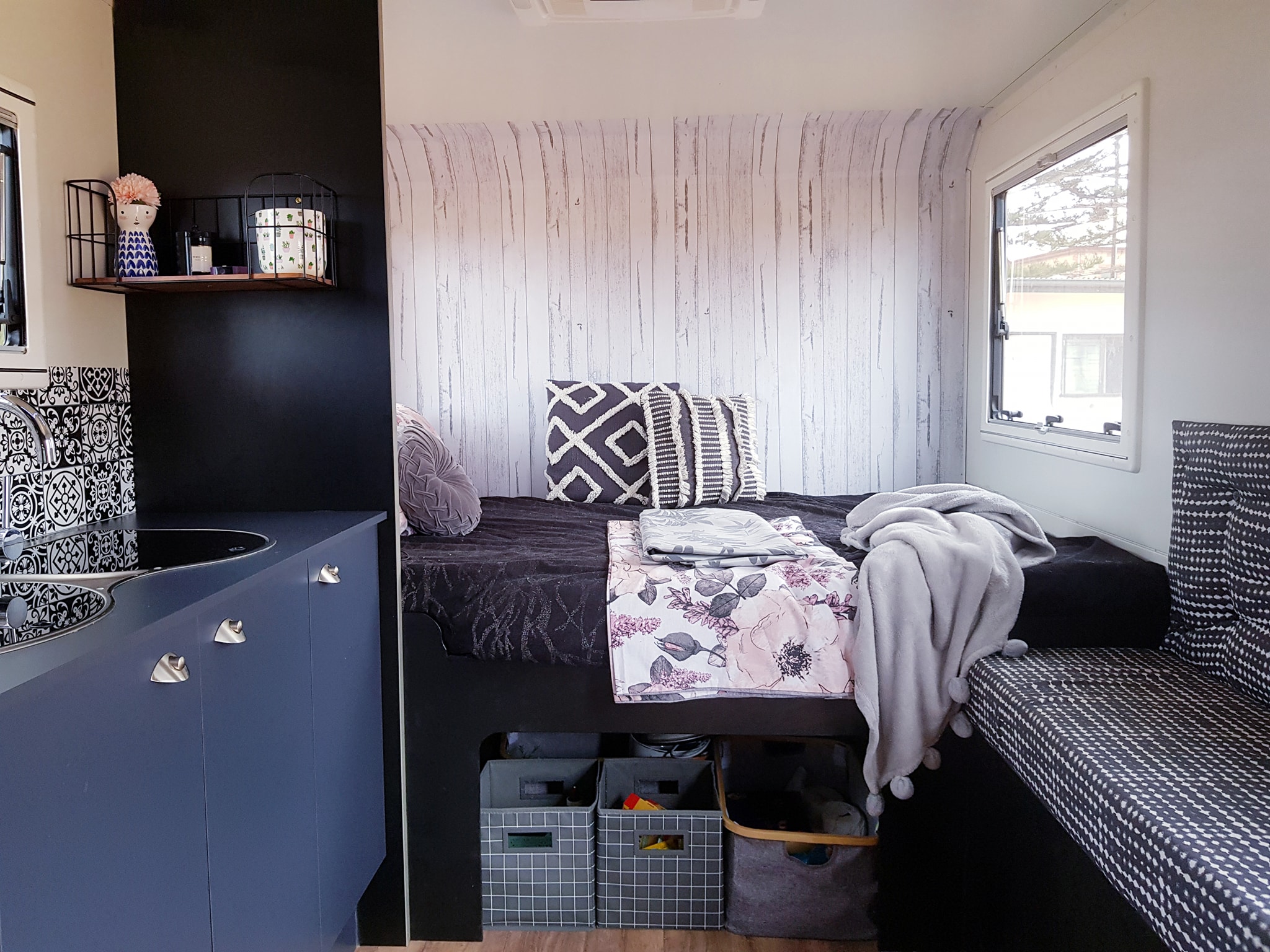 Q: Were there any unforeseen issues with the build that you had to overcome?
A: We didn't find any issues with the build itself, besides it being a touch stressful. There were some things we couldn't agree on; Rob has his way of doing things, and I have my own way of doing things. We got there in the end though, with an intact marriage!
Q: How did you go about registration/compliance? Was it an issue being as big/heavy as it is, were any special things that required being homebuilt?
A: It wasn't a drama getting it registered as a homemade van. Rob took it to a weighbridge to get it weighed, and once he had the docket, he took it to blue slip inspection station with the Tare weight docket. They then went through the physical inspections of the chassis and suspension and brake test, and once it was done, the inspector applied for a VIN number. It took just over two weeks to get the VIN back, and once we had it, we took it to RMS for registration. Rather painless, really.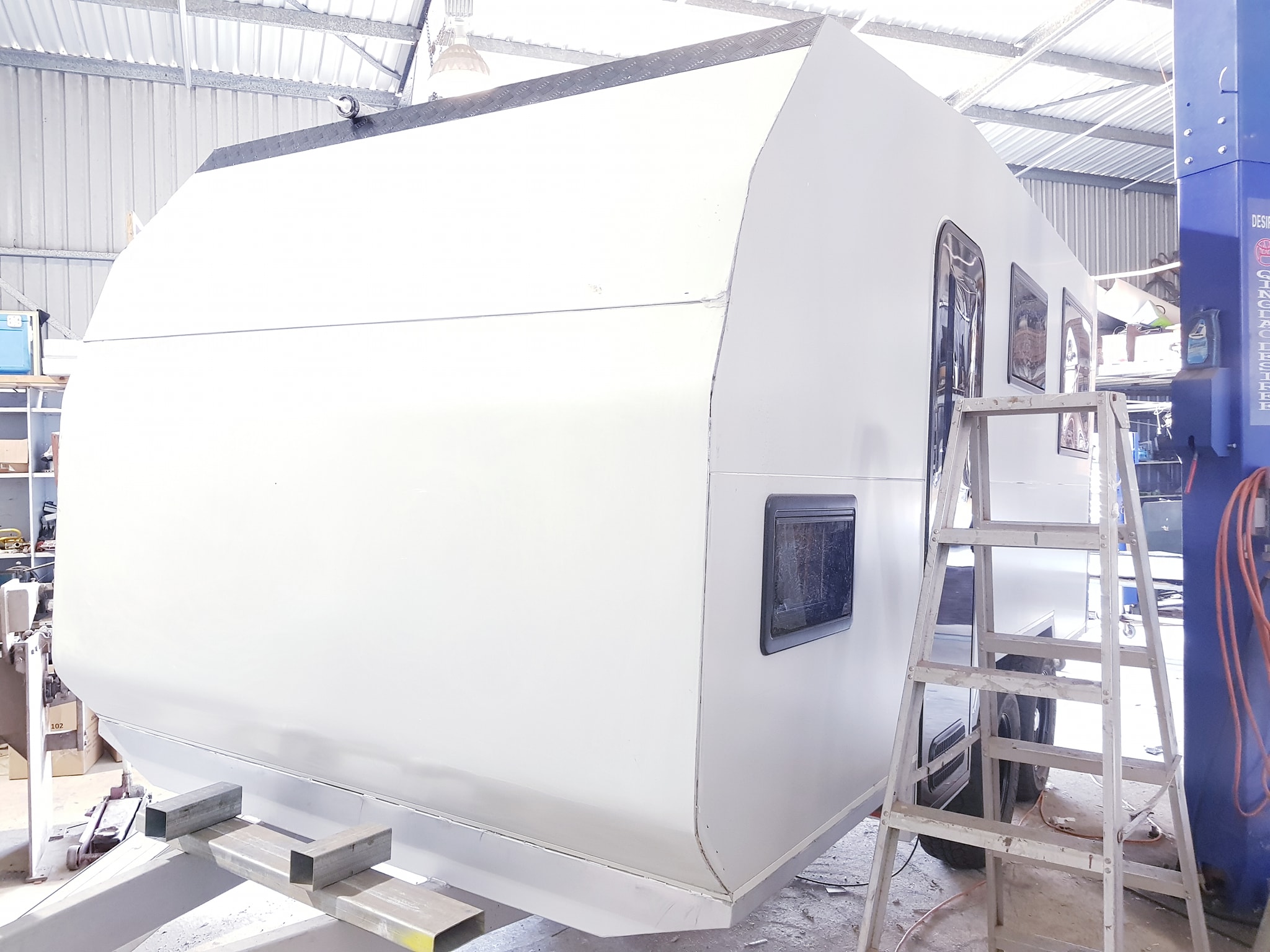 Q: How long did the build take?
A: It took us just on two months. It was actually a rushed job, and that's why it was a touch stressful for us. We had booked a holiday to Cowell, South Australia, to go crabbing in mid-January and we wanted it finished before we headed down south. Rob started building the chassis in late October 2019, and we finished it by New Year, minus the solar and blinds being installed. We had been to Cowell the year before and we wanted to be a little more comfortable this time. Last year we were in a tent; so it's quite the step up.
Q: Is there anything else you think those contemplating a similar self-isolation project at home should know?
A: Rob and I do a lot of things together, and we like to do it cheaper, where possible. That includes building our own van, exactly as we wanted it, for a fraction of the cost of a new van built to the same specifications. We just finished installing the awning and the roof-mounted solar yesterday. The sides of the caravan are made out of 35mm coolroom panels with a standard box chassis on the bottom. It is 5.1m x 2150 and registered gross at 2.5 tonnes.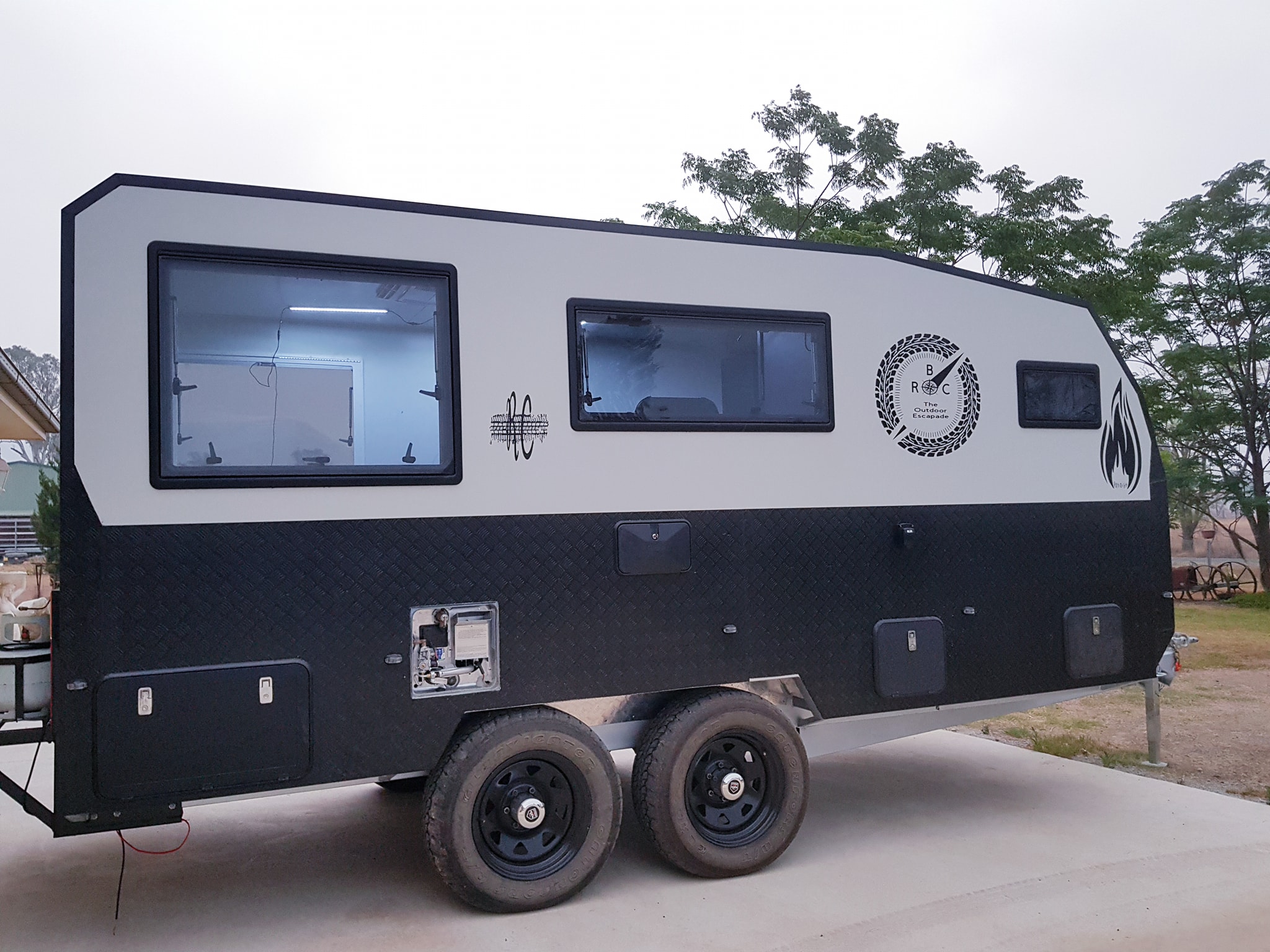 Well, there you have it, folks. If nothing else, there are myriad little projects (and some big!) that we can do to keep ourselves busy while we get through the next few months; this is just proof.
Very well done.