IS THE NEW DISCOVERY THE TOW KING TO RULE THEM ALL?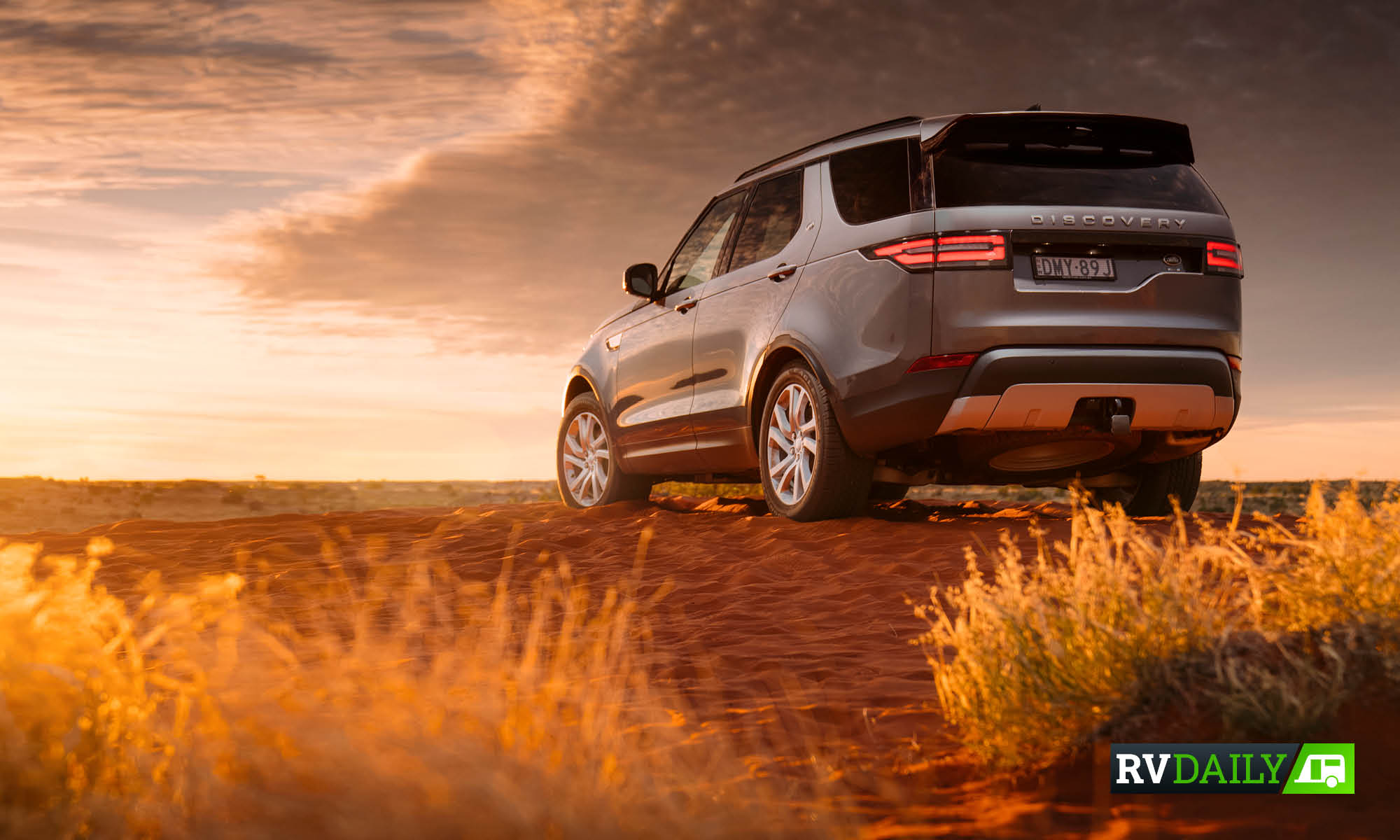 The all-new Land Rover Discovery has arrived, taking the model in a bold direction
WHAT'S NEW?
Compared directly to the previous model, just about everything on the fifth-gen Discovery is new. It's a pretty bold new look, which moves away from the slab-sided, boxy affair of the Discovery 3 and 4. Land Rover has carried over a few design cues, however: a slight step in the roof, asymmetrical rear end and forward-leaning C-pillar. In any case, it's definitely more modern, very striking in real life, and also a bit aggressive. And at the same time, it's definitely a Disco.
WHAT ABOUT ENGINES?
There's one familiar face under the bonnet of the new Discovery, and that's the range-topping V6 diesel. The three litres of displacement make 190kW @ 4000rpm, and 600Nm from 1750-2250rpm.  It can push the Discovery to 100km/h in 8.1 seconds, and it gives very smooth, sedate and refined performance.
The new character on the block is the Ingenium SD4, a two-litre four-cylinder diesel that is the product of Jaguar Land Rover's new $500 million engine facility in the West Midlands, England. The Discovery hasn't had a four-pot since the 2.5-litre tdi days, and lower overall weights have allowed these smaller diesels to make their way back into the big, seven-seater 4X4.
Don't discount the SD4 for not having enough grunt, performance is pretty hard to differentiate from the bigger V6. A huge 53psi of boost develops 500Nm of torque from 1500-2500rpm, and a second turbo winds up to 177kW @ 4000rpm. Other than the slight four-cylinder clatter at idle, and stronger surge of torque at low revs from the V6, the two are very hard to tell apart.
There is also a single-turbo TD4, which makes 132kW @ 4000rpm and 430Nm @ 1750rpm. We haven't driven this one, which only comes with low-specced Discoveries that have a single-range transmission.
WHAT ABOUT TOWING RATES?
Towing limits for the Discovery are at 3500kg, but not completely across the range. The least-powerful TD4 spec only gets 3000kg towing, and optioning the Aero tyre/wheel will see you with only 2500kg.
UNDERNEATH THE SKIN
The biggest news under the skin of the new Discovery is the aluminium architecture. Originally coming out with the new Range Rover and Range Rover Sport, chassis rails have been turfed in favour of monocoque; 85% of the Discovery is aluminium. There's a bit of steel in the subframe, magnesium behind the grille, and the rear door is made of a plastic composite. When you compare an old TDV6 to a similarly-specced new, faster SD4, you're saving up to 480 kilograms. This means the Disco tows, accelerates, brakes and steers better. And, it's more efficient.
PRICES AND SPECS
Prices for the new Discovery start at a pretty measly $65,960. You'll get the least powerful TD4 engine for that money, no low range and no airbag suspension (coils, instead) and cloth seats.
Move up to the SE, and you'll get a transfer case and Terrain Response, provided you plump for the SD4 motor. Airbag suspension and leather comes standard, as well. $77,050 is the start here, or $83,450 for the SD4. Getting seven seats is a $3400 option.
The HSE starts at $87,150, and at this point, the tech and specs start getting laid on thicker: 20in wheels, up-specced leather interior and myriad little improvements. We'd be looking at the $93,550 SD4, and could consider spending the $7000 surcharge for the 3.0-litre V6 if we were going to be towing a lot.
The HSE Luxury goes from $100,950 for a five-seat SD4, all the way up to $117,461.40 for a seven-seat TD6.
TOWING TRICKS APLENTY
The new Discovery packs a lot of new technology. It has parking assist, Autonomous Emergency Braking, adaptive cruise control and all manner of other things. Terrain Response 2, also stolen from the Range Rovers, is an option (Terrain Response is standard).
If you do get optioned up fairly well, you'll also get some really cool technology that helps with towing. After entering in the dimensions of your trailer, Advanced Tow Assist module will reverse for you; all you need to do is select the right direction.
The air suspension also gives you the ability to raise and lower the rear-end ride height, which is a great benefit when it comes to hitching up. Buttons just inside the rear door let you drop it down or raise it up, greatly reducing your dependence on the jockey wheel. Air suspension will self-level as well, making the Discovery better suited to handle decent ball loads.
You can opt for an electronically deployable towbar, and there is also Trailer Stability Assist, Hitch Assist and Light Test (to check your trailer lights are working).
One of the coolest things for serious towers is 'Nose Load Measurement', which can tell you what kind of ball weight you have. As far as we know, no other vehicle offers that kind of technology.
As a towing rig, you'd definitely want the air suspension and Terrain Response 2, which means SD4 SE, starting at $83,450. Throw in a handful of the towing options: $3200, $2700, $830, and $830 gets you all of the towing bells and whistles for $91,010. But you'd possibly want the V6, which puts it at $97,721.
At between $90,000 and $100,000, is the new Disco better than a LandCruiser Prado Kakadu, for similar money? Absolutely; not a modicum of doubt.
What about a 200 Series GXL? The Disco wins on refinement, technology and inclusions for the money, by a country mile. The interior  and level of spec, in particular, is simply in another stratosphere.
But where the LandCruiser scores points is with accessories. The Discovery's fancy aluminum frame means Land Rover won't be offering any actual 4X4 accessories for long-term touring, and the aftermarket industry will need time to develop its own range.
TOWING SPECS
The all-new Discovery has varying tare weights and GVMs, depending on your choice of engine and whether you opt for seven seats or not. It get's complicated with other options, as well. So, let's look at the numbers:
So, what's the rub? Few people are going to use the Discovery as an out-and-out workhorse, which is a shame. Because the new Discovery is one of the few vehicles that allow you to still tow 3.5 tonne with a full payload on board.
It has payloads better than any other wagon, and almost as good as some utes. Other than a towball rating that is a little light on, the Disco looks great on paper.