FIND OUT WHY THIS BOLWELL CAMPER IS ON THE EDGE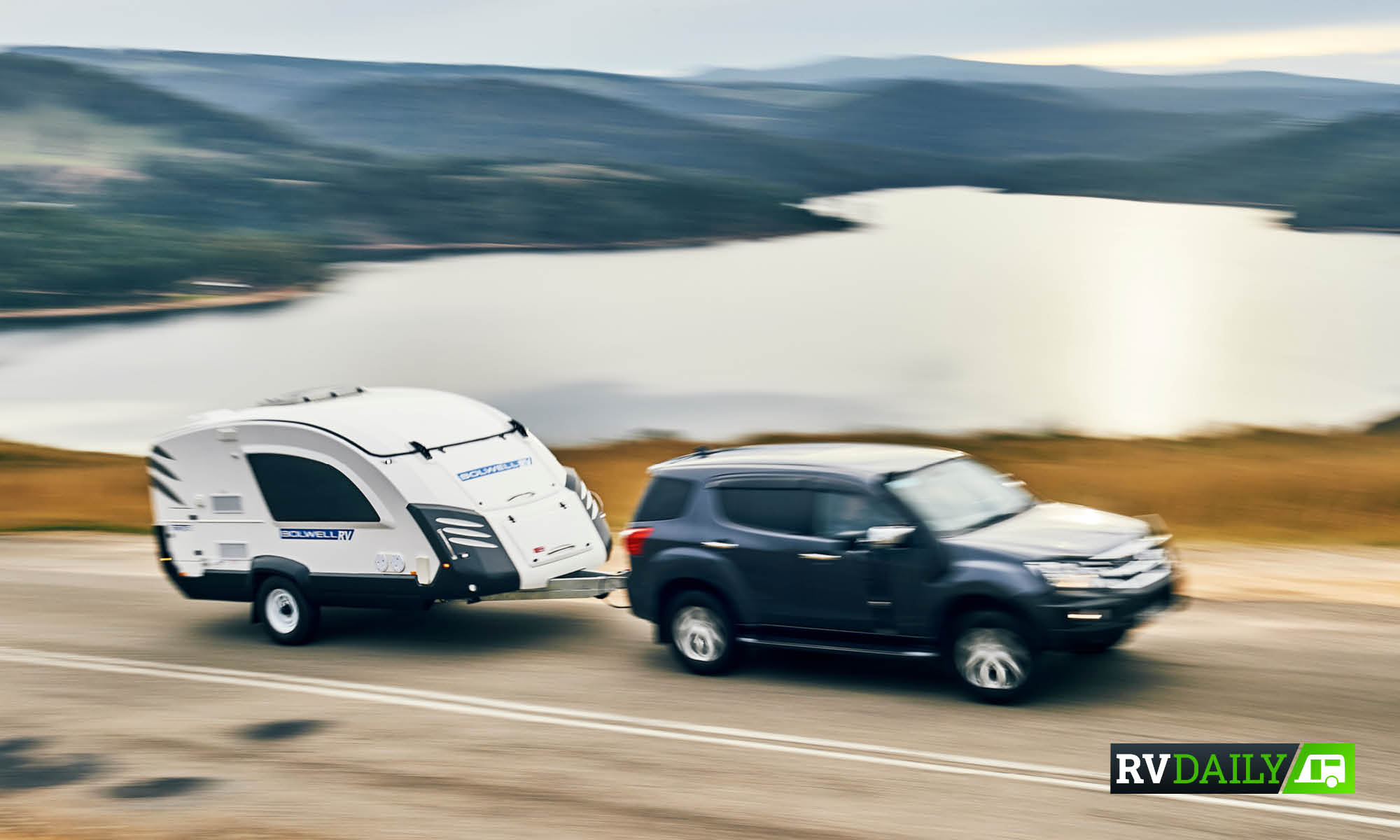 As reviews go, this one came about personally. I was wandering around the Penrith 4WD and Adventure Show last September and I stopped to investigate the Bolwell RV Edge. I liked it. I wasn't approached by marketers or ad managers. I just liked the shape and the name was new to me. The name, of course, isn't new. Bolwell has been around since the 1960s when the brand (of the Bolwell family) made cars; sports cars. Light ones, out of fibreglass. And now they make campers too. They have been making them for a while, but the profile has been low, rather like the leading edge of this, er Edge. Sorry.
Anyway, I made enquiries to Track Trailer, the main supply 'outlet' behind the Bolwell units and I was put in touch with Peter Fenwick. At the time Peter was based in Canberra, running Independent Trailers, and a little off the track for me to pick one up for a weekend away as was my original aim for the camper. See, purely self-interest. I wanted to go camping. There had been a factory promo unit for me to use but thanks to some damage it was taken off the circuit and I had to be content with a day test. It's taken nearly 12 months to sort it, too and that's almost the 15 months Peter has been selling Bolwell campers, although he has a new outlet, Camperact, in Narellan, in Sydney's south west.
The Edge is designed as an off-road hybrid camper. Peter says his customers tend to be people looking to downsize from large and heavy off-road caravans, or those who have done all the serious rough terrain travel and are now focussed on national park-type touring and more accessible destinations.
However, that doesn't make this lightweight camper a lightweight when it comes to its underpinnings. Familiar, robust brands form the connections to country in terms of VC Hitchmaster DO35 coupling and a Surefoot trailing arm suspension, using Pedders' springs and rebuildable Koni shocks, with a 2000kg AL-KO axle. That's all attached to a heavy-duty, hot-dip gal chassis. AL-KO provided the 12-inch electric off-road brakes and with Sunraysia steelies wrapped in 16-inch LT all-terrains it's further good news.
The body shape that caught my attention in the first place is the trick (as in, cool) part. A two-piece mould of fibreglass-composite mix skins is filled with foamcore insulation and pressed together to form the shell, and then the lower portions are bolstered by urethane sections to protect the front and hold the light clusters at the rear, as well as form the wheel arches. Armaglaze then coats the exterior surfaces. While you can option a stoneguard for the drawbar, the tough exterior can cope with harsh treatment. Should you damage the body, then a competent fibreglass workshop can effect repairs for you.
The Edge is a in a marine-automotive design channel, and nods to both fields are evident throughout. Strong and substantial rubber seals surround all apertures, while surfaces are waterproof, rot proof easy to clean and storage pods lined with marine carpet. The front boot, for example, has a neat lidded compartment within for the twin 4.5kg gas cylinders, but the internal lid needs a way to secure it up while you faff with the gas supply.
There is a side-to-side cylinder internally across the body that can hold your awning poles and the circular theme matches with the water filler (80-litre tank with an option for a second), and also the vents for the optional aircon-heater vents on the outside right wall. There are two awning options for the Edge. A rear ensuite-only or a full Flexwing system – awning or enclosure.  An external shower is housed on the rear to be used in conjunction with the ensuite, and you'll need a porta-pottie too.
While the interior space is adequate the focus of any camper like this is living outside. A more comprehensive kitchen – than the galley inside – slides out to offer sink, hot/cold water tap, and cooker within a sturdy moulded casing. Your only dedicated fridge is an internal Waeco 140-litre two way. If this isn't sufficient you would have to have an additional fridge in your tow vehicle although I would wager campers buying this unit would be compact, and light in their approach to travel.
Access is simple. Pop the two catches to release the front-hinging roof, which you can push up from within. The entry door is a two-piece affair, with a proper security mesh screen to protect and ventilate the interior while you're away from the camper. The whole door can be fastened open via an elasticated cord but when the screen only is in place the outer door has no such securement. You will also need to pack a step to aid entry to the interior. I love a carpeted floor and the Edge has one.
It also has two facing bench seats (with storage) and an adjustable table between. The table is in a compromise position, which Peter Fenwick acknowledges, as it needs to be considered when getting in and out of the queen-size bed. It can be dropped to below bed height, though. The bed also has under mattress storage and holds the 105 AH house battery and the Truma Sahpir climate system if you have optioned it. I think this system would be a definite must have for seasoned travellers, as would the 120W solar option.
Interior non-powered ventilation comes via a large roof hatch; the heavily-tinted side windows don't open and are screened by Velcro attached blinds. The third, front window over the bed does open.
None of the storage, internal or external, is accessible from the opposite side of the wall. Just inside the entry door there is a wardrobe (and the Fusion stereo system) and then a cargo net fronts a storage area that could hold anything from boots to jackets, to an errant child, before a black laminate L-shape benchtop with galley kitchen – burners and sink – takes up the wall round to the bench on the right-hand side. A MYVI TV mount swings out from the wall, a circular powerpoint rack elevates from the bench and three large drawers descend below it.
With the roof up, interior movement is fine, although you could operate with the roof down if the weather outside was a howling monsoon. And with that, the canvas vented inserts that span the section between body and roof are removable for repair, drying and or cleaning.
VERDICT
So, I didn't get my camping experience with the Bolwell Edge, although I'd still like to. The trailer towed easily and well, unladen, behind the Isuzu MU-X as you'd expect. The Edge is a light 1380kg (loaded) proposition and maybe to that end ESC is a $1400 option? The price, however, isn't light, with an options list of (I think) must-haves taking it to near $70K and there are a couple of those such as reading lights and fans that should be standard, plus the only USB socket is on the stereo unit.
That said, the Edge is a manoeuvrable package, with 400mm ground clearance that would be easy to tow to some out of the way places. It doesn't dominate any tow vehicle and has a practical, no-nonsense approach to its task and perceived target market. The Bolwell RV Edge should track very well indeed.