DOES A VAN CONVERSION MOTORHOME APPEAL?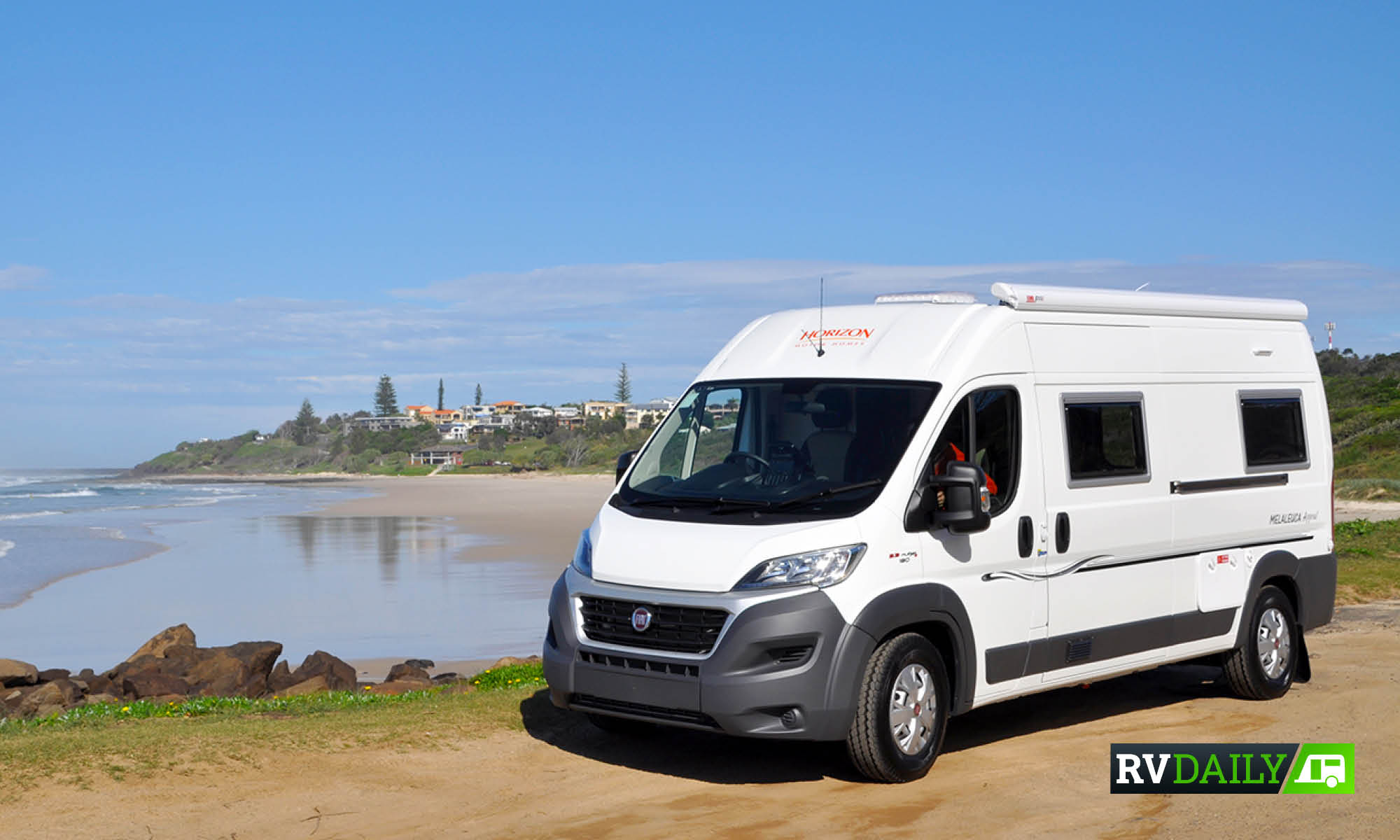 Horizon Melaleuca adds appeal to its name
Horizon Motorhomes is the only dedicated, volume manufacturer of van conversion motorhomes in Australia. Based in Ballina on the NSW Far North Coast, the company is well known for its quality work and affordability.
Until now Horizon's entry-level offering has been the Melaleuca. Built on the class-leading Fiat Ducato, it's compact and particularly popular with solo travellers. It's also very well equipped, but over the years the price has crept up. Enter the Melaleuca Appeal: an entry-level version designed to better balance price and equipment levels.
True Appeal?
To set the record straight, this is no budget priced 'stripper'. The Melaleuca Appeal still has a good level of standard equipment and it has been designed to a philosophy best explained by Horizon's managing director, Clayton Kearney:
"The Appeal has the capability to be upgraded at anytime. If you (later) decide you really can't live without a TV or filter water tap, or that you would like additional reading lights, they can all be easily added – the base set-up includes all wiring and necessary outlets for all those little extra comforts."
There was always a chance the bean counters would pare too much equipment in their pursuit of affordability. However, they seem to have struck a good balance. The result is a drive-away price of $102,500 for the Appeal with manual gearbox, or $105,550 for an auto. By comparison, the 'full strength' Melaleuca is $112,500 on the road, although that does include an automatic transmission.
Details, Details…
Horizon Motorhomes calls itself the Built In Specialists, a reference to building in vans rather than on cab-chassis. All Melaleucas use a long wheelbase Fiat Ducato van, because Ducato vans are ideally suited to a motorhome conversion due to their square shape. Being front-wheel drive they have a low floor height because there's no drive shaft or bulky rear axle/differential, while more under-floor room allows for a bigger water tank. That lower floor means increased headroom without the need for a high roof, plus the Ducato is wider than its rivals, meaning for many people an east-west bed is viable. Add to that a higher gross vehicle mass (GVM) for increased payload, a larger 125-litre fuel tank and a lower price and it's no wonder the Ducato is king of the motorhome conversion crop.
All Fiat Ducatos now get a 2.3-litre Multijet2 turbo-diesel that's Euro 6 emissions-standards compliant. Melaleucas in the past have had a 2.3-litre engine, producing 110kW of power and 350Nm of torque. The new engine ups the torque figure to 380Nm, which is a handy improvement. Those after maximum power can now specify a version with 130kW and 400Nm, which should fly.
The Melaleuca Appeal comes with a six-speed manual gearbox as standard. It's an interesting move because Australian motorhome buyers have shunned manual gearboxes for some time – witness the demise of the Ford Transit as a base vehicle predominantly for that reason. It's certainly a move to help bring the price down, but also a good one in my opinion because it gives buyers choice.
The Ducato's standard equipment list is generous and includes remote central locking, electric windows and mirrors, cab air-conditioning, a touch screen infotainment centre, cruise control with speed limiter, height-adjustable and swivelling cab seats, height-adjustable headlights, and now, even a pair of cup holders! Safety items include dual front airbags, anti-lock brakes, electronic stability control, electronic traction control, and a hill-holder function. The only serious omission is side and/or curtain airbags, which aren't even optionally available, but that's pretty much par for the course with commercial vehicles.
Behind the Wheel
Fiat Ducatos are fun to drive and the melaleuca Appeal is no exception. The new Multijet2 engine feels just like its predecessors, but we only put a few kilometres on it so I can't comment on its open road abilities.
The test vehicle had the auto gearbox, which in truth is an automated manual called the Comfort-matic Transmission in Fiat-speak. It's an interesting gearbox that you drive like a conventional auto as it has no clutch, but which still pauses slightly between shifts as a computer changes gear. For my money, however, I'd take the manual. While I wouldn't buy a manual car these days, somehow a manual motorhome/light commercial vehicle feels right. Fiat's six-speed manual gearbox is precise if a little notchy, while the clutch is light and progressive.
Perhaps it's a function of the smaller/lighter engine, but the Melaleuca Appeal felt lighter to drive than usual. My wife also commented on how light and easy it was to drive as she did laps of the beachside area for the camera. Visibility was as good as ever, ditto cab comfort, and all-in-all this sixth generation Fiat Ducato remains a terrific motorhome base vehicle.
Stepping Inside
The Melaleuca Appeal is a 5.99-metre-long box and there's only so much you can fit in and so many ways to arrange it. Up front is the cab, in the middle the kitchen and bathroom, while at the rear is the combination dinette/bedroom. It's standard Horizon Melaleuca stuff and a layout that works particularly well despite the vehicle's sub-six-metre length.
The kitchen is well equipped and has heaps of drawer space, while the mirrored bathroom door helps lighten the interior. The bathroom seems a bit spartan as it only provides a loo and corner hand basin, but its dimensions and equipment are part of a deliberate design philosophy: with space in such a small vehicle at a premium, its size/equipment reflects the limited time you'll spend inside it.
Despite the leaner list of standard equipment, the character, comfort and 'appeal' of the Melaleuca are minimally impacted. Stepping inside, the differences aren't all that obvious either, with the missing TV the most apparent. Interestingly, my wife said the TV's absence gave the dinette/bed area a slightly less cluttered feel, which added to an overall "sense of simplicity" she found quite appealing.
The Melaleuca's floor plan has always been simple and practical, but it's the dinette/bed that stands out. U-shaped across the rear, it can provide an east-west double bed across the back, with dinette up front that you can leave in place at night. Or, you can remove the multi-adjustable Lagun-mount table and have single beds down the sides, using the piece in between (by the rear doors) as a bedside table.
Alternatively, you make the whole thing up into a giant king bed! There's full-width storage under the rear of the bed too, accessible through the back doors and also via a removable board that provides access for long items into the aisle.
Cabinets, fixtures and fittings are the usual high quality you'd expect from Horizon, while decor and design are a nice balance of functionality and, well, appeal. The kitchen is a good size and well equipped; the bathroom compact but functional and all you need (although a mirrored shaving cabinet would be good), and there's enough storage space for any owner's reasonable needs.
VERDICT
Even allowing for its entry-level status, Horizon's new Melaleuca Appeal is well named: It retains the original Melaleuca's strengths without sacrificing its character or charm. Perhaps the surprise is its appeal despite the lighter equipment list. If you're in the market for an entry-level motorhome be sure to check it out.