Is 2020 the year of the comeback for 'the voice' of Lemon RV's in Aust?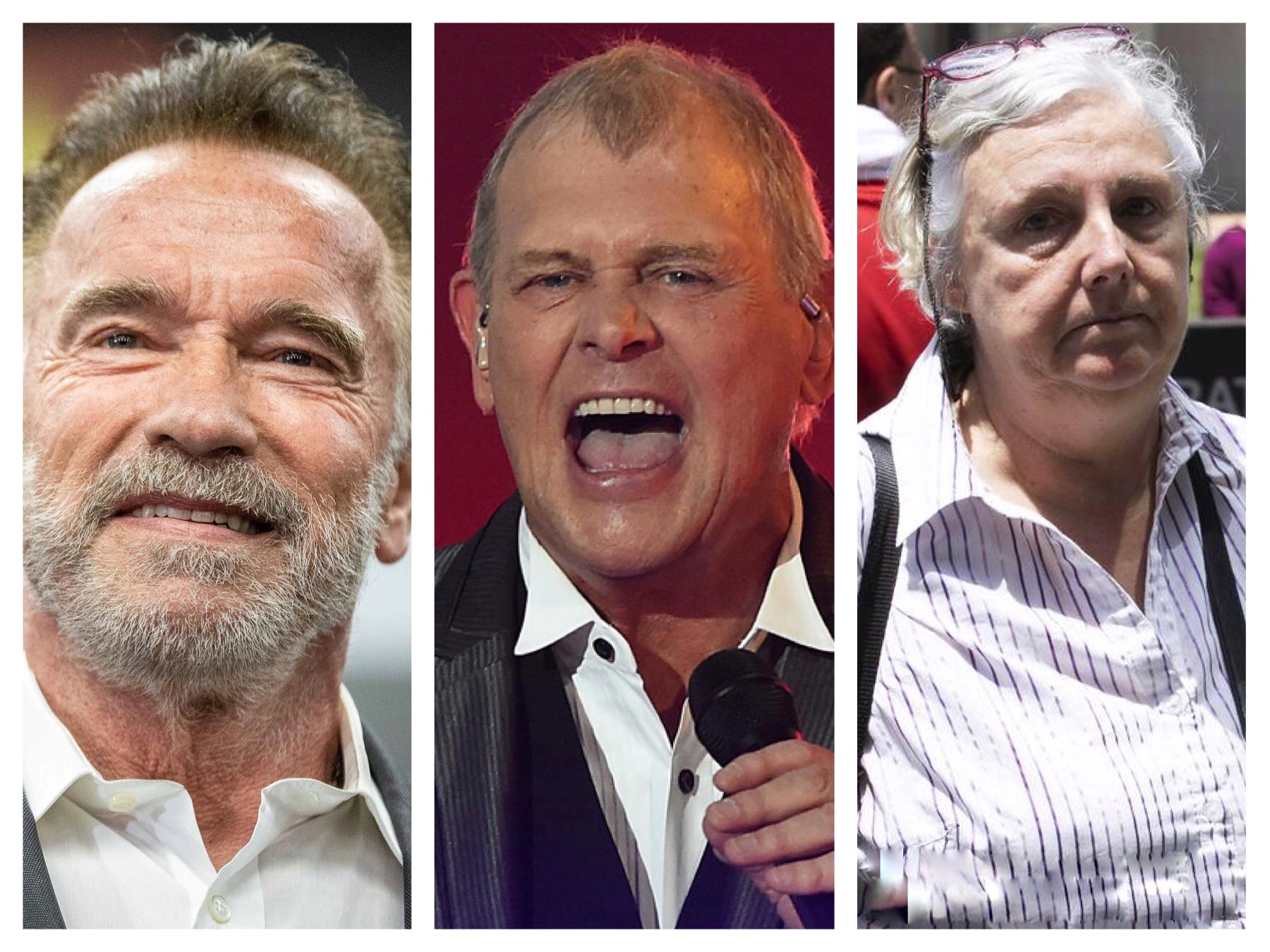 Arnold Schwarzeneggar, John Farnham and now Tracy Leigh? The comeback queen of lemon caravans is back, again. How long for, this time, is anyone's guess
2019 was, by any measure, a pretty horrible year for the embattled administrator of the Lemon Caravans and RV's in Aust. Facebook group. Being successfully sued by Bruder Expedition Vehicles for injurious falsehood and subsequently being found guilty of contempt of court has left Ms Tracy Leigh with a damages and legal bill approaching $400,000. You would forgive Ms Leigh for expecting things to only get better in 2020 and, for a time there, it did appear as though her luck was beginning to change.
Towards the end of 2019, Ms Leigh successfully petitioned her group for 'substantial' donations to fund her appeal against the injurious falsehood case against Bruder. In fact, the response from her members was quite extraordinary. While Ms Leigh claimed she was advised not to disclose the amount required, anecdotally, estimates put the fundraising target at around $30,000.
Ms Leigh's fortunes went downhill from there. A second call for further funds to help pay for a separate appeal against the contempt of court charge was met with a degree of scepticism. Some members objected to her asking for donations to pay for a situation that they felt was entirely avoidable. One member reminding Ms Leigh, "If someone tells you not to put your hand in a beehive, you don't do it."
Without question, the biggest blow for Ms Leigh was the release of the final judgment of Justice Clare SC in the contempt of court case detailing her reasons for finding Ms Leigh guilty. To use Ms Leigh's own words, it was 'scathing' with Justice Clare calling Ms Leigh's comments "a flagrant breach" of an injunction.
Justice Clare certainly didn't mince her words saying, "Ms Leigh acted to republish allegations after a jury had found them to be false and substantially injurious, and after a judge had ordered her to stop."
Justice Clare went on to say, "One may infer an intention to protect consumers, but also a sense of self-importance and self- justification. The contempt was committed just two days after the judge had ordered Ms Leigh to stop. Intoxication cannot be an excuse. Nor can it explain Ms Leigh's contempt. Her words on 3 November were reasoned and articulate, clear, emphatic and deliberate."
Ms Leigh narrowly avoided imprisonment. In her ruling, Justice Clare said, "Evidently the judgment sum of $357,000 did not sufficiently deter her." Ms Leigh was instead ordered to perform 200 hours of community service as a "meaningful" deterrent.
Ms Leigh's woes didn't end there. Her bitter fight with Mr Phil Sanchez, administrator of a rival Facebook group, escalated with allegations of fake Facebook profiles infiltrating both groups and unsolicited text messages being sent to members. It's the stuff of spy novels, or schoolyard quarrels, depending on your point of view. Either way, vast sums of money and energy are being expended over control of the lemon caravan narrative.
A fortnight ago, Ms Leigh announced that the Queensland Supreme Court of Appeal had set two appeal hearing dates; one for the injurious falsehood appeal and one for the contempt of court appeal. According to Ms Leigh, the dates have been set for early May.
This week, Ms Leigh announced she was archiving her group "for a while" saying she had "no spare time to run the group properly". The only hope for her group members was her promise, "I will be back".
True to her word, on Sunday, Ms Leigh announced she had revived her group again saying, "There's just too much happening on other groups, publications and in the RV industry for me to keep the group archived". It seems Ms Leigh just can't sit in silence.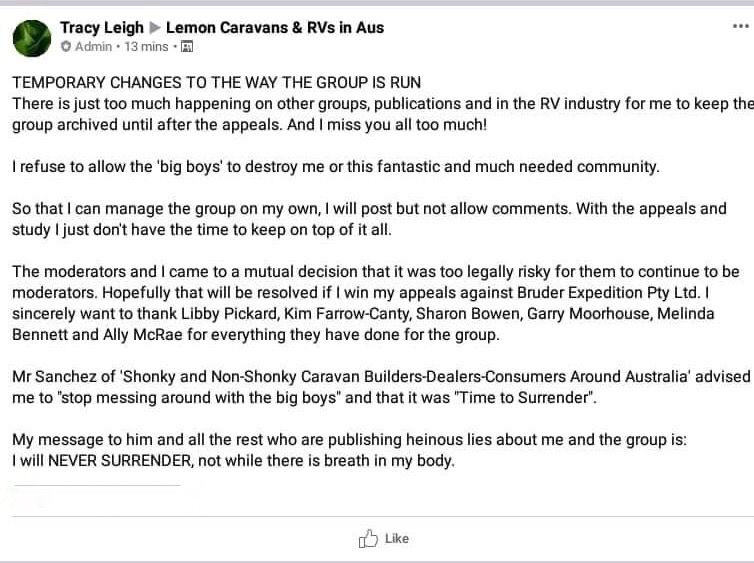 This action followed a weekend where Bruder Expedition Vehicles and Lotus Caravans, both legal combatants against Ms Leigh, featured heavily in media reports from the Victorian Caravan Supershow, showcasing their latest products.
Unlike Arnold and John, Ms Leigh's comeback will not be quite what her fans would have wanted. Ms Leigh has imposed severe restrictions on her group. No one, except Ms Leigh, can post or comment and she is the group's only administrator/moderator. Instead, it will become a quasi-soapbox for Ms Leigh to ensure her voice continues to be heard.
In her announcement, Ms Leigh thanked her moderators for their support saying it was "too legally risky" for them to continue their work.
Either way you look at this, it's a huge blow to the majority of the Lemon group's members who joined the group for its principal objective; to provide support to owners of lemon RVs. Whether or not the group will ever return to its original purpose will depend on a lot of factors, not least of which will be the outcomes of the upcoming appeals.