Does your caravan have a weight problem? Perhaps you need to put it on a diet. We show you how to reduce your caravan's load by 200kg.
When we made the transition from a camper-trailer to a caravan, we fell into a trap. It's a trap that many first-time caravanners also fall into, and it's a trap that is seemingly impossible to get out of. It's called overpacking, and it's the reason so many rigs on the road are overweight. But it needn't be that way. Reducing your payload can be as simple as making a few informed choices when specifying a new caravan and then being a bit more intelligent about what you put into it.
Here are eight items that you can change right now that will reduce your caravan payload by 200kg.
1. Batteries
Everyone is into free camping these days and to do that you need batteries. The more modern conveniences you want to run, the more battery capacity you'll need. A typical AGM 100 ah battery weighs around 35kg. If you have two AGM batteries in your van, that's 70kg of weight in the batteries alone. Lithium batteries have twice the usable capacity and they weigh half as much as their AGM equivalents. They are also much more affordable than they were five years ago. If you replace those two AGM batteries with a single 100ah Lithium battery weighing 11kg, you will save 59kg.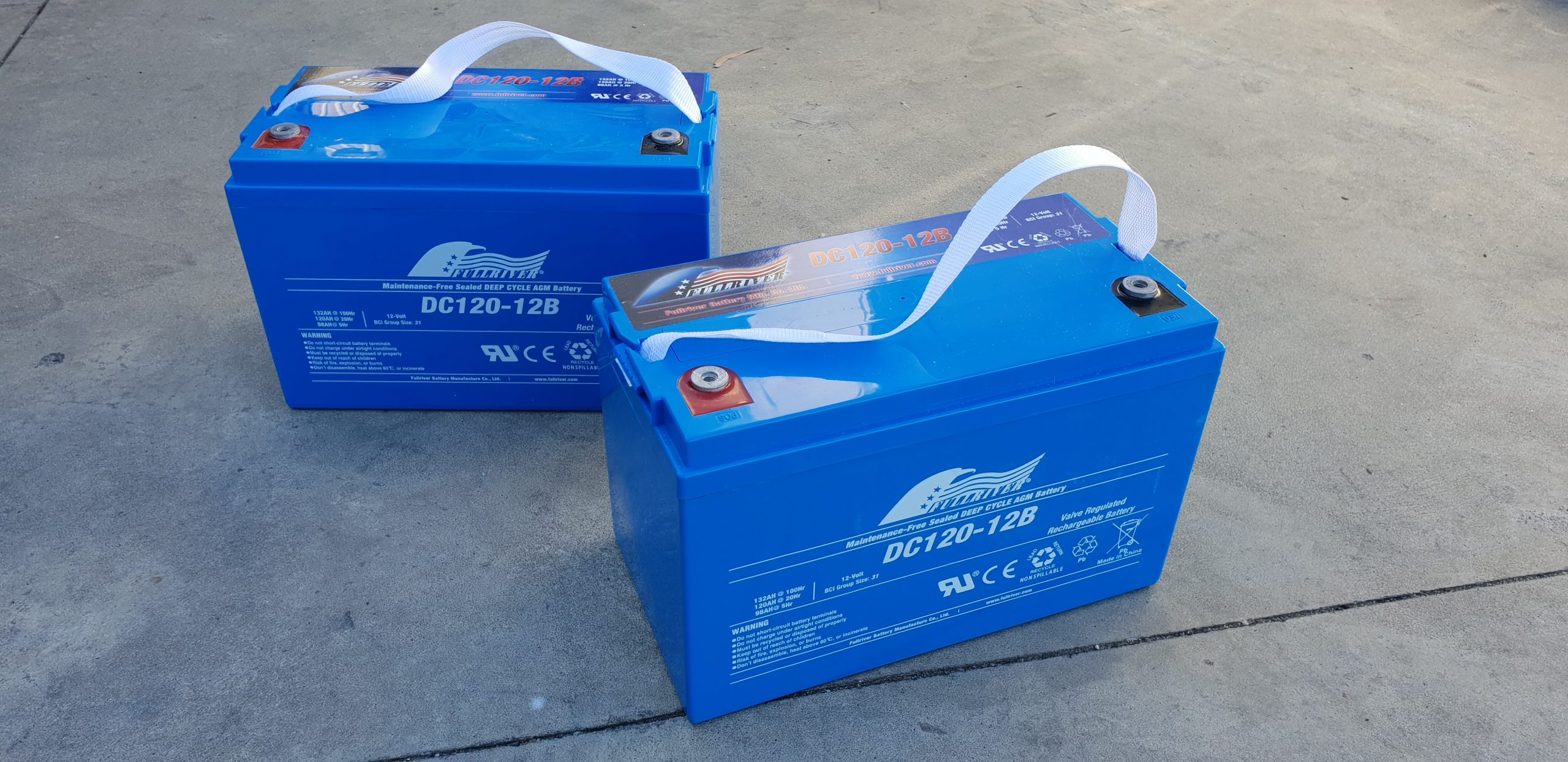 2. Washing Machine
If you're a touring family or a couple on the lap of the country, chances are you will have a washing machine in your caravan. Just like domestic washing machines, the RV-specific models come in either top or front load and most are capable of washing around 3.5kg. What you probably don't know is there is a vast weight difference between the two. A front-load washing machine requires considerable ballast weight to keep it stable. As a result, a Dometic 3kg front-load washing machine weighs a whopping 54kg. A Sphere 3.3kg top load washer weighs just 18.5kg. That's a difference of 35.5kg.
3. Solar Panels
Having all that battery capacity for free camping is pretty useless unless you can recharge them and to do that you will need solar panels. As a rule, they are mounted on the roof of the caravan. Most will have at least two panels on the roof. A typical 150-watt solar panel weighs in at around 8kg, making 16kg in total. A single 160-watt semi-flexible solar panel weighs just 3.5kg. Put two of these on your caravan instead of the regular panels and, not only will you have slightly more solar capacity, but you'll save 9kg as well.
4. Generator
Most caravanners will carry a generator with them, especially if they intend to power their air conditioner while camping away from mains power. To do that requires a generator with a decent power rating. Typically a 3.5kva generator is needed for this application and one will weigh around 28kg plus fuel. In reality, many caravanners will seldom use the generator for this purpose. Most will occasionally use the generator to recharge their batteries when the weather prevents solar charging. Therefore, most caravanners will not need such a large generator. A 900- to 1000-watt unit will suffice. After a quick search online, we found a Gentrax 800-watt inverter generator that should be more than capable of powering most caravan battery chargers weighing just 9.3kg. That's a weight reduction of 18.7kg.
5. Spare wheel
If you have an off-road capable caravan, there's a high probability that you have two spare wheels. It may be a prudent measure if you do a lot of serious off-road touring but if you don't do anything more challenging than say the Oodnadatta track, you really only need one spare. In the last two years, we've traveled on some of the roughest dirt tracks in the country and we haven't sustained a single puncture. For the vast majority of caravanners, one spare wheel is sufficient. This will save you approximately 25kg for a 16" off-road wheel and tire combination.
6. Chairs
Caravanning is meant to be camping in luxury so it stands to reason that you would want camp chairs that are a bit more comfortable than the basic fold-out variety. We see many caravanners with those full-size recliner chairs. We had them in the beginning too. Then I weighed them. I was horrified to find out they weighed in at 12kg each or 24kg in chairs alone! That was just ridiculous in my opinion so we looked around for lighter alternatives. We eventually settled on a pair of Darche Vipors. They have a nice high back and flat seat so they are super comfortable. At just 6.4kg each, 12.8kg in total, we saved another 11.2 kg.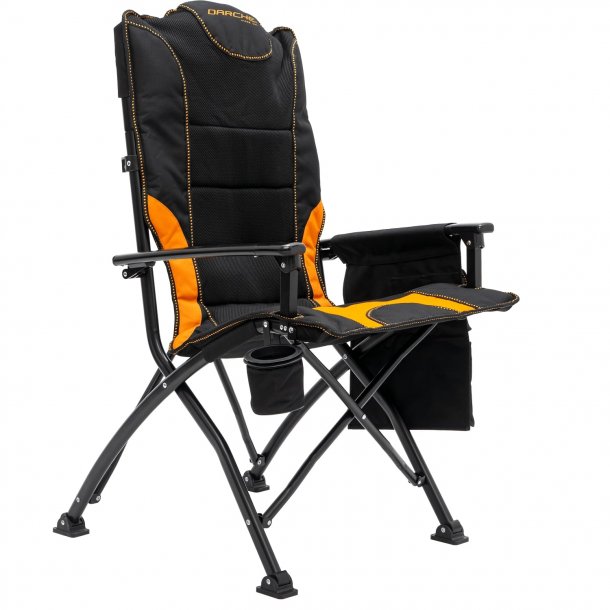 7. Table
We used to lug around this camp table that we had bought many years ago. Being made from wood with steel legs, it was very sturdy but it was also ridiculously heavy weighing in at 12kg. Again, we searched for a suitable lightweight alternative and we eventually found a roll-up aluminium table. It is extremely lightweight and it folds away into a package not much bigger than a camp chair. Weighing in at just 7kg, we managed to scrounge another 5kg off our load. Similar tables are available from retail camping stores and online.
8. Cooking
Like most caravanners, we had originally set out with a variety of cooking appliances including an electric convection oven, a cast iron camp oven, a two-burner gas cooktop and stand, and a fold-out cast iron campfire hotplate. All together they weighed a combined total of 33kg. The reality was we barely used them all so we replaced the lot with a Weber Baby Q. With the addition of a silicone BBQ mat, we can do just about all our cooking on this one appliance alone. The Weber is also very lightweight at just 10kg, saving us another 23kg.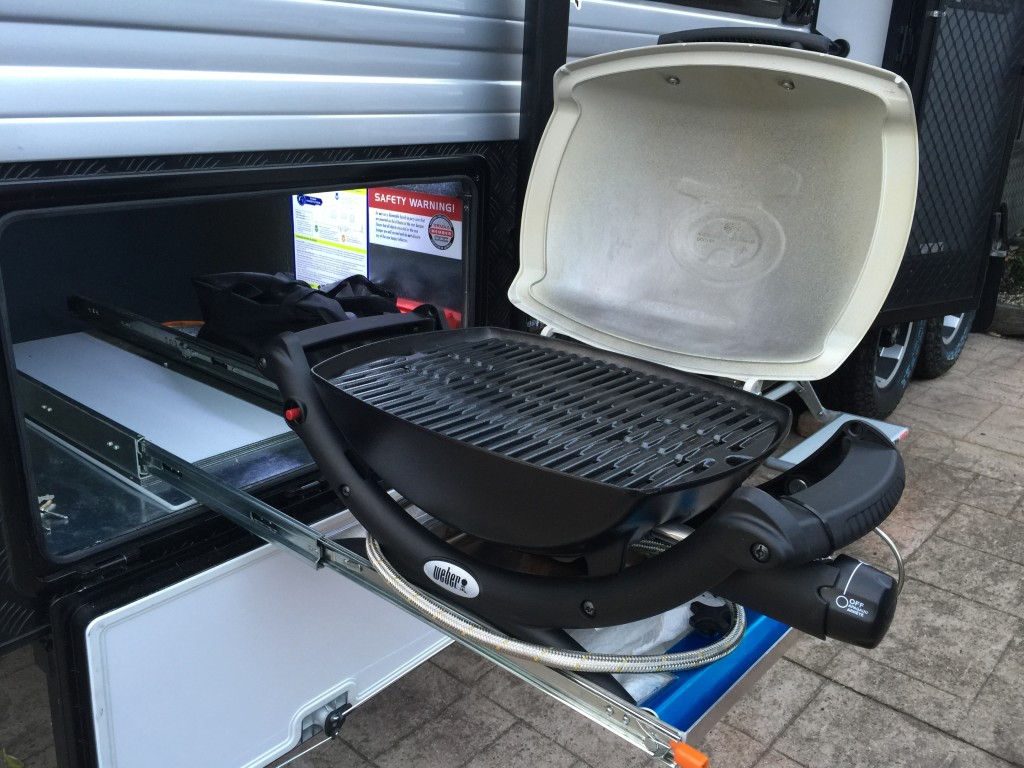 Now comes the interesting part. Let's see how much we saved in total:
| | | | |
| --- | --- | --- | --- |
| Item | Original weight | New Weight | Amount reduced |
| Batteries | 70 | 11 | 59 |
| Washing Machine | 54 | 18.5 | 35.5 |
| Solar Panels x 2 | 16 | 7 | 9 |
| Generator | 28 | 9.3 | 18.7 |
| 2nd Spare Wheel | 25 | 0 | 25 |
| Chairs x 2 | 24 | 12.8 | 11.2 |
| Table | 12 | 7 | 5 |
| Cooking Appliances | 33 | 10 | 23 |
| Total | 262kg | 75.6kg | 186.4kg |
You read it correctly. By making all these changes, we can reduce our load by a whopping 186.4kg.
That is a significant weight reduction without any appreciable loss in comfort or free camping ability. When you factor in the reduced fuel consumption and wear and tear on the tow vehicle as a result of not having to lug around what amounts to two full water tanks, it is, without doubt, a worthwhile exercise. However, we said we'd show how to reduce your caravan payload by 200kg.
We could have gone one step further if we wanted to. Helinox is a company that manufactures high-quality, lightweight camping accessories. Their camp chairs weigh as little as 1.5kg depending on which model you choose. That's 3kg for two camp chairs and a total saving of 21kg over the original recliners. Similarly, we could have purchased one of the camp tables that weighs just 2kg and clawed back another 10kg over our original table. Taking this additional step, our overall weight reduction would be just over 200kg.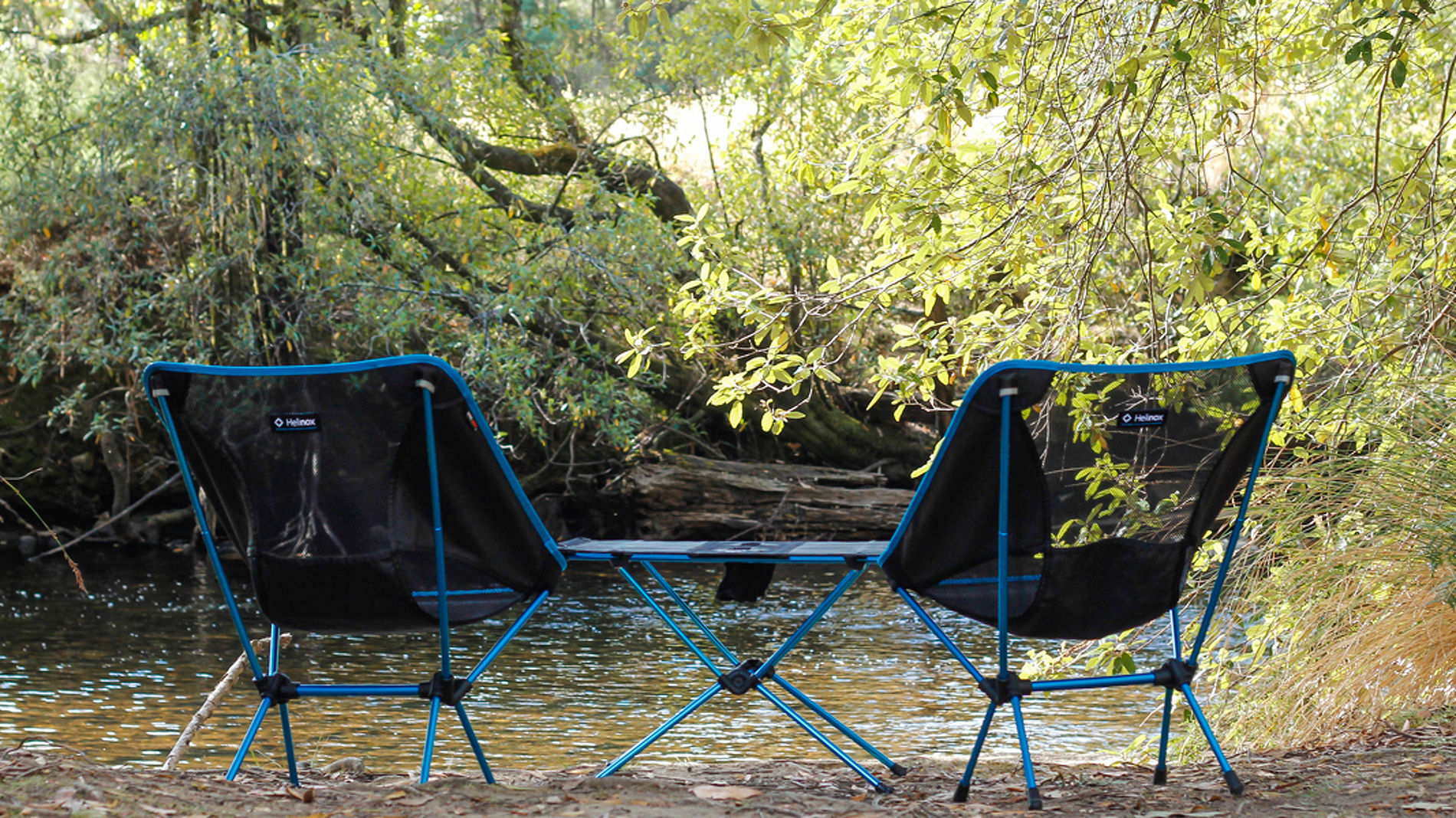 There are myriad other ways you can save small amounts of weight as well.
• Instead of loading up your food supplies for a month's worth of meals, just buy food as you need it.
• Buy food in plastic or cardboard packaging rather than glass or metal.
• Don't fill your water tanks unless you need to.
• Only take sufficient clothing to last a week between washes rather than two weeks' worth of clothes.
So that's how to reduce your caravan payload by 200kg. A couple of kilos here and a couple more there all add up to a significant weight saving. It might just make the difference between being overweight and being legal.
Safe travels.
Read next: Have you (and your caravan) got a weight problem?