How could you forget your caravan step?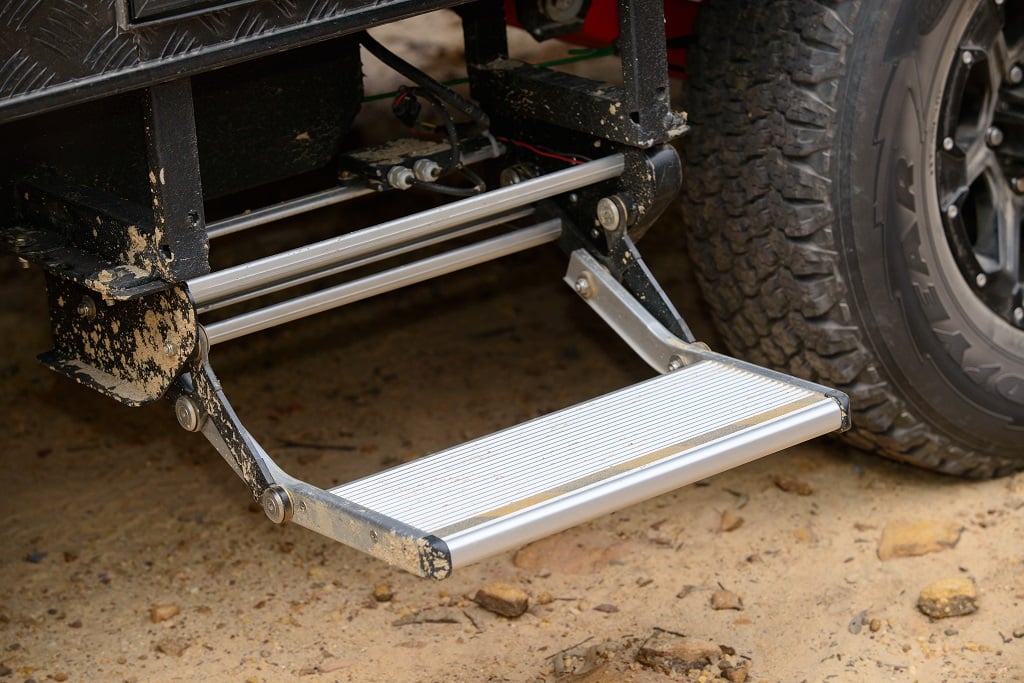 We use a step hundreds of times during a trip but is the only time you give it some thought when you leave it behind or it breaks? It supports you – how could you forget your caravan step?
Having a near miss or an accident while entering or exiting your van might be the first time you consider buying a new step. Any reason, from forgetting to deploy an electric step, slipping on a wet step, having a plastic step crack under you or having someone steal a portable step all mean you might look for an alternative. And some vans don't have a factory step fitted. Let's take steps to rectify this situation and look at your options.
Plastic, cheap or otherwise
A plastic step might seem a cheap way to do this job but consider these points. If the step you buy is little more than a bargain hot-dollar-store-type then its original use will likely be home use to reach that top shelf stuff in the utility room. It's not designed to be stored in the van's locker or relied on day in, day out, and take the pressure of multiple van entry/exits per day. It's going to break, leaving you in an embarrassing position, or a painful one. Think, coffee time, face plant, grazed shins or a cancelled holiday.
If you're going to go plastic, look for dedicated items, like folding or formed heavy-duty plastic steps from a supplier such as Camec, that also come with a weight rating.
Don't forget that the step needs to be made of robust material and as it's left outside a lot that it's going to be exposed to sunlight that could cause some versions to become brittle. Easy to clean with a hose, a lightweight plastic step will help with payload too.
Portability, curse or blessing? 
Multiple applications make most things more useful and a step you can move about is handy. Whereas a step might allow you to reach the upper elements of your van, a lightweight or collapsible ladder will be better served for those jobs, but a step is better than none. It does have its drawbacks – namely, it is nickable and, more likely, forgettable! Free steps coming to a campsite near you. If you're the ultimate tightarse, then a free camp might be your happy hunting ground, if you wait. I've heard a rumour it works for lost doormats too.
Are you on the short side? Then a portable step will be beneficial as you can bring it indoors but for the safety reasons mentioned, then a light-duty cheapy might be better indoors only – for the sake of a few hundred grams extra off your payload. Importantly, if you are of limited mobility or a bit shaky on your feet then a fixed step would be the way to go. These days most new vans come equipped with a grab handle by the door and this gives you an anchor point if the portable step moves underfoot for some reason and tries to deposit you on the deck.
Feel the width
Not all steps are created equal. Make sure that whatever step you have fitted at purchase or subsequently buy has sufficient width to make using it a surefooted exercise, not a tippy-toe ballet step. Chances are, the days for most of us performing Swan Lake are best left for Happy Hour videos. And that's another time when a step becomes a safety hazard if it's not the best unit for the job or the humans using it – when you're a few sheets to the wind. See next pic!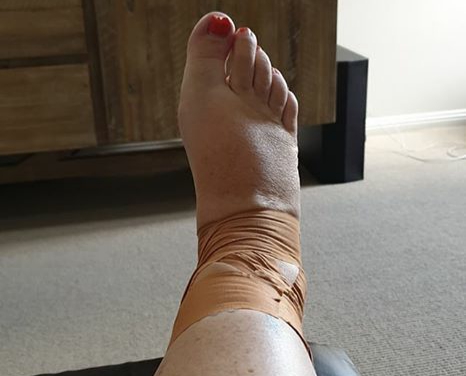 A step up?
Next up the scale is an aluminium step set. These types of steps are widely available from the camping superstores such as BCF, Road Tech Marine, or Anaconda, and the ubiquitous Bunnings (or ALDI sales). Again, look out for cheap construction in the folding mechanisms and any fastenings. Check the weight rating. Be mindful of the step surface – is it coated in a non-slip material and, crucially, is there one step or two? How high is your van from the ground and will a single tread be sufficient? Remember, especially if you're an off-roader that this will change regularly. Little items to have a look at are the metal feet. If they have protective plastic or rubber ends it means you won't scratch your van's floor if you bring it inside. Conversely, they can come off or be lost to mud of they're not affixed well.
Extenda Step makes an aluminium replacement step for vans and camper-trailers that slots in place of the factory step but offers greater surface area or a longer reach than many standard-fit items.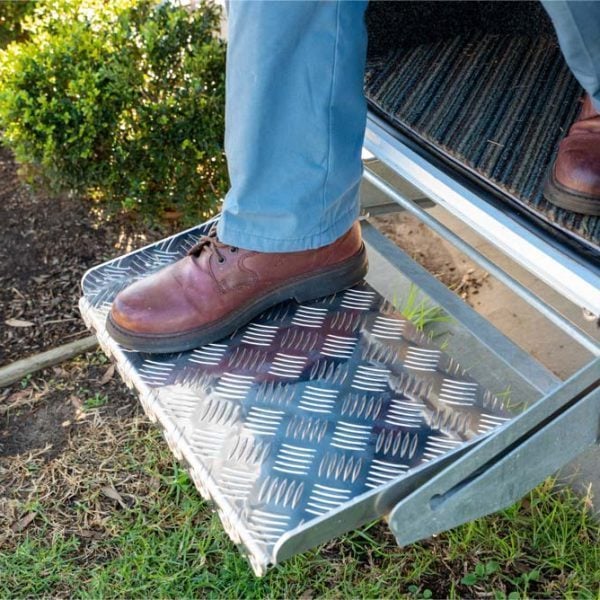 Automatic, and more
Of course, we all love to flick a switch and watch stuff happen automatically. The powered drop step is the nearest most of us can get to a servant crouching to effect our ingress and egress from our fancy carriages. Maybe that's just my delusions of grandeur creeping in. While great in almost regular situations, the power step has its drawbacks and the power function is a double-edged sword. It can break and be jammed open or shut, and it may have an alarm to let you know its deployed. Reminding you it's deployed before you drive off is a great idea but when it's jammed open, not so much. And the electric mechanisms can be easily damaged off-road, by impact and filth.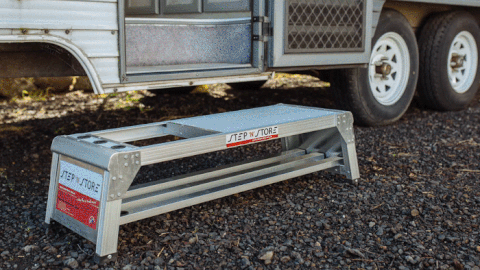 A unique offering from Step N Store provides a portable single-tread step, with a bin and brush holders because we all know that a bin is lacking in just about every caravan going. There's even a shoe rack under the step. The practical unit can sit as a lower step to your van's fixed version or as a standalone if the height is sufficient for easy entry. Just don't forget this one at the campsite.
The last step
So, don't forget your caravan step. Nearly all the portable versions can be bought for under $100, with the more involved sets rising (and falling) accordingly. As a business idea, roaming the campsites to collect the lost steps to sell is akin to collecting 5c on the cans, mate – you won't retire on it. A better business plan is set out below. Let us know your step solutions in the comments.
HANDY HINTS FOR STEPS
Make sure its weight rated for the job (that's you, cake butt)
Make sure it's the right height for the job (think: off-road, or a rear-door van)
Cover the tread surface with non-slip grip tape or even carpet (this will get pretty rough, though)
Mark your step with reflective or glow-in-the-dark tape from the hardware shop
Attach the portable step to the van with fishing line (you won't see it, but you won't lose the step either)
If you DIY a step, make a box that doubles as storage
Check a plastic step for cracks now and then
Clean any hinges, channels, electrics, etc. regularly and lubricate what needs it
Repaint a rusty old step; just because!
Make sure you fully deploy a folding step
Any portable step should be steady – some models have adjustable legs to counter this.
READ NEXT: The five things caravanners forget to check before driving off!
Images, RV Daily, Stuart Grant, Kylie & Marty Ledwich.