When there's nothing on the television and you've exhausted your DVD collection, the various media streaming services come to the rescue. That's fine if you're at home but how do you do it on the road. Google's new Chromecast model with Google TV is the answer.
Before I get started on this review, let's just get one thing out of the way. There will be a lot of readers thinking "if you're worried about television while you're going caravanning or camping, you may as well just stay at home". I've heard this argument many times and, to some degree, I get what people are trying to say but we live in a digital age. For many of us who live on the road full time, are on extended holidays or just want to keep the kids entertained when the weather isn't co-operating, media streaming is fantastic especially if you're outside the normal digital TV service range, which happens more often than you may think. Anyway…moving on.
To stream media to your caravan TV, there are several ways you can do it. You can connect your smart device directly to the TV using an HDMI cable. You can connect an Android TV box to your TV or you can use the original Google Chromecast dongle and stream wirelessly from your smart device. All these work with various degrees of success and convenience but none are what I would consider being the ideal solutions.
The new Google Chromecast with Google TV is different. It combines the best features of an Android TV box with the streaming ability of the original Chromecast to give users an all in one device that is dead easy to set up and a pleasure to use.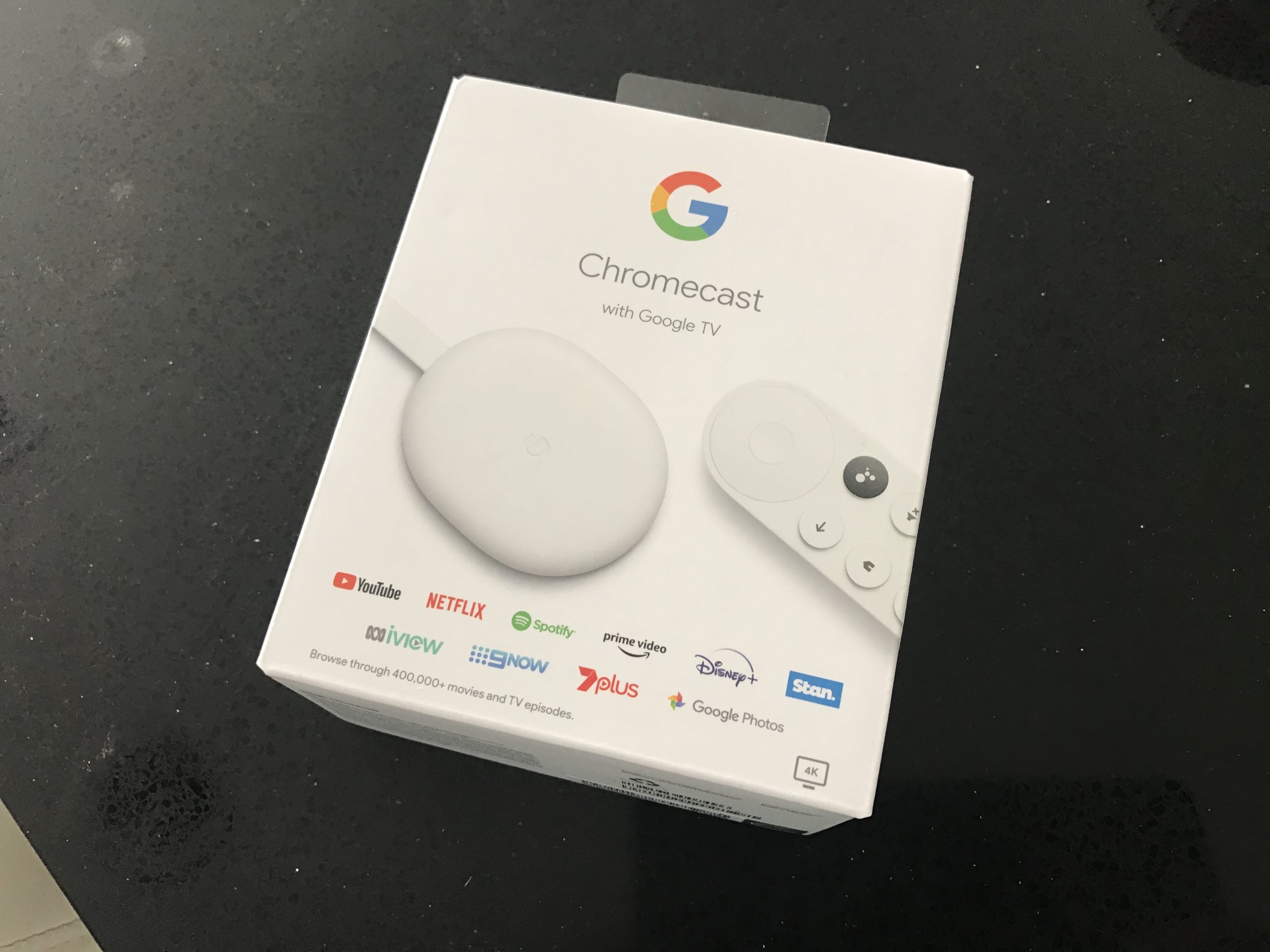 The key to all this is the inclusion of a remote control for the Google Chromecast. Not only does it allow you to operate the media interface, but it also controls the power and volume of your TV and it accepts voice commands just like any other Google Home device. In the confined space of a caravan or camper, this is gold. You don't have to have a TV remote, smart device or other bits and pieces cluttering up your limited bench space. The small remote control does everything. It is brilliant.
Powering the Chromecast comes through a USB C port that requires a connection to the included 240-volt power adapter. If you're camping off-grid, you'll need a high power USB plug or an inverter. You can try running it from a USB port on your TV but chances are it will not be sufficiently powerful. There's no harm trying as the Chromecast will alert you if the port is not compatible.
To set up Google Chromecast with Google TV, you use the Google Home application on a smart device, just as you would with the previous Chromecast. It is very simple. The only tricky bit was getting the remote control to talk to our television. I was using an old Dick Smith TV which wasn't listed in the available options. After a little Google searching and some trial and error, I found a brand that was compatible. This could be the one issue many owners may find. I flicked through the list of available brands and noticed some of the cheap Chinese brands that we may be familiar with here in Australia were not listed in the available options. But you should be able to find a brand that will work without too much trouble.
Once set up, you'll find all the familiar streaming service applications plus a whole heap you may never have heard of before. These are carried over from the original Android TV service. I haven't had a chance to explore them all but it's worth looking into them to expand your choices.
Setting up the more popular services is as simple as entering your login details or adding the Google Chromecast as an additional device using the same app on your smartphone or tablet. We managed to set up YouTube, Netflix, Stan, Disney and Amazon Prime in very little time. They all produced smooth video and good quality audio despite the age of the TV we were testing it on. I've read other reviews of the new Chromecast online and they all say it is capable of streaming 4K HDR with Dolby Vision which is an improvement over the original model.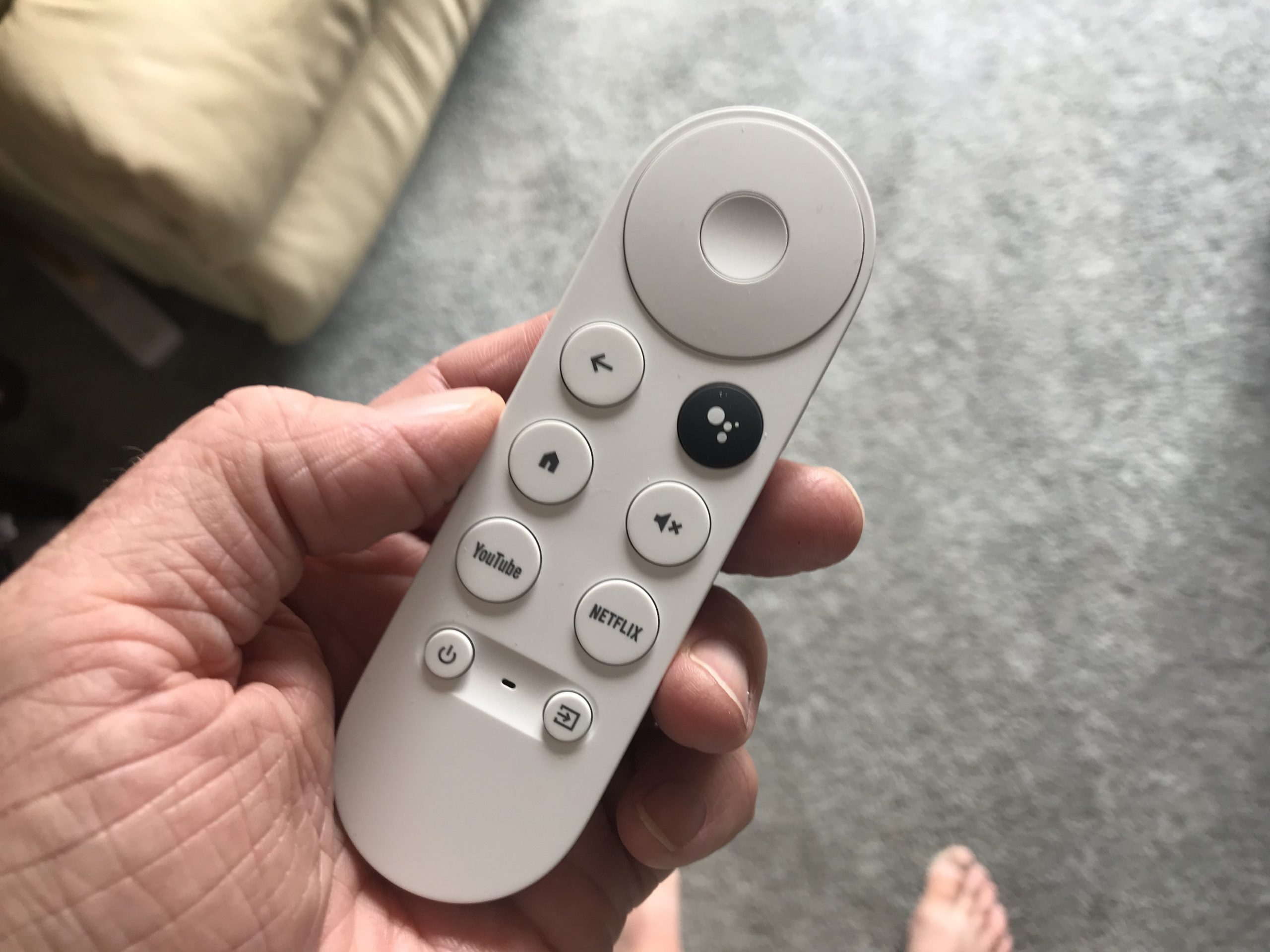 Speaking of audio, we all know the cheap TVs included with most caravans have pretty dismal sound qualities. I tried using a Bluetooth speaker with our original Chromecast and the delay in sound from the video was just too distracting to put up with. The new Google Chromecast comes with inbuilt Bluetooth and can connect directly to an external Bluetooth speaker. I was able to connect to a Google Nest Mini speaker and the audio performance was excellent.
There are a few streaming apps that are not available on the Google Chromecast. Apple TV and Foxtel Go are two that I noticed were not on the menu. For these, you will need to stream from a smart device as you would with the original Chromecast. It works in exactly the same way and it will switch from its own user interface to the streaming function and back again automatically. No issues there.
The Goggle Chromecast with Google TV requires a WiFi network connected to the internet to function. This can be done by turning on the mobile hotspot function on your mobile phone or by connecting to a mobile broadband modem. For simplicity, we have one of the Telstra 4G modems in our van with 200GB of data per month for $75 per month. Combined with the 60GB of data per month on each of our mobile phones, we have a total of 320GB available per month. This is plenty of data for regular streaming as well as all our other internet use. The modem also has an external high gain antenna for when we are in areas with weak signal strength.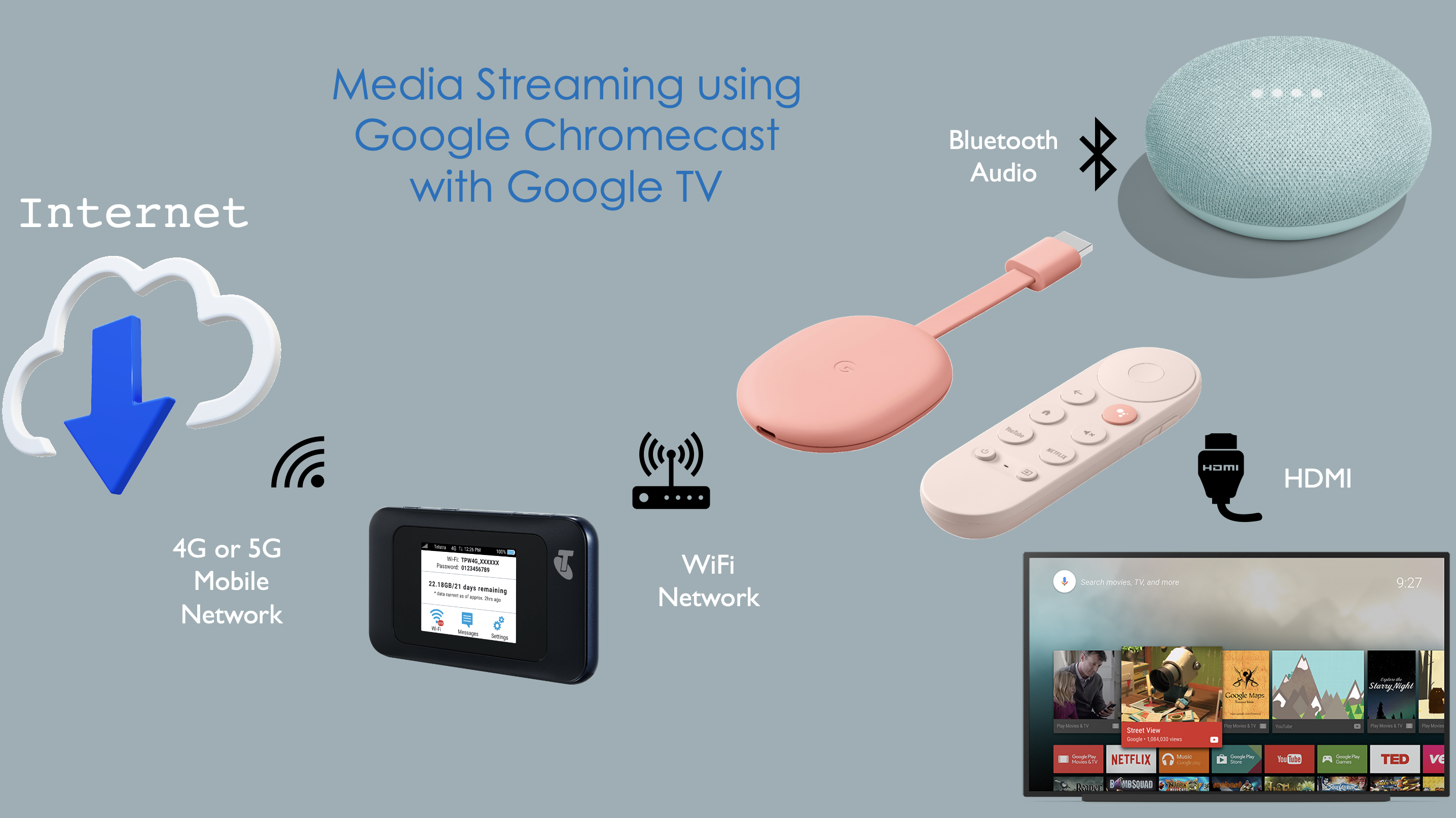 When it comes to answering the question "how do I stream media to the TV in my caravan?" I think the new Google Chromecast with Google TV is as close to the perfect solution as you will find. It simplifies the whole process from setup to daily use. It combines almost all of your favourite streaming services into a single remote control operated interface. It still enables you to stream services not available on Google TV from your smart device in the same way as the older Chromecast. It is capable of streaming high-quality digital video and audio and, at just $99 RRP, plus the cost of a data connection and subscription to streaming services, it's an affordable solution.
Google Chromecast with Google TV is available from most electrical retailers or online.
Safe Travels