Going Deluxe in a Suncamper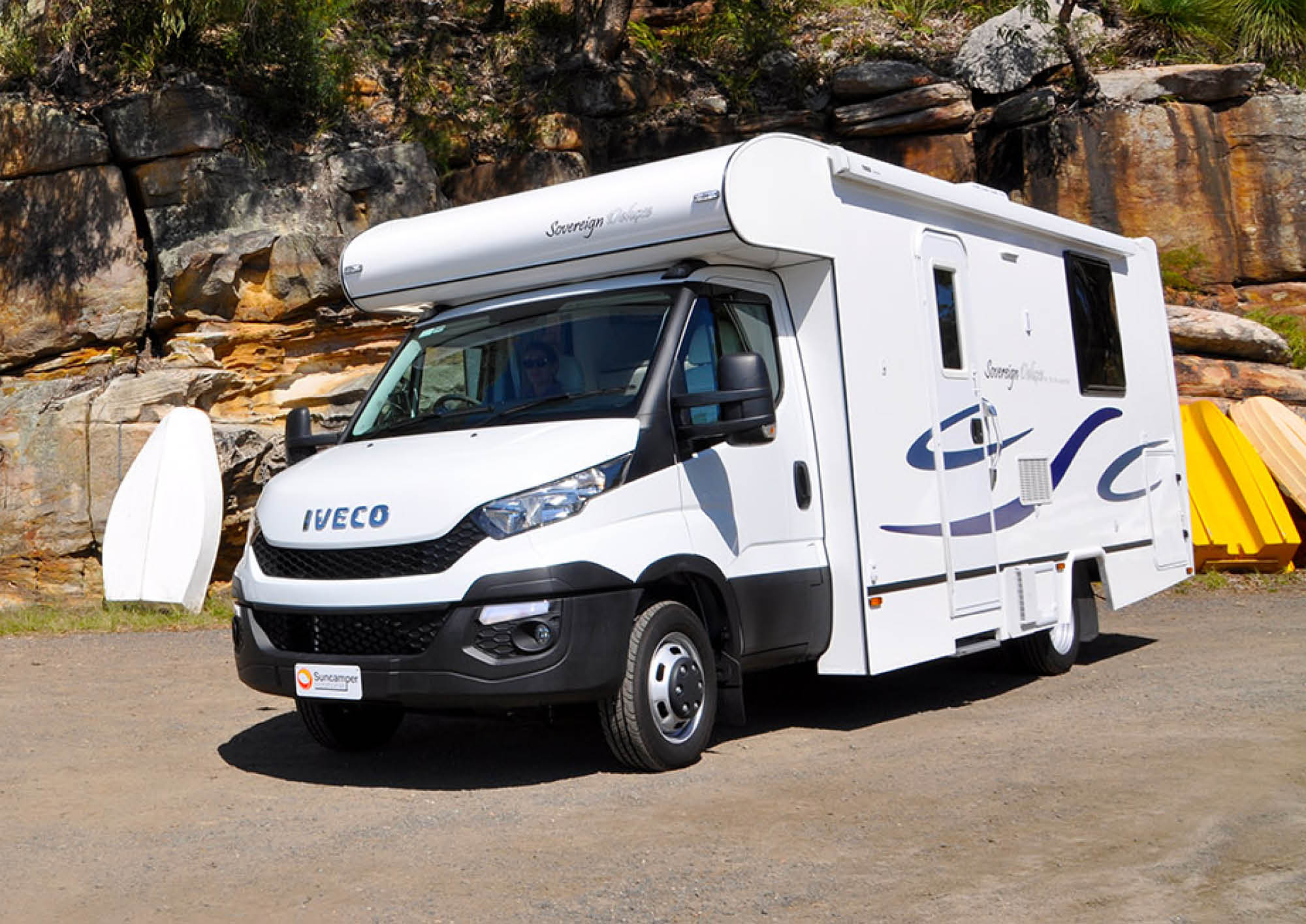 Glamping it up in Suncamper's Sovereign Deluxe.
By Richard Robertson
There's something blingy about white leather upholstery. It screams look-at-me, to hell with the cleaning – and no kids allowed. That was my first impression stepping inside Suncamper's distinctively styled Sovereign Deluxe. Aimed at couples because it comes with just a double bed as standard, an over-cab bed is optionally available but probably best suited to taking the grandkids away. Either way this mid-sized motorhome is perfect for two and, most importantly, can be driven on a normal car licence.
For images, videos and the full RV Daily experience, read this in our online magazine.
NAME YOUR PASSION
Depending on your preferences – brand-wise and financial – you can order a Sovereign Deluxe on either a Mercedes-Benz Sprinter or Iveco Daily. The test vehicle was on the Iveco and a special customer order, but following personal issues the buyer couldn't take delivery and it's now a demonstrator. It's also different in some ways from a standard-spec Sovereign Deluxe, which for a demo is a bit of a bugger.
Mechanically, the biggest difference with this vehicle was its manual transmission. Around 99 percent of new motorhomes are automatic and it was interesting to drive a rare manual Daily. The gearshift was a bit slow, long and deliberate but the clutch was light and smooth. I soon got used to it, but with an industry-leading eight-speed automatic as an option I think this will remain a rare beast.
The engine was the lower powered version of the 3.0-litre turbo-diesel, the optional twin-turbo is a cracker, but with 125kW and 430Nm on tap it wanted for nothing. Smooth and flexible the drivetrain allowed easy cruising even in sixth gear, spinning over about 2500rpm at 110 km/h on the freeway and with plenty in reserve. Iveco made big strides in cab refinement and appointment when it unveiled the updated Daily last year. It's far more car-like and comfortable, although the standard sound system is still a crapper. Visibility is good, it's easy to handle, and it comes with all the expected safety features like dual airbags, ABS, traction control and much more.
In the engineering department the Daily is more a scaled-down 'big' truck than a scaled-up light commercial, which comes as no surprise given Iveco's long history of heavy truck manufacturing. While this Daily has a gross vehicle mass (GVM) of 4490kg, which allows it to be driven on a normal car licence, it has been de-rated from its normal 5200kg GVM. Should you have or want to get a Light Rigid (LR) driver's licence you can order your Sovereign Deluxe with the increased GVM at no cost as it's a simple paperwork matter for Iveco to sign-off on. That 710kg increase is all payload, which you can never have too much of. As it stands the tare weight of 3640kg provides a very respectable load of 855kg, but remember that has to include occupants, fuel, water, LPG and all your goods and chattels.
Lastly, it's worth mentioning the Daily's class leading 3500kg towing capacity, which makes it the go-to cab-chassis if you want to tow a car, boat or big trailer.
ANYONE HOME?
I think anyone would quickly feel at home inside the Sovereign Deluxe. The layout features a front lounge/dinette that incorporates the swivelling cab seats, a spacious central kitchen, and the bed and bathroom at the rear. While far from unusual the layout has a range of features that make it
quite distinctive.
Upfront, the lounge/dinette is a beauty. Swivel the cab seats around and you have easy seating for five or six – just the thing for hosting sundowners on a cold or drizzly afternoon. The forward facing dinette seat is L-shaped and returns forward along the driver's-side wall, under a big picture window. Cleverly this return section can be removed to provide legroom should you want to carry two passengers, as the seat is seatbelt equipped. When left in place it provides a comfortable seat for someone to stretch out by the window and enjoy the view or relax and watch TV.
Another clever design feature is the inwards-facing two-seat sofa on the kerbside, opposite the window. It's small backrest cushions are velcroed in place and when removed the cabinet behind opens to reveal a full hanging wardrobe. The final piece of wizardry is the new, European-sourced dining table mount that is not only sturdy, it easily moves every which-way to maximise dining options depending on which seats are occupied. It's also height adjustable and can push down far enough to convert the dinette into a second bed. All very clever indeed.
CHOW TIME AND BEYOND
The L-shaped kitchen butts-up to the rear of the main dinette seat and then returns down the driver's-side wall. Refreshingly, it has plenty of bench space and while this particular vehicle only had a customer-specified three-burner gas cooker, the standard fitting is a full four-burner cooker with grill and oven. A large two-door fridge freezer, microwave and a ton of cupboard and drawer space round-out this very practical kitchen.
When it's time to retire for the evening you'll find the bed in the kerbside rear corner. The one in the test vehicle was a little more rounded with a little more side clearance than the standard Sovereign Deluxe bed due to the customer's request. It was a decent size with windows behind and to the side, plus plenty of overhead cupboards and storage below, it made up quite a spacious bedroom area.
The bathroom, in the driver's-side corner next to the bed, has an interesting layout. That's because the hand basin and vanity is actually in the bedroom area, on the wall opposite the foot of the bed and just outside the bathroom door. Step into the bathroom itself and you step into the shower, with the toilet at the very rear, complete with a sliding screen to keep it dry.
VERDICT
From its spacious and practical lounge/dinette to its chef-pleasing kitchen and fresh upholstery, Suncamper's Sovereign Deluxe is quite the surprise package. The fact you can have it on your choice of chassis adds to the appeal, while Suncamper's proven rugged construction and loyal band of repeat customers says much about its durability.
A little bit out of left field, it's deluxe with a twist and well worth checking out.
SPECIFICATIONS
Exterior Length: 7.80m (25'7")
Exterior Width: 2.40m (7'10")
Gross Vehicle Mass: 4495kg
Engine: 3.0-litre four-cylinder turbo-diesel
Price as Tested: six-speed manual demonstrator: $159,990
PROS 
Highly liveable
Abundant storage
Thoughtful inclusions
Easy driving
Chassis choice
Customisable
Value
Durable
CONS 
Limited external storage
Limited grey water capacity
Single house battery