Buying technology products for our caravanning and camping adventures at budget prices doesn't mean having to take a chance with online overseas sellers. The gear from Elinz Electronics is a surprising combination of good price and great value with local support.
Have you ever wanted to buy some electronics gear and, rather than pay for the premium name-brand gear, you went for the cheap alternative from eBay and ended up regretting your decision? I can say it has happened to be more than once and, every time it happens, I promise myself it will never happen again.
The problem is that as good as the name brand gear is, often the high prices put it beyond our budget. Wouldn't it be nice to have a low-cost alternative tech supplier with local support and quality that represents value for money? Well, I reckon I've found an alternative in Elinz Electronics. Here are three products we've acquired from them recently that have proved to be of good quality and great value compared to the brand name equivalents.
Elinz 3″ OLED 4K Ultra HD Dual Dash Cam
The dash-cam in our Landcruiser recently suffered a catastrophic failure. Basically, the ni-cad battery in it couldn't cope with the constant heat from full time travelling in the outback and it finally refused to power up. At the time we purchased it, it was a pretty expensive unit from a name brand. Looking around for a replacement, I decided I wanted a few features. I was sick of removing the memory card every time I wanted to download footage from the camera so the new camera had to be WiFi-enabled. Next, I wanted a super-capacitor powered unit as these are able to cope with the constant heat much better than the battery-powered units.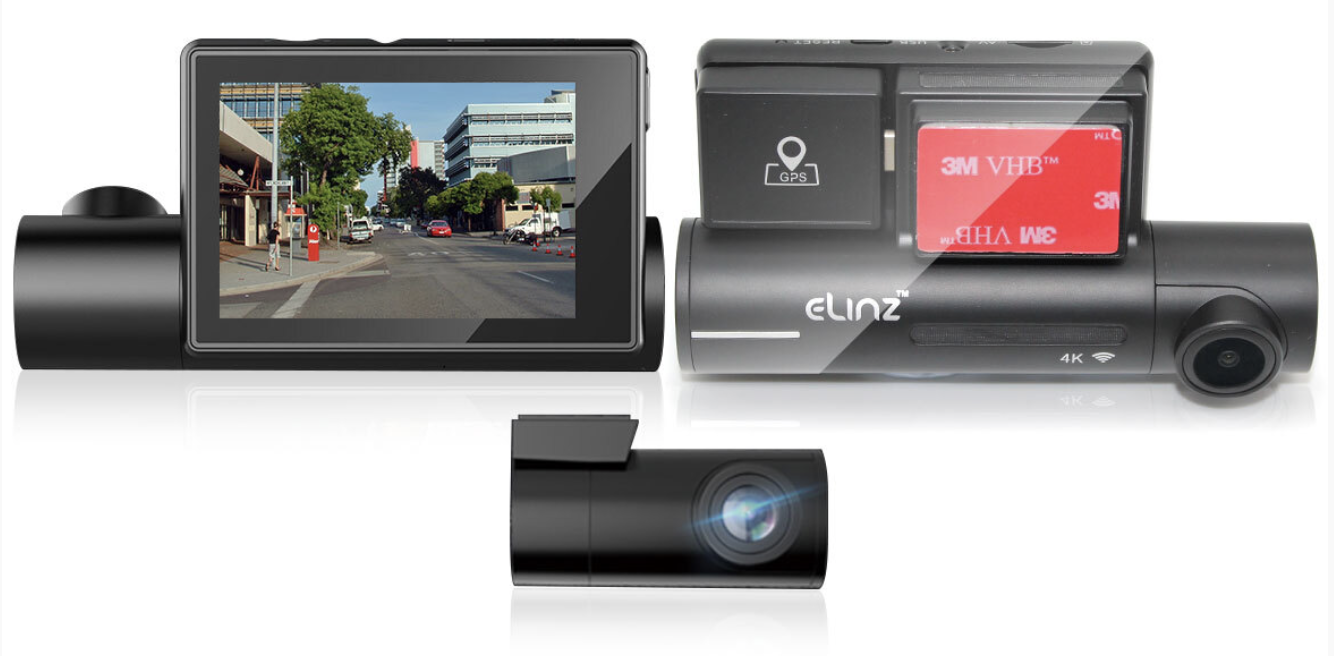 I also wanted the option to fit a rear-facing camera as well. HD video quality wouldn't go astray either. Looking at the brand name options with those specifications, I was looking at prices over $800. After a bit more research I found this unit from Elinz electronics. At just $215 including a 32 gig memory card, the price was very attractive. First impressions are this is a quality bit of kit. Installation was easy and thanks to the intuitive menu, setup was also a breeze. What has really impressed me is the quality of the video produced by the camera. The maximum resolution is 1080p at 60 frames per second which is entering into GoPro territory. Night video clarity is also outstanding. Connecting to the camera via WiFi and using the smartphone app to download video is also very simple. For the price, I don't believe you could buy a better dashcam.
Elinz 4K Photo Foldable 2K FPV Dual Camera Drone
Everyone wants a drone these days and, why wouldn't you? Apart from being able to take amazing photos and videos of your trips, they are actually pretty good fun to fly around. The problem is it takes some skill to control them and, if you're new to drones, you're likely to crash your first one more times than you think. There's no denying DJI have the drone market pretty well in their hip pocket but when you consider even their cheapest full-size drone costs around $750, that's a lot of money to crash and potentially loose on your first flight. Again, Elinz Electronics has an alternative.

Their range of drones starts at just $139. For that, you get a basic drone with 4k photo and 2k video resolution that folds up into a neat and transportable package, a remote control that interfaces with a smartphone and a single 1800mAh battery good for around 15 minutes of flight time. It has other features such as follow me mode and gesture control. Now I'm not going to pretend for a minute that this drone is up to the same quality as a DJI but for a first drone, this is ideal. It is a little lightweight so I wouldn't fly it in winds over 20kph but in calm conditions, it is very controllable. One-touch take-off and landing make getting up in the air a breeze. Video and photos are captured on the smartphone via a WiFi link. It's not cinema quality but it is certainly good enough for social media posts. If you're looking for a great first drone or one for the kids, the Elinz Electronics range of drones is a great entry point into the hobby.
Elinz Caravan Two Camera 7″ Monitor HD Reversing Camera Kit
I've had a few different rearview camera systems over the years, some better than others. Recently, my inlaws bought themselves a second-hand caravan and they wanted a dual rearview camera system for their rig. We fitted the Elinz Caravan Two Camera kit with a 7-inch screen and hard-wired cameras. The kit comes complete with everything required and the components look to be very high quality. I was particularly impressed with the 7″ monitor. It is an absolute ripper offering very high brightness and contrast. The controls are easy to use allowing you to easily switch between the two camera feeds. There's even a small remote control. The screen has an inbuilt sunshade, something missing from other similar kits. Installing all the wiring is very simple as all the connections are keyed and screwed so you can't make a mistake connecting them together and they won't come apart once installed. The screen displays a guide to make judging distances to objects behind you easier. Both cameras get power from the monitor which also makes installation easier. I've seen similar systems to this costing in excess of $500. The Elinz Electronics kit costs just $189. (it is currently on special for $169 until 13th May 2021) That is exceptional value given the quality of this kit.

Elinz Electronics' product range is huge and always growing. You can find items such as security cameras, food vacuum sealers, and action cameras, reversing camera kits, car DVD players, LED light bars, driving lights, headrest DVD players, roof mount DVD players, inverters, and battery chargers. Everything you need for your next adventure.
All their stock is shipped out of Melbourne, and, as such, buying from them is faster and at times cheaper than purchasing similar items from overseas. Most products come with a 12 months warranty and some have up to 5 years warranty. Elinz Electronics also offers 60 days money-back guarantee.
Visit www.elinz.com.au to see if they have a tech product to suit your caravanning and camping needs.