THE EDITOR'S ALL AT SEA ON THE SPIRIT OF TASMANIA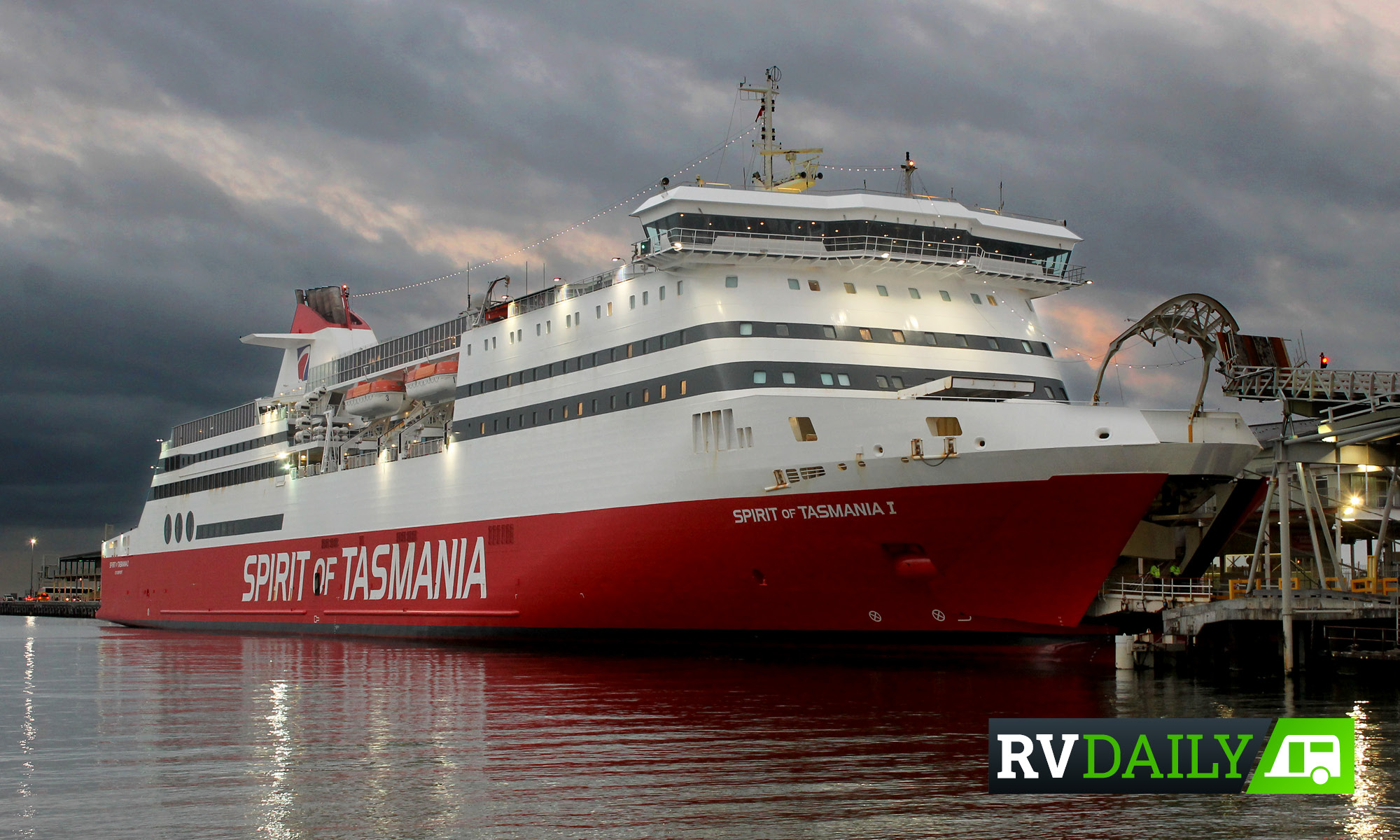 After much anticipation it was time to see what the trip to Tasmania aboard your only sea crossing option is all about. Was it worth the wait, and more importantly, is it value for money?
Few Australian adventures begin with a sea voyage. Sure, there are island hops and a cargo ship endeavour around Cape York, but the Bass Strait crossing aboard the Spirit of Tasmania stands as the most well-known and accessible ocean jump off point.
So, I was excited. Who wouldn't be? I can't think of anyone who would find this proposition mundane. For our two-week exploration of Tasmania, we'd arranged a night crossing on each leg, therefore maximising our days' travelling and maintaining a normal routine. Not that a 5.15am alarm call is routine but onboard it's one you cannot ignore, nor hit snooze on either. You don't want to be the vehicle that blocks the exit of the rest of your deck.
Keen to find the seafront at Port Melbourne and grab footage of the ship, I was well ahead of the two-hour window that's allocated for loading the vehicles into the bowels below decks. So I can't tell you what the queue is like the narrower that window becomes. Although talking of widths, or more like depths, it amazes me how close the Spirit docks in relation to the beach at port. It must be an incredible drop-off. (I am aware of the existence of dredgers.)
Our sailing was set for 7.30pm. I had popped into the chemist on Bay Street and bought my sea-sickness pills because Bass Strait is well-known for its unpredictable nature, but I'd also feasted on fish and chips because it'd be better to have something to, well, you know.
I'd easily found a parking spot on the sea front for the 7m Winnebago and done what I had to do work wise. It all seemed very low key. There was the ship, on this sailing the Spirit of Tasmania II – guess what the other one's called – startling red and white beyond the flat sand complete with Melbournian sunbathers and a passing cavalcade of the fit and healthy and the canine brigade on the bitumen outside the van's sliding door. I expected more hustle and bustle of a port.
Not knowing the queuing arrangements, as I said, at around 4.45pm I headed over to the gates and within 10 minutes I was being asked by the security staff if I was carrying firearms, if my gas was off and what food I had onboard. We then joined the convoy towards the ticket booths to be presented with passes and cabin details.
In relation to foodstuffs, leave the fruit and veg purchases until you're in Tasmania and, more specifically, beyond Devonport too. A recent change to fruit-fly regulations means that such produce cannot be taken into the wider island until you're beyond the town. Ulverstone was the closest in my case, heading west. Returning to the mainland no such restrictions apply, although I did see disposal bins on my way back to Devonport. I also found it odd that security in Devonport on the return leg wanted to check my fridge for "Swedish backpackers". If only I'd known on leaving Melbourne that Astrid, instead of forlornly staring out to sea, could have "achieved her dream…" And possibly mine too*.
Once you've cleared the paperwork element there's a wait until you're on the ramps and enjoying the climb toward the open door of the ship's car decks. At that point you really know you're going somewhere. Stevedores* guide you to your allotted lane on the deck and once you've grabbed your overnight stuff that's the last you'll see of your vehicle for about 10 hours. Don't forget to prepare your bag beforehand, this isn't the time or the place to be packing. If you have animals for transit, then you will head off to the kennelling procedure and the angst that separation causes, I'm afraid. You can sign a waiver and leave your animal in the vehicle for the journey but you must talk to the Spirit of Tasmania line prior, and it's not something it prefers you do.
As for humans, spending the voyage down here is insane. You may consider it viable to save on the cost of a cabin or to use a recliner (see breakout) but the decks are dangerous places once underway. And in the event of an emergency the deck doors remain sealed, you're nearer the water line and no-one's coming to find you. And anyway, there's much more to entertain you up top.
Given that I'd dragged much more than an overnight bag, in terms of camera stuff, with me I headed straight for the cabin shown on the ticket. A four-berth porthole cabin that had two bunks either side and a bathroom. It was straightforward, with bedding, towels, soaps in the ensuite, etc., had individual lighting for the beds, power points and blinds for the windows. I mention this bit because getting naked with the blinds up in port – depending on what part of the ship you're in – might cause surprise; especially as crew members may walk along the ledge outside your window with spanners (not a euphemism). And anyway, Astrid … oh never mind.
Food and ale, and not necessarily in that order, seemed the main preoccupation on the Friday night sailing out of Melbourne. The passengers were as mixed a group as you'd expect, from families to hiking adventurers and plenty of motorcyclists. You could sit in the main bar or take your drinks to any number of areas on the ships sides (port or starboard; check me, Matelot!) and relax in various forms of seating. Kids could enjoy a dedicated play area or a video games bank of screens, that a lot of dads seemed to favour, and parents can be mindful that doors to outside deck areas either had heavy mechanisms or two-handed operation to prevent little ones from getting themselves too close to railings.
I chose the railings up on the back deck, however, as that's the best place to take in a view of the Melbourne skyline as the ship turns to head south. What view you get obviously depends on your direction, time of day and season in relation to sunsets and sunrises.
And sunset wasn't far away. Not long after the lights of a Victorian weekend began twinkling on, we were in inky black. A couple of cargo ships slipped by, the Cape Shanck lighthouse did its thing and it was a gentle rise and fall with accompanying diesel hum all the way to the aforementioned wake-up call at 5.15am, as we glided into Devonport.
In both Devonport and back in Melbourne there was time to take lots of pics and have a blinky look at your new surroundings before the Tannoy announces your car deck – make sure you have picked up a flyer on the outbound leg to remind you where you left it. Flicking on and off the key fob to make the lights work isn't going to help here. It's amazing to realise that every vehicle has been lashed to the anchor points with tie-downs (obvious when you think about it, yes) and rows of them hung on the walls.
The tail lights in front of me signal the vehicle ahead has started its engine. I did the same and we were released into the pre-dawn half-light of Devonport's streets, damp from an overnight pour.
During the journey, I'd looked at the tourist desk and bought a national parks pass (this is who told me about the fruit-fly regulations) and I'd been staggered by the number of leaflets for stuff you could do once in Tasmania; like condensing all the mainland visitors centres into one circular room. Mind boggling. And that was to be a main theme of the next two weeks. Touring Tassie is a constant source of distraction. Like the adult version of a toddler in a play centre.
There's no doubt that Tasmania is a must-do in terms of caravan or motorhome travel. It's a place made for it. Some people complain that its expensive to take the ship across and while it's certainly a consideration to your budget, it's not out of control.
Keep in mind that the length of your vehicle set-up is the biggest cost factor with obvious effects of peak season demand.
You could fly across and hire but then you've none of your own camping gear with you, or compare it with driving to a Cape York or Red Centre destination and factor in driving time and fuel costs before you reach a start point. It's all relative.
Plus, there are seasonal offers and specials that you can take advantage of.
On my video clips I kept stumbling to say Spirit of Adventure and maybe that's a Freudian slip; it's what the journey by ship to Tasmania is all about. Set sail, if you haven't, it's a fantastic way to bookend a trip you will want to write about.   
BREAKOUT:
FARES
Here are three examples from the SOT calculator. Remember that some sailings can have options on days either side (or day or night options) that can save a couple of hundred dollars. Also remember that booking periods can be heavy, meaning you could get one of your choices but the opposite leg might be unavailable for weeks. Book ahead or be flexible. Cabins with no porthole are cheaper, and while a recliner sleeper isn't ideal for kids, for adults they're included in your ticket if available.
EXAMPLE 1
Melbourne to Devonport, Friday June 1, 7.30pm returning Sunday July 8, 7.30pm.

Toyota LandCruiser with loaded roof rack and towing 8m caravan.

Two adults and two children in a four-bed porthole cabin both ways ($180 x 2).
Outbound $1092
Return $1204
Total $2296
EXAMPLE 2
Melbourne to Devonport, Saturday January 5, 2019 at 7:30pm, returning Friday February 1, 2019 at 9pm.

Toyota Prado, no roof rack, towing 6m caravan.

Two adults and two children in a four-bed porthole cabin both ways ($180 x 2).
Outbound $1179
Return $985
Total $2164
EXAMPLE 3
Melbourne to Devonport, departing Wednesday September 5, 2018 at 7:30pm, returning Sunday October 14, 2018 at 9:30pm.

Motorhome 7m in length (i.e. Mercedes Sprinter) over 2.1m high, no roof rack and not towing.

Two adults, no kids but one dog. Twin bed porthole cabin ($126 x2) and kennel ($22 x2) both ways.
Outbound $397
Return $511
Total $908