Charlize and Tim Donovan from Tasmania transformed their 1980 Millard from bare shell to luxury chalet. Check out their stunning rebuild.
How long do you think it would take you to totally rebuild an old caravan? 12 months? 2 years? Charlize and Tim Donovan from Tasmania took a bare shell of a 1980 Millard and totally rebuilt it into something very special in just 5 months. We asked them about their build which they did almost entirely on their own with very little outside help.
We bought an unregistered 1980 Millard caravan shell with only new windows and quite poor workmanship. We resealed, fully sanded back and repainted the outside and roof followed by a full inside build. We replaced the wheels and dismantled, cleaned and resprayed the axels, the U bolts were rusted, we got new high tensile bolts made. Being a 65mm axel it was difficult to find the parts off the shelf.
Why did you rebuild an old caravan?
To see a lot more of our new state Tasmania. Having been here for 2.5 years with 2 kids, we hope to be able to pack the home on wheels whenever we feel like it and escape more often. So many beautiful locations to see here! This was also a COVID project.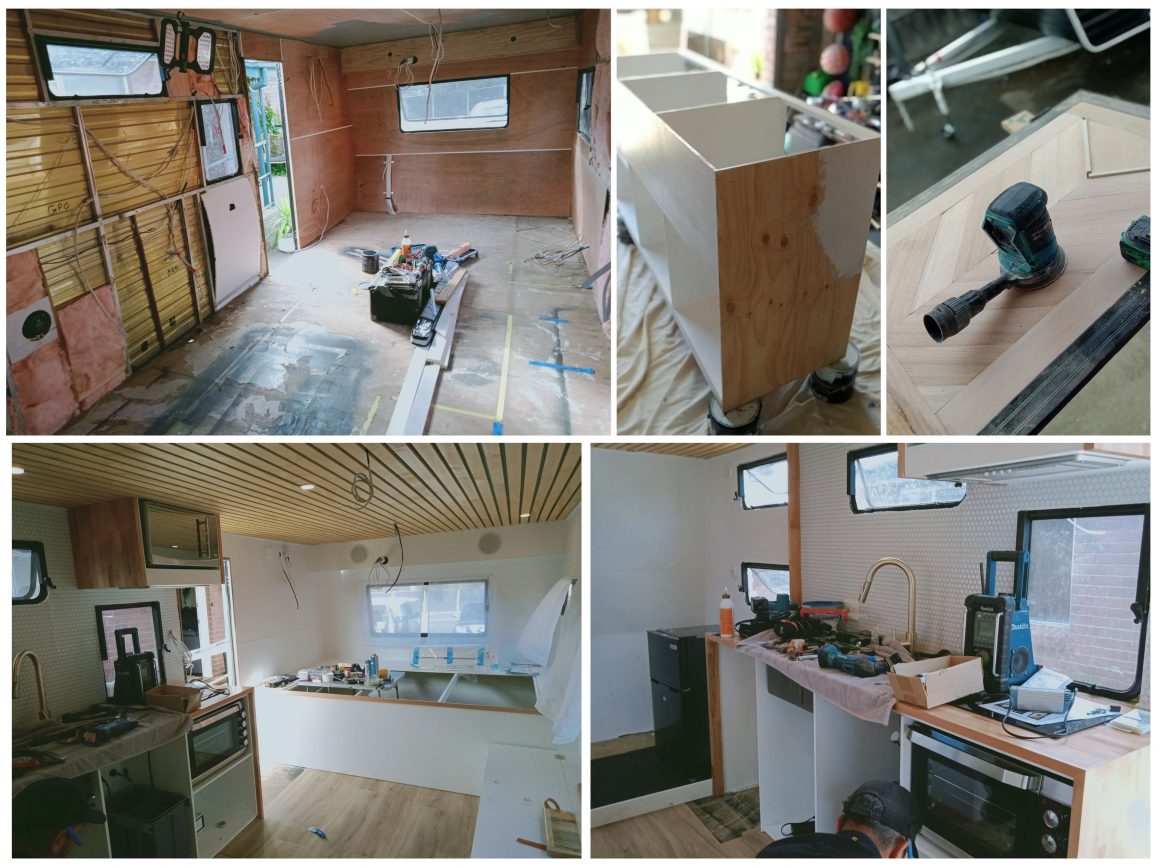 What are the van's special features?
We custom designed the interior to suit our family's needs and wants. We installed a 3-bunk unit with top and bottom King Single beds (for growing teens), and the middle bed as a double bed (our girls loved sharing a bed even though they are 8 years apart). We liked the idea of also having the option of the kids having a friend each that can join us on holidays if they wish. All the bed compartments have storage areas and touch-sensitive night lights. Some other features we designed and installed:
– 1 queen bed with storage underneath (gas strut lift)
– Reverse Cycle aircon
– TV on swivel mount + roof antenna
– 8 seat dining area w/ wicker pendant
– Storage steps up to bunks
– 2-way fridge/freezer
– Kitchen drawers & cupboards with built in slide-out double bin
– Oven
– Microwave
– Double induction stove
– Large sink with temp controlled tap
– Stereo with internal and external marine speakers
– Solar panels on the roof + battery inside (yep – she can go off grid)
– Stone guard
– External fold out powered table w/USB
– Plenty or power points inside and out
– Smoke alarm + fire extinguisher
– Roll out 5m awning
– My favourite – panel timber interior roof w/ down lights
… and yes – she is underweight at approx.. 1600kg
What type of construction is it?
It is a 20 foot 1980s Millard Caravan with a fully galvanized chassis, double axel, electric brakes, aluminium frame with timber roof battens, lined internally with 4mm ply and painted.
What's your experience in building?
Tim is a Carpenter, Joiner/builder with 20+ years of experience. Charlize is a Graphic Designer with over 20 years of experience. We have both renovated our W.A. based home and taken on several home-based furniture projects.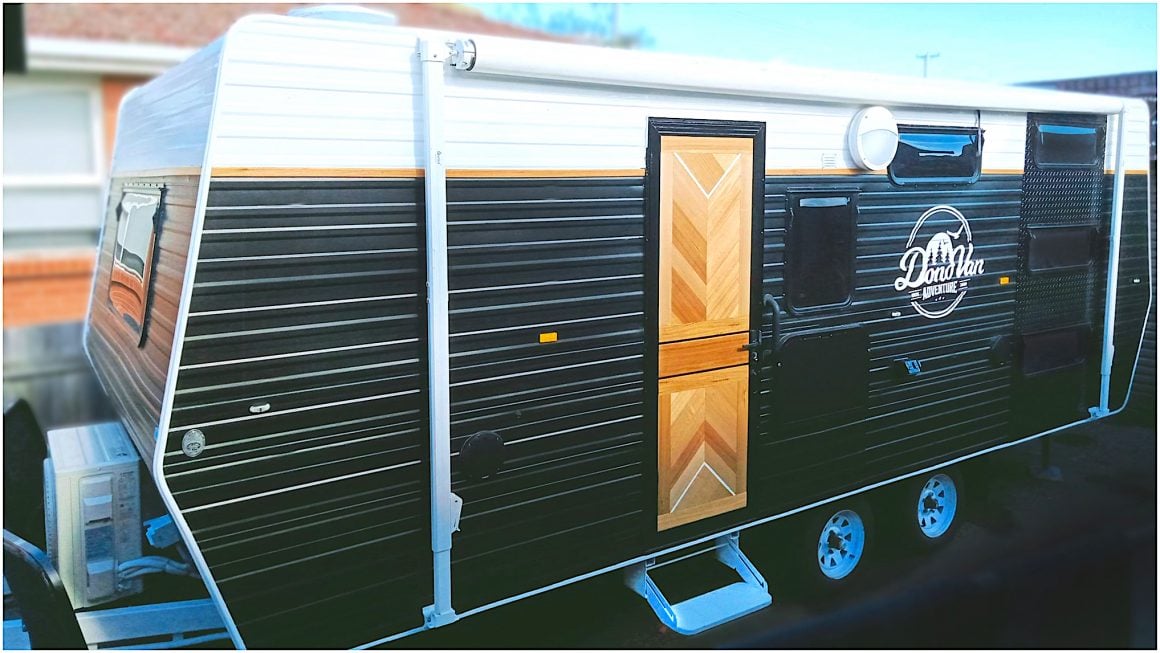 Did you get any help from any companies you'd like to acknowledge?
The only assistance we sought was to have the electrics completed and the reverse cycle air conditioner installed professionally by Launceston Electrical. We also had the wallpaper installed professionally on the bunk side. The rest of the build and design was all us and we are really proud of our efforts.
How long did the rebuild take?
We have had the caravan since October 2020. Technically the whole build was completed in around 3 months. It was a very fast project as we were planning to use it for a pre-booked 2021 Easter getaway, hence the outside took 1 month, and the inside approx. 1.5 months. With smaller weekend jobs for a few weeks intermittently. The trip, unfortunately, didn't eventuate after all our manic efforts, due to a hold up having the compliance plate installed, but at least we have time to fine-tune and make few changes/final tweaks to the van.
Any changes planned to the van in the future?
Yes – so we have since swapped the awkwardness or having the rectangle metal base of the dining table in everyone's feet, with a beautiful gold painted single-pole base that has a sliding mechanism – so the table can slide side to side which was perfect for space so we can more easily access the bench whilst keeping the full length of the table for maximum seating availability.
We also think we will lower the queen bed as it's a little high for the kids and mum to get onto it. This may take a little more work but will be worth the ease in the end.
Is there anytime you would do differently next time?
Happy to say not really. We had a vision. Charlize designed it on the computer with ongoing alterations until the family was happy with the layout. It all came to fruition better than we expected. With Tim's unique solution to such small headroom in the bunks – deciding to make the top bunk floating thus a large gap next to the wall for the below double bunker to move around (and the kids love climbing between those bunks now), the whole project was a roaring success. From the custom-built timber chevron door constructed from an old screen door frame to seeking a lot of Pinterest caravan renovating inspiration, we managed to pull it all off through hard work and determination!
We designed our own 'DonoVan' decal as we hope to enjoy our little family home on wheels for the next decade and then some. Time to create a lot of family memories in comfort! By the looks of it, the 'DonoVan' will be a comfortable and unique mobile base to create those memories.
If you have a caravan restoration project that you think Australia would like to see, we would love to hear from you. Drop us a line at sayhello@rvdaily.com.au
Safe travels.
More reading: Water tank defect sparks AMH Motorhome Recall