It doesn't have to cost you the world to experience one of Western Australia's most renowned bucket list destinations, El Questro Wilderness Park. Sure, at 110km west of Kununurra, it's remote and isn't the easiest of places to access. However, when you pull into the heart of the Kimberley, you'll be glad you went the distance. Simply put, it's WA's 'Promised Land'.
Shielded by the red-rugged Cockburn Ranges, El Questro is an adventurer's playground. It encompasses all kinds of impressive and ancient landscapes billions of years in the making: waterfalls, snaking rivers, lush jungles and natural pools, some of them thermal. Oh, and it's home to stunning wildlife too.
Undoubtedly, El Questro is one picturesque place with its roll call of scenic sights. And better yet, they can be experienced in a wealth of ways – hiking, boat, horseback, safari truck or scenic flight. The last one, well, that may stretch the budget! But what won't hurt the wallet is choosing to camp or caravan at El Questro.
Here's how to enjoy El Questro on a budget camping and caravan adventure in Western Australia: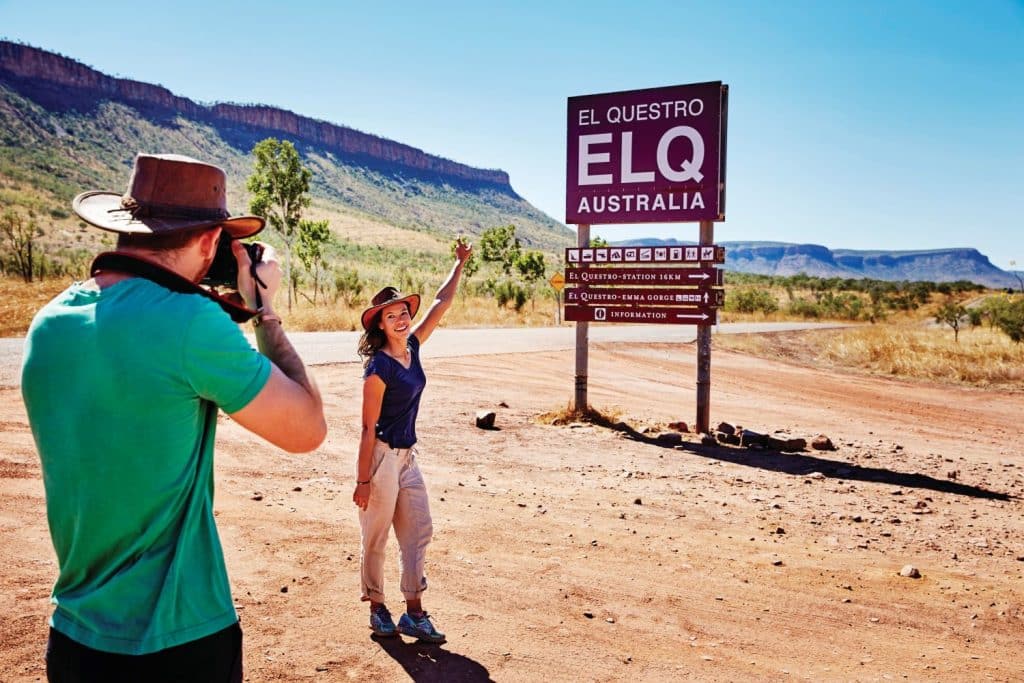 El Questro in a nutshell
Vast and grandiose, El Questro is nothing short of spectacular. The working cattle station is located in the East Kimberley region, spanning 700,00 acres across some of Western Australia's most unique and imposing landscapes. The legendary Gibb River Road passes through, making El Questro one of Australia's top scenic road trip destinations.
Two entrances are located off the Gibb River Road to get into El Questro: Emma Gorge, home to its namesake gorge and cabin accommodation, and El Questro Station, just 28km apart. The latter is the gateway to the exclusive Homestead accommodation perched atop the striking Chamberlin Gorge and The Station, home of campgrounds, air-con accommodation, and the centre of all social activity.
The station's outlets
It's hard not to feel relaxed and engage in some revelry at The Station. Located next to the Pentecost River, El Questro's main hub – a rustic stone and timber building – houses reception, tour desk, convenience store and happy hour favourite, Swinging Arm Bar. It's encircled by an outdoor seating area adorned by shade cloths and fairy lights, making it an attractive place to unwind at all hours.
Here, you can also choose to watch scenic flights take off on the opposing helicopter pad or sit around the campfire under a starry sky for entertainment value. El Questro's social hotspot also neighbours Cantina, a new food outlet offering affordable pub-style eats morning, noon and night. It's also moments away from The Steakhouse Restaurant, offering an a la carte menu if keen to try locally farmed beef.
Want to savour the flavours of El Questro a little longer? You'll also find an artist in residence, Coralee McCarthy, selling her Kimberley-inspired art wares just a short stroll from the central hub.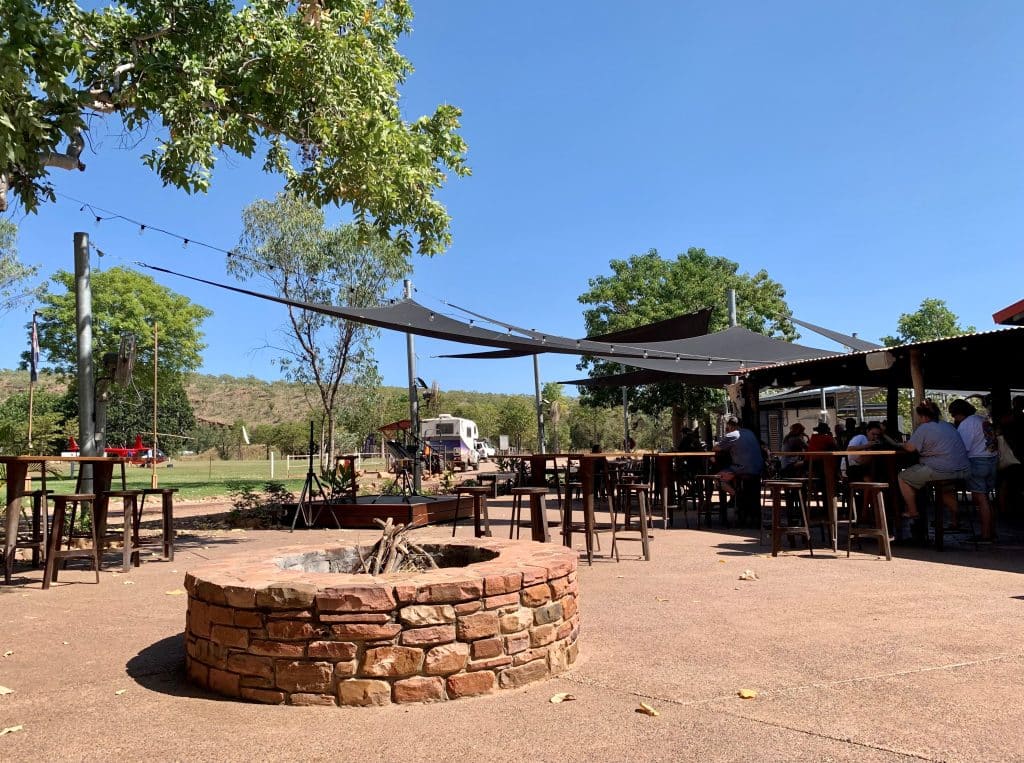 The station's amenities
El Questro's campground is well-catered to host large numbers, and its amenities are proof of that. The Station features multiple flushing toilet/hot shower blocks, kitchens and laundry facilities throughout the shady campgrounds.
Individual bathing boxes featuring a shower and toilet are located next to The Station's main building.
Top things to do in El Questro
Hiking
Are you a lover of getting your muscles pumping and sightseeing all at once? You're in luck as El Questro is home to six self-guided walking trails, ranging in difficulty. Reap the rewards with your careful foot-trotting ways through gorges and climbing boulders with a dip in a natural pool.
Most hikes are a short drive from The Station; however, the most famed hike, Emma Gorge just a short car ride away. Check out the six hiking trails here.
Emma Gorge
Emma Gorge is one of WA's most remarkable natural assets. The poster child of what hidden paradises await in the Kimberley, this spot has all the allure: a natural plunge pool, trickling waterfall and wall-crawling ferns along its soaring cliffs. And it's even better in real life.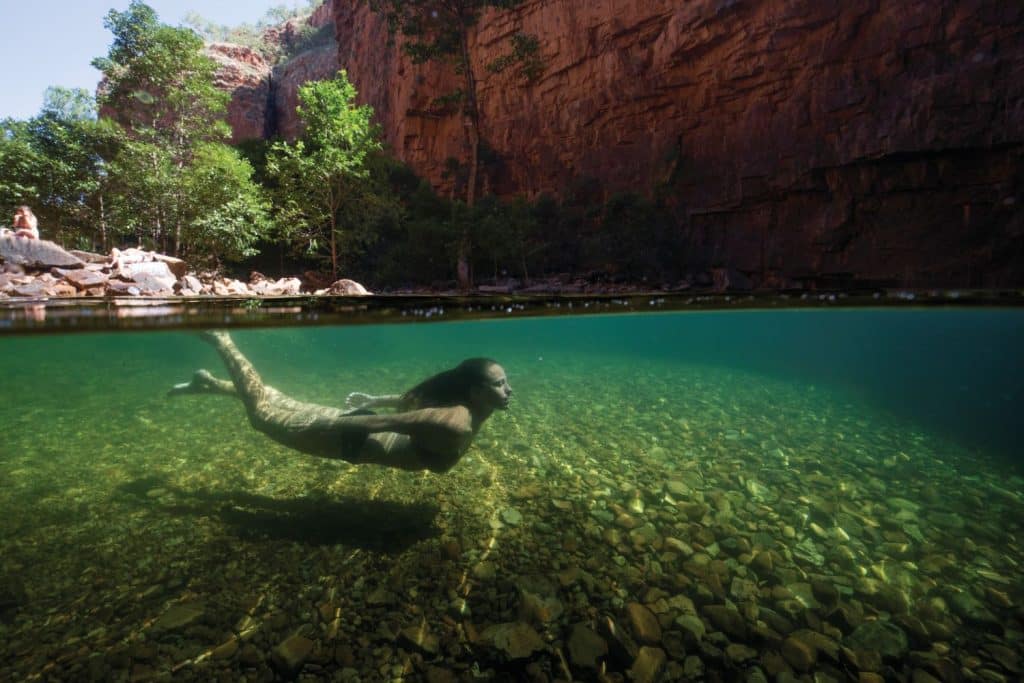 All it takes to reach this picturesque spot is a grade four climb through a scenic section of the Cockburn Ranges. Observe changing vegetation, ancient ripples in the cliffs and boulders of all shapes and sizes. You'll know you 'have arrived' when you become face to face with Emma Falls. What better way to reward your efforts than to have a dip in its heavenly waters? Make sure to find its thermal springs on the right side of the gorge and bliss out.
Chamberlin River Cruise
The Chamberlain River Cruise is a wallet-friendly way to experience the enormity and majesties of the ancient gorges of the Kimberley. On this laidback 1.5-hour scenic cruise, be treated to a glass of sparkling and snacks while you journey through time along a small section of the 150km-long river.
Appreciate ecological processes billions of years in the making, spot diverse wildlife, and even enjoy an impromptu shower by real-life water pistons, the archerfish. It's one wet 'n' wild ride you won't forget.
Horse riding
Experiencing El Questro via horseback is an excellent way to discover the paths less trodden. There are a few options from one-hour to full-day rides suited to all skill levels visiting some of El Questro's secluded gems. The 'off-road' horseback rides traverse rocky terrains and hill climbs and can also include a river-crossing, so giddy up!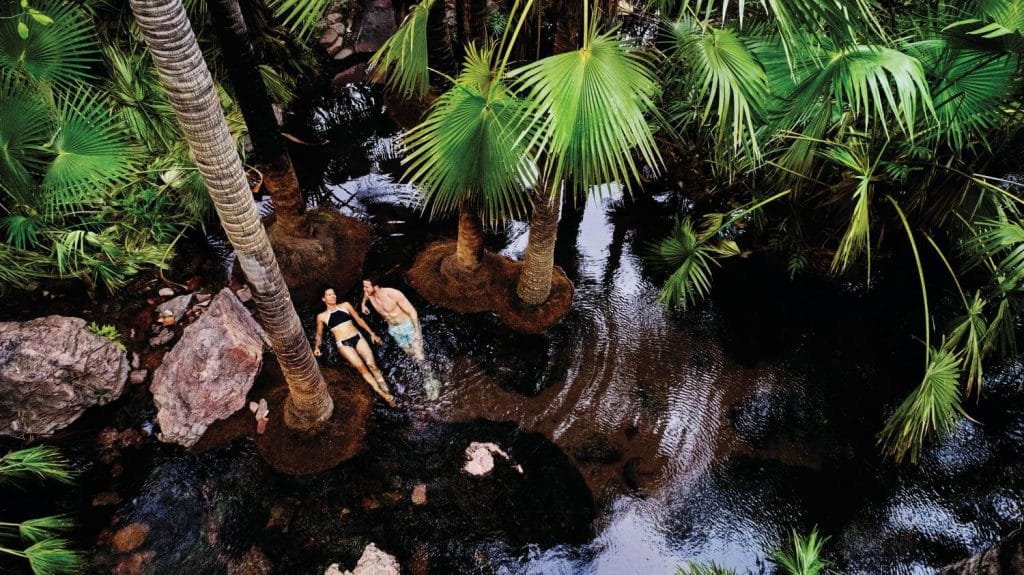 Camping options available in El Questro
Located a short stroll away from El Questro's social heart are the park's expansive shaded campgrounds, sandwiched between manicured lawns and the Pentecost River.
Camping options include:
Unpowered
$23 per adult per night
$9 per child per night (5-15 years)
Children 0-4 years free
Powered
$34 per adult per night
$9 per child per night
Private camping (not suitable for vans)
$31 per adult per night
$9 per child per night
Visitors are also required to purchase a stay permit for park access. These permits go towards track and park maintenance.
Stay permit – 7 days
$22 per adult
$11 per child
Day permit
$12 per adult
$5 per child