Building your own caravan is a labour of love and definitely not a job for those of us think Sikaflex is some sort of weird exercise regime. That said, if you're prepared to put in the hours and you have the skills to do the job properly, you can end up with a custom caravan design that suits your needs perfectly.
This month's DIY caravan build comes from Josh Laing in Western Australia. His 22-foot full off-roader is every bit as good as the big brand names but built at a fraction of the cost. Custom caravans don't come much bigger or better than this.
What did you build?
My build is a 9m (about 22ft body) Quad Bunk Full Off-road '87RV' Custom Caravan
Why did you build your own caravan?
Having come for many years of boating, we took the plunge into caravanning with a new Jayco Expanda June 2018 we used this van quite a lot but I always wanted more.
I built it as I'd looked at many high-end brands like Bushtracker, Kedron, Zone and the likes. I found that if I was to build with one of them there was a wait time and obvious $150k+ price tag. I also found that I liked particular parts from each van. Bushtracker for their interesting and custom layouts, Kedron for their chassis and use of high-quality timbers in their interiors and Zone for their panel construction. I have basically taken what I liked from each and built my van. I have 3 kids and a mother in law that regularly joined us.

What are its special features?
Quad bunk layout, large Enerdrive 400ah lithium setup with over 1kw of solar, 3000w inverter, no gas in the caravan itself as we'll be using battery/inverter power only, electric instant hot water, full-size 340lt Liebherr 240v inverter fridge on dedicated 400w inverter, Cruisemaster ATX air suspension 4500kg ATM, Hitchezy 5t hitch, BOS370 jockey and stabilizers.
What type of construction is it?
Full off-road fairly standard design chassis with one-piece prefinished white fibreglass over Dow RTX core composite panels.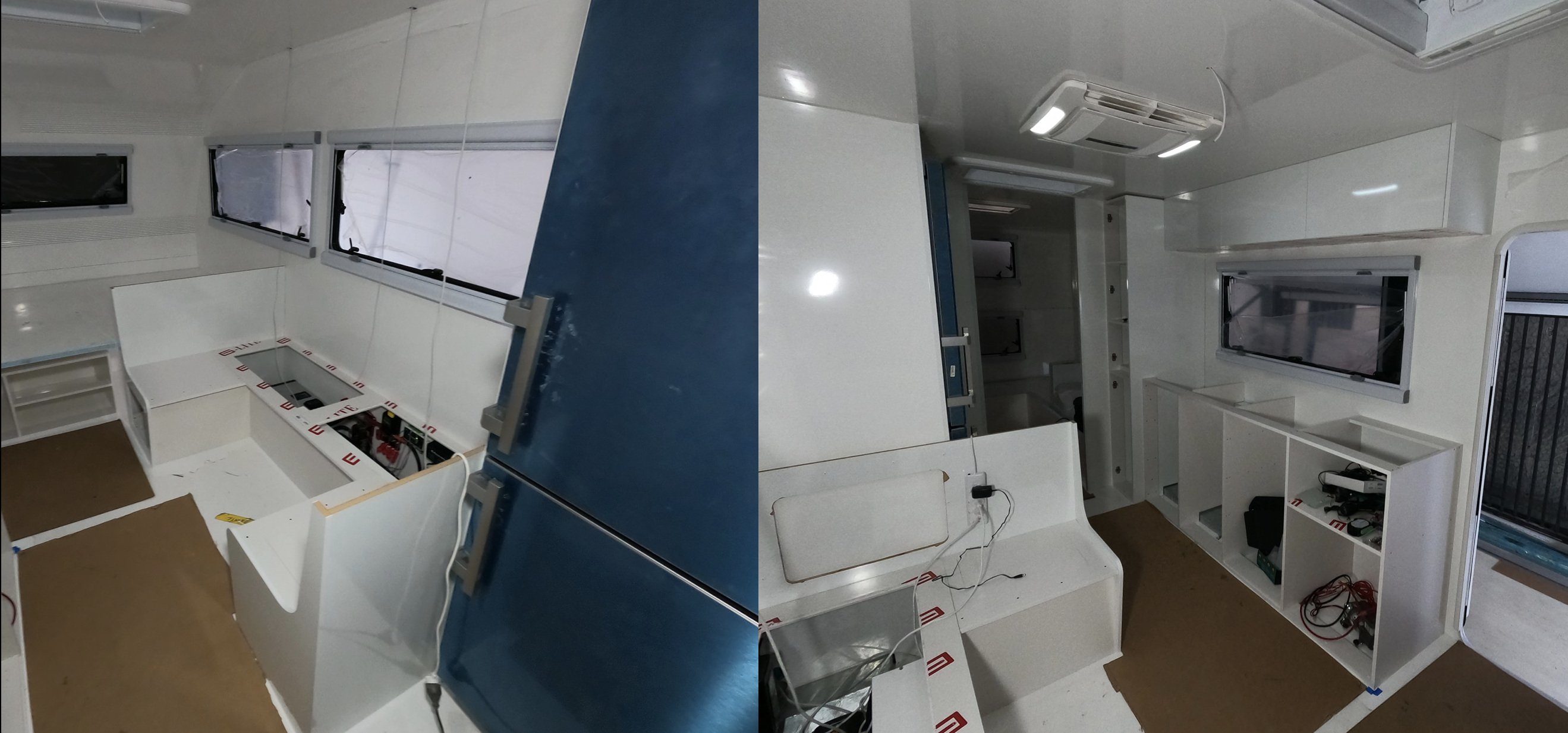 What's your building experience?
I've never built a van previously but have many years of playing with cars, boats and just about anything mechanical. I've had two trades first as a Refrigeration and Air conditioning mechanic and for the last 15 years as a licenced aircraft mechanical engineer. I'm 37 not that it matters!
How long was the build time?
Design started over a year ago. We loved the layout of our Expanda and this is an evolution of that design without the opening ends or slide out. I started ordering parts and chassis build mid-September 2020 and expect it to be completed early March, so about 6 months all up.
Did you get any help from any companies you'd like to acknowledge?
Enerdrive, their assistance in building the system with what I wanted was great.
Advanced Fibreglass Australia, built the panels exactly to my drawings and the final fit was perfect.
DIYcaravan.com.au, supplied most of my parts such as windows, roof hatches, AC, toilet, etc
Hitch-Ezy, I've had this hitch on my old van and it's great to use and very, very well designed.
BOS370, had the jockey on my van for over a year and, again a great product. I can't wait to use the stabilizers as well.
Cruisemaster, The ATX air is like a piece of art and their instructions for installation and service are exceptional.
MADinc, not anything to do with caravans but they are mates and I'm building it in their shop. Without that, I'm not sure where I would've done it! They do car detailing and paint protection for the record..!

Any changes planned to the final result?
Nothing as yet as we haven't finished or used it yet. That said, I always want to try to fit something big into a smaller package! This van is like 24ft crammed into 21-22ft but I would love to get it under 20ft somehow.
You can see more of Josh's build by visiting his Facebook page including some pretty nifty time-lapse videos of major parts of the construction. If you're intending to build your own caravan using composite panels, Josh's page is a wealth of information.
If you have a DIY caravan build that you reckon Australia would love to see, drop us a line at sayhello@rvdaily.com.au or use our contact form by clicking here.