Whether you call them hybrid campers or compact caravans, small off-road vans are increasingly popular for their versatility and ability to facilitate adventure off the beaten track. Here's our pick of five excellent Australian-made options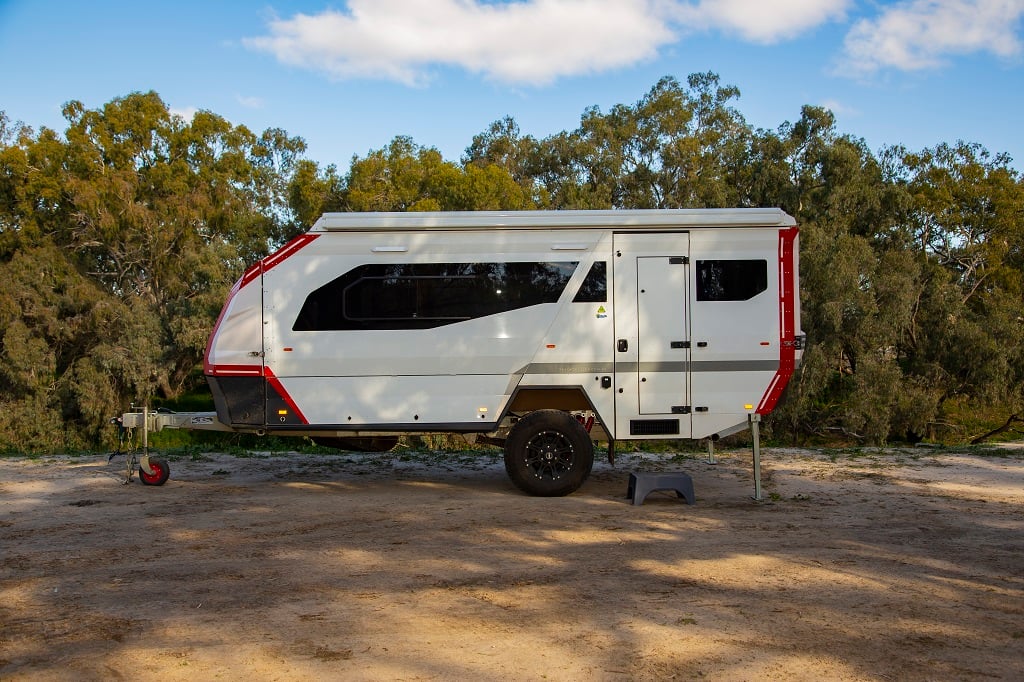 TRACK TRAILER T4
Price: From $105,720
Track Trailer is one of the most recognised and trusted names in the Australian off-road RV game. It's been making off-road camper-trailers for more than two decades and attracts legions of loyal owners and fans who tow their 'Tracks' with pride to all corners of Australia. Made in Melbourne, Track Trailer products are high end and while the price tag reflects that, quality and resale value are top-notch.
In recent years Track Trailer has branched out into what it calls 'hybrid' camper-trailers; compact, hard-shell units with the comforts of a caravan and the off-road attitude of a camper-trailer.
The brand has recently released its T4 range; the next evolution of its popular Topaz hybrid. There are three models in the range, offering your choice of internal or external bathroom and kitchen, plus the option of bunk beds.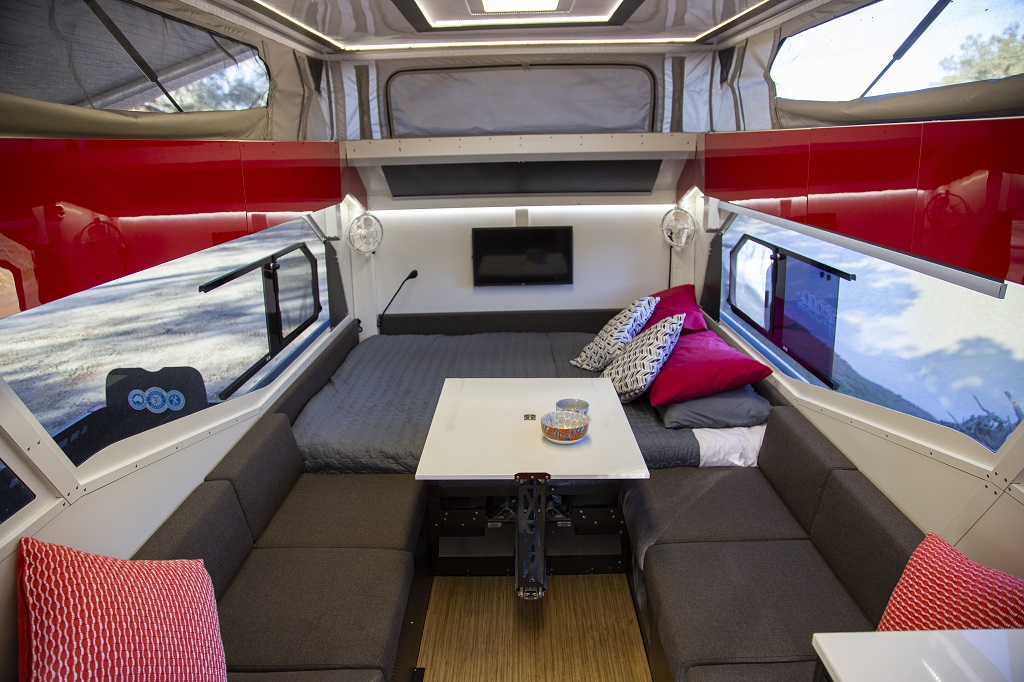 Track Trailer designs and manufactures its own chassis and 'MC2-R' military-grade suspension, walls, doors, windows and cabinetry, claiming to use no off the shelf parts, so the T4 is a cohesive unit that is fit for purpose.
The unit has some impressive technological inclusions like an electronic lifting roof, awning and app control via Redarc's RedVision Total Vehicle Management System.
Thumbs up for off-road touring:
Thick automotive rubber seals for effective dust sealing
Custom military-grade MC2-R suspension
Quality electrical set-up with solar and inverter
For more info and specs, click here.
Watch Video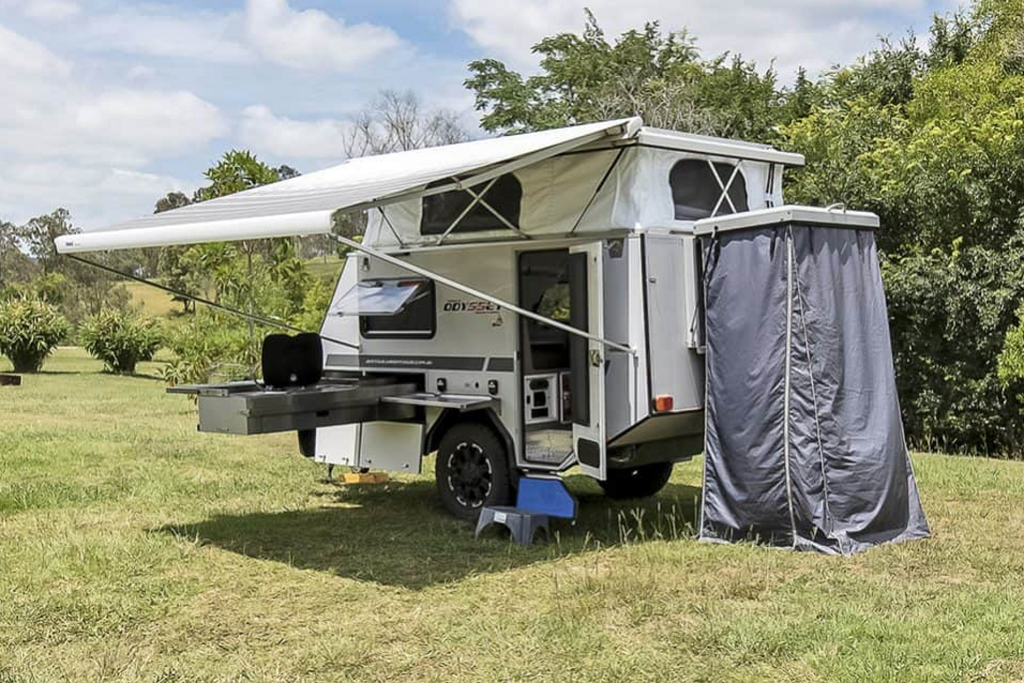 AUSTRALIAN OFF ROAD ODYSSEY
Price: From $71,900
Another stalwart of the Australian-made RV scene, Australian Off Road (AOR) has been manufacturing quality products on the Sunshine Coast since 2000. Building what it calls 'super campers' (as opposed to hybrids or caravans), the brand prides itself on its off-road credentials, comfortable design-forward interiors and excellent aftersales support. Like Track, AOR is a premium Aussie-made product at a premium price point with products that have stood the test of time and as such attract good resale value.
With a range of 'super campers' on offer that would all fit the bill for inclusion in this list, we've selected the Odyssey for its compact dimensions at just 11ft, and low towing weight – 1400kg Tare and 2000kg ATM (optional to 2500kg for a seriously huge payload). It's suitable for medium size 4WDs. Like all AOR products, it has an off-road chassis and suspension system and excellent departure angles to handle rough and steep tracks.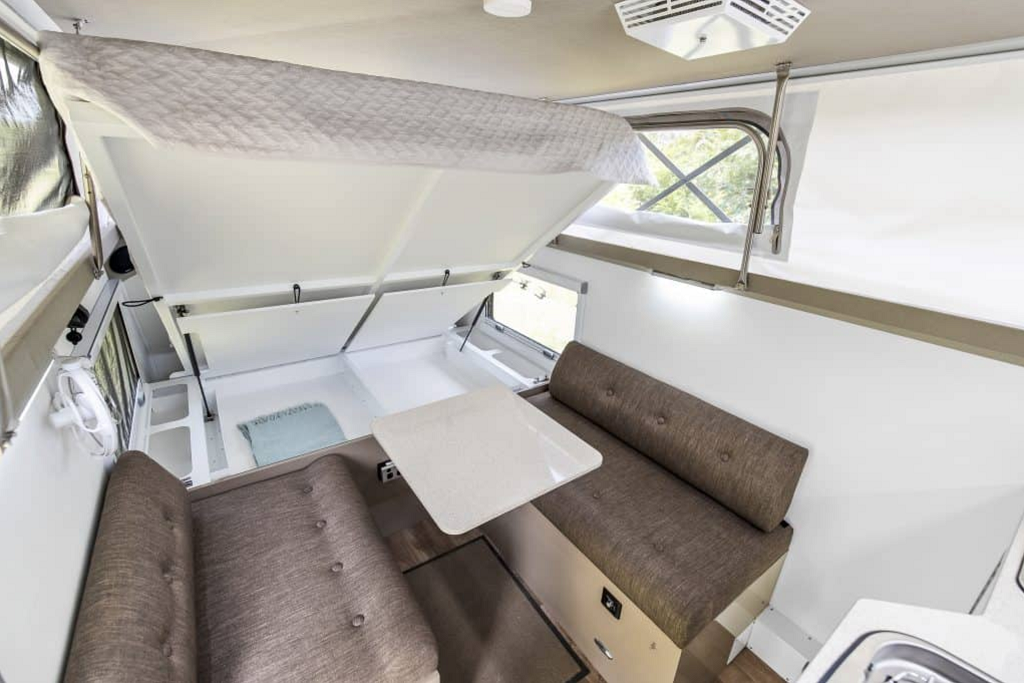 In an 11-foot van clever design is a must and the Odyssey manages to fit in a queen bed (which hinges upward and out of the way for 'day mode') and an internal kitchen, with a second external slide-out kitchen and an external rear lift-up 'shower pod'.
Thumbs up for off-road touring:
30-degree rear departure angle
Compact and lightweight with excellent payload
300 watts of solar and 1000-watt inverter
For more info and specs, click here.
Watch Video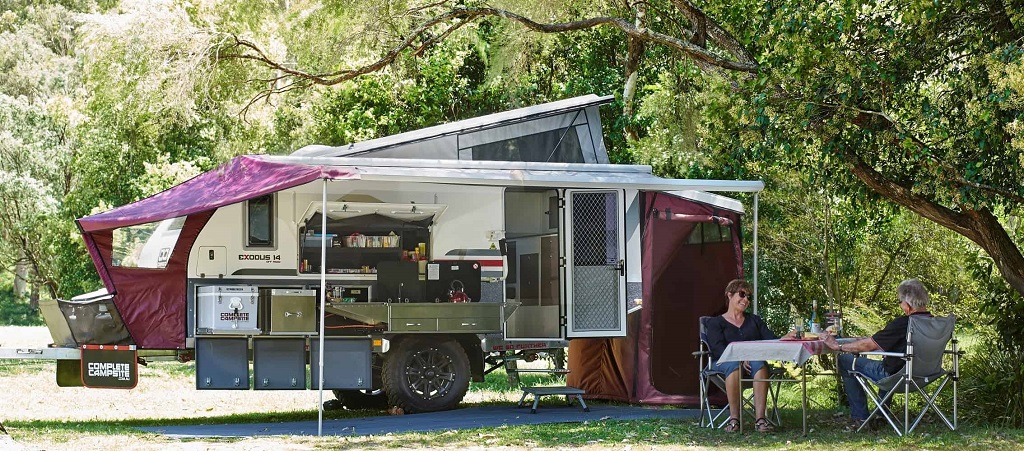 COMPLETE CAMPSITE EXODUS 14
RRP: From $104,950
Complete Campsite is yet another revered name in Australian RV manufacturing. It began with soft-floor camper-trailers in the 1990s, and today manufactures a range of camper-trailer and 'hybrids' at its factory on NSW's Central Coast.
Complete Campsite's hybrid range is the Exodus, which is available in multiple sizes from nine to 16-foot, but we've selected the Exodus 14 for its all-round comfort and capability. Using CAD design software, the Exodus 14 is built from a monocoque moulded fibreglass shell that offers rigidity, strength and insulation for tough off-road conditions. With independent trailing arm coil suspension and twin shock absorbers on each wheel, it's off-road-ready. The Tare weight is 1800kg with an ATM of 2500kg, so it's suitable for medium-size 4X4s and has plenty of payload.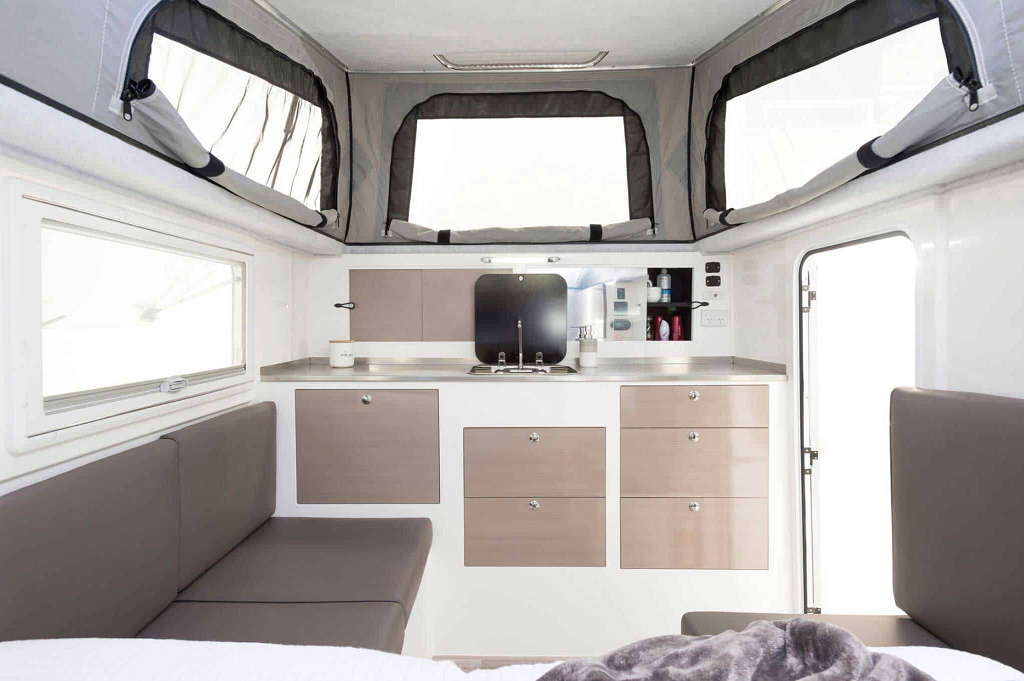 Inside, the pop-top Exodus 14 has a queen-size bed and comfortable lounge area, plus a 'kitchenette' with a sink, hot water and plenty of bench space. The full kitchen is a well-equipped external slide-out/swing around design that sits parallel with the van beneath the awning. The ensuite, similarly to the AOR Odyssey, is an external rear lift-up/canvas design.
The Exodus 14 has a quality electrical set-up with Redarc Manager30 BMS, a 2000W inverter and 300W of roof-mounted solar.
Thumbs up for off-road touring:
270L water storage across two tanks, both well-protected
Strong monocoque fibreglass body
Automotive pinch weld dust seals with compression locks
For more info and specs, click here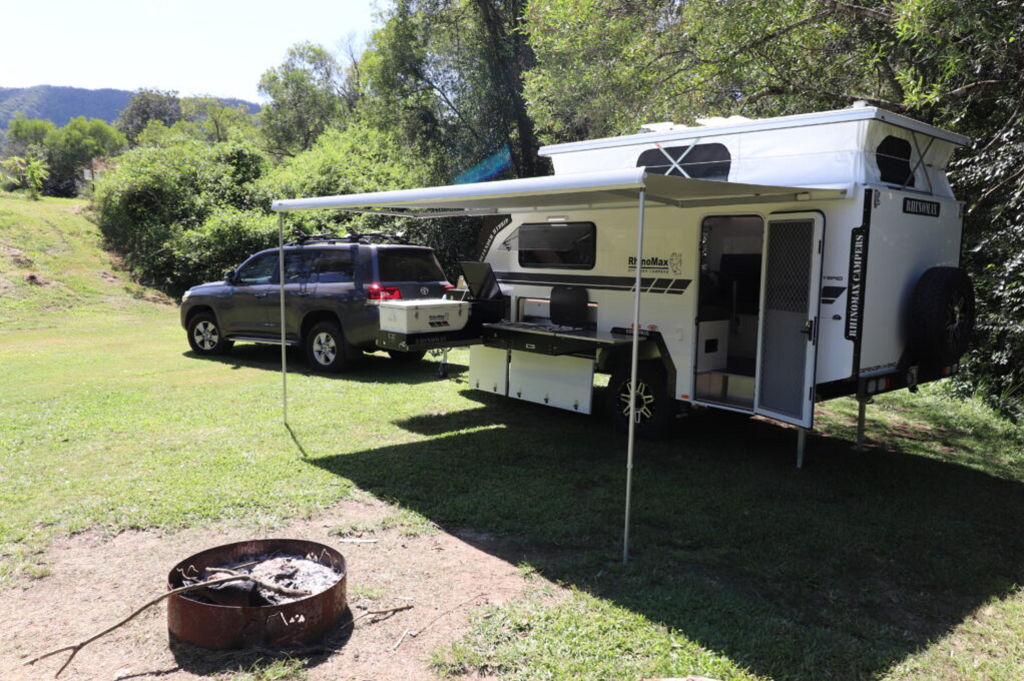 RHINOMAX DEFENDER 15FT HYBRID
Priced from: $95,990
While it may be a much younger company in relation to RV manufacturing than the others on this list, Rhinomax has decades of experience in industrial engineering and reckons its products are as good as any you'll find in Australia. It lays claim to being the first company to make use of fibreglass composite panel construction, now popular with other manufacturers in this corner of the market. Rhinomax specialises in 'hybrids', with a range of models on offer starting from 10 foot. We've selected the 15-foot Defender model for this list.
Like all its products, Rhinomax says the Defender is 100% manufactured within the walls of its Sunshine Coast factory using SolidWorks 3D design software and precision laser cut components. It has a full-length galvanised off-road chassis and Cruisemaster all-terrain suspension with twin shocks, and the option to upgrade to air suspension. The Defender's walls and roof are comprised of 30mm panels with a high-density closed-cell foam core and no internal framing, so Rhinomax says they will not rot or go mouldy.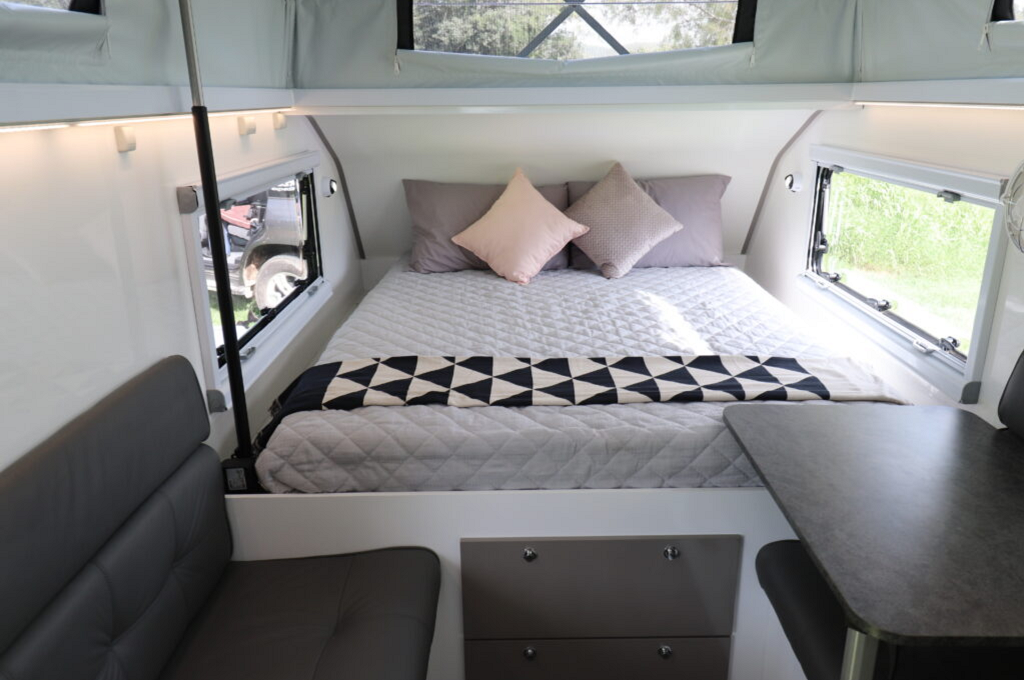 The external slide-out 'expandable' kitchen is slimline and stylish, sitting beneath an oversized awning that is the largest in the Rhinomax range. Inside, there's a bathroom complete with shower and toilet with 85-litre grey water tank. There's the capacity for 215 litres of fresh water storage.
Thumbs up for off-road touring:
Impact-resistant fibreglass body panel construction
Vibration-proof composite cabinetry
Full-length chassis with integrated subframe
For more info and specs, click here.
Watch Video 

JAYCO CROSSTRAK
Priced from: $42,990
Getting aboard the off-road hybrid craze is Australia's largest RV manufacturer, Jayco, which launched its CrossTrak line in 2019. Also available in a 13-foot model, we've opted for the 16-foot version for this list because we like the addition of an internal bathroom, or alternatively a set of bunks and an external rear ensuite.
Manufactured in Jayco's Melbourne factory, the CrossTrak is an affordable Aussie-made hybrid that competes on price with imported Chinese vans and represents excellent value at less than half the price of other vans listed here. It's unlikely to have the quality of finish and finesse of others on this list, but if your budget is under $50k, this is a good place to look.
The CrossTrak has some worthy off-road inclusions, like Jayco's own JTech 2.0 trailing arm suspension and Endurance 2.0 chassis.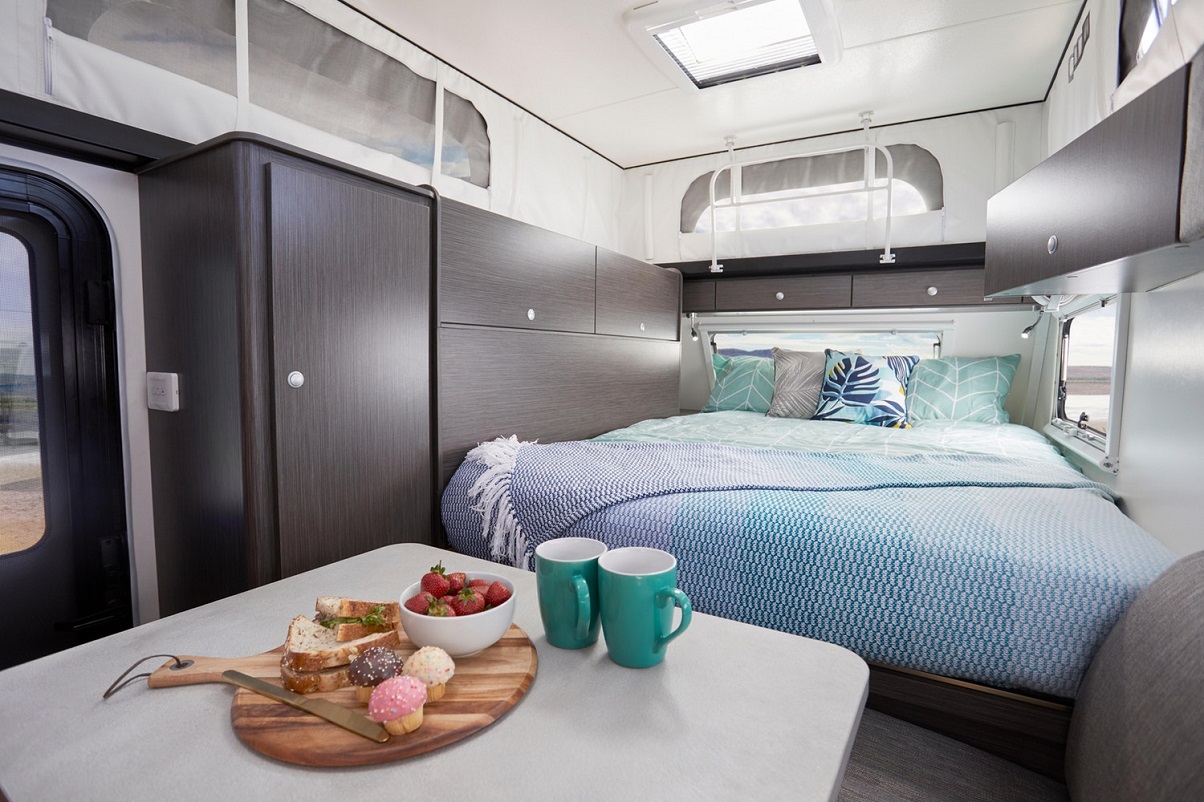 The kitchen is housed within an external hatch, a two-burner gas stove, sink and bench space, with a 55-litre fridge are housed in a separate slide-out storage area. The CrossTrak is equipped with a 100 amp hour battery and 150-watt solar panel, plus Jayco's own battery management system that connects to the JHub phone app to monitor battery and water usage.
Thumbs up for off-road touring:
Insulated 'Toughframe' walls
JTech independent suspension
Streamline hot-dip galvanised chassis
For more info and specs, click here
Watch Video
Part one, Tips for buying an off-road caravan or camper read here