The Adria Action 361 is at the small package end of lightweight vans but is the offer of a little Action too good to pass up?
With a new Subaru Outback and an Adria Action on offer, it didn't take long to come up with the idea of a weekend winery tour. The Adria and Subaru were the perfect combination to access smaller boutique wineries, which often do not have large car parks or wide driveways – a great excuse to check out (and sample!) some of our local produce.
EXTERIOR
Does my butt look good in this? We all know the only safe answer is to feign deafness and walk away, or perhaps create a little white lie to keep the peace.
The Adria Action 361 LT is a van that has a very different butt and we were reminded of that many times as we toured the wineries and received comments on the unique-looking bubble butt.
The body of the Adria is a combination of thermoformed ABS sidewall skirtings, impact-resistant ABS plastic front and rear walls and structural sandwich panel FRP exterior with plywood interior on the sidewalls and roof. There are plenty of windows and hatches that provide an amazing amount of light and airflow, and great views.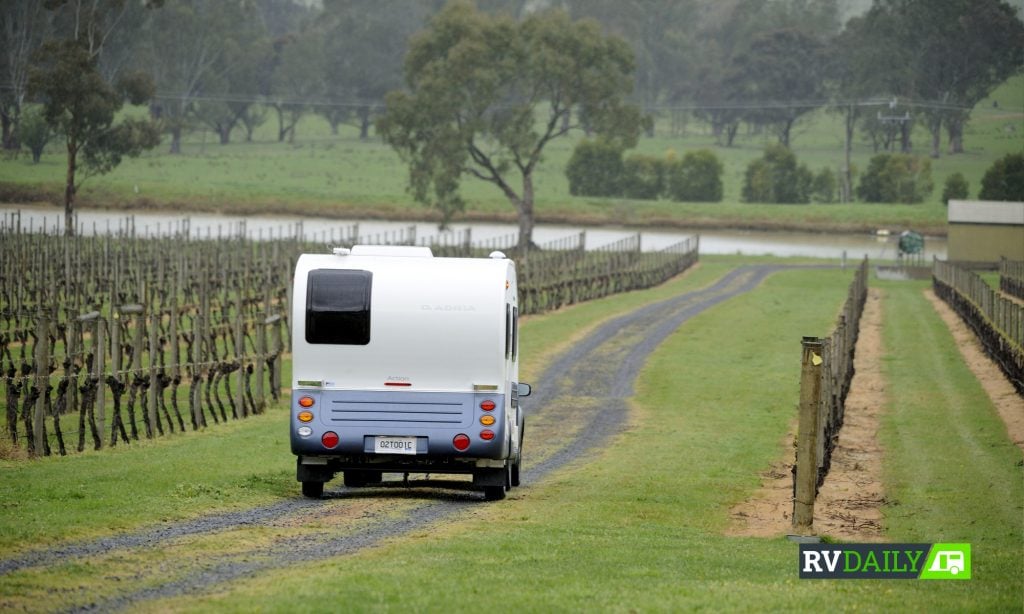 The two-piece fibreglass 'barn' door is definitely a characteristic of Adria and it can be quite handy. There is an integrated flyscreen with this as well.
The mechanicals are virtually all AL-KO. These include a hot-dipped galvanised chassis, single-axle with rubber torsion system, over-ride mechanical braking system, shockers, anti-sway coupling, jockey wheel and even the wind-down stabilising legs are AL-KO. Alloy wheels are shod with 185 R14 tyres.
On the A-frame is an ABS plastic cover. Around the body are water filling connections, hatches to access storage under the bed and a gas locker housing one 4.5kg bottle with a second available as an option. There is also an external barbecue bayonet fitting. A hatch on the passenger side allows for the TV to be plugged in for outside viewing along with 12-volt and USB outlets.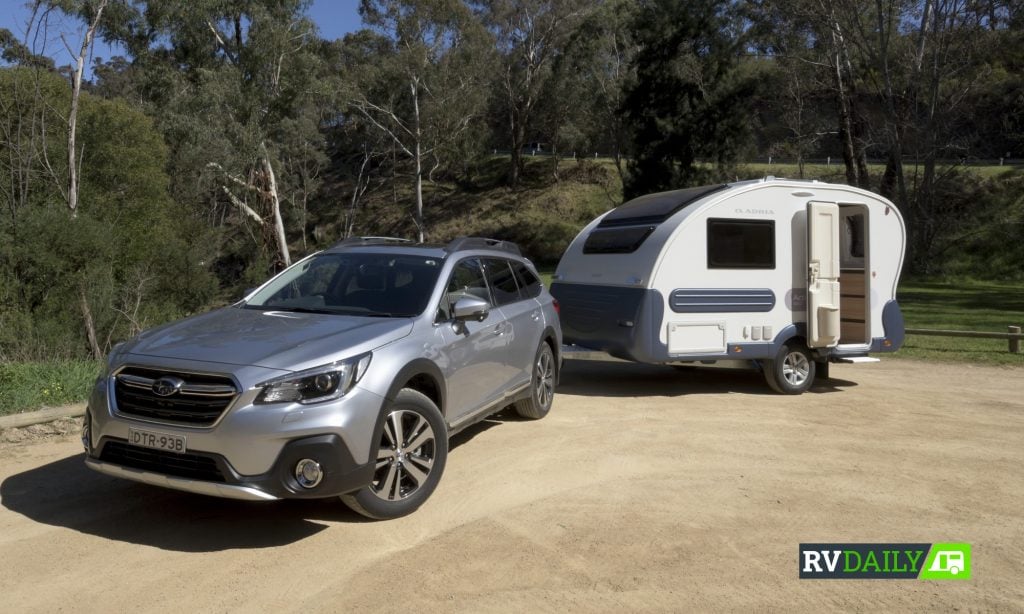 The drop-step is manual and seemed to catch a little on the anti-slip rubber strips a bit, making it hard to use at times.
There is an option for an aftermarket awning or annexe with sail track mounted and ready for these to be fitted easily. Solar is also an option.
INTERIOR
Stepping up into the Adria, the first thing you'll notice is the light, bright feel and, considering the small interior, it's very open. The kitchen sits to the right of the door across half the rear of the van to the ensuite wall.
A Dometic two-burner cooktop and sink with flick mixer is located nearest to the ensuite. With no rangehood fitted in the kitchen area, the window above the stove perhaps doubles as a vent.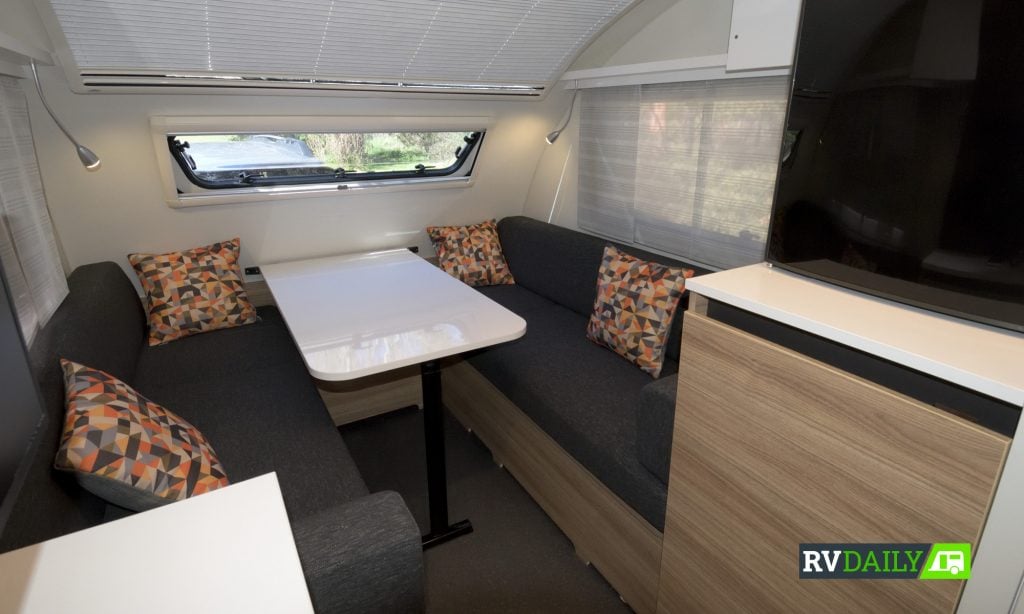 There's good storage space in the kitchen above and below the benchtop where a small microwave could be fitted. The bottom drawers are shaped on an angle and hit the bin located on the main entry door when opened fully – a little annoying, but the space is still accessible.
The ensuite on the driver's side at the rear of the van is quite neat. There's a Thetford toilet, shower and an acrylic drop-down hand basin. Above the basin are two mirrored cupboards. Backlighting behind the shower wall is really nice, offering a soft feel to this room.
A Dometic RM8501, three-way, 90-litre fridge acts as a boundary between front and rear zones. The surrounding storage is good and access to the fridge is easy.
Opposite the ensuite is a storage cupboard where a 19-inch LED TV/DVD unit is mounted. Signal for the telly is via a Winegard Sensar aerial. Sound entertainment is via a Bluetooth connection, so everything can be handled from a phone or tablet.
At the front of the van are two dinette seats, one on each wall. These seats are nice and comfy to lounge on. The dining table is removable and folds down into the seat frame to form the bed. Having to make the bed every day may become a bit painful for long-distance touring but it does save a lot of space, which makes it perfect for a lightweight weekender – it's main use?
Under the driver's side seat is a Camec 120Ah battery, a Truma hot water service, and a 50-litre water tank.
Under the passenger side seat is a Truma Saphir ducted AC/heating system. There are hoses and pipes that will require care when packing things in these storage spaces to avoid damage.
Verdict
I can see the Action as a great weekender when it's not a problem to deal with bed making every night. I liked the interior layout for storage and practicality in such a small van.
I didn't like the bin being in the way of the slide-out drawer, and we found the vents will let in a little dust, however, I loved the big hatch above the bed for being able to see the sky.
The Action grows on you, and for around 37Gs it's not a bad price for a van with ensuite that's easy to store and use. It's worth noting a two-year Adria warranty and their seven-year water ingress warranty.
BRIEF SPECIFICATIONS
External Body Length: 13ft 2in (4.01m)
External Body Width:  6ft 10in (2.08m)
Tare Weight: 960kg
ATM: 1400kg
Max Ball Weight: 100kg
Price as tested: $37,000 drive away Ex Melbourne (correct at time of review).
For more information click here
PROS
Lightweight
Groovy look
Ensuite
Towability/Manoeuvrability
Seating positions
CONS
Making the bed every night
Vents in the floor let in some dust
Bin gets in the way
No microwave as standard
SUBARU OUTBACK TOURING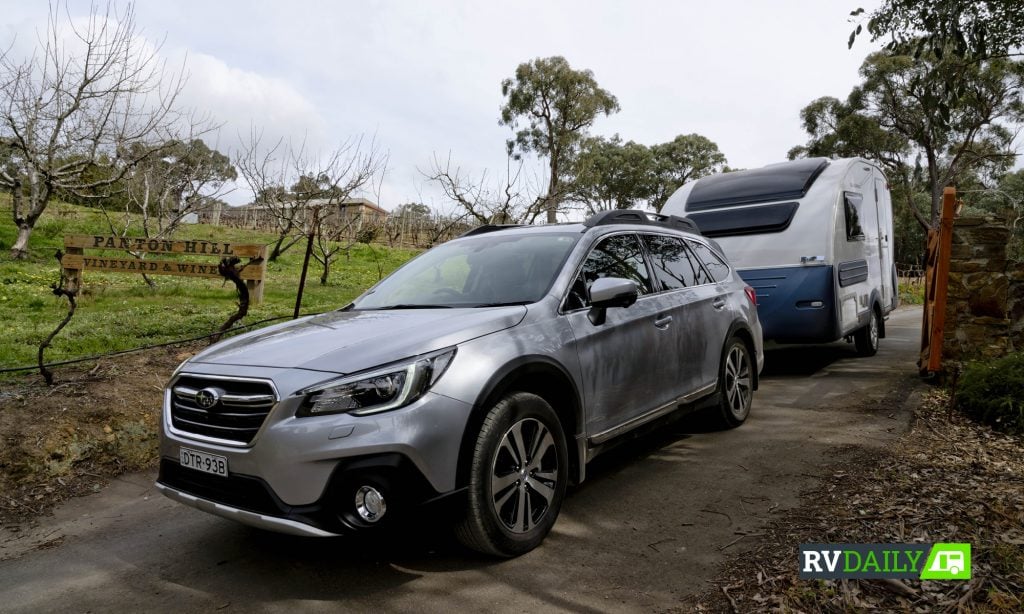 Subaru's Outback is a popular seller and provides plenty of space inside for people and luggage. The Outback was smooth on-road and comes with all the bells and whistles expected of a contemporary vehicle. Electronically, I enjoyed finding out how everything worked and how functions could be switched off too. For example, the blind-spot monitoring goes off a lot when it senses the caravan behind you!
The 2.5-litre DOHC 16-valve engine develops 129kW at 5800rpm and 235Nm at 4000 revs. Coupled with a CVT auto and Active Torque Split AWD, this engine offers capable touring by itself but there's still plenty of grunt when towing, as I discovered in the Christmas Hills.
On smooth roads this combo was great but on the secondary bitumen and dirt roads, it was quite jerky at times. I believe this was a combination of a single-axle van and softer suspension in the Suby. Some stabilising gear would, of course, fix this issue.
The Subaru was an easy to drive and user-friendly, feature-packed vehicle that was more than up to the task of this test. For lightweight touring and weekday commuting, it would slot into the dual roles that many families would expect and enjoy.
Words and images Anthony Kilner.