ACCESS TO THIS VINTAGE VAN TAKES YOUR FOLDING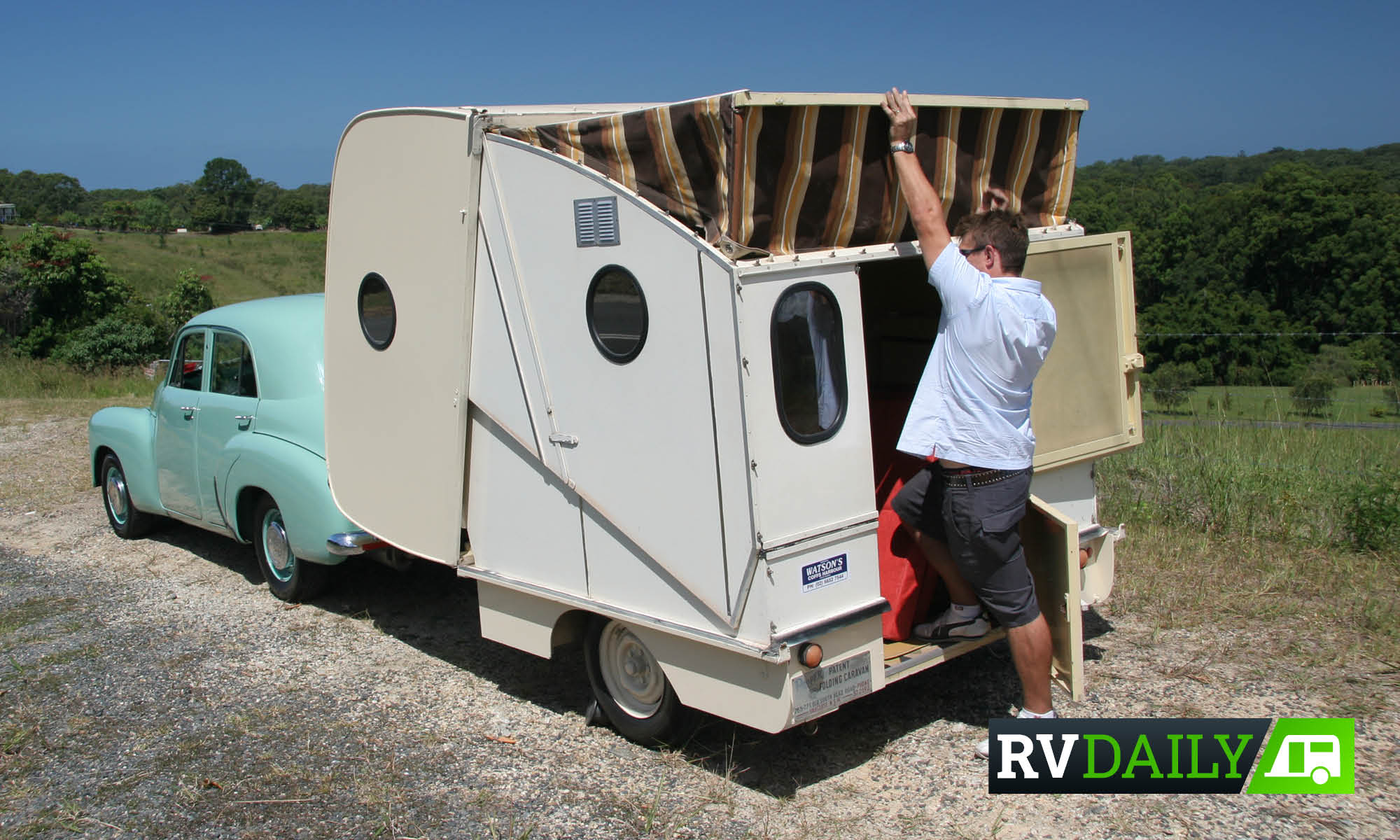 CLICK HERE TO READ THIS STORY IN OUR ONLINE MAGAZINE
They may be old, but this 48/215 Holden and Propert Overlander folding caravan are still rockin'
WORDS & IMAGES MARK ALLEN
A 1951 48/215 (also known as an FX by many) Holden and a 1955 Propert Overlander folding caravan aren't what you'd expect to see trundling down the road these days. But this pair is still going strong and has been lovingly maintained by the Watson family from Watsons Caravans in Coffs Harbour.
This old couple was spotted being driven by Kris Watson around the mountains of Coffs Harbour and, while he is nowhere the age of either the Holden or the Propert, his proficient double-shuffle gear changing of the 'crash box' and laid-back slouch in the bench seat suggests he's taken possession of the old pair a few times before.
While the full history of this particular Propert folding caravan isn't known, it's all A1 original condition, other than a lick of paint and replacement canvas.
The day out with Kris showed how well the lifting mechanism worked – it's over a half century old, remember – and how easily the whole unit transformed from a small, squat inaccessible box on wheels, to a handy little caravan suitable to sleep up to three people, albeit more suited to two. A testament to the workmanship and design of the anufacturers.
The leverage and spring-loaded opening mechanism enables almost any person to easily set up the van single-handed. A drop-down axle with good ol' horse and cart leaf springs carries the van. Once you've re-arranged the mattress inside, you've got a (short) double bed at the front. On the off-side is the kitchen, which incorporates a sink, drain board, gravity fed water tank, two-burner stove and storage, while the near side has a small table and storage underneath.
The Propert weighs in at just over quarter of a tonne and has closed dimensions of 1.83m (6ft) long, 1.6m (5'3") high and 1.82m (6ft) wide. Once opened, it is 2.74m (9ft) long and 2.28m (7'6") high, while the width remains at 1.82m. Inside, the opened Propert allows 1.9m (6'3") of head room.
This particular van has the serial number '5.257', which translates to a manufacturing date and build number of 1955 (the 5 before the decimal point) and is the 257th (running tally) Propert folding caravan to be made – not a bad effort for being all handmade.
The Propert caravans were manufactured in Old South Head Road, Vaucluse, Sydney, by the Propert family and their business Propert Gold Seal Products, from as early as 1952 – which is when the original patent was taken out. Englishman Thomas Propert arrived in Australia with family in tow in 1877, manufactured high-class vehicles, bus bodies, wine barrels and even egg beaters and was a member of the Australian Caravan Manufacturers Association. Later, patents were taken out in New Zealand, England and America – perhaps a vision of the popularity of caravanning in the future.
The Propert folding caravan manufacture ceased in 1972 after having changed address a few times, but always from the same street and suburb of Sydney. Thomas passed away in 1969.
In the mid '50s, new prices ranged from $295 up to $445 which got you anything from an unfurnished, unpainted small-wheeled Propert, right up to a completely decked out Propert as you see here.
Do you happen to know the history of this Propert Overlander folding caravan, with serial number 5.257? Perhaps your family purchased it new in Sydney, or maybe you traded it in for a newer van at the caravan yard in Queensland where the Watsons found it. If you can shed light on it, we'd love for you to drop us a line at
RV Daily.