FIND THE TRAXX MADE BY THIS ON THE MOVE VAN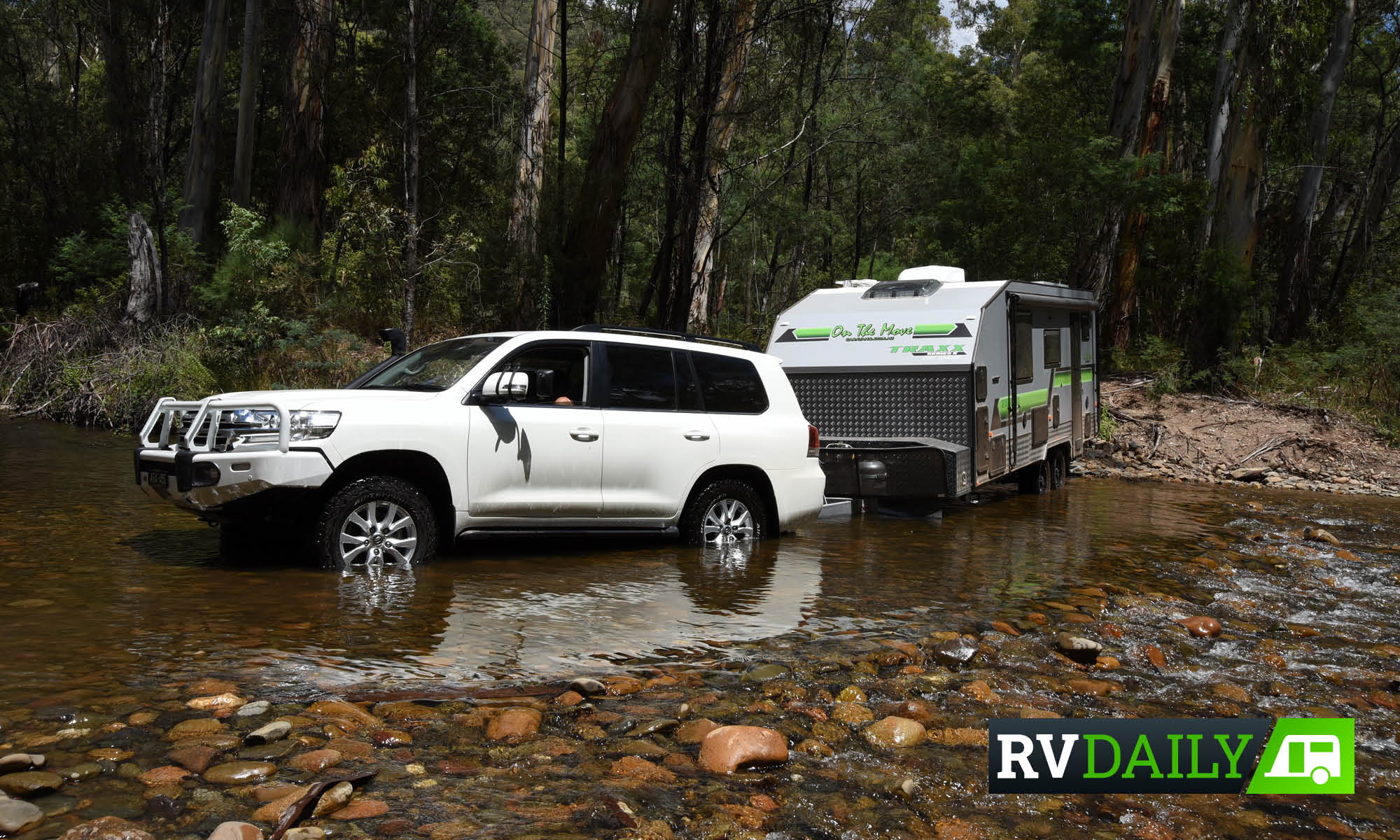 CLICK HERE TO READ THIS STORY IN OUR ONLINE MAGAZINE
When Canterbury and On The Move caravans teamed up, the result was a highly spec'd, very practical dirt road tourer. But is there enough bang for your buck?
WORDS & IMAGES ANTHONY KILNER
When RV Daily first contacted Ian Sadler, Canterbury Caravans Sales Manager, to discuss a possible review, Ian was more than keen to showcase his design work on a new On The Move dirt road van. It wasn't just the design work and the van itself Ian was keen to show off; he was even more enthusiastic about getting it off-road and was happy to head 3.5 hours out of Melbourne to put the van through its paces.
On a day where the temperatures nudged 30 degrees and on some very dusty back roads, we pulled into a beautiful spot on the river near Mansfield. Several things jumped out at me immediately: first, the van had no dust inside; secondly, it sat really well on the corrugated roads leading into the campsite; and thirdly, the ground clearance allowed this van to get through several washaways easily, and helped when it came time to do several water crossings as a part of the photoshoot later on.
These points boded well for what I was going to experience shooting the Traxx Dirt Roader.
DEALER OPTIONS
Canterbury Caravans, as the dealer working with us on this review, wanted to showcase just what could be done with the On The Move Traxx, so it added a raft of dealer options. These included a Cruisemaster 3.7t independent suspension system, MC off-road hitch, 16-inch alloy rims and tyre package, DSC braking system, a three-arm rear bumper, Traxx stone guard and a large front storage locker. Extra storage was also added with an external locker and a gal-lined front tunnel boot.
Other items included an external shower, Weber barbecue and slider, a picnic table, reversing camera, upper tunnel boot, pull-out entry step, two 150W solar panels with controller and an extra 100-amp hour battery to provide some serious power for when you want to free camp.
Internal options included an upholstery upgrade, water filter tap combo and a 190-litre compressor fridge. All those extras are pushing around $20,000 but they really turn this van into something special when it comes to capability, comfort and looking the goods.
OUTSIDE
The Traxx starts life with a Supagal chassis and an extended drawbar. The upgraded suspension, wheel and tyre package and 12-inch brakes with anti-swerve controller are mentioned in the options list. What's left of the standard package includes twin 95-litre water tanks with an extra 95-litre grey water tank, shielded of course. Stabilising legs, mud flaps and some reasonably tidy pipe work and plumbing underneath round out the basic mechanicals.
Around the body the Traxx comprises compression-style walls that are CNC routed for a neat fit. There's chequer plate aplenty for the rugged off-road look – Canterbury Caravans refers to it as body armour. A one-piece floor is also used, and the van has further insulation in the roof and walls as standard.
Ranger double-glazed windows feature in the body while an Aussie Traveller awning helps create shade and offers protection from the weather. A triple-lock door with grab handles allows easy entry into the van. In the roof there are a couple of big hatches, and a Gree AC unit and digital antenna are mounted on the roof as well.
On the A-frame standard features include twin 9kg gas bottles and an external tap. The package also includes a barbecue light, two awning lights, two external speakers, an external shower, an entertainment locker and some striking graphics.
The overall look is groovy and rugged. The upgraded mechanical package adds to the way this van handles on and off-road and the sheer volume of storage lockers is pretty amazing. It's a good package in standard form and an excellent one with all the options.
INSIDE
Neat, tidy and practical are three ways to describe the interior layout and colour scheme used in the Traxx. Oh, and you could also say 'bright'. The darker tones in the trim and upholstery are low and it gets lighter moving up to the walls and roof. It will be easy to maintain and keep clean while touring too, and that's a bonus I reckon.
As I describe the internal layout, keep in mind that it's a 20-foot body and, while space is tight, the design is excellent.
Across the back wall is an ensuite complete with separate shower, top-loading washing machine, swivel toilet, ceramic basin and plenty of clever storage space. A large mirror makes grooming easy and hatches above the toilet and in the shower allow for good ventilation.
In the middle of the van is the dinette and kitchen space. The café-style dining is clothed in bonded leatherette. A tri-fold table allows for easy dining or extra room when folded. In the overhead cupboards above the dinette is an electrical cupboard with a Projecta solar controller, Attwood gas/electric hot water, switches, electric water pump and an RV Electrics water tank monitoring system. Just below this cupboard is a Fusion radio with twin internal speakers mounted in the roof.
The kitchen is built with an angled cupboard system and laminate benchtops running from the ensuite to the fridge wall, adding more bench space and storage than a more traditional straight kitchen bench. The sink with flick mixer and water filter is mounted close to the ensuite while next to the fridge is a Swift oven and grill unit with stainless rangehood. Mounted neatly in overhead cupboards above the sink is a NCE RV microwave. There is plenty of storage throughout the kitchen area and while not fitted for this review, a slide-out pantry is included in the package.
At the front of the van is a queen-size, island-style bed dominating the front wall. There's plenty of storage below the bed and in the wardrobes on either side. The hanging space is not deep due to the tunnel boots and shelf area above the draw (accessed from the bed) but, being a guy, I can live with that … although my other half might not be happy about it.
Other features include ball bearing runners on the drawers, LED lighting, LCD TV and swivel mount so the TV can be watched from the bedroom or the dining area.
Internal storage is at a premium because of the overall body length but I really liked the fresh open look this van offers. The interior is practical and well laid-out and will be very comfortable for two.