Outback, forest, beach and bush – we've found you the coolest camping spots for this summer
CAMP 1: Ingar Campground, NSW
When everyone's heading to the coast, why not head to the mountains? In just around two hours from Sydney, there's a lovely spot between Wentworth Falls and Woodford in the Blue Mountains where you can spend the night. Follow the 9.5km Ingar trail and you will happen upon the Ingar Campground, a grassy area bordered by low bush and scribbly gums, not far from the dam on Ingar Creek that's popular for swimming and liloing (paddling in water on an air mattress). You will find a firepit and picnic table at each campsite.
Walkers and mountain bike riders will enjoy staying at Ingar Campground, with many kilometres of well-maintained forest trails surrounding the area. At night, wander around with your torch to spot some nocturnal creatures, including sugar gliders and bandicoots. It's also not unusual to see water dragons sunning themselves around the creek.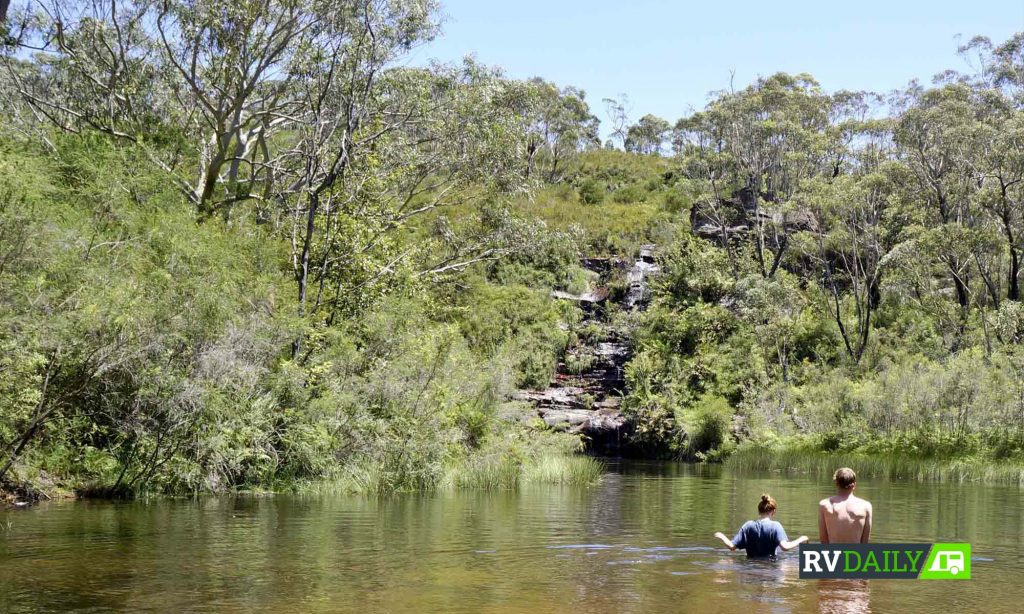 CAMP 2: Boar Gully Campground, Vic
Just 80 kilometres west of Melbourne is the Brisbane Ranges National Park, an area that boasts the state's richest wildflower habitat, set among low mountain ranges and rocky gullies. Bushwalkers flock here for the amazing walks, including the one-hour Anakie Gorge Walk, and the much more challenging three-day Burchell Trail – and everything in between. Swamp wallabies and eastern grey kangaroos can often be spotted among the bush here at the park. For a peaceful, secluded picnic, look for Grahams Creek Picnic Area.
Boar Gully Campground offers an ideal place to settle down for the night after a day of exploring. Non-flush toilets, picnic tables and fireplaces are provided; there is also tank water, but it is not suitable for drinking. There are only six campsites available (plus one to fit a caravan or camper), so campsites must be booked and paid for in advance.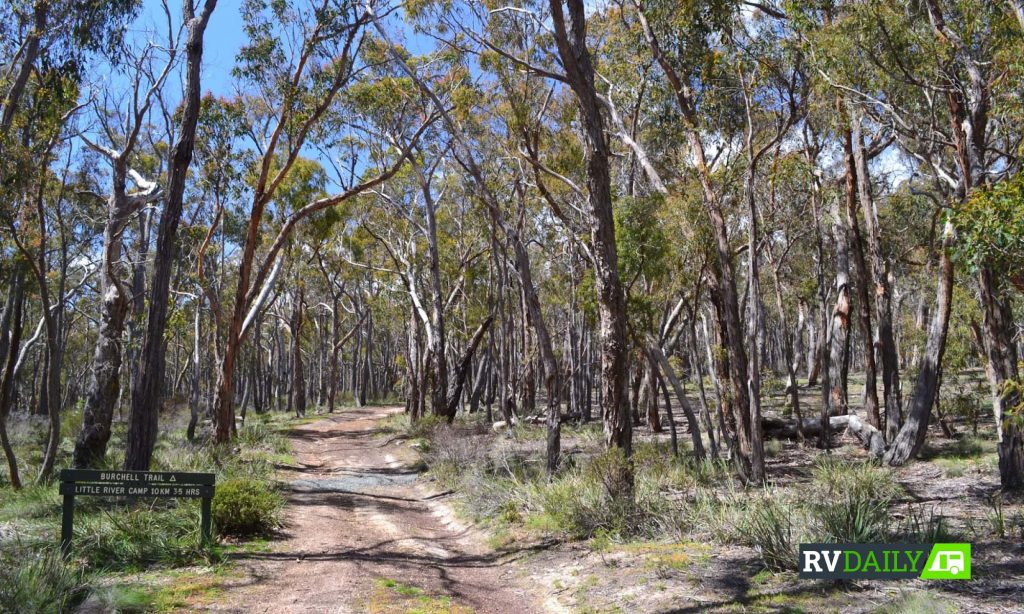 CAMP 3: Mayfield Bay Coastal Reserve, Tas
Naturally, we had to include a seaside destination – it is almost summer, after all. Mayfield Bay Coastal Reserve on the east coast of Tasmania makes for the perfect beachside camping holiday. A 15-minute drive from Swansea and one-and-a-half-hour drive from Hobart, this shady, grassy spot offers spacious sites overlooking the magnificent Mayfield Bay with its white sand and teal waters. There are toilets, fireplaces and picnic tables, but you will need to supply your own drinking water and firewood.
As well as being an ideal beach to fish, swim, surf and dive, you will be able to check out the 1840s convict-built Three Arch Bridge and Spiky Bridge, some of the most unusual looking bridges in Tasmania. Dogs are permitted if you keep them on a lead, and while you can stay for free for up to a month, it's a nice gesture to drop a few coins in the donation box to help preserve the camp.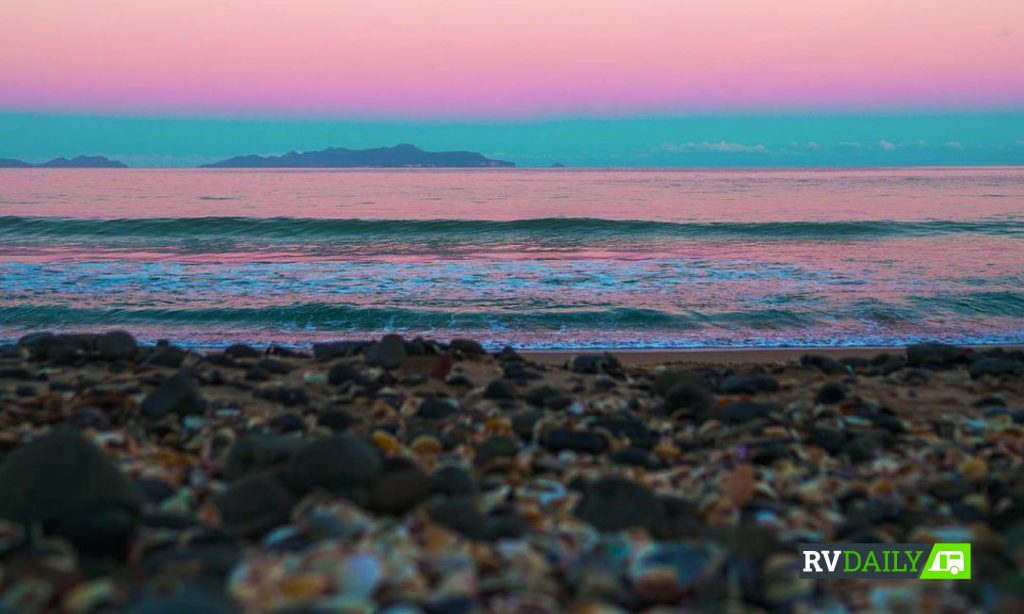 CAMP 4: Charlies Flat, Lane Poole Reserve, WA
Anyone who considers themselves an adventurer should make it a priority to visit Lane Poole Reserve. You simply head 100km south of Perth, and you will find the largest park in the northern jarrah forest, just 7.5 kilometres south of the beautiful country town of Dwellingup (also worth a visit). The Murray River flows through the reserve, which covers around 55,000 hectares of forest home to 500 species of native flora and myriad wildlife.
There are many campgrounds to choose from, but our pick is Charlies Flat, with 16 sites spread out on the banks of the river, plus four sites to fit a camper-trailer or small caravan. With barbecue pits, picnic tables, toilets and rubbish bins, this campground is ideal for families. In close proximity to the river, you can enjoy swimming, canoeing or even white-water rafting, as well as bushwalking and mountain biking.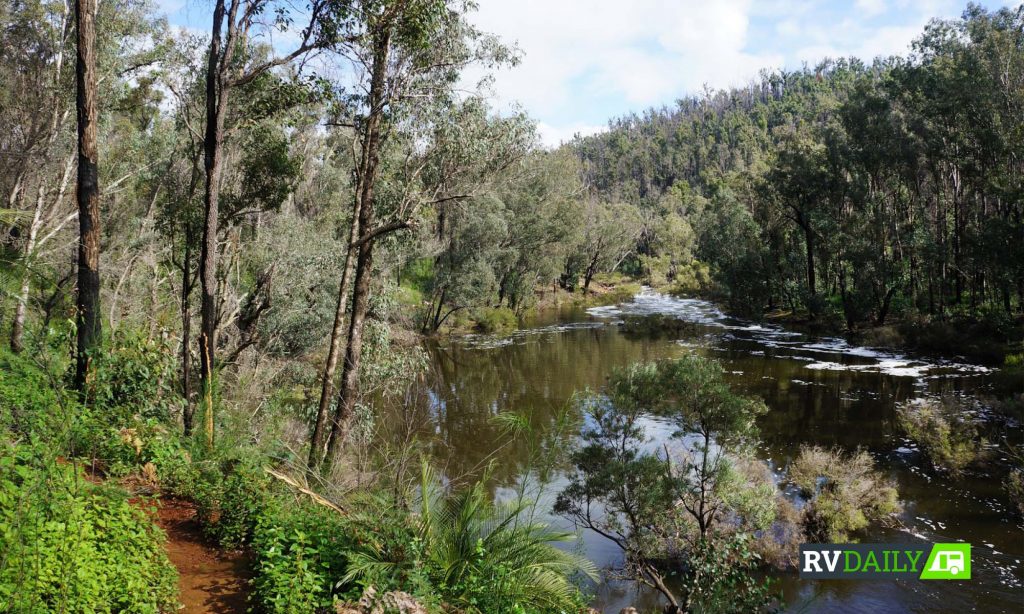 CAMP 5: Charleville Bush Camp, Qld
Get a taste of outback Queensland in the rural town of Charleville, located 660km west of Brisbane and 280km from the NSW border. This town is full of history, with museums and historical buildings. Experience the magnificent outback night sky in full detail at the Cosmos Centre, and meet the bilby at the Charleville Bilby Experience.
At Charleville Bush Camp, you get the serenity and natural bush setting of a remote bush camp but with all the luxuries of a caravan park, including water taps, undercover barbecue area, campfire area, camp oven, dump point and rubbish point; bring your own porta-potty though. There's even TV, internet and mobile coverage. Vans and camper-trailers are welcome too, as this place also doubles as a caravan park with powered sites.