Two batteries, three solar panels and … no power? What to do when your 100K caravan becomes a tin tent
Our caravan is our home; it is what we have dragged around the country for nearly three years now, and, well, like most people, we like a few comforts. One of those comforts is power, and as we all know, there are many stunning places to visit where you must rely on battery power – but what happens when those batteries fail, when the whole system fails and even staying in a caravan park doesn't mean you will have power in your van?
We were well-versed on our deep-cycle batteries, and having two 220-amp hour batteries and three 150-watt solar panels on the roof of the van, we free camped quite successfully. The batteries never got below half-usage, we made sure they charged fully every day (even if that meant using a generator to finish them off on a cloudy day), and we thought we had the system nailed – until the night we were plunged into darkness!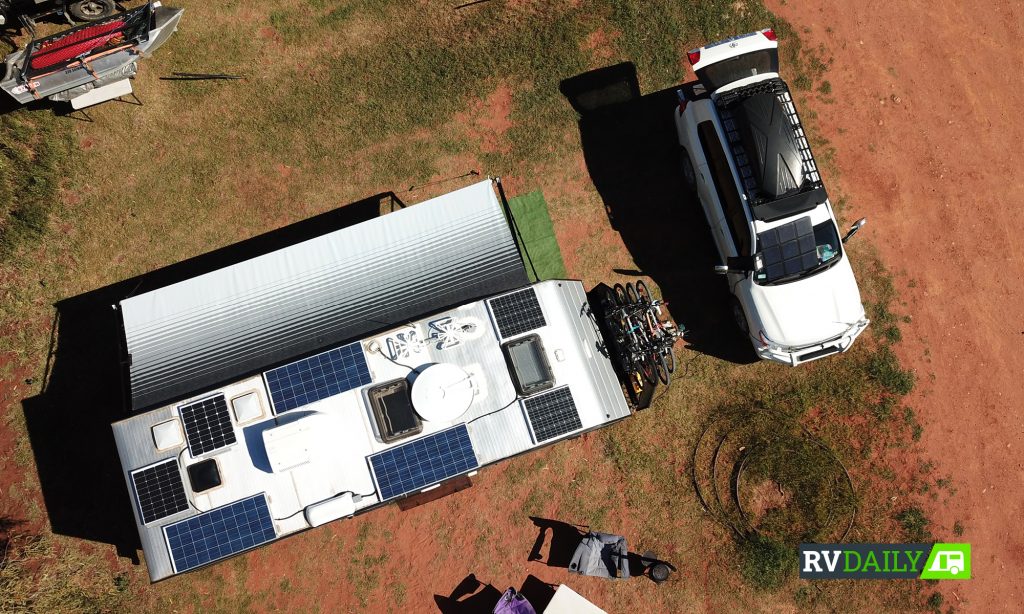 We were camped in Lipson Cove in South Australia. A stunning, free-camping mecca. We had spent the day on the beach, swimming, catching fish and lazing about. We spent the evening cooking dinner, watching the starlings put on their flying show and playing board games with the kids before bed. We put the television on to watch a movie, and at around 10pm it suddenly switched off. We had no lights, we had nothing, and it appeared to indicate that our batteries had run too low to function – other than to run our compressor fridge. Knowing there was not much we could do, we called it a night.
The next morning, we checked every fuse in the van, but they were all fine. We ran the generator and helped the sun charge the batteries and they showed they were at full capacity; yet again that night we were plunged into complete darkness. The problem was, the batteries failed at about 8pm that night, halfway through a game of Sequence – and we play for sheep stations in our van. We finished the game with head torches on, and many accusations of shadows putting some of us off our game.
We packed up the next day and headed to Port Lincoln. We thought it was a major town and that help would be available, but to our shock and horror, we were told there were no batteries that size available in the town. We could wait a week or three to have one delivered, but our best bet was to go back to Adelaide or get to Perth. Now don't laugh here, but we made the brave decision to go forward – so that meant going across the Nullarbor to Perth, with very little battery power.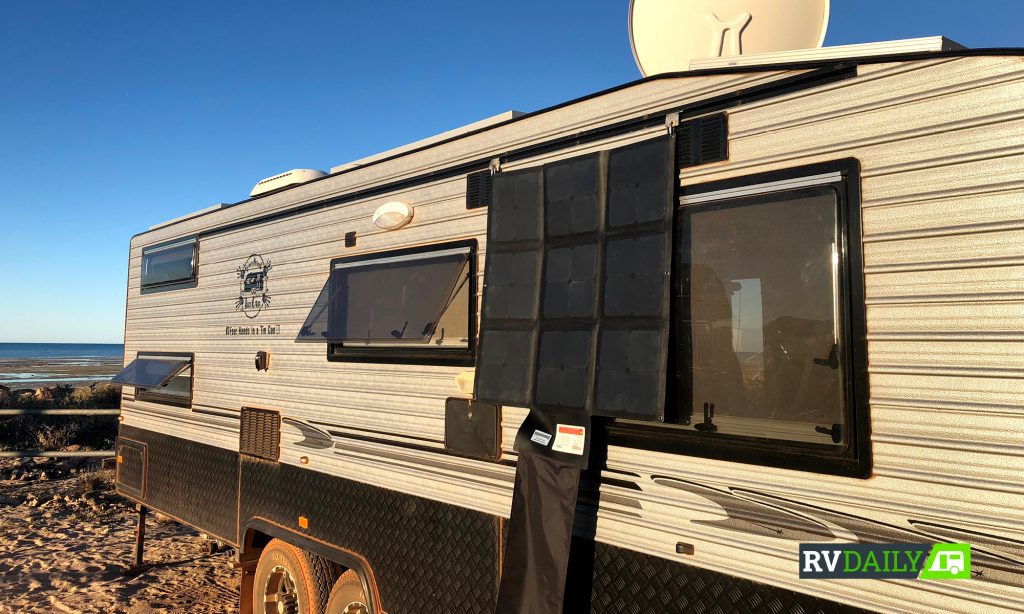 We ditched one battery and made the van a whole 75kg lighter, and off we trekked with the promise to stay in powered sites until we reached Perth. Of course, this didn't go to plan, and we found ourselves playing Sequence via head lamp at Pildappa Rock not long after. We continued in this fashion across the Nullarbor – no television meant very competitive games of Sequence, as well as learning that my kids are gun gin players. After touring through the regions of Kalgoorlie, Esperance, Albany and the Valley of the Giants, we got to Margaret River and our van kept tripping the power outlet at the van park. We then arrived in Busselton, plugged into the park's power and discovered we had NO power. That's right, ZERO power coming into the van.
Not to be deterred, as we'd had a few in-depth conversations with Paul from Install a Gadget (based in Perth), we were under the impression that all our problems lay with our batteries. So, like anyone armed with good information, we solved this problem by paying an electrician to replace the 15-amp power plug on the van, only for him to tell us that it hadn't solved the problem. He then spent the next hour and a half on the phone, only to tell us he didn't know what the problem was.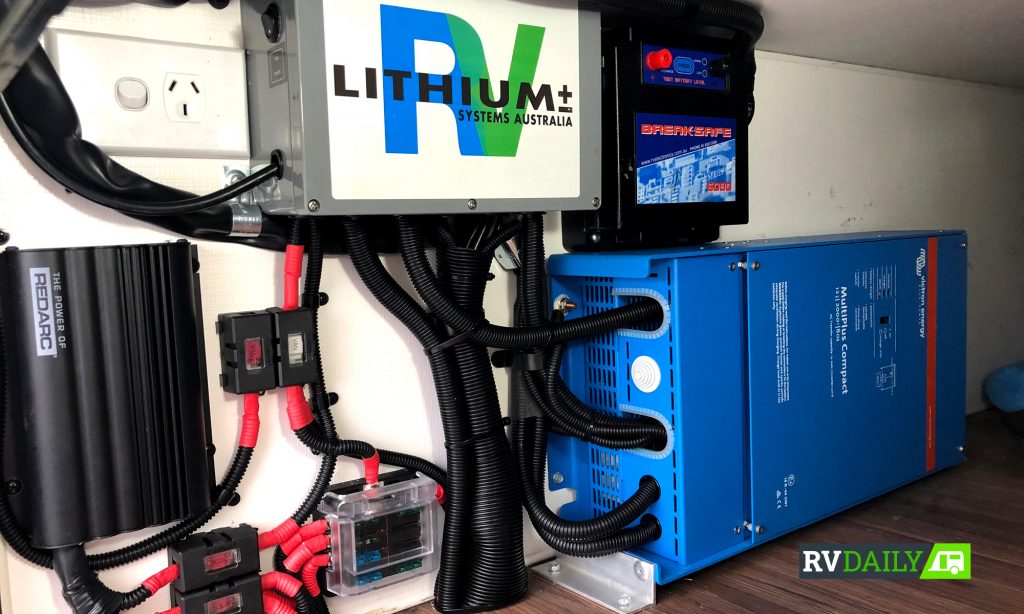 The joys of a $100,000 caravan turning into a tin tent was overwhelming, to say the least.  By the time we made it to Perth, we had worked out how to bypass our inverter, and we could have some power in the van, but this meant keeping a battery charger on the battery to keep the fridge working. Many nights of living by torch light had seen us a little cranky and determined to have lights at a minimum. It turned out that our inverter had been installed incorrectly at the manufacturing stage of the building of the van, and this meant that the wires in the inverter had been slowly arcing and happened to short out completely when we got to Busselton.
Our set-up now has 400-amp hours of lithium LiFePO4 batteries, made up of four 100-amp hour batteries. This whole little battery set-up weighs 55kg (saving about 90kg in weight) and fits into one of the battery boxes that used to house one of our 220-amp hour deep cycles. We have three 150-watt solar panels, four 80 watts of solar, 115-watt Redarc solar blanket, a Redarc BCDC 1240D and a 3000-watt Victron MultiPlus Inverter, and our all-important Victron Battery Monitor that connects via Bluetooth to our phones.
We are happy to say that we won't ever have battery or power anxiety again and we can now use our coffee machine on the side of the road. We can also use our cheap K-Mart toaster, and my little Billy electric kettle gets a workout as well. We have reduced our use of gas, and made life a little bit more comfortable. We are happy to say that our $100,000 caravan is no longer a tin tent!