When Good Vans Go Bad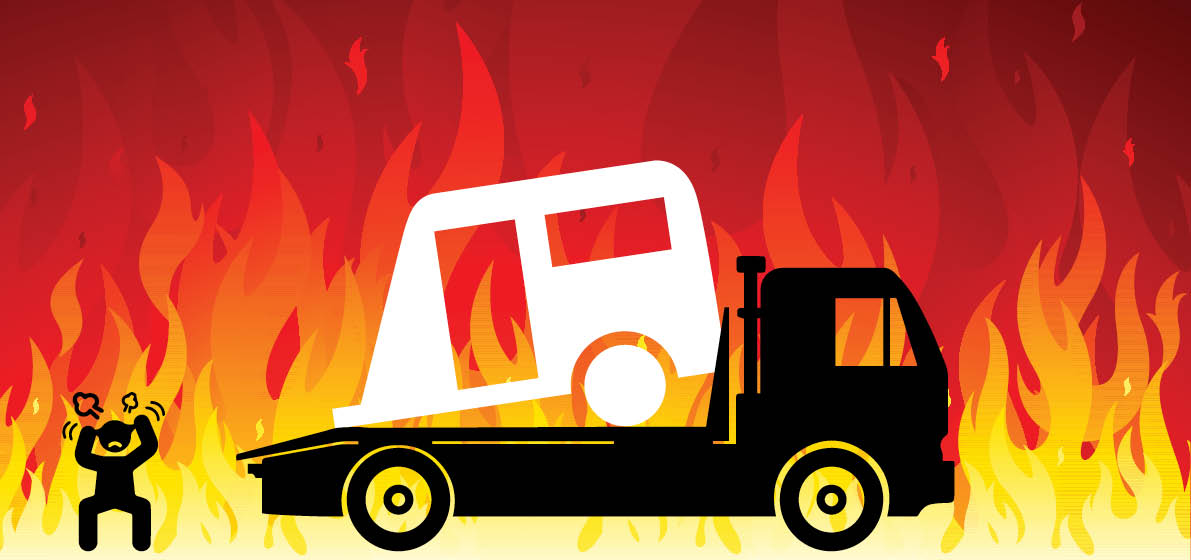 We've all heard the stories, but if your pride and joy takes on a lemon flavour would you know what to do? Here's how to take the legal option.
By Deal Ellinson, CEO, Ellinson Legal
Let's take a situation where you have recently purchased a new caravan from a dealer and you think that the caravan now has a major defect. Let's assume that you think that the caravan is beyond a repair situation. You want to return the caravan in exchange for receiving payment back of most or all of the purchase price. Alternatively, you seek a replacement caravan. In this article I will use the term caravan but you can also substitute instead of caravan the words camper-trailer, campervan or motorhome.
For images, videos and the full RV Daily experience, read this in our online magazine.
In Part A I look at what is the definition of a major failure which entitles a refund or replacement under the Australian Consumer Law, irrespective of what is contained in the express manufacturer's or dealer's warranties. In Part B I set out some issues to bear in
mind in preparing your case.
In this article I will use the term defect and failure interchangeably. This article is not considering the situation where the problem with the caravan is less than a major defect.
Part A
Right to a Refund or Replacement – when is a failure a major failure?
1 – Section 260 of the Australian Consumer Law defines when there is a major failure sufficient to justify an entitlement to a refund or replacement.
2 – Depending on the situation, a refund may not in some cases be a full refund but may be a part refund to take into account relevant considerations such as the period of use of the caravan.
3 – Section 260 of the Australian Consumer Law is explained in 'plain English' by Consumer Affairs Victoria in the table set out below. Any of the criteria set out in (A) to (D) in the following table constitutes a major failure. The explanation is equally applicable throughout Australia.
A – If a reasonable consumer had known about the problem, they never would have bought
the product.
B – The product is significantly different from a sample, description or demonstration model.
C – The product cannot do what the consumer told the salesperson they needed it to do, or what it is normally supposed to do, and this problem cannot be fixed quickly or easily.
D – The product is unsafe.
PART B
Some Issues To Take Into Account
1 – Even if your caravan is outside of the dealer's or manufacturer's express warranty period you still have additional rights under the Australian Consumer Law. So your claim is still worth investigating even if the period of the manufacturer's or dealer's warranty has expired.
2 – If your dispute with the manufacturer or dealer cannot be resolved and has to be litigated in a Court or Tribunal then a Court or Tribunal will want independent expert evidence on what the defect was and whether it was a major defect. That is, if you are seeking a refund or replacement you will need to provide independent expert evidence that the failure in the caravan is a major failure.
3 – You should therefore at an early stage seek an opinion from an independent and well regarded expert. For example, a mechanical engineer experienced with caravans if the problem is a mechanical engineering problem. This should be done before any repairs are carried out. This is because after a repair is effected it will be more difficult for the independent expert to give evidence about the original defect, which can no longer be seen.
4 – The independent expert should take photos of the defect. Where appropriate the expert should also take a video where that helps illustrate the defect.
5 – It may be useful to do an internet search to see if complaints have been made about similar defects in your type of caravan. Print out any information which may be helpful and archive the links, so that the information can be retrieved later if needed. Check that your independent expert is aware of the type of information you have found on the internet.
6 – Do not leave the caravan in the possession of the dealer or its service agent while the dispute is ongoing as they could seek to repair the major defect and then the evidence of the major defect could disappear. Certainly, you should seek legal advice before any repairs are carried out on the caravan.
7 – If it looks like the dispute may end up being litigated in a Court or Tribunal then it is suggested that you consider whether to retain a second expert to provide an additional supportive opinion on the caravan failure. There are some strategic reasons for engaging a second independent expert and you will need to weigh the advantages against the additional cost.
8 – It is worthwhile to seek legal advice at the outset from a lawyer experienced with caravan disputes. This is because each case has different facts and a strategy should be adopted which suits the particular facts of your case.
The above steps are general in nature. They may need to be modified for your particular situation. Also, there will be additional considerations which will need to go into the development of the strategy.
Other advantages could include that the lawyer may be able to recommend a highly regarded independent mechanical expert experienced with caravan problems. The lawyer may be able to assist in formulating the brief to the independent expert. A written independent expert report sought by a lawyer and provided to a lawyer can attract a privilege from discovery so that it does not need to be disclosed if it is not going to be relied upon (for example, if it says something which is adverse to your case).
There are various other advantages to obtaining legal advice at an early point. It may save you from doing things which may be contrary to your interests or may assist in the undertaking of steps which promote your interests. For example, the lawyer can assist with the drafting of a notice of rejection, if that is the appropriate course; such a notice needs to be prepared in a certain way and time provided by the legislation.
9 – Your lawyer may phone the dealer (or the dealer's lawyer if one has been appointed) and see what the dealer says about your complaint. A phone conversation by your lawyer, if managed well, has the potential to assist in ascertaining what the other party is really thinking about your complaint (rather than what is vetted in a letter), how strongly they feel about the situation and the extent to which they are open to negotiation, etc. Having another person (your lawyer) inserted into the conversation can sometimes assist as the parties themselves may be entrenched in their positions and the communication between them may be more difficult.
10 – Avoid posting comment about your experience on the internet (social media, etc.) or speaking with the media or otherwise leaving yourself open to a possible defamation action. Even if you are likely to win a defamation action, such actions are very expensive to defend.
If you lose the defamation action then it will be an even more expensive burden. You should keep your focus on winning your caravan consumer claim and not exposing yourself to having to defend a very expensive defamation action; expensive in time, money, energy and stress. Further, the dealer may be more prepared to consider offering an amount of money in settlement of your caravan claim if you have not already publicly canvassed your negative experience with the caravan and if you undertake not to do so in the future.
11 – Before instituting legal proceedings consider the following. Does the defendant have assets or income against which any successful judgement can be enforced (i.e. if the defendant refuses to pay following judgement)? There are cases where a consumer wins a case in a Court or Tribunal, incurs legal costs to fight the case and then the defendant refuses to pay the judgement amount, and has no assets or income, and the consumer is
not able to recover any money from the defendant to satisfy the judgment.
12 – Be sure to discuss the whole issue of costs (legal costs, experts' costs and Court or Tribunal fees) with your lawyer.
Dean Ellinson has previously worked in two of Australia's largest national law firms (Clayton Utz and Blake Dawson) and was a Partner in a major national law firm (Dunhill Madden Butler). Dean is experienced in managing caravan disputes.