Wheelchair touring with AccessAvan and Coronet RV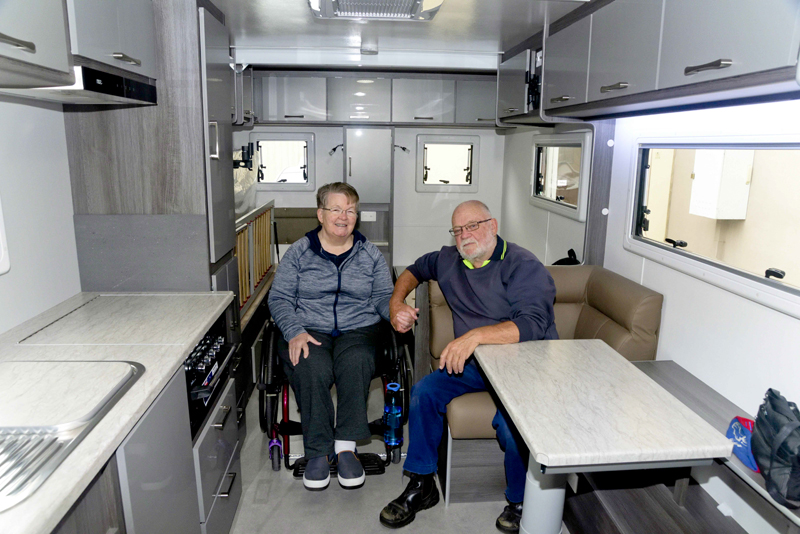 Anthony Wake from AccessAvan knows a thing or two about caravan touring with a disability. He's been designing and working with caravan manufacturers over several years to help others with a disability get out and about in style.
November 2019 marked a new stage in Anthony's life as he handed over the keys to the first full Coronet RV manufactured caravan, designed for Stuart and Christine Allen.
Designing and building a wheelchair accessible caravan takes plenty of thought and work. For example, the roof needs strengthening to handle a lifting hoist. Lifts to access the van need serious work around the chassis, bathrooms need space to allow for showering and the like. It's a big job from design to drive-away.
Chris's story is simultaneously horrible and amazing. When asked what happened to put her in a wheelchair, her chirpy answer was, "I went in for a fairly straightforward spinal fusion. I suffered a stroke and it affected my spine". Chris was very matter of fact and quick to point out that it wasn't the surgeon's fault at all. "It took several days to work out what went wrong and the surgical team was devastated!"
Both Stuart and Chris have been long-time campers and wanted to prove that a wheelchair wasn't going to stop them. Chris explained that "I heard about a wheelchair caravan that was going to be at a display put on by the Royal Talbot Hospital to help people with disabilities. We went there eager to see it, however it hadn't turned up.
"We were crushed. We wanted to see what it was all about. It was here that we heard Anthony Wake's name mentioned and that he was in a wheelchair himself and knew what to do when it came to designing a van specific to our needs."
RV Daily met the happy couple at the handover at Coronet RV in Bayswater, Victoria. They were enthralled to finally see the van completed. "It's been a big challenge to get to this point. I lost the use of my legs back in 2016. I'm just so happy; it's beautiful," Chris said delightedly.
Stuart took up the story. "We are planning to visit our son's place in a week or so, then our daughter's place. Chris has never been able to visit the farm because the house is not wheelchair friendly."
"I am very much looking forward to visiting my three grandkids and seeing the farm animals!" Chris chimed in.
"We plan to do some shorter trips before we head off to some far-flung destinations," Stuart explained. "We need to ensure the Jeep is working right for us and that we can both use the van's accessible features. It's a credit to Anthony and Coronet that we are in a position to go touring again. We both love it!"
Anthony started working with Coronet RV in 2018 and is rapt with the release of the first, fully custom van. Anthony is working on a new van to showcase just how wheelchair-accessible caravans can be designed to help all sorts of people to travel and see Australia. He explained, "One of the challenges of manufacturing a van like this is the weight factor. There's a lot of extra weight in the van catering for a stronger roof, floor and chassis that has to be dealt with to ensure the van is compliant and that the tow vehicle is the right one to do the job."
Anthony stated that, "There are more and more wheelchair-friendly towns and caravan parks popping up around the country. It takes a bit of research to find them and plan a journey but that's the exciting part of any trip." He's super excited to see this new Coronet hit the road.
RV Daily is looking at doing a full review on this van with some honest feedback from the Allen's about how it's worked for them in the coming months. Are you keen to see this review? Let us know and we'll certainly make it happen!