When 'leaving it all behind' can mean very different things
Words and Images Melinda Uys
A few times a year the country waits, collective RVing breath held as the most exciting thing to hit our junk mailbox for the past few months lights up our 'Special Buys' eyes. It's the Dubious-Quality Sometimes-Cheap Always-Popular catalogue of camping gear you don't really need but always welcome into the solid-walled house with exclamations of "that's a bargain!". And it is cheap, so cheap that if it doesn't work or doesn't quite fit, you can just chuck it in the nearest overflowing campsite bin, right? Wrong.
Despite the ire tens of thousands of teenagers striking against climate change caused the old-schoolers among us earlier in the year, the precocious fact remains: the Earth's environment is in a shambles. Here in Australia, the long campaigns to put our rubbish in the correct bin and the benefit of an 'enlightened' first-world view has meant our waste is generally stashed in the right place: away from our blinkered eyes. But as any RVer worth their biodegradable bin bags can tell you, stray out of reach of most council workers and manicured caravan parks, and the tell-tale signs of environmental criminals are everywhere.
A cursory inspection of a Nullabor free camp shows a sty of plastic bags and dubious strands of toilet paper. Scratch the surface of Queensland's Great Beach Drive and you'll find the unassuming cesspit of thousands of 4X4 weekend warriors. Visit a national park campsite without an onsite host and the clean up before you set up puts you back at least 30 minutes of quiet cold-drink-in-hand reflection time. As purveyors of the great outdoors, do we have a case to answer to in the way we reduce, reuse and recycle?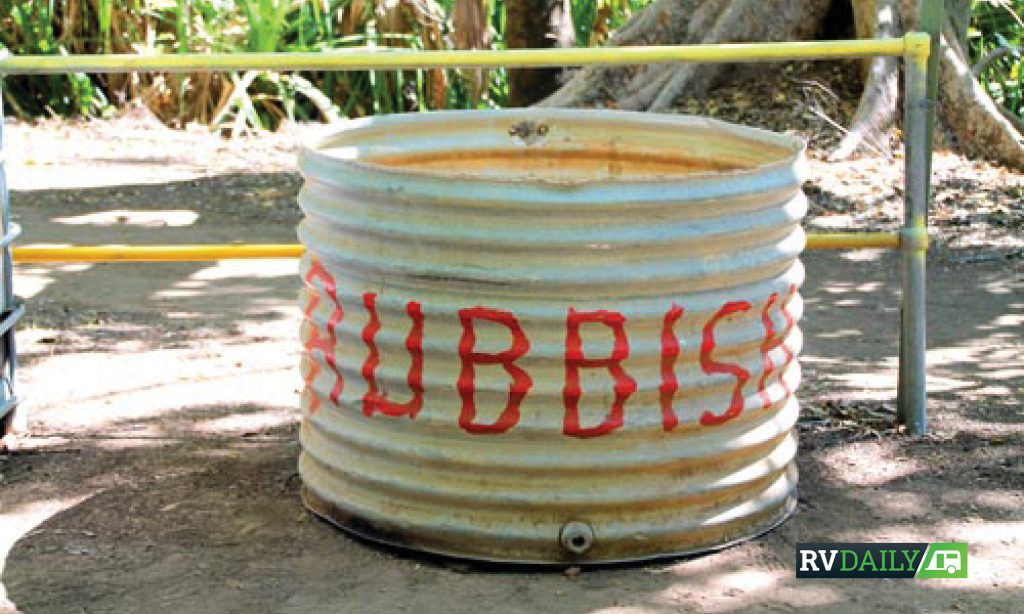 THE FACTS
With the caravan and camping industry considered the fastest-growing domestic tourism sector in Australia, the way we treat this beautiful country when we're communing with it is becoming very, very important for the simple reason that more and more of us are doing it. In fact, one in every 13 Australian households has an RV and the number is growing. In 2017, the United Nations conducted the Year of Sustainable Tourism in an effort to shine a light on the "rapid increase of tourists" worldwide, ensuring the "travel industry is a force for good" rather than environmental evil.
However, according to Randy Durband, CEO of the Global Sustainable Tourism Council, while "some travel companies try to be sustainable … others ignore the idea, and from the traveller side, demand and awareness is soft". Surely this doesn't ring true here in this social media and review era of 'naming and shaming' anyone, from the cretins living in the depths of grey and blackwater pits, chucking their business anywhere but in a dump point, to the heights of laziness and those who flick their bottle tops into the surrounding bush rather than putting them in a bin? Well, yes and no.
WHAT IS THE INDUSTRY DOING ABOUT THIS?
For those with skin in the caravanning game, having an environmental 'tick' of approval on the front of your park, experience or product is becoming part-and-parcel of innovative branding and nabbing a chunk of Australia's $20-billion industry. The Caravan and Camping Industry of Australia's (CCIA) Gumnut Program represents one such badge. Initiated by the CCIA to engage members of the program in sustainable practices and independently assessed by sustainability and tourism staff from the University of Western Sydney, the program initially had a series of levels with caravan parks and even RV manufacturers working their way through a set of increasingly complex benchmarks regarding environmental practices and initiatives.
The system was reworked in 2016 in response to a large proportion of members whose environmental initiatives were at saturation point. Kylie Robertson from the CCIA explains further: "… members were struggling to find 20 or 30 new goals each two and three years … they may have already installed multiple energy and water efficient techniques and products, rehabilitated and regenerated bushland areas and engaged in multiple ongoing community and staff support programs". Robertson confirms in short that "the majority of parks are becoming more environmentally aware and following sustainable practices". She goes on to say that, "unfortunately there will always be some that don't and never will".
Despite this, the very fact that better energy, water, waste and land use is being brought to the fore by caravanning businesses is a positive one, and with more owners considering this a fiscally efficient way to run their parks with the environmental payoff a beneficial by-product, it can be argued that it doesn't really matter whether the motive is altruistic or purely financial. If caravan parks and businesses are starting to step up to more sustainable practices, that is simply fantastic. But where does this leave the camping consumer hell-bent on doing their bit in keeping Australia beautiful?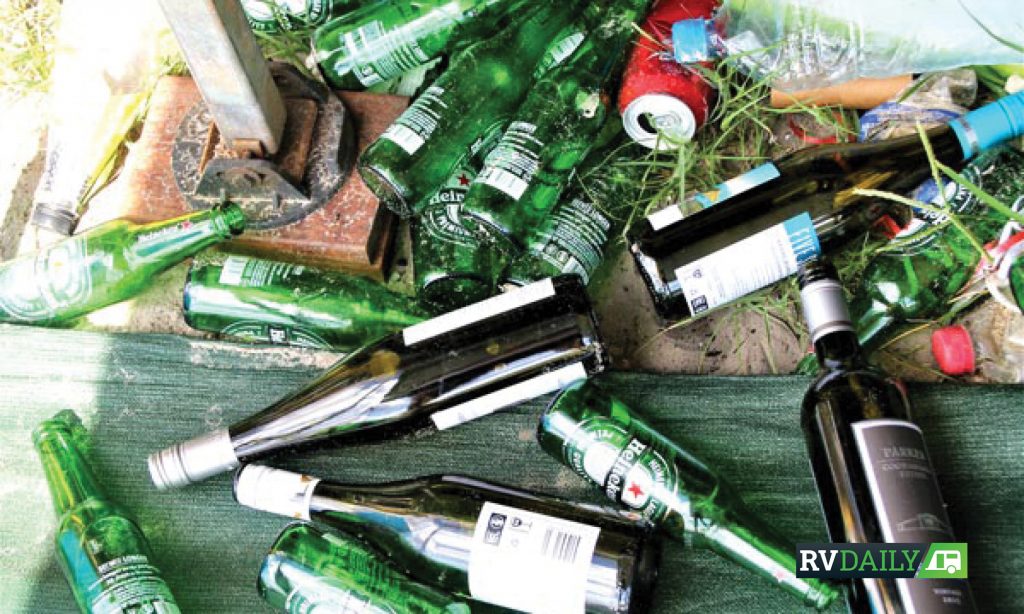 WHAT CAN WE DO?
Data regarding the environmental footprint of those travelling around the country is pretty thin on the ground but, as mentioned above, anyone with eyes in their head can see the rubbish left behind and environmental vandalism occurring in some of our most revered and 'pristine' natural areas, doing little to suggest we are, as a group, stepping up to those sustainable ideals. There are the obvious energy-savers, like relying on the ever-increasing efficiency of solar power or turning off the air conditioning in your van or car to significantly reduce your carbon emissions and save on fuel. However, for many, it's as simple as a change in attitude in how we consume what we buy.
Whether you're a weekend warrior or a long-term traveller, it makes both financial and common sense to invest in gear and rigs that will stand the test of time, Easter rain and dusty corrugations. We've all heard of the 'bargain' shower and toilet tent that 'just kept going' during laps of the country, but there's also countless examples of those too hard to get neatly back in the bag, or the ones that break after two trips to your outdoor abode, or perhaps the way it zipped up irked you … in the bin it goes. Hopefully.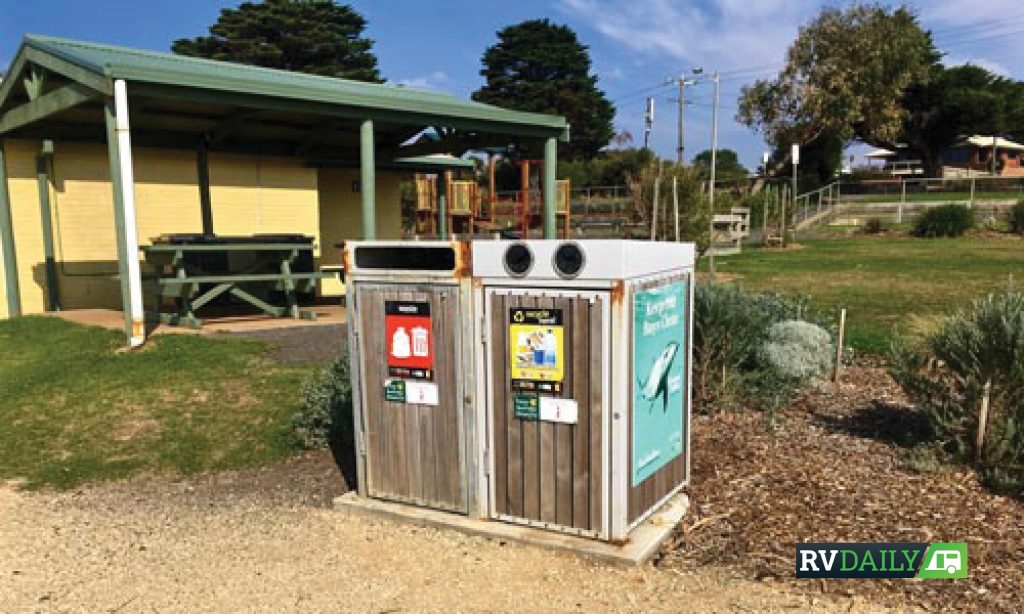 Ask volunteers helping with the Surfriders Sunshine Coast clean-up around Australia's Great Beach Drive and they'll tell you that for many, carting broken, ill-made or even perfectly good camping gear home off the beach is just too hard. According to the Clean Up Australia data, the same goes for rubbish associated with food and drink: over 55 percent of all rubbish collected in the 2018 campaign was made up of food packaging and beverage containers. Staggeringly, the ubiquitous straw accounted for 4.1 percent of all rubbish collected, translating to almost 700 ute-loads of plastic can't-let-your-lips-touch-the-glass convenience. As consumers and outdoor enthusiasts, picking up your rubbish would seem part-and-parcel of loving nature, but even if the odd bottle top escapes the pop-up bin, surely we need to do more than conduct a cursory glance around our emptied campsite for errant rubbish.
The newest synonym in sustainable waste management, 'reuse', is perhaps the answer. The campaign against plastic bags, the growing use of reusable coffee cups and bottles, and for the more adventurous, examples like beeswax paper wraps as an alternative to plastic cling-wrap ensures our dirt-stained footprints might be truly sustainable. Regardless, from big-business branding to whether your gin and tonic is served with a plastic straw, our love affair with the great outdoors must change from the simple need to experience it with as many throwaway conveniences as possible, to a more sustainable and custodial sense of the world around us.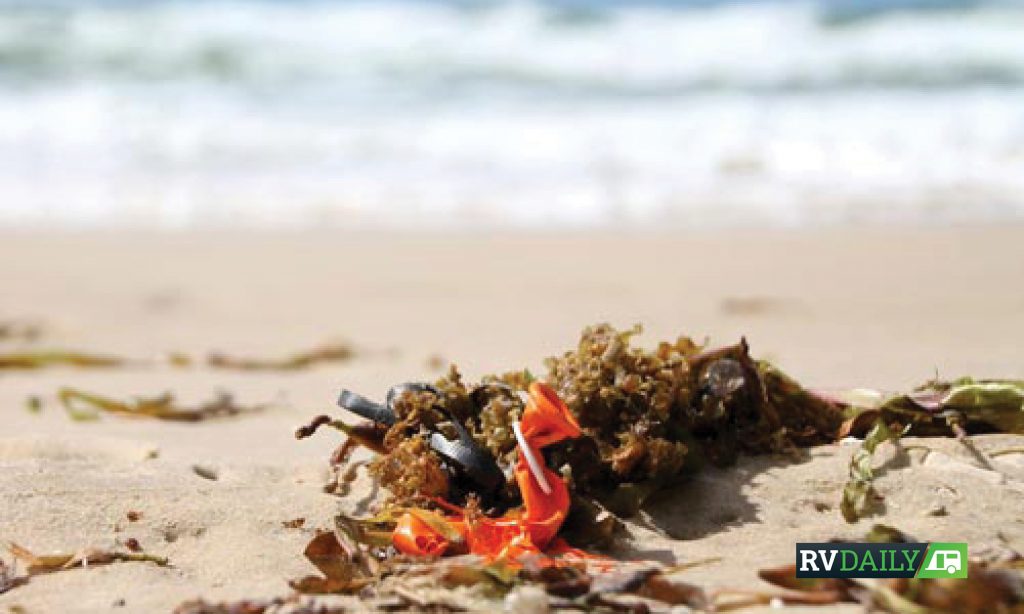 Want to reduce your footprint out and about? Here's some suggestions:
– Sort your rubbish. Most caravan parks have recycling bins for glass, plastics and paper. Some even have dedicated composting facilities.
– Buy in bulk and avoid single-serve food packages like chips and water bottles.
– Stop acting like a goose – save money and a ton of landfill by investing in a reusable water bottle and filter!
– Jump online to a second-hand sale site and bag an actual bargain; there's lots of gear used on one RVing trip only for sale at cheap prices.
– Use rechargeable batteries.
– There's a solar charger for just about anything, start making the renewable change.
Worldwide, tourism accounts for:
– 10 percent of the world's GDP
– 7 percent of the world's exports
– One in eleven jobs