Van Cruiser Outlaw SUV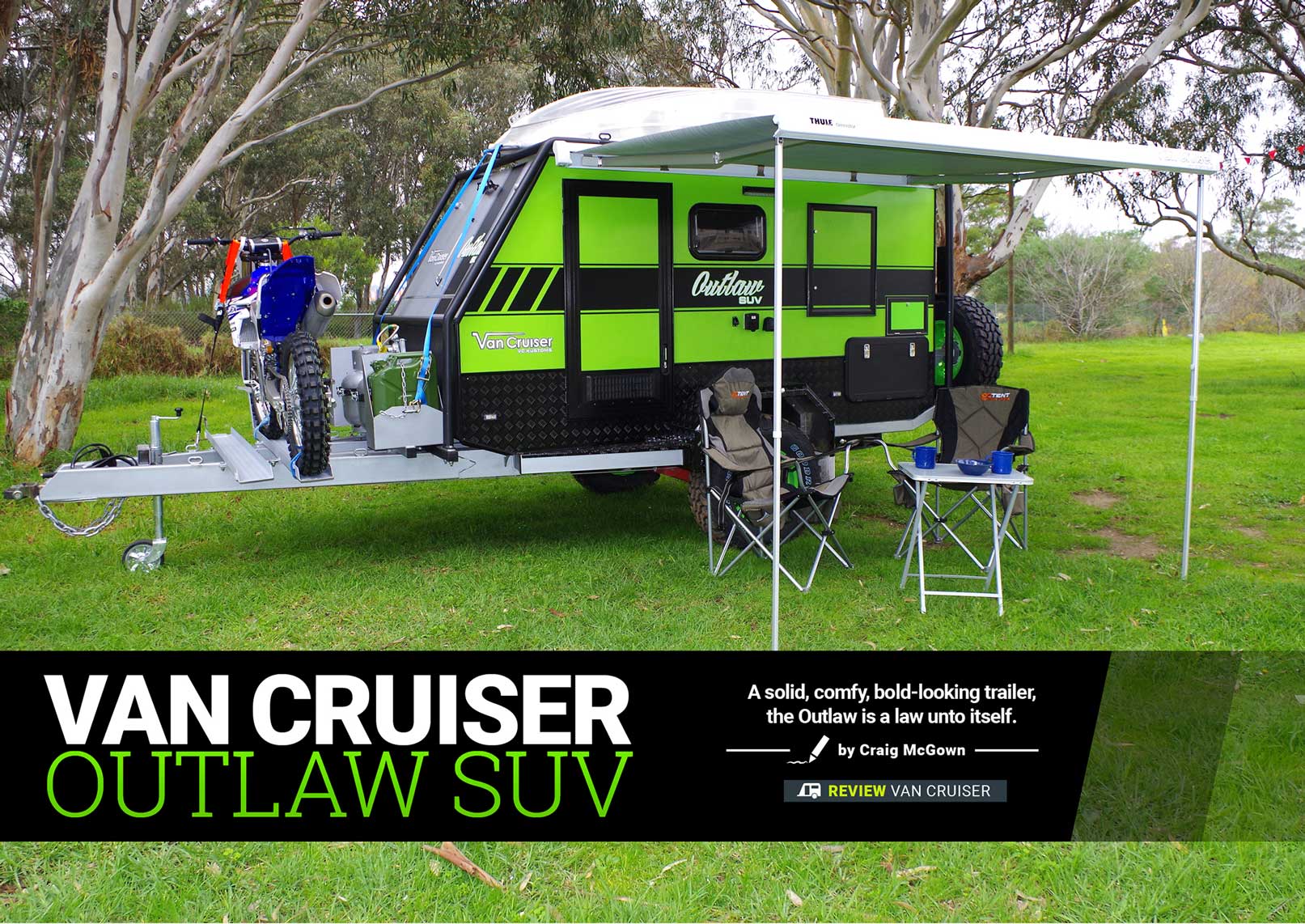 A solid, comfy, bold-looking trailer, the Outlaw is a law unto itself.
Van Cruiser has long been recognised as a manufacturer of high quality caravans, with the ability to customise much of its line to meet individual needs. However, the company recently diversified into a new and rapidly growing sector of the market, and so arrived the Outlaw SUV.
The hybrid, as it has become known, is a cross between a camper trailer and a caravan: a dynamic blend of light weight and robust strength. Capable of accessing harder-to-reach destinations, it boasts some important 'home away from home' features normally associated with larger, traditional caravans.
The Outlaw is very attractive to adventurous travellers who want to get to remote spots, without having to feel like they are roughing it.
With regards to the details, the G&S chassis and independent suspension are borderline overkill but, in my opinion, if you're going to overdo anything, it should be the suspension package. Electric brakes and a Breakaway braking system highlight Van Cruiser's focus on safety, and will deliver peace of mind.
There is plenty of room on the drawbar for toys and tools. The unit I reviewed was fitted with a dirt bike carrier, outboard motor bracket, two jerry can holders and two 9kg gas bottle holders. All of these things are optional. If you prefer a different layout, chat to the sales guys.
Down the far side of the Outlaw I found access to the bed (on both sides), external access storage compartments, a remote shower attached to a gas hot water system, the filler for the 95L underbody water tank, a full-width storage tunnel perfect for fishing rods and the like, 12V power outlets, and even a TV connection.
The near side of the unit is set up as your living area, which makes sense as it enables you to stop on the roadside and make a cuppa without endangering yourself to passing traffic. There is a pull-out awning, slide-out kitchen with sink (again connected to the hot water system), gas cook top, 12V outlets, more storage options, as well as access to a 60L compressor-driven upright fridge…more than I expected from such a compact unit.
Around the back was a spare wheel, four lockable storage compartments and a winch – which I thought was a nice touch since I've personally been in a few situations when a rear recovery was necessary with a camper on. The winch will allow you to remove the camper under its own steam before focusing on the vehicle.
The power is delivered via dual 105Ah AGM batteries backed up by a battery management system. The batteries drive the all-important fridge as well as ample lighting and the sound system (a nice touch). Meanwhile, the roof is structurally tough; tough enough in fact to carry a tinny mounted on racks (on the unit I tested), which again, serves to fill the needs of the adventurer.
Enzo and Tanya from Van Cruiser are a brother/sister team who have pioneered many developments in the RV industry in Australia. They have made moves in the past that have been described as 'bold' by their counterparts, who have now adapted similar designs.
The Outlaw is tough, well designed, solidly constructed and backed by a name that is well respected. It will follow you where you're going, and all the way home again.