We have shown you the way to get the best out of your 12-volt and solar systems, now these are some of the worst. Here are the Top 10 best ways to avoid electrical disaster
1. DON'T TURN YOUR BATTERY INTO A BOMB
Batteries produce hydrogen as they are being charged. This will normally escape into the surrounding air in low levels. If in a confined space and there is an ignition source, there could be an explosion. Overcharging a battery will increase the amount of hydrogen produced whether it is a sealed or unsealed lead-acid battery. A sealed battery may expand and explode. If your battery looks out of shape, this is what could be causing it.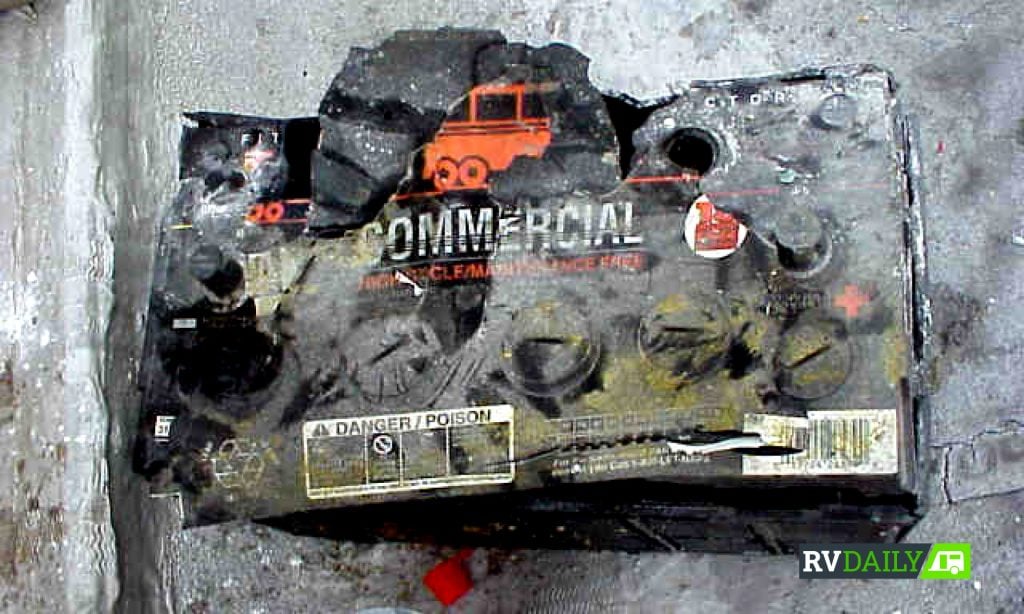 2. YOUR BATTERY IS SENSITIVE, LOOK AFTER IT
Temperatures, moisture and enclosed areas can affect a battery's performance. If a battery is near end of life, cold temperatures may cause it to fail so check your battery before heading to the high country or the desert in winter. On the other hand, high temperatures found in the engine bay will negatively affect a deep-cycle battery. Areas subject to high levels of moisture will cause corrosion and create poor connections. No-one likes warm beer or a vehicle that won't turn over.
3. SPAGHETTI SHOULD DESCRIBE DINNER NOT YOUR WIRING
If your wiring looks like spaghetti maybe you should think about being a chef rather than an electrician. A bunch of wires going in all directions may still work but if you ever have to fault-find you could spend the next 12 months doing it or pay someone else a small fortune. Wiring should look neat so you can easily follow the cables to and from their connections. Better still, each circuit. If a 'professional' wires your vehicle/trailer like spaghetti, they are not a professional electrician.
4. DISCHARGING YOUR BATTERY TOO DEEPLY, TOO OFTEN, WILL KILL IT
Batteries are expensive, so replacing them before you should have to can be disastrous to the bank account. Continually discharging batteries beyond where they are meant to be, and then not charging them fully afterwards can damage and even ruin batteries.
5. ARE YOU USING THE CORRECT CHARGE PROFILE?
Different types of battery chemistry require different charge profiles to keep them operating correctly. If you lash out on a lithium battery and don't have the correct charger you may have to outlay some more cash to get it working. With the incorrect charge profile, at best it won't charge, at worst it will damage your battery. Always check that the battery and charger are matched and have the correct profile otherwise it won't end happily.
6. PROTECT YOUR STARTER BATTERY
Would you choose cold beer over a flat battery? Although at first, a cold beer might seem the right choice, the realisation that you can't start your vehicle would quickly override your thirst for a beer. Assuming you have a second battery, it is very simple and incredibly important to isolate your starter battery so that it actually starts. A battery isolator is simple to install, relatively cheap and will save your bacon. An isolator may be able to save your starter battery even if you don't have a second battery.
7. A SQUARE WAVE MAY KILL YOUR APPLE
That cheap inverter you saw on the internet could damage your expensive electrical equipment. A coffee machine might not care if the inverter puts out a square/modified sine wave or true/pure sine wave, but your Apple computer probably will. These days, true sine wave inverters are not that more expensive than square wave so don't skimp. If you do, it may cost you a whole lot more in the long run.
8. PROTECT YOUR CABLES
A quick way to cause failure and maybe even a fire, is to run cables directly through holes without protecting the cable. The image (below) is from a commercially manufactured trailer. The hole has been drilled through the metal and is still burred. The cable has not been protected and will quickly rub through on rough or corrugated roads. A rubber grommet should have been used and/or the cable protected; a disaster waiting to happen. Also protect your cables from water to stop corrosion or shorting.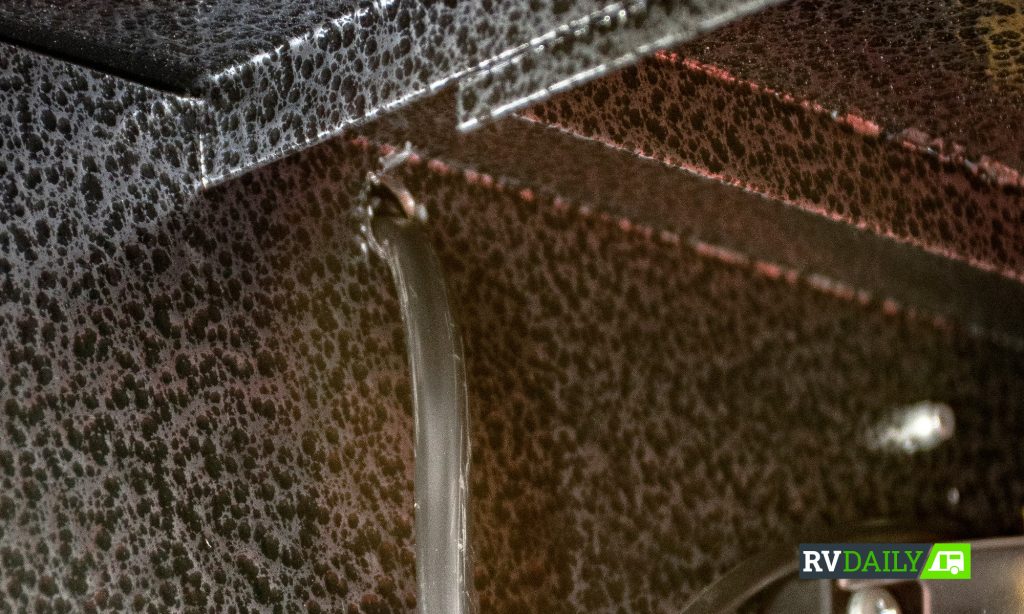 A bad earth is one of the most common failure points in vehicles and trailers. If the earth contact is poor, the resistance in the circuit is increased, which increases current draw in amps and potentially overloads the wiring. Overloaded wiring can melt and can cause a fire. A fuse in the circuit should fail before the wiring. Dirt or corrosion can affect the earth connection. A good way to stop this occurring is to run a complete circuit by running both the positive and negative cables back to a fuse block rather than earthing directly to the chassis.
10. FUSE IT OR FAIL
Every circuit should have its own fuse. No fuse means no protection. Just as there are different size cables, there are different size fuses. It is important to match the use, the cable and the fuse so that they perform their desired task. No point having a 20amp fuse on 5amp cable. Circuit breakers can also be used. Sometimes you will blow a fuse or pop a circuit breaker, so make sure you know where they are and that you have spare fuses of different sizes. Happy travels.
Words and images Gary Tischer.