Caravan Parks: Three We Love, Three We Long For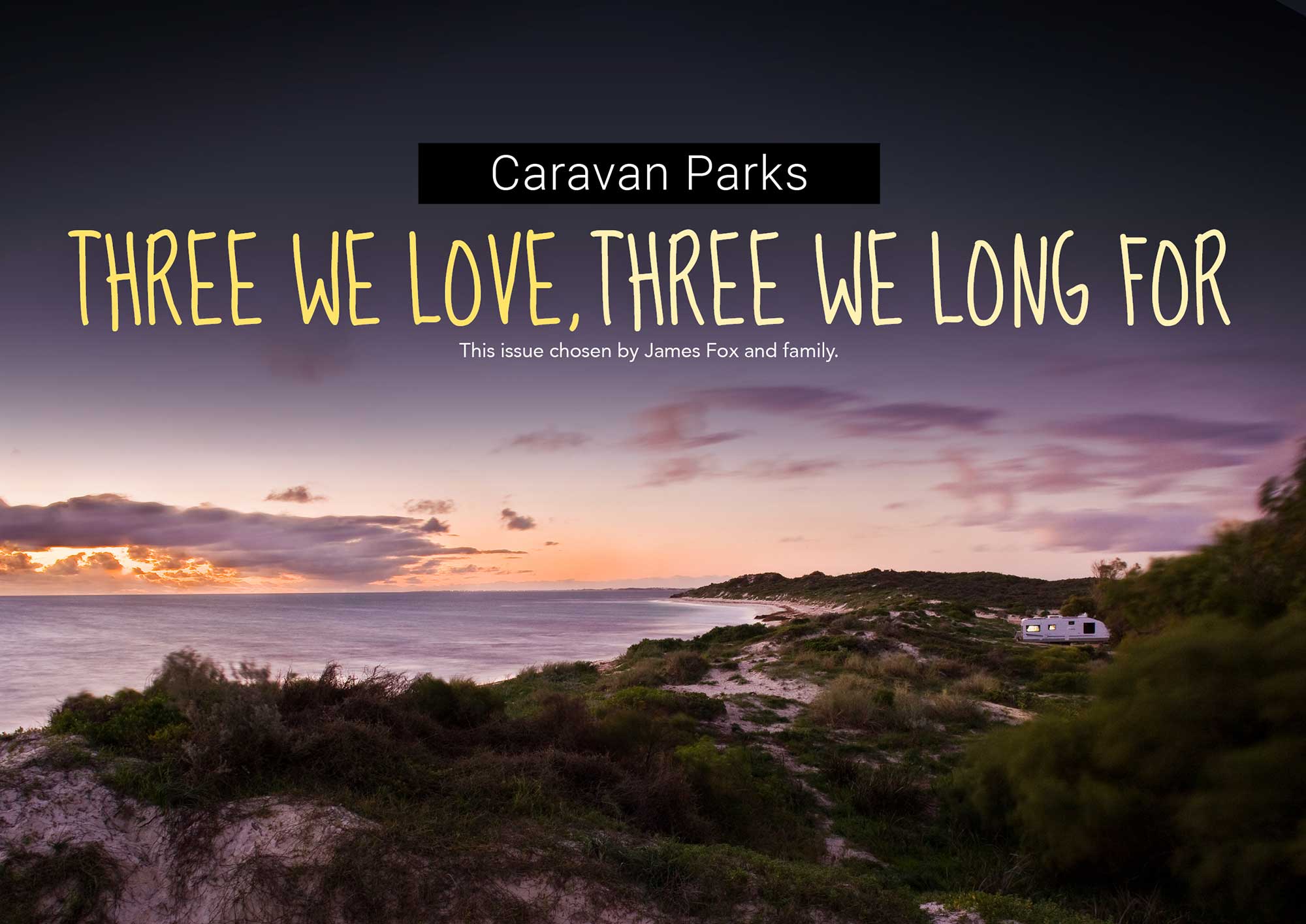 This issue chosen by James Fox and family.
James says: "As a family with two kids under 10, we have spent a lot of time trying to find caravan parks that have something for everyone. My children have yet to discover the joys of sitting around doing nothing so we need to stay at places that have lots for them to do, but are relaxing enough for us oldies to feel like we are actually on holiday."
THREE WE LOVE
Darlington Beach
Arrawarra, NSW
Darlington Beach lies around 25min north of Coffs Harbour. Without doubt the best park that we have ever stayed at, it's situated next to the beach but is also surrounded by the Wedding Bells State Forest. It's a decent sized park at 110 acres and is clean and incredibly well laid out with huge slab and grass sites at a 45-degree angle to each other so you aren't looking directly at the people next to you; there's even a large nature strip running down the centre of each row so you feel that you have masses of room. Offering all the usual styles of accommodation including powered and unpowered sites, deluxe cabins and even safari tents, there are lots of things for kids and adults to do. There's a great beach, two swimming pools with slides, a spa, jumping pillows, a BMX track, tennis, bowls, archery and even a seaside nine-hole golf course. There's also an excellent kids club, an activity centre and the park is very bike-friendly, which means that you can let your kids have a bit of freedom without worrying about them getting run over by a semi-trailer. The park is in a beautiful setting with its own resident mob of kangaroos – incredibly relaxing. There's even a licensed restaurant. We book in for both Christmas and Easter.
Sydney Lakeside
North Narrabeen, NSW
When we want to go somewhere in the van for the weekend this is where we tend to end up: an hour and a half away from where we live but far enough to feel like we have gone somewhere. Situated on the Northern Beaches of Sydney, the park offers a range of camping, caravan and self-contained accommodation.
Bordered by Narrabeen Lake on one side and a patrolled surf beach at its front there is plenty to do, including a kids playground and activity room. Although Lakeside doesn't have a swimming pool (you can swim in the lake however), there is a great ocean pool across the road; the beach is excellent and there's a new waterpark on-site. We tend to use the park as a base to go exploring: there are 21 beaches within a few minutes' drive. Sydney CBD is only 17kms away so if you fancy a trip into the big city it's not too much of a hike to get there.
East's Ocean Shores
Manning Point, NSW
Manning Point is about four hours away from Sydney, 26km east of Taree. The park and tiny town of less than 200 inhabitants aren't really on the way to anywhere; you have to cross two small islands to get there so it's pretty quiet. This is part of its magic: you can spend time fishing in the Manning River, lazing around on the beach or pottering around the campsite with its two pools, jumping pillow and playground. There's a selection of powered sites and cabin accommodation and you get private beach access. The beach is huge and you can also purchase a 4WD permit that allows you to drive along to find your own spot, should you feel the need. It's a very relaxing place to be and we spent at least a week here every year for eight years until we stumbled upon Darlington Beach.
THREE WE LONG FOR
North Star
Hastings Point, NSW
Located on the Tweed Coast this park has everything from caravan and campsites to five-star luxury poolside villas. The park wins loads of awards and is extremely popular with families; so popular in fact that we have never been able to get into it when we wanted to, but one day, one day… There's a licensed café, kids club, Adventure Lagoon water park, tennis, games room, multiple swimming pools and it's close to the beach. What sounds really interesting to me, as a frazzled parent, is the Seascape Leisure Centre, which is situated on-site. This centre is a luxury retreat for adults with massages, spas, saunas, a gym and a host of other things that kids would find boring and likely spoil your enjoyment of…
Adelaide Shores
Adelaide, SA
Now the kids are growing up we can start to think of venturing a bit further afield than just NSW and I really like Adelaide – I've been going there for many years with work and have watched the city go from a rather sleepy town to somewhere genuinely vibrant and interesting to be.
Adelaide Shores is a 125-hectare tourism and recreation precinct 15 minutes from Adelaide's CBD. It has the usual selection of accommodation options and loads to do: pools, playgrounds, a waterpark – it even has on-site eating options. The caravan park is part of the much bigger Adelaide Shores experience, which includes a marina, two golf courses and a host of other activities, including the new aerial centre at Mega Adventure Australia.
This park has an excellent reputation – everyone that I know who has stayed here has loved it, so it's definitely on the list as a must-visit.
Cairns Coconut Resort
Cairns, QLD
This is somewhere that I have always wanted to go. Cairns Coconut Resort has an excellent reputation, but it's a bit of a hike to get to from Sydney. There are heaps of different types of accommodation available as well as a park jam-packed with things to do from a cool-looking walk-in spa to on-site snorkeling lessons and aqua aerobics and a full 18-hole mini golf course.
Of chief interest to my kids is the presence in the park of the largest jumping pillow in the southern hemisphere – something that both intrigues them and (after seeing some of the injuries sustained on smaller jumping pillows), terrifies me.
If you find yourself at any of these parks, or you want to tell us what your favourites are, drop us a line.