THREE WE LOVE, THREE WE LONG FOR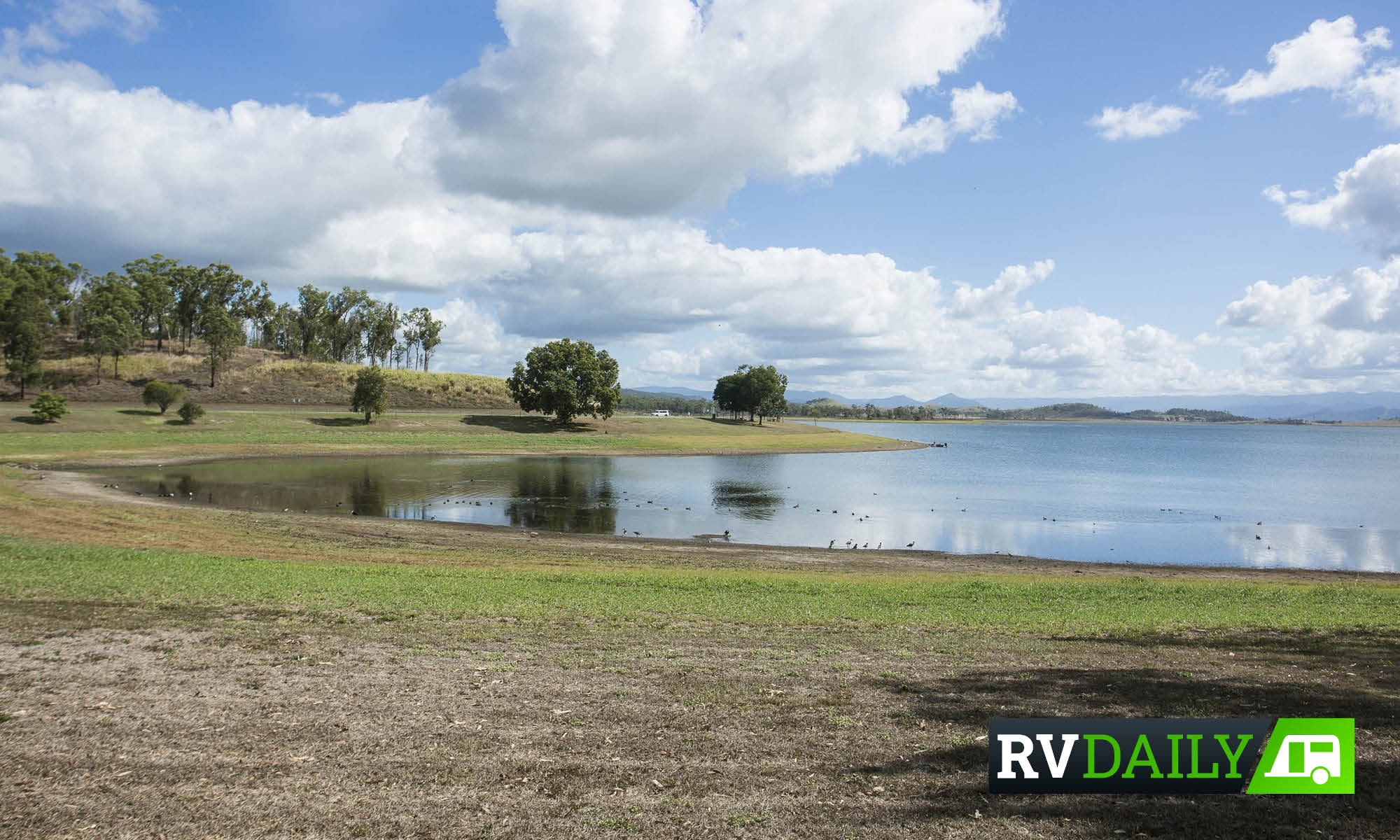 Whether it's by a sandy beach or in a stunning rural setting, we help you find the perfect caravan park for your summer getaway
WORDS Janie Medbury
1. We Love Beaufort Lake Caravan Park, Vic
Whether you're looking for tranquillity, a beautiful view, or just some good old-fashioned family fun, Beaufort Lake Caravan Park offers caravanners the ultimate holiday experience.
Beaufort, situated between Ballarat and Ararat, is just a two-hour drive from Melbourne – or six from Adelaide. It's home to the Michael Unwin winery, the Art Trax Gallery, the old railway station and plenty of cafes and antique shops – and, of course, the picturesque Beaufort lake, of which the park has a prime view.
The park is pet-friendly and has 18 powered sites and 12 unpowered sites. The powered sites are $25 per couple per night, while the unpowered sites are $15. With a camp kitchen, laundry and a dump point, this park has everything you need. There's also a playground, tennis courts and a public boat ramp nearby. Make sure you bring your sunscreen and hat, because Beaufort is perfect for water-based activities like fishing, swimming and water-skiing.  
2. We Love Bridport Holiday Park, Tas
This small town on the north-east coast of Tasmania is a popular holiday destination, thanks to its beautiful sandy beaches and array of local attractions, such as the Bridestowe Lavender Estate – one of the largest lavender farms in the world. You can swim at a secluded beach, wander along a coastal walking track or visit the Bridport Wildflower Reserve in spring, when it's bursting with colourful flowers and wildlife. If none of that tickles your fancy, why not go fishing, snorkelling, diving, kayaking, boating or sailing.
Foodies will enjoy the delectable local seafood offered at the many cafes and restaurants overlooking the bay – specialities include scallops, lobster and trout from Australia's first freshwater rainbow trout farm. Golfers will be keen to visit the number one Australian golf course, the Barnbougle Dunes, and its neighbouring course, the Lost Farm.
The park has small and large, powered and non-powered sites available for a modest fee. Guests will have access to an undercover barbecue area – which has sinks, a kettle, toaster and tables – as well as hot showers, washing machines and dryers, and a dump point. There's also a playground for the kids, a tennis court, and even a herb garden, where you can pick fresh produce for your salad. Dogs are welcome in off-peak periods.
3. We Love Goomalling Caravan Park, WA
Goomalling is a rural town rich with history, culture and gorgeous agricultural landscapes. Only 90 minutes from Perth and nestled in the Avon Valley, Goomalling forms a part of WA's Wheatbelt region. It's the perfect place for an easy-going, relaxing holiday.
For a family picnic set among some charming scenery, visit the Mortlock River in South Goomalling, or enjoy delicious stone oven-baked pizzas at the Jennacubbine Tavern. To experience the town's history, pay a visit to the Slater Homestead and Goomalling Museum, or talk to some of the friendly locals at Go Café, which is prized for its coffee and homemade cakes. To see some spectacular views, head over to the Gabby Quoi Quoi lookout in Konnongorring.  
The caravan park, centrally located and a short walk from shops, offers grassed caravan sites with power for $30 per night, or without power for $15. There are showers and toilets, disabled facilities, a washing machine, dryer and clothes line, and a dump point. There's also a large, modern camp kitchen with TV and air-conditioning. Guests can relax in the garden under the gazebo or enjoy a game of mini putt-putt.
1. We Long For Kinchant Waters Leisure Resort, Qld
Situated in Pioneer Valley and just 41km from Mackay, Kinchant Dam is a great holiday spot if you're in need of some peace and quiet. The resort accommodates caravanners and campers alike, with powered sites and plenty of spots to pitch a tent. Guests will have waterfront views of the dam – perfect for watching the sunsets. The resort will cover most of your needs, with barbecues, basic amenities, disabled facilities, a boat ramp and a public phone. There's even an onsite bar. Pets are permitted.
Bike riders will enjoy the mountain bike trail that's a part of the Kinchant Dam Recreation Park, which has recently undergone an upgrade and is now one of the best downhill circuits in the state.
If bikes aren't your thing, you can go swimming in the dam, enjoy a picnic by the water or go for a ride on a jet-ski. Anglers will be pleased to hear that Kinchant Dam is an ideal fishing spot, with sooty grunter, sleepy cod and barramundi available for catching.
There's plenty of opportunity for wildlife spotting too – you're bound to come across some
bush turkeys, peacocks, wallabies and waterfowl.
2. We Long For Great Aussie Holiday Park, NSW
With a name like that, who wouldn't want to stay at the Great Aussie Holiday Park? This award-winning park, set on the banks of Lake Hume in the Albury region, is perfect for families who are after a fun-filled, action-packed time. The park has plenty of activities for kids, including archery, canoeing, animal feeding, movie night, and rockwall climbing. There's a swimming pool and a water spray park onsite, as well as a playground, a tennis court, a pump bike track, a jumping pillow, a golf driving range, a recreation room and more.  Adults and kids alike will have a blast.
The park has a selection of spacious powered and non-powered caravan and camping sites available, either paved or grassy, with easy access to power and water; all sites are pet-friendly. Prices are from $25 per night and you'll have all the facilities you could possibly need: showers and toilets, a laundry, camp kitchen, a barbecue area, a kiosk, sullage and dump point, and private boat ramp. If you fancy a nice meal, you can visit the onsite Lakeview Cafe, which caters to even the fussiest of eaters.
3. We Long For Pine Point Caravan Park, SA
Pine Point, just 2 hours' drive from Adelaide, overlooks the bay of Port Alfred and is known for its blue swimmer crabs. It's central to the York Peninsula, so it's an ideal place to stay if you're exploring the area. Fishing and boating enthusiasts in particular will love Pine Point. Port Gawler and Port Wakefield are just two of the excellent fishing spots around.
If you want to "rake some blueys", head on over to Billy Goats Flat, where there will be plenty of crabs at low tide. It should be easy for the kids to catch a few, too – just look for the grey mounds in the sand.  
The caravan park is dog friendly and has 23 powered sites for $25 a night. There's also fully-equipped caravans onsite available for hire, all you need to bring is bedding, towels, food and drink – but no pets allowed. The park offers access to the boat ramp and pier, and it has an undercover barbecue, a games room and a playground. There's also fish and crab-cooking facilities available so you can enjoy your fresh dinner. The park is conveniently located next to a mini-mart and a public phone.